Nolan's first tailgate was October 6, 2012. Penn State played Northwestern and it was homecoming. Auntie Chelsea, Auntie Kelly, and Auntie Kate stayed at our house. Nolan did a great job at the tailgate considering it was freezing. He was awake for the first hour and slept the rest of the time in his car seat in the trunk of Nevin's car.
4 months old already:
October 11, 2012 was Nolan's 4 month well baby appointment. He weighs 15 pounds, 8 ounces and is in the 50th percentile for his weight. For height, he's still in the 94th percentile and now is 26.5 inches long. The pediatrician said he's skinny for his height. She must not have seen his thighs!
When the doctor was examining him, she discovered that he has an ear infection in his right ear. He screamed like crazy when she was looking in his ear and I felt horrible. He was still screaming when he got his shots, but took them like a champ. I got Amoxicillin for him, so hopefully that will knock this ear infection out of him and get him back on his regular sleeping and eating schedule.
Nolan accomplished two pretty exciting milestones last night (October 22, 2012)!
# 1 – He learned how to roll from his back to his belly. He has been sleeping on his side for the past month, but last night when he rolled onto his side, he kept going until he was on his belly. We didn't cheer too loudly because it was bedtime, but we did celebrate quietly!
#2 – He slept on his belly all night. Every time I put  him down he'd roll onto his side and keep rolling until he was on his belly. I've read that babies sleep better on their tummies, but don't get too excited because he was up every two hours most of the night. I did get two 3 hour sleep sessions in last night…progress!
I've been researching and reading a lot about feeding Nolan his first solid foods. According to what I've read, he's pretty much ready. I opened up his spoons, bowls, and Baby Bullet today. I can't wait to introduce him to food!
We took Nolan to the doctor (again) today (October 26, 2012). He has been running a low fever since Wednesday and he threw up Monday, Wednesday, and today. As soon as he threw up today, I took his temperature and it was 99.6. I called the nurse at the doctor's office and she recommended bringing him in.
The doctor said he looks great and that his ear infection is completely gone. Since she looked at his ear today, we cancelled our appointment in November. She basically said the fever and vomiting are from teething and/or a virus and to bring him back if he gets worse. She wasn't concerned because he didn't loose weight since our last appointment (he now weighs 15 pounds, 15 ounces) and he was happy and not dehydrated.
When she looked in his mouth for teeth, she first noticed the top and made a comment about how they looked ready for teeth to come in. Nevin pointed out the bottom and she said she sees a tooth. I can't wait (for several reasons)!!
One of the nurses has a son named Nolan. A patient (whose son is also Nolan) gave her a shirt with his name on it. The last time we saw this nurse she said she'd bring in the shirt for us because her Nolan doesn't fit in it anymore. Well, she saw us today and gave it to us! We'll have to make sure it gets passed on to another Nolan at the doctor's office when our Nolan grows out of it.
Today (October 27, 2012) Nolan attended his very first "kid party". My coworker/friend, Rebecca, and her 3 year old daughter, Emma, hosted a Halloween party. Nolan was a dinosaur/dragon depending on who you ask: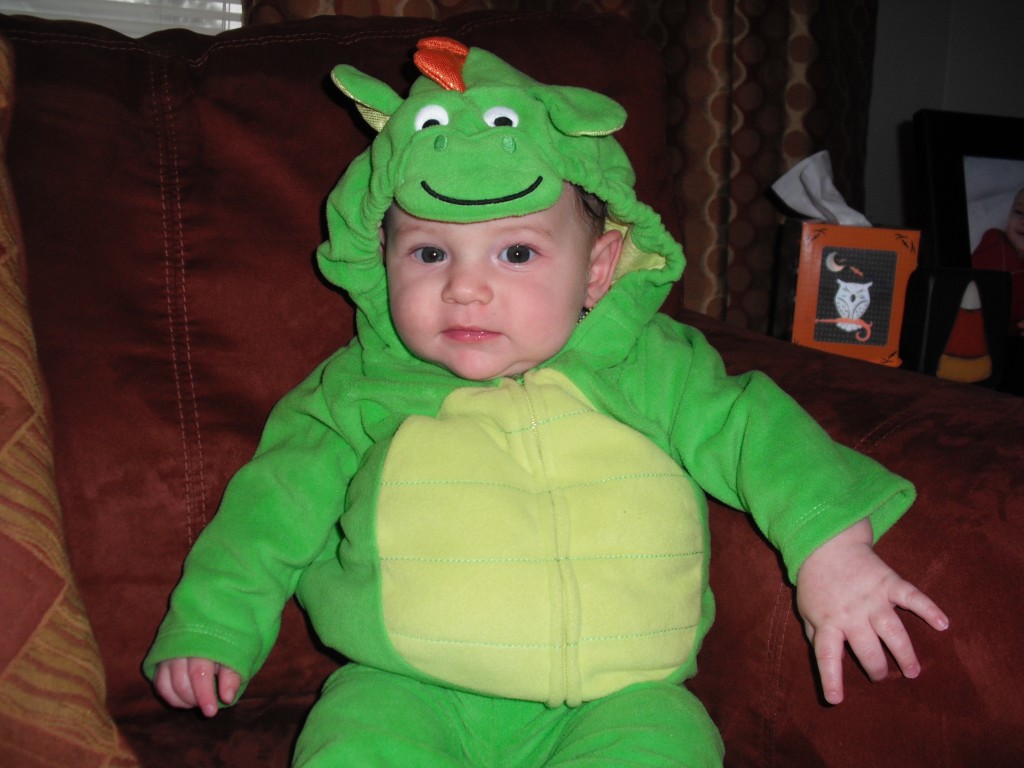 He did really well with all of the "big" kids who were very active and noisy. He ate while we were there and in the midst of all the action and noise, he even fell asleep. Rebecca had games and crafts for the kids to do and I can't wait for Nolan to be able to do them in a few years!
Nevin and I gave Nolan cereal for the first time today. Of course he loved it and he did really well learning how to eat from a spoon. At first I thought he didn't like it because of the faces he was making. However, I think those faces were just a reaction to eating from a spoon for the first time. He quickly learned how to open his mouth and swallow the oatmeal. He ate just about the whole bowl. Well, half of it because the other half ran out of his mouth and onto his chin and bib! I can't wait to introduce other foods!
Nolan celebrated his first Halloween by wearing 3 different outfits and sleeping for the majority of trick-or-treat! Babi came over for trick-or-treat and brought us dinner. It was rainy and cold, so we didn't have as many trick-or-treaters as we've had in the past. We still had a great time, though!
My little pumpkin:
Those fingers are always in his mouth: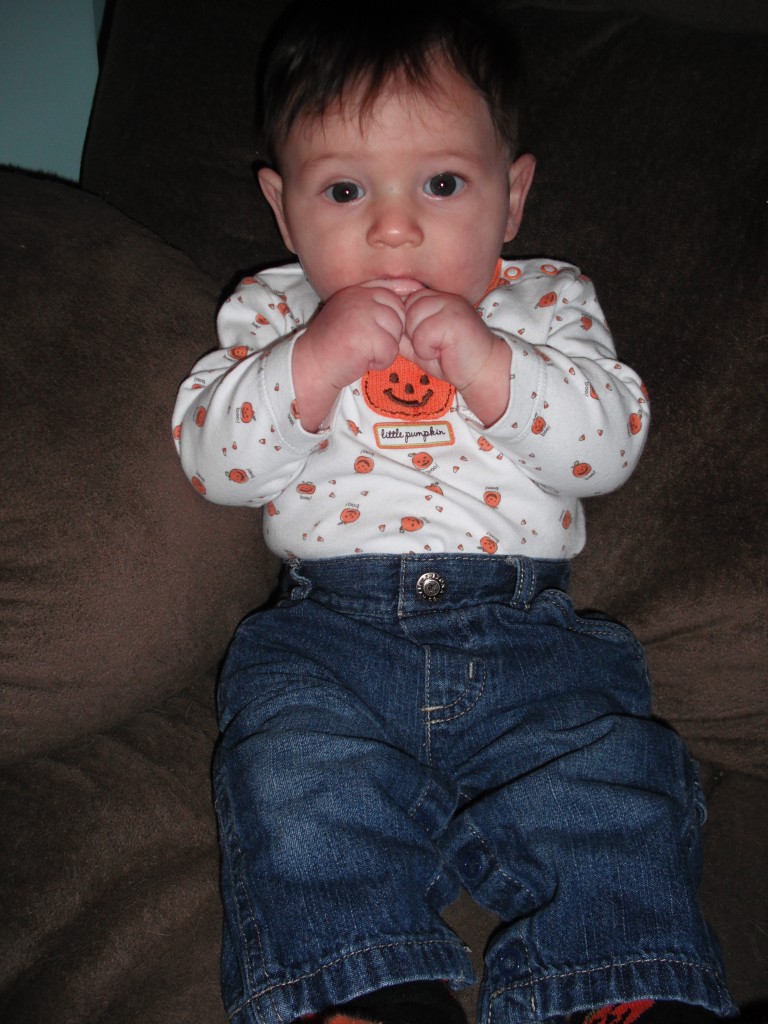 My little dinosaur/dragon:
Here's our first family picture since the day Nolan was born: