August 5 – New Camera
My little man:
Before his 4th haircut:
Bath fun on August 6, 2013:
  Eating 2 peaches and bringing his mouth to the peach instead of the peach to his mouth (August 6, 2013):
On August 7, I noticed that Nolan's top left and bottom right molars finally popped through the gums. They had been working their way through for months and they finally poked through. They still have a ways to go until they are completely through, but I think the tough part is over for those 2 molars at least.
Look at those curls!
Chewing on something he shouldn't be:
On August 8, Nolan and I went to Mimi and Pop's house for a little vacation. Nolan got his 4th haircut from Aunt Nancy and he did such a wonderful job. We fed him Goldfish crackers to distract him. We visited with Auntie Cait and went to the Easton Farmer's Market. Auntie Cait also gave him his birthday present, a race car toy, which Nolan really enjoys. Great Grammy and Great Raymond visited also and Nolan spent a lot of time with Uncle Brad. He did a great job on the way there (slept most of the time) and a great job on the way home even though he only napped for an hour. It was a great trip and we'll do it again next summer!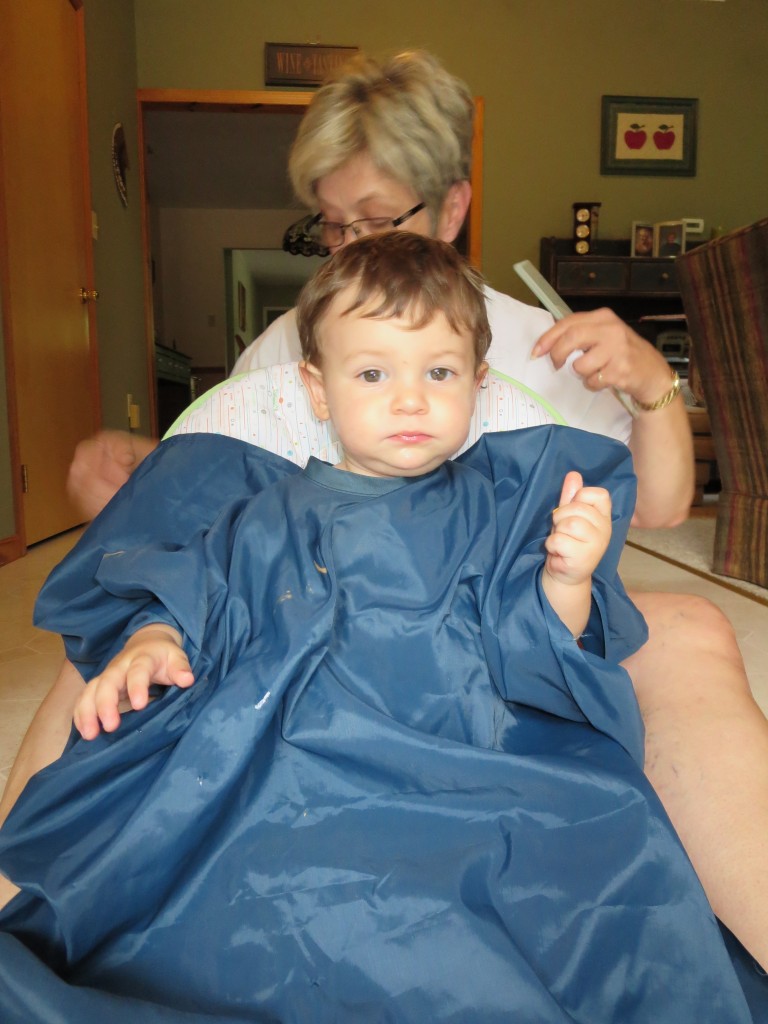 Hanging out before we leave Mimi's and Pop's house:
Since we didn't have a babysitter on our 2 year wedding anniversary, we went out to dinner as a family.
On August 14, Nolan went to his first Ag Progress Days (and so did I!). We saw huge tractors and other farm equipment that I don't know the name of. We also saw horses play a rope game that was like musical chairs. We then saw some cows and other horses. Four white horses were getting hooked up to a wagon, so we stopped and watched. When the horses walked away, Nolan started to cry! We had good food for dinner and really enjoyed our first trip to Ag Progress Days!
On August 17, we went to the Arboretum as a family. The weather was so beautiful and we enjoyed showing Dada the marsh area and the rose garden that he had never seen before.
On August 24, Nolan went to his first Grange Fair. It was Mimi and Pop's first fair, too! We spent 3 hours there (Nolan missed his afternoon nap!) and ate a corn dog, french fries, Rita's and funnel cake. We also saw tractor pulls, rides, games, rabbits, cows, horses, chickens, pigs, and goats. Nolan loved seeing the tractors, animals, rides, and people. It was hot and crowded, but it was a great day at the fair. I can't wait for next year when Nolan will enjoy the animals even more and will probably ride some of the rides, too!
It all started on Sunday. Nolan really didn't eat like he normally does and he threw up a little bit after lunch. However at dinner at Babi's house that night, he ate really well and I thought things were looking up. He was still not eating normally on Monday, but was acting like his normal, crazy self. When Nevin got him up from his nap at 5:00pm, he had a 102.3 degree fever. Since Monday, he's barely been eating and drinking. He's also been sleeping a lot and when he's not sleeping he's cranky, clingy, and cries often. He's fever has ranged from 99 (after medicine) to 102.5. Poor baby!
We went to the doctor today and Dr. Huggins said he has a virus. She told me to give him fluids including Pedialyte, juice, and milk and not to worry too much about him not eating. She said if he's not his normal self by Friday, to come back again because a virus will usually go away within 3 or 4 days. She also said to bring him back if he shows signs of dehydration (no wet diaper for 8 hours, dry lips, no drooling, vomiting/diarrhea, etc.) and then we'd have to bring him to the ER to get an IV. I'm praying that this does not happen. He was extra cuddly with me at the doctor's office and I loved every second of it even though he doesn't feel well. I really hope he feels better soon because I envisioned our last week of summer break together much different than it is right now!
August 29 & 30 – Standing by Himself and Pool Time
Nolan can stand by himself without holding on. I think we're going to have a walker very soon! We're in trouble!
Nolan prefers to play with the hose over the actual pool itself!
August 31 – Aunt Lynne's Birthday
We went to Aunt Lynne's and Uncle Robert's house to celebrate Aunt Lynne's birthday.
Whose child is this? He's eating a tomato like an apple!
Nolan loved the ice cream cake:
Trying to climb over the baby gate: