On October 5, we went to Way Fruit Farm. We took a "hay ride" (a tractor pulling a trailer with wooden benches) to the pumpkin patch and all 3 of us picked our pumpkins. We had a blast even though it was 80 degrees and we were sweating! We then took the "hay ride" back to the parking lot and purchased apples and some other goodies in the store. Nolan found the "cornbox" and played with the Jon Deer tractors in there for a bit. He was very upset when we took him out of the cornbox.
Enjoying the ride to the patch:
We see pumpkins:
Off to find the best pumpkin:
This one is good, but I think I see a better one:
It's pretty heavy: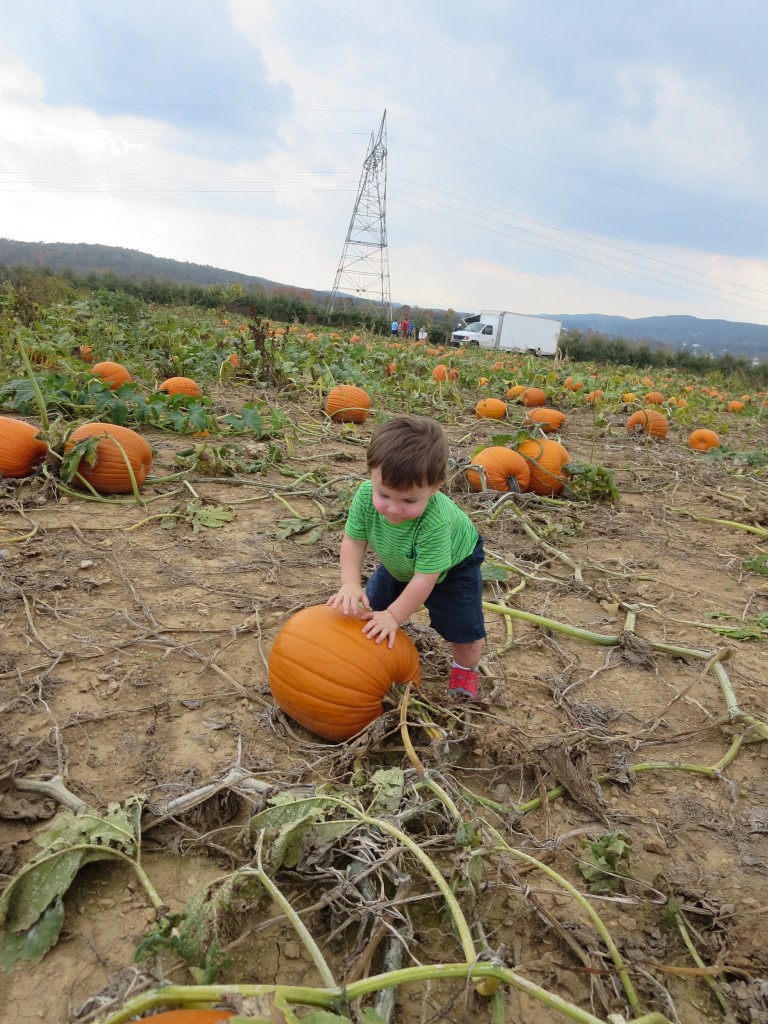 Anyone out there to help me?
He was too busy pointing to the tractor to focus on the camera: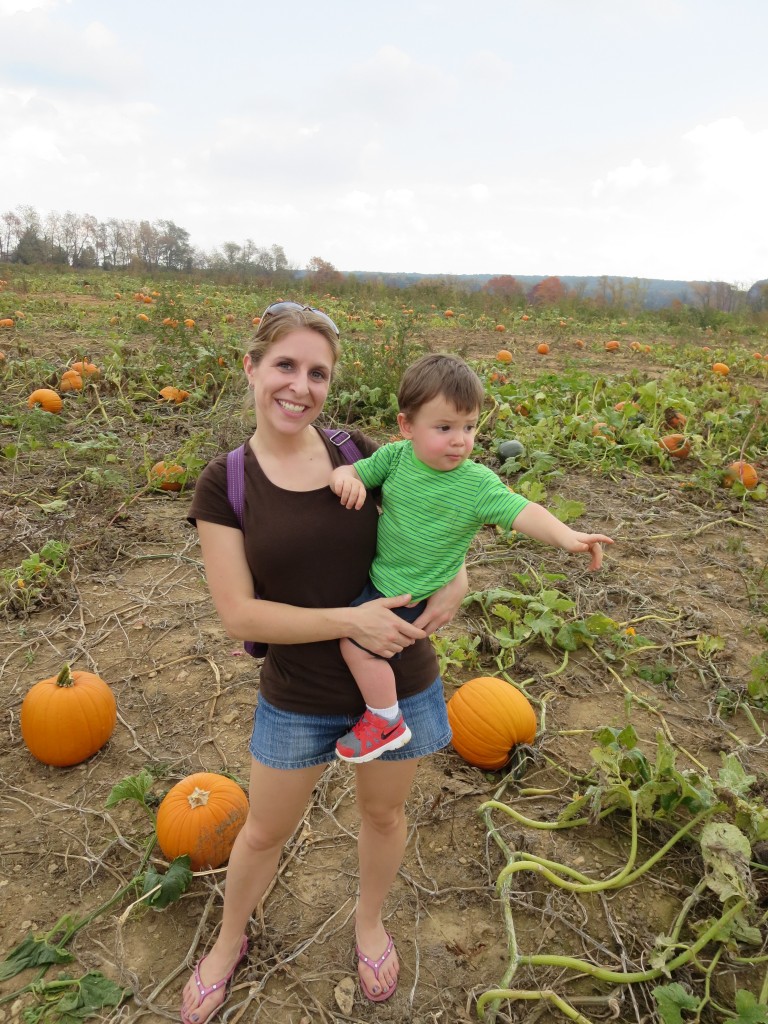 Having a blast in the cornbox:
On October 27, we carved our pumpkins. Nolan had a great time playing in the "guts" of the pumpkin (as I like to call them) while Mama and Dada carved their pumpkins. I saw a pumpkin on Pinterest that was carved with a drill, so we decided to give that a try this year. They turned out pretty well, I think!
Nolan is excited to start carving: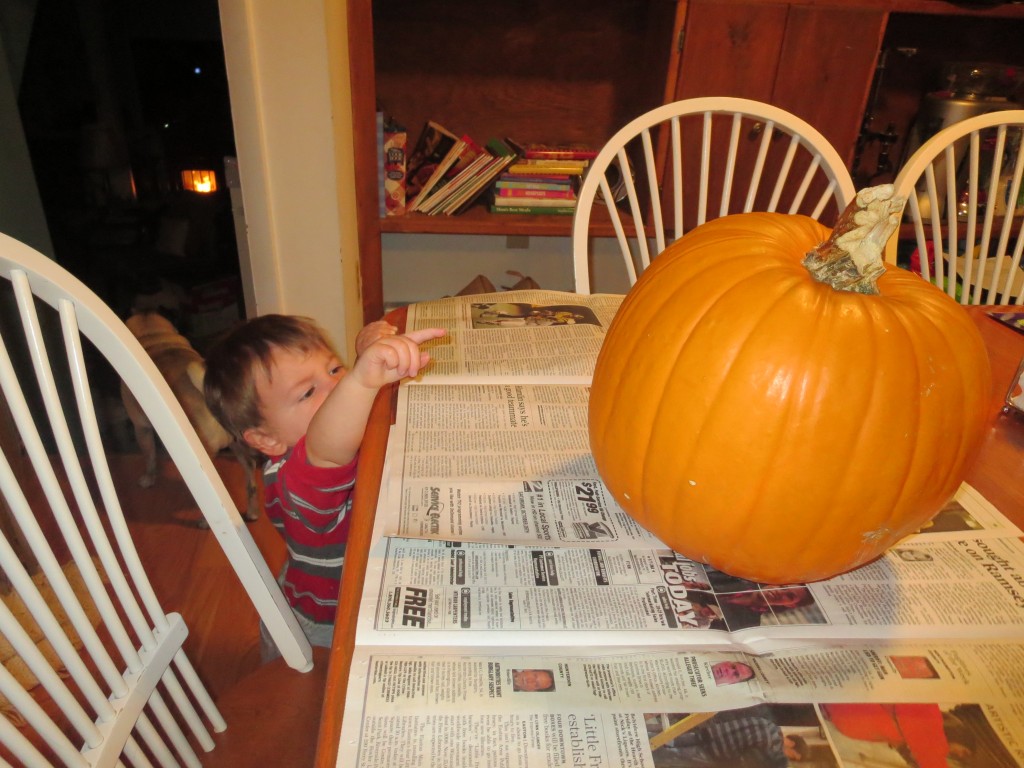 Nevin hard at work:
Selfie: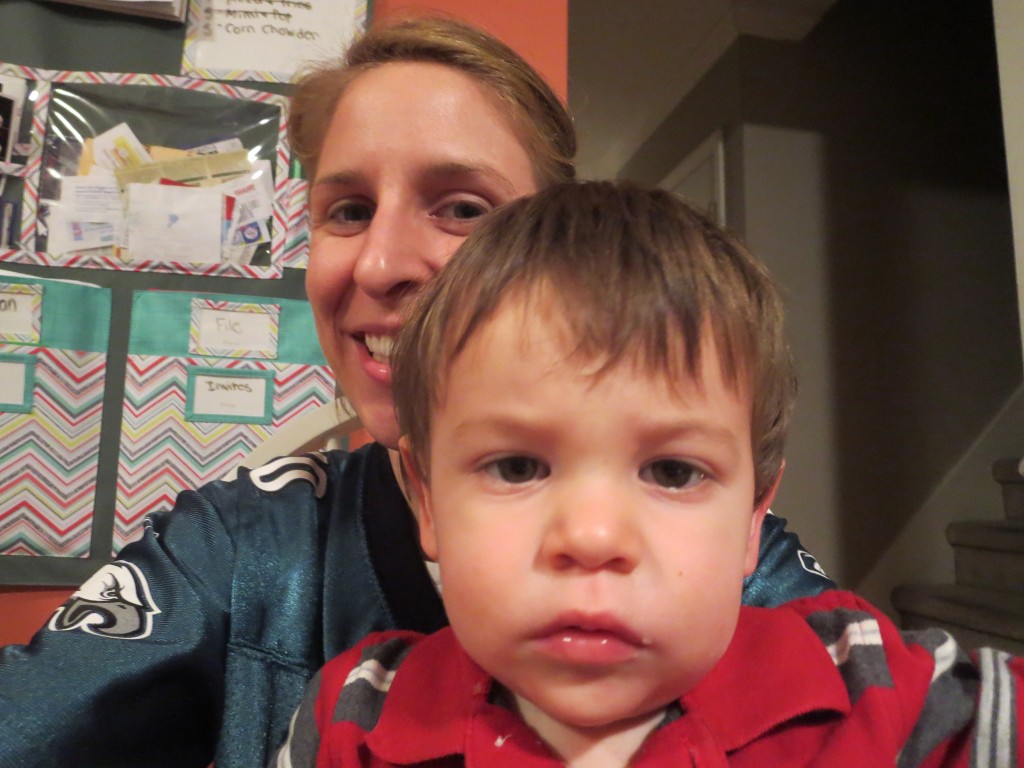 Playing with the guts:
The spoon is fun:
The finished products. Nevin's is on the left and mine is on the right:
Trying out his new winter hat (10/30/13):
Here is Nolan on Halloween day. It was difficult to get a decent picture, so here are a few:
Selfie: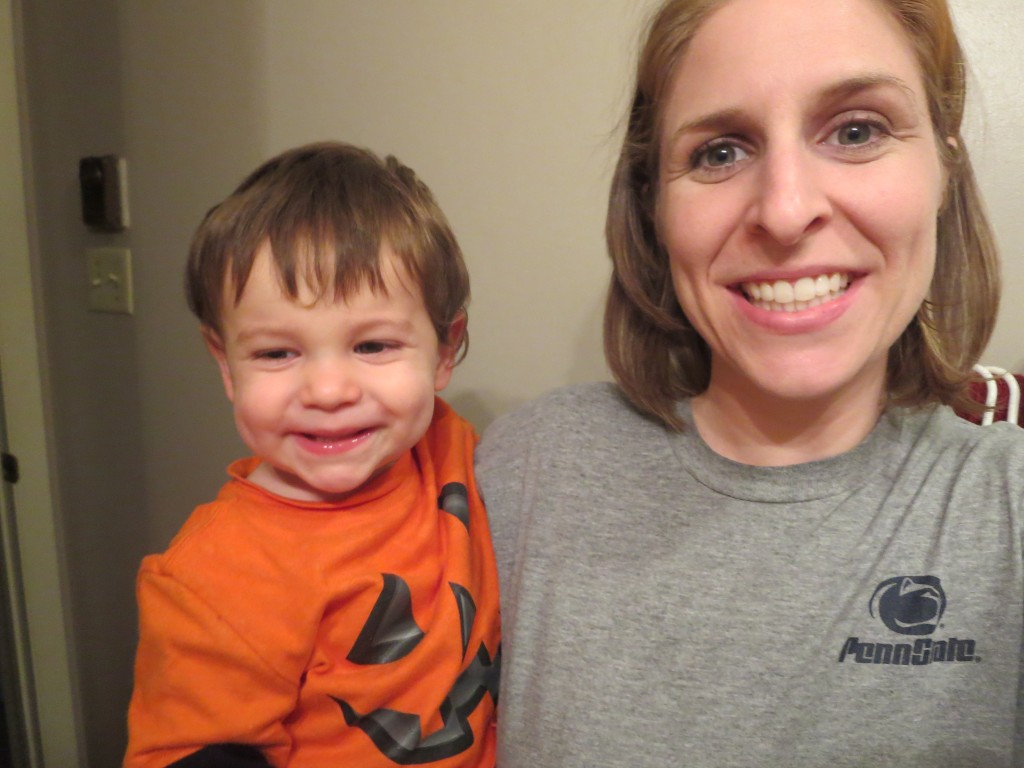 Nolan was a cheeseburger this year for Halloween. Again, very difficult to get a picture:
Using The Butterfly Colors Song to distract:
And he's over it (fake crying by the way!):
We went to the Nittany Mall for trick-or-treat. It was a good thing we planned on the mall because it was rainy and cold that evening…not a good combination for a 14 month old trick-or-treating for the first time. The mall was perfect for Nolan this year! We put him down when we got there and he didn't stop running until we left. Here he is as soon as we put him down: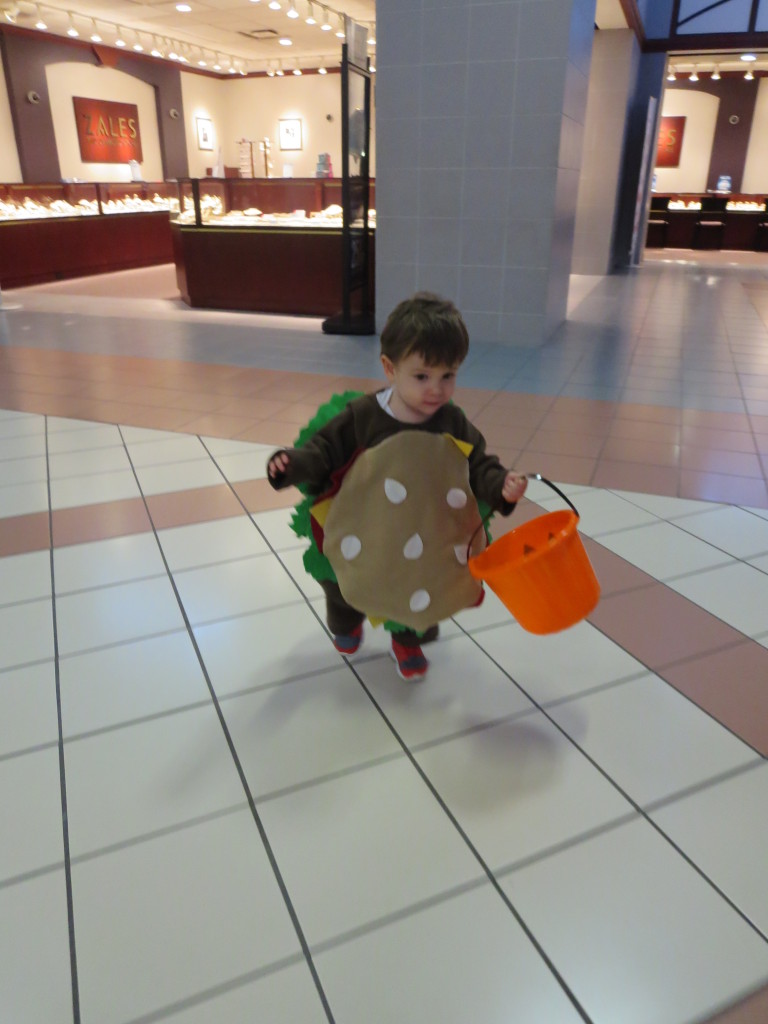 Still running:
More running:
It took Nolan a bit to figure out that people were handing out "snacks". He ran into several stores, stopped in the middle of the store, danced to the music, and ran out. He finally got his first treat from the Deb store. They were giving out pretzels which were perfect for him:
At the AT&T store, Nolan/I picked out a 3 Muskateers. Here he is taking a break outside of The Bon-Ton ready to eat his 2 treats:
The mall was packed and while we were sitting and eating, many people commented on how cute he was. We also got so many compliments on his costume from adults and children alike!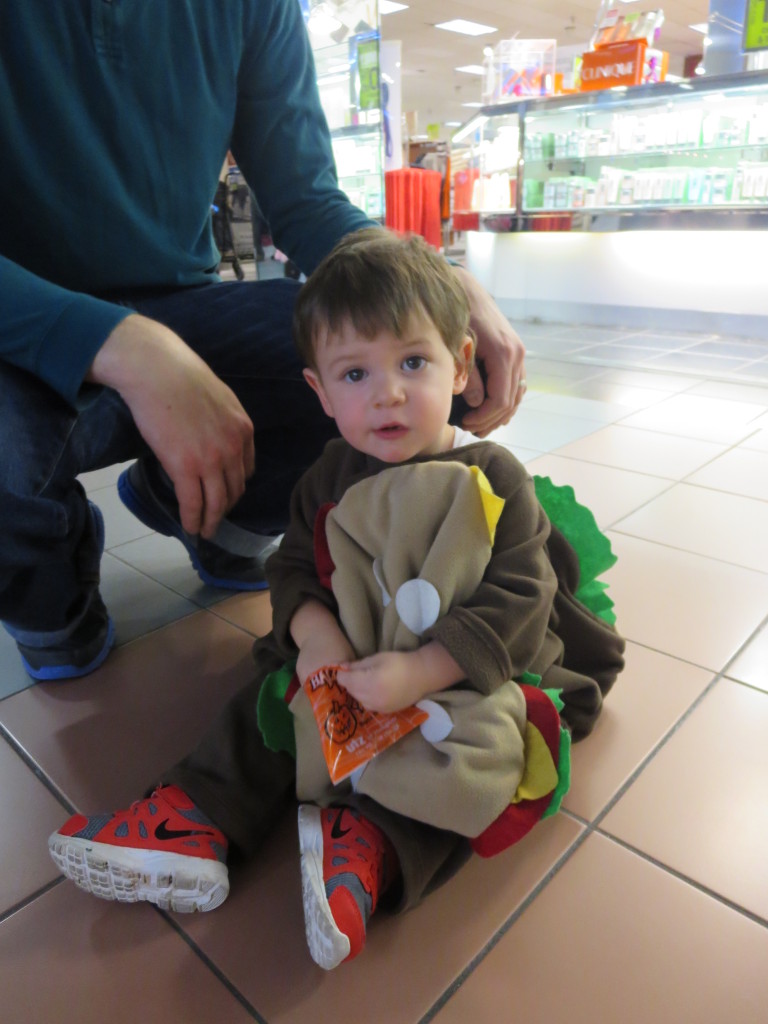 One store had 2 huge stuffed animals at their entrance, a lion and a tiger. This is Nolan's reaction to the 2 stuffed animals:
We left right around 7:00 (Nolan was hot and tired) and I realized I never got a picture with him, so we tried for one after trick-or-treating. Yup, he's wiggling out of my arms and trying to escape, but I like it:
Trick-or-treating at the mall was a success. Nolan had a blast and Nevin and I had so much fun watching him have fun! We are looking forward to going there again next year!