Oscar jumped on Nolan as soon as we got in the door and gave him that scratch. Poor baby looks so sad!
We signed up for mommy and me swim classes at the Bellefonte YMCA with Auntie J and Camden. Our first class was November 8, 2013. Nolan cried a bit when we first got in the pool, but he was much better and actually enjoyed it by the end of class. Class is from 9:00-9:30 and we "swim" after floating toys, sing songs, ride on noodles, float on paddle boards, and practice climbing out and jumping into the pool.
Nolan wasn't liking the water at first:
He was supposed to be on his belly in the swim position, but didn't like it:
Still trying to get him on his belly:
Not too sure about this swim class:
Finally on his belly and enjoying it:
"Swimming" after a toy: 
"Swimming" after the boat next to Auntie J and Cam:
Going up and down while singing The Wheels on the Bus:
Trying out the noodle for the first time:
"Sally the Camel" song as we ride around the pool:
Nolan is in the swim position on his noodle:
Climbing out of the pool the safe way:
Backstroke position (not his favorite!): 
Climbing out again:
Trying to convince him to jump in:
While Jamie and I were getting changed, Nevin and Brett watched Camden and Nolan. Camden gave Nolan a strong hug and knocked Nolan over. Nevin and Brett then had them recreate a nice hug for the picture!
November 10, 2013
We filled Nolan's water table up with Rigatoni noodles for him to play with in the winter. He loved it and it was a great idea until he realized Lady and Oscar will eat the noodles. Nolan kept feeding the noodles to them, so the "noodle table" quickly disappeared. Maybe it will return next winter! Here he is enjoying the noodle table:
Nolan decided to lay down with Dada (a rare occasion) and listen while Dada read a book. It didn't last long, but I was able to get a picture:
We are very fortunate that Oscar takes lots of abuse from Nolan. Nolan loves to uncurl his tail, hit him on the head and back, poke his eyes, nose, mouth, and face, kiss him, chase him, and lay on top of him. Here is Nolan enjoying Oscar's kisses:
My baby boy:
Good boy Oscar:
November 11, 2013
Nolan kept putting on my sunglasses like a "cool dude":
He would bring them to me, I'd put them on, he run away, they'd fall off, and he'd bring them back to me so he could do it all over again.
Nolan is an expert iPad user. He has his own apps and knows how to scroll through the pages to find them. He also knows how to get out of an app and start a new one. He plays Baby Fireworks, Shapes, and Town.
He likes to grab my camera:
November 14, 2013
Nolan enjoys playing with his dragon puppet that he got from his baby shower at Minitab. He likes when I put it on my hand, but he also likes to wear it.
We "feed" the dragon toys, he "eats" them, and then burps them up. Nolan is checking the dragon's mouth for food:
Getting into trouble on the end table:
On November 15, it was the boys' turn to swim. Dada swam with Nolan and Uncle B swam with Cam. It was fun watching from the window!
Getting used to the water: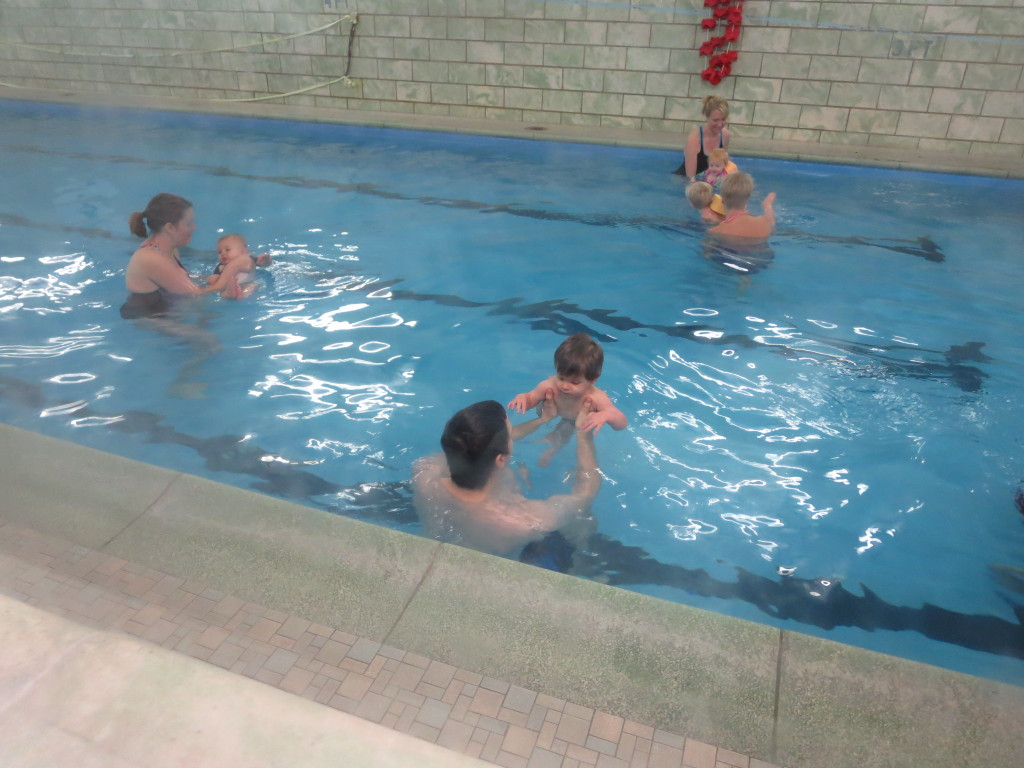 Practicing the swim position:
Chasing after the ball (one of Nolan's favorite swim activities):
Distracted by the cute girl in his class:
Grab that ball:
Singing "The Wheels on the Bus":
Playing with Dada while waiting for a noodle:
Climbing out of the pool. Nolan has a hard time putting his elbows first, he always puts his feet first:
"I'm not too sure about this, mom":
He made it out (and now he wants the boat):
He jumped in:
Climbing out again:
Jumping in again:
November 17, 2013
Nevin plays a farming game on the computer and Nolan loves to watch the tractors on the screen:
November 18, 2013
We had Nolan's baby bathtub sitting in the family room to bring to Babi and Grandpa's house to store there, but Nolan wanted to play in it one last time:
November 22, 2013
We brought Nolan's Adirondack chair inside for the winter. Here's Nolan just lounging: 
On November 25, I had my first snow day of the year because we got about 6 inches of snow. This was Nolan's first time playing in the snow and he LOVED it!
Here he is checking out all the snow:
Playing in the snow for the first time:
Yum! He quickly realized he could eat it:
Crawling through the snow:
He had a blast watching Lady and Oscar play in the snow, too:
Taking a break:
Figuring out how to hold the shovel with mittens on:
He got it:
While we were playing, Nolan would get on all 4s and stick his mouth in the snow to eat it. This was great fun for him until he fell face first into the snow and was not happy about it:
This is what happened when we came inside to warm up after the face-first fall into the snow:
Yup, I'm that mom that put all of his snow clothes back on and took him out again in order for him to stop crying:
This is what happens when you let a toddler feed himself yogurt:
The morning of November 28, we left for Thanksgiving in Easton. While Nevin and I were finishing up packing and loading the car, Nolan had 2 "incidents". He first toddled into the laundry room where he found the measuring cup for the laundry detergent. He drank what was in the bottom of the measuring cup and then threw up his breakfast. Shortly after that, he was walking with his sippy cup in his mouth and tripped over Nevin's foot. He landed on top of the sippy cup and cut his lip with his tooth. We did not have a great start to our trip, but luckily things got much better after those 2 "incidents".
Looking dapper for Thanksgiving dinner:
Uncle Gary and Nolan:
It's not Thanksgiving unless you watch some football:
We got to spend Thanksgiving with Uncle Brad and Aunt Megan:
Nolan has a hard time sitting still for pictures:
First taste of turkey:
It's gone already and we unbuttoned his pants so he could feast:
Pop and Aunt Megan had Nolan duty during dinner. He kept asking for more sweet potatoes from Aunt Megan and more stuffing from Pop.
Nolan saw Pop put gravy on his stuffing, so Nolan had to try it too:
Asking for more gravy:
Enjoying the sweet potatoes:
Good stuffing:
On November 29, the Easton girls that were in town came to visit Nolan.He enjoyed showing off for them:
Cuddling with Mama rarely happens, so when it does, we take a picture:
Last day in Easton (November 30):
Nolan had his 4th haircut on November 28. I told Nancy that I didn't want her to make it too short since it's the winter. He did a great job as always. We first used Cheerios to distract him, but he got hair all over his hands and mouth from the drool, so we had to stop that. We then gave him the iPad which worked much better.