We decided to try a new tree farm this year. I was disappointed in Harner Farm's selection and experience last year, so we went to Tannenbaum Farms this year and I'm so glad we did. They have so many varieties of tress to choose from and all trees you cut down yourself are $40. Plus, they trim, shake, and wrap your tree for free.
We went on December 1 to pick out our tree. Here we are walking up the hill to get the Fraiser Firs. Nolan helped Nevin pull the tree cart at first, but the progression of pictures shows how Nolan had to do it by himself.
Pulling Dada's hand off:
All by myself:
Here is the view of the farm from where the Fraiser Firs are located. There are also thousands of trees to the right and hundreds of tress to the left. The barn in the middle of the picture is where you pay.
Checking out the selection:
"Wait for me, Dada!":
Taking in the scene:
 This was the first tree we saw. We walked down the row of trees a bit more, but kept coming back to this one.
Nevin beginning the cutting down process:
Nolan had a tree branch in one hand and was eating snow with the other:
Watching Dada cut down the tree:
Nolan kept grabbing handfuls of snow to eat them, but they had grass and dirt in them.
I decided to help with a clean piece of snow:
Almost done: 
Finally down:
I forgot to get a picture of myself in front of the tree before we cut it down, so we took one after we cut it down:
Walking back to the barn to get it cut, shaken, and tied:
Watching Dada tie the tree onto the roof of the car:
December 3, 2013 0 Hanging out on the couch while pulling apart a tissue
December 12, 2013 – I was trying to decorate the Christmas tree and Nolan was trying to take the wagon for a ride!
December 6, 2013 – Babi brought this hat back for from Slovenia and Nolan enjoyed wearing it.
This is what happens when you let a toddler feed himself yogurt:
On December 9, right before bed, we took Nolan's Christmas card pictures. I found the idea on Pinterest and it worked really well. He loved the cookies and now, every time he sees that Christmas tree plate, he says "coo". We locked the dogs downstairs so they didn't get the cookies before Nolan. Here are some of my favorite shots from the photo shoot:
This is the picture we used for the card:
"I'm ready for bed!"
Minitab's holiday party was Friday, December 13, 2013. It was at the Penn Stater again this year. We had a great time talking with Trevor and Christa while watching the people on the dance floor. The food was delicious, too.
Mimi and Pop came to watch Nolan for the evening.
Nolan loves to sit on our bed and watch T.V.
Watching so intently:
We got a lot of snow on Saturday, December 14, 2013. Nolan loved going outside to play in it. Mimi and Pop brought a sled with them and this was Nolan's first time sledding. We all had a blast! 
Lots of snow!
Dada pulling Nollie back up the hill:
Going down the hill with Mama:
Helping Dada shovel:
Shoveling all by himself:
We traveled to Easton on December 22, but without incident first! I was taking a shower and Nolan was leaning over the tub to play in the water. He fell over the side of the tub and hit his eye on the faucet. Luckily all he got was a tiny cut and we were still able to make the trip.
Family picture:
Nolan loved ripping open his presents. This is a tractor from Mimi and Pop:
Mimi and Pop got him the table behind him:
Opening the stocking:
Handing me the animal crackers so I could open them immediately:
Happy with this food:
What did you guys bring me?:
Nolan loves his bear from Aunt Megan:
Ripping into more presents:
Opening his overalls and button down shirt:
Testing out his new Crayola toothbrush from Uncle Brad:
Just hanging out at the kid's table:
We had a great time eating dinner, drinking wine, and opening presents! Nolan definitely loved opening his gifts. On the 23rd, I got to see Lesley, Sal & Elise at Jessica's parent's house for our annual Home Girl Holiday Luncheon while Nancy came to visit Nolan. It was a short trip, but we had a blast!
We got a new humidifier and it came in a large box. Nolan loves playing with his trucks and cars in the box: 
Hanging with Oscar (notice the blue truck on his back):
We spent Christmas Eve at Babi and Grandpa's house. Great Grandma, Sirrki, Uncle Mark, Aunt Andrea, Uncle Kyler, Aunt Lynne, and Uncle Robert were there. We had our traditional dinner of fish and polenta and then opened gifts. We had a great time visiting with everyone. We didn't get home until around 9:30, so we brought the gifts from Matisse and Babi and Grandpa home with us to open later.
Opening his nightlight from Sirrki:
Yoda from Aunt Andrea and Uncle Kyler:
Opening his first bicycle from Aunt Lynne and Uncle Robert:
Opening Aunt Andrea's presents for her:
Opening his gift from Uncle Mark:
Helping Aunt Lynne open her gift:
Concentrating so hard:
Waiting for Santa:
Santa came:
Nolan is on his way down the stairs to see what Santa left him! And yes, his pajamas are too small. I bought 18 months for his Christmas card picture and by the time Christmas rolled around, they were too small already, but he had to wear them for Christmas morning pictures :). 
When Nolan saw all of the gifts under the tree he said, "Whoa!". Here he is checking out the gifts:
Opening the first gift (a wooden food set that he can "cut"): 
Pointing to the apple:
Lady relaxing in the morning:
Testing out the cutting:
Getting help from Daddy:
Checking out his new book, Where is Baby's Belly Button by Karen Katz: 
Opening some new jammies (don't worry, they are 24 months size!): 
Oscar and Lady get stockings, too:
Looking at the pictures of the dogs and the cats on the wrapping paper:
Action shot:
Power tools for his new workbench:
Exploring the workbench:
Loving the drill:
Trying to figure out the screwdriver:
He loved the screwdriver and held onto it while opening more gifts:
As you all know, Nolan loves the vacuum so Santa brought him a the perfect gift, a Dyson vacuum that really sucks up dirt! Here he is vacuuming the couch for Mommy:
Back to the workbench:
Time to open his stocking: 
Nolan found the Goldfish and just had to eat them now:
Opening the last gift (a big boy potty):
Exploring the big boy potty:
He was ready to go for a walk after we were done opening: 
Nolan enjoyed opening all of his gifts from Santa! Since he wanted to play with everything as soon as he opened it, it took us a few hours to open all of them. Nevin and I said that we should enjoy this because when he's a little bit older, he'll probably rip open his gifts and Christmas will be over in a few minutes!
Since we were at Babi's past bedtime on Christmas Eve, we only opened gifts from Aunts, Uncles, and cousins while we were there. We brought gifts from Babi and Grandpa as well as Aunt Barbara, Uncle Alex, and Matisse home with us to open on Christmas day.
Since I love Zumba and dancing as a workout during the cold winter months, Daddy bought me an XBox One so I can exercise at home. I didn't let him open it until the day after Christmas because I wasn't sure that I wanted to keep it. Of course, the next day, we opened it and I fell in love with my Zumba and Just Dance 2014 DVDs. He also bought me a string of pearls and a ring holder so my wedding ring doesn't have to sit on the dresser at night.
Nolan got up from his nap and began opening gifts again. This is a stackable block train from Babi and Grandpa that Daddy is showing him how to use. 
This book is from Aunt Barbara, Uncle Alex, and cousin Matisse. They know he loves his construction vehicles!
Legos from Babi and Grandpa: 
This is an outfit from Aunt Barbara, Uncle Alex, and cousin Matisse: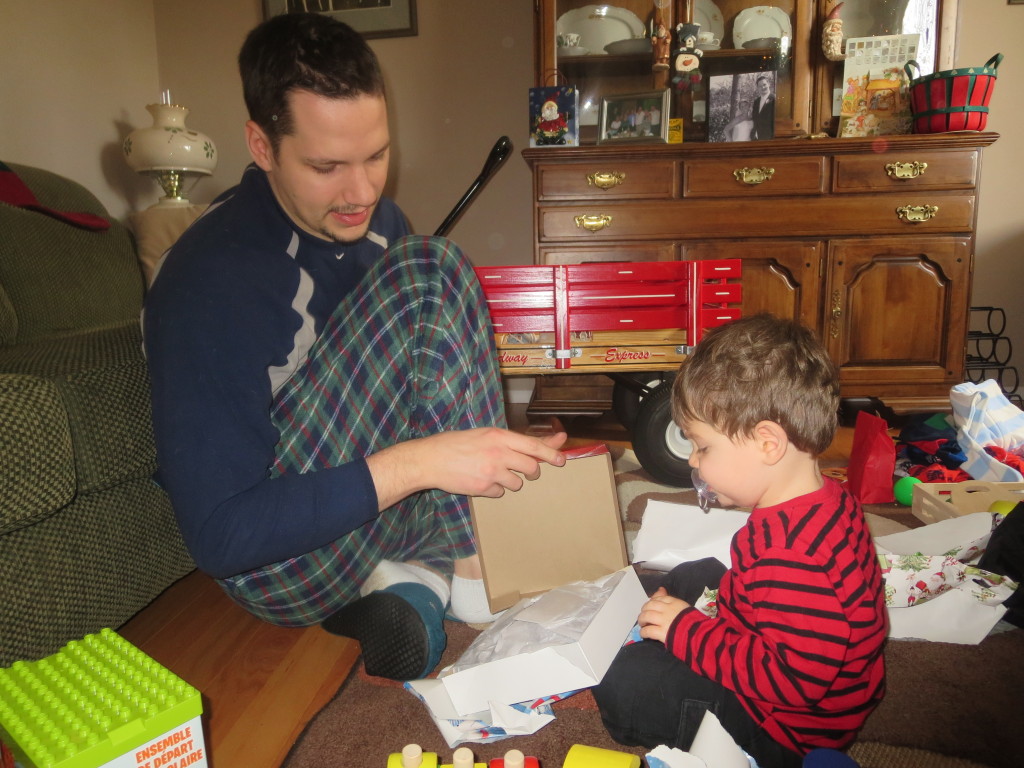 Here's Nolan testing out his first bicycle from Great Aunt Lynne and Great Uncle Robert:
Babi and Grandpa came over for Christmas dinner so they could see Nolan play with all of his gifts. Here's what the tables looked like with food cooked by me!  
Family picture on Christmas: 
Babi and Nolan on Christmas night: 
Exploring the ornaments:
Overall, Christmas 2013 was a success. We got to see the Schaeffer and King families, opened lots of presents, and ate lots of delicious meals. Bring on 2014!
Nolan loves to give Oscar hugs and Oscar is so good with Nolan. He takes so much abuse (pulling of his tail, poking of his eyes/face, grabbing of his legs, etc.) and never has done anything to hurt Nolan. We are very lucky that Oscar is so good with him. 
On December 27 Nolan got to meet his 2nd cousin, Channing. Ryan, Nikki, and Channing came to visit from North Carolina for the holidays.
Checking each other out:
Nevin holding his first cousin once removed:
Who needs Christmas presents when a huge box will provide hours of fun?
On December 29, Grandma King, Aunt Lynne, Uncle Robert, Uncle Mark, Ryan, Nikki, Channing, Babi, Grandpa, Daddy, Mommy, and Nolan went to Brookline to visit with Grandpa King. Nolan enjoyed running up and down the long hallway. There was a lady in her wheelchair in the hallway yelling "help" and Nolan yelled "help" right back to her. There was also a man in his bed coughing, so Nolan pretended to cough too. It was an interesting visit to say the least!
The Eagles had a game that night, so we all wore our Eagles jerseys. When we got home, Nolan was willing to lay on my lap for some pictures, so I knew something was up. He had a fever, so we couldn't join the rest of the family for dinner at Babi's and Grandpa's house. We did get some good pictures, though:
On New Year's Eve, Auntie J and Uncle Brett stopped by to visit:
Nolan had a sleepover at Babi's and Grandpa's house while Mommy and Daddy went to Jon and Katie's annual New Year's Eve party. Here I am posing with Nolan before we dropped him off at his first sleepover: 
Nolan did a great job sleeping over and I, of course, woke up early the next day to go pick him up because I missed him so much! Welcome 2014!!!