October 1, 2014
As soon as I put Spencer down somewhere where Nolan can reach him, Nolan lays by him, kisses him, hugs him, touches him, etc. It's so adorable.
October 7, 2014 – First time in the swing
Nolan loves to push the swing, sometimes a little too hard:
October 8, 2014  
October 12, 2014 – First Bottle
He, of course, did well with it and drank every last drop! I was very relieved to get a break from being a feeding machine and go to the grocery store. It was also nice to not have to time my trips based upon feedings and not rush while out because of feedings.
October 18, 2014 – Pumpkin Patch (Wasson Farm)/Spencer's First Outing
This year we decided to go to Wasson Farm for pumpkins for several reasons. The first being that it is closer than Way Fruit Farm (where we went last year) and the second is that Way Fruit Farm was having their Fall Festival and I've hear that it gets really busy and crowded.
I tried to put Spencer in the Ergo when we got to Wasosn, but he wanted to eat, so I nursed him in the car while Nevin and Nolan checked out the farm.
When Spencer was done, we went to the big tractor to take some pictures.
After we bought our tickets for the hayride ($6 per person, but Nolan and Spencer were free because they are under 3), we went to check out the animals while we were waiting for the tractor. We saw cows and chickens and then the tractor was back. The piglets would have to wait! The tractor ride to the pumpkin patch was long and bumpy, according to Nolan. Nolan enjoyed walking all over the patch and  walked all the way to the end. He enjoyed the green pumpkins and the small pumpkins. We all picked our pumpkins and went back to the hay ride drop off to wait for the tractor. At this point, it started to drizzle, the wind picked up, and it was freezing. All of the other passengers on the hay ride with us were waiting as well and we joked about how they forgot about us. Eventually the tractor came back and we were dropped back off at the farm house. As we were getting off the trailer, Nolan said "go again", but we were able to distract him by going to see the piglets.
After that, we stopped in the store and Nevin bought a small cherry pie and banana bread. They had hot dogs and nachos for lunch, but it was very crowded so we went to Taco Bell instead.
Overall we had a successful and fun first outing as a family of 4!
Loving the tractor:
Mommy and her boys:
Then he made me go behind him on the trailer so he could pretend he was driving me:
Chickens: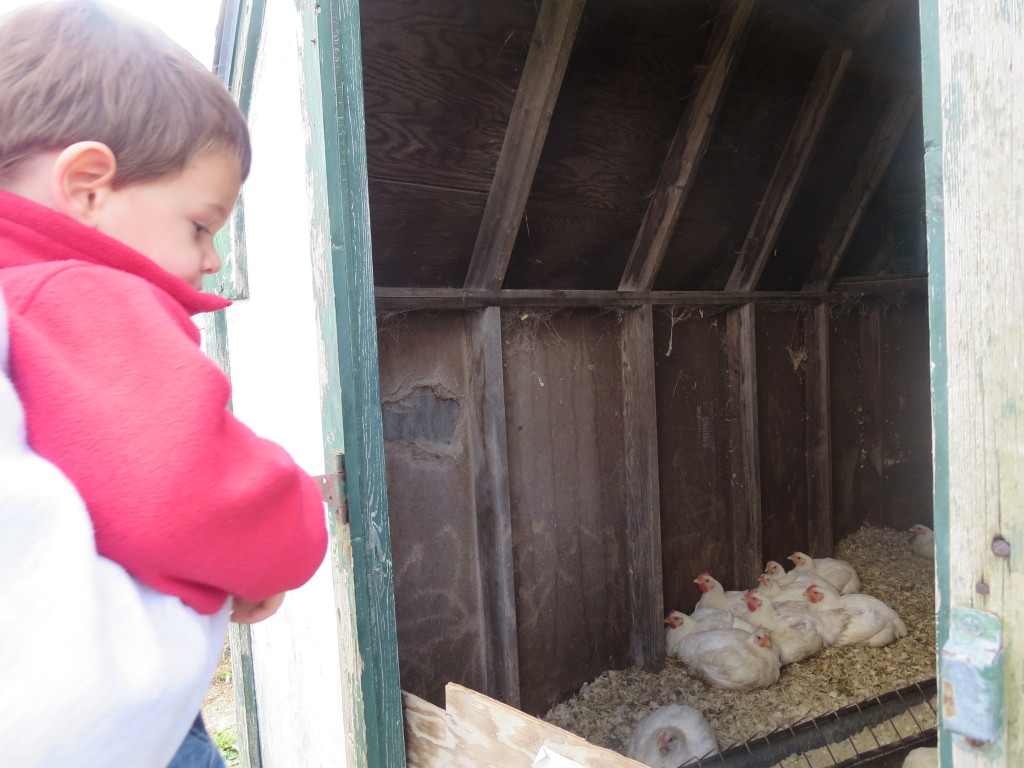 On the hayride waiting to leave for the pumpkin patch:
The leaves on the tress on the mountain were so beautiful:
Looking for the perfect pumpkin:
The pumpkin carrier: 
While waiting for the tractor to come back it got very cold and windy. We thought they forgot about us and we'd have to walk back! Nolan didn't want to stop exploring while waiting for the tractor, so Nevin followed him on his adventure.
 Mommy/Spencer selfie (You can't see him, but I swear he's in there!):
Watching for the tractor:
While looking at the cows and chickens, we saw the tractor coming for the hayride and didn't have time to see the piglets. After the hayride, we went back to see the piglets (even though we were freezing!): 
 Since there weren't any pictures of Spencer out of the Ergo, I decided to take some when we got home. He wore his Halloween jammies to the pumpkin patch: 
All tuckered out on Daddy after the busy morning at the pumpkin patch:    
October 19, 2014 – Spencer's 2nd Bottle
Nolan is helping to feed Spencer (Spencer is wearing size 3 months now):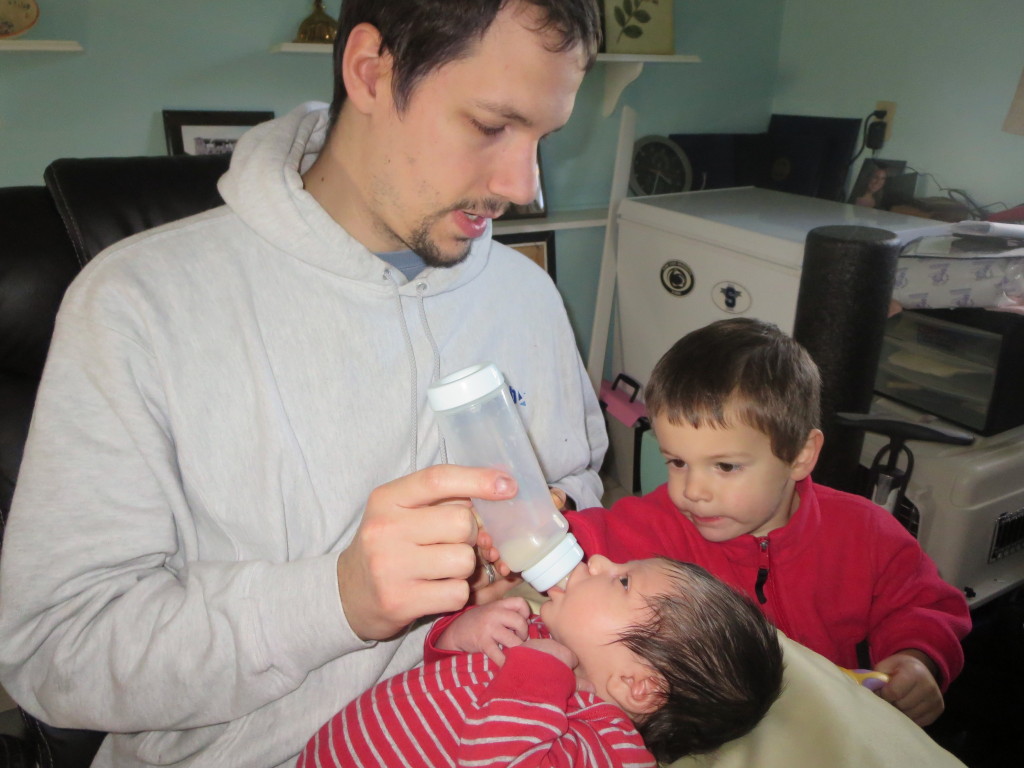 October 20, 2014 – Spencer is 1 month!
The shirt he is wearing is newborn size and it's a bit too small, but I wanted him to wear his awesome little brother shirt for this picture!
At 1 month Spencer can focus his eyes on objects, hold his head up for about 10 seconds, and turn when he hears my voice. He also makes cooing noises every once in a while, especially when laying flat on his back which he loves. When Spencer is fussing in the morning, I put him in the Ergo (baby carrier) and he falls asleep within seconds. He is waking up every 2 hours throughout the night to eat. Newborn diapers and clothes are just a bit too small, but 0-3 month and 3 month clothes and size 1 diapers are a bit too big. I remember these in between stages with Nolan and they are annoying, but they don't last long at all. I can't believe how fast 1 month went by!
  October 22, 2014
Nolan watching TV from behind the couch with some sort of food mustache:
October 26, 2014 – Spencer's first binky (he didn't really like it):
Nolan eating dinner with no shirt on:
October 27, 2014 – Pumpkin Carving
Of course Nolan had to have some of his construction trucks handy to dig in the pumpkin seeds.
Nolan's turn to carve now:
Here he is using his trucks to dig in the pumpkin seeds. He enjoyed this part way more than carving the pumpkins: 
Spencer did not partake in the pumpkin carving, but spent the whole time in Mama's arms.
Since Nolan wanted to be a ghost for Halloween and I chose a fireman for him instead (yea, I know, I'm a horrible mom for crushing my child's Halloween costume dreams!), I had Daddy carve a ghost into my pumpkin for Nolan. It looks awesome and Nolan was happy with his ghost. Oh, and once he saw his fireman costume, he forgot all about the ghost he wanted to be!
Here are the finished products. Nevin let Nolan tell him which shapes to put where in his pumpkin so that's why we have a crazy looking Jack O' Lantern.
This is what happens when Nolan decides to stand up in the middle of a picture:
On October 29, Nolan and Nevin went to Brookline to visit Great Grandpa and enjoy the Willy Wonka and the Chocolate Factory themed Halloween party. Nolan was very sad when he realized that I couldn't come with them. He ran into the house 2 times to give me a hug and a kiss while trying to hold back tears and then made me come out to the car 1 time to give him a hug and a kiss. This boy is so sweet! Nolan played some games and got some candy. He picked a lollipop every time!
"No, problem. I'm on my way." is what Nolan kept saying into his walkie-talkie. I have no idea where he got that from, but darn was it cute!
Nevin contacted our realtor, Suzy Alexander, on October 20 and explained that we have outgrown out starter home and are ready to start looking for a new house. The next day, Nevin met with a banker and got a pre-approval. We did not use my salary for the pre-approval because I may not be going back to work and we didn't want to purchase a home we couldn't afford. On Friday, October 24, the whole family went to look at 4 houses, 2 new and 2 old. While looking at the pictures, Nevin and I really liked a house and almost called Suzy to see if we could look at it on Thursday because we were afraid of someone making an offer before we did. As soon as I walked into the house on Friday, I knew this is where I wanted to raise my children. Nevin enojyed it just as much as I did. On Saturday, we took my parents to check it out and with Pop's approval, we made an offer Saturday night. They countered on Sunday and we accepted their counter on Sunday, October 26 with a contingency that we sell and close on our current house before January 2. With little time to celebrate, we had to get our house ready to put on the market. Nevin and I worked like dogs getting the house ready. We fixed, painted, cleaned, scrubbed, de-cluttered, organized, displayed, and anything else you can think of from Monday until Thursday when we had our first showing. Here is what the house looked like after our hard work on Wednesday October 29:   
I don't think we've been able to close those curtains for the past 5 1/2 years!
 We had an open house on November 9 and before that, we painted this wall white which made the kitchen look much bigger.
Nevin and Dad put in these steps themselves. 
Before the open house we painted the cabinet and mirror white as well.
I had purchased materials to decorate Spencer's bedroom walls (3-D fabric collage and scrapbook paper initials), but decided not to finish and hang them in this house.  
Nolan's room is not pictured because he was sleeping when I took these pictures.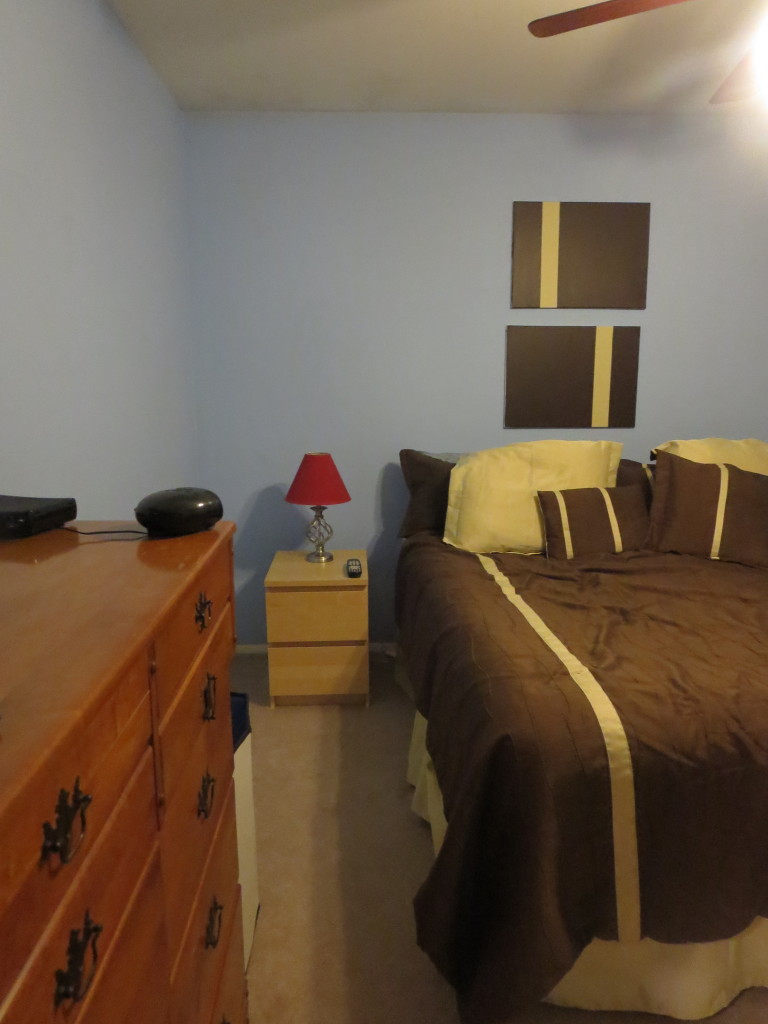 October 31 – Spencer's First Halloween 
We went trick-or-treating with the Beards at the mall. Since we had two house showings that evening, we drove to Babi's and Grandpa's house, dropped off the dogs and then got the boys into their costumes. We really enjoyed the mall last year because it wasn't too crowded and it was perfect for Nolan to run around. However, this year was completely different. It was very crowded and we even had to wait in line to get candy at some stores. It was pretty crazy and I think it was that way because trick-or-treat was on Thursday, October 30 this year because of a Penn State home game. I'm guessing that a lot of families went trick-or-treating in their neighborhood on Thursday and then again at the mall on Friday.  Spencer slept most of the time and when he did wake, Nevin gave him a bottle. Nolan started out eating each piece of candy as soon as he received it. Luckily he listened to Jamie about not eating every piece as soon as he got it.
"Ohhhhh, Nollllllan!"
"No problem, I'm on my way!"
Our little Dalmatian: 
Selfie with my boys before we left:
We met Jamie and Cam at the mall. Trying to get a picture of two 2 year olds is nearly impossible so here are the best I got:
On our way:  
The boys met "Twisty" and I was shocked that Nolan hugged him!
Once the boys saw the ride-on machines, we had a difficult time getting them to go anywhere else. Brett put some coins in so they could actually ride the taxi: