House Update
We had showings on November 1st, 4th, 6th, and November 8th was our first 2nd showing. We then had an open house from 1:00-3:00 on November 9. About 12 couples came through. I made (homemade) chocolate chip cookies and set out bottled water. The people who came through loved the kitchen (so do I!) and the negatives were that there were steps and only 1 bathroom. About 5 couples seemed interested and said they'd contact Suzy. On November 10, a couple who came to the open house came back for a 2nd showing. They were going to make an offer on November 11, but it was Veteran's Day and they were unable to get in touch with the bank. On November 12 we got an offer from another woman who was at the open house and we accepted her offer on November 13. I can't tell you how relieved I was to sell our house that quickly (12 days on the market to be exact). I was so exhausted, the dogs were over leaving the house and Nolan's and Spencer's schedules were so messed up. I could not wait to get back to normal (only to have everything disrupted again in a few months when we movie)!
November 8 – Crib Time for Spencer
Spencer slept in his crib at night for the first time at the age of 7 weeks. He was sleeping in the bassinet in the Pack N Play in our bedroom, but we put it away for our open house and never set it back up again. Two days later, he slept 4 hours straight for the first time, from 10:00pm to 2:00am. He also did that on November 13, but from 9:30pm to 1:30am. The next day, he slept 4 1/2 hours from 9:45pm to 2:15am and then slept 3 hours.
November 15 – Making crayons for the first time
It takes about 15 minutes for the "leftolas" to melt before you can pour them into the molds to make crayons. Nolan waited very patiently and was thrilled to make his own crayons.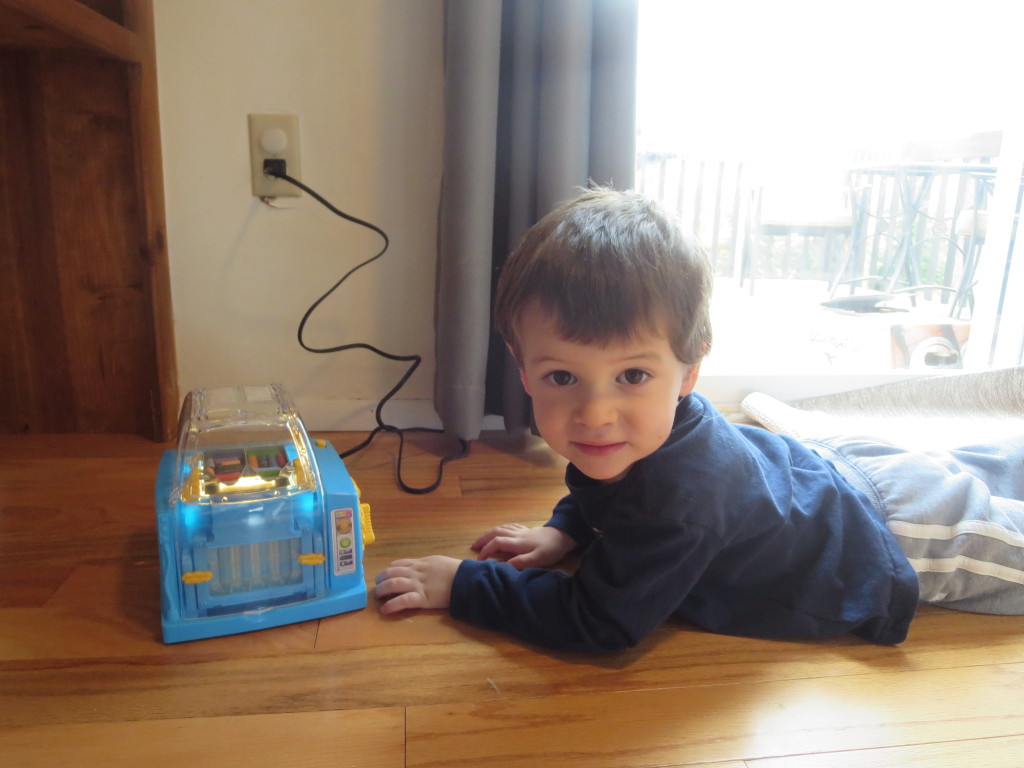 November 15 – Pop holding Spencer 
November 16 – Brother Pictures
It is very difficult to get a good picture of both of the boys. Nolan smiled for the first few, but Spencer wasn't looking. Then Nolan decided to pick Spencer's nose for him. His face in the second picture is priceless: "What? I didn't do it!". 
Potty break in the middle of all of the stuff:
November 18 – Brother Picture
Again, trying to get a good picture of the 2 of them is pretty difficult! It's blurry, but still precious.
Daddy and his baby boy: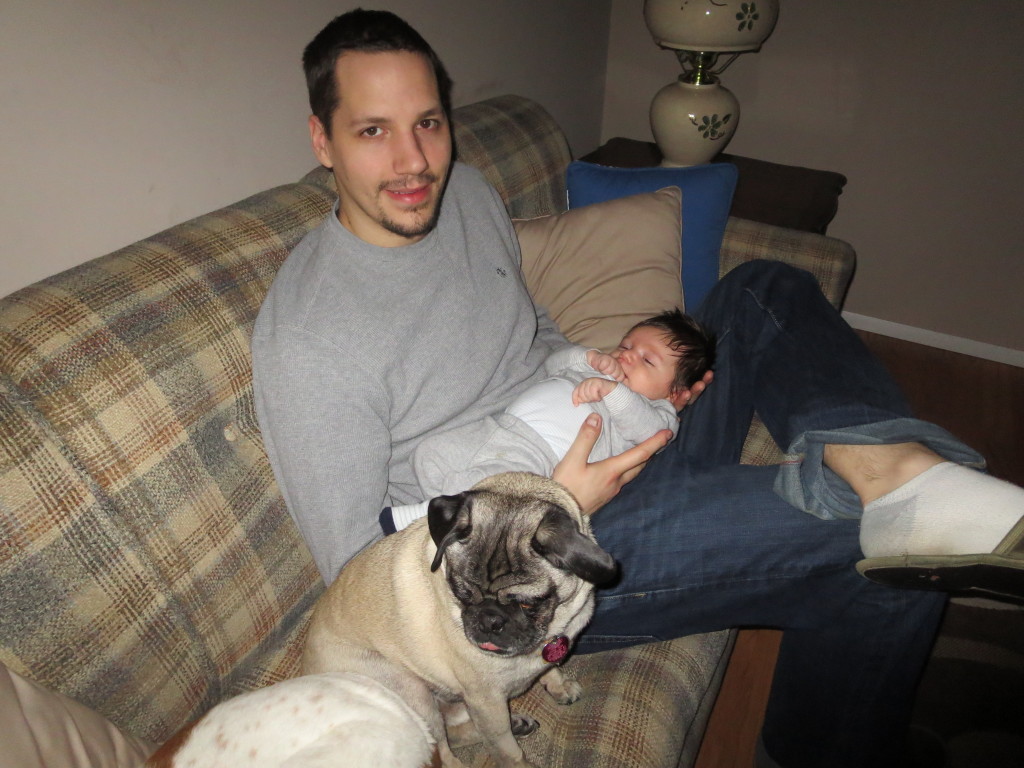 Lady Belle got a haircut!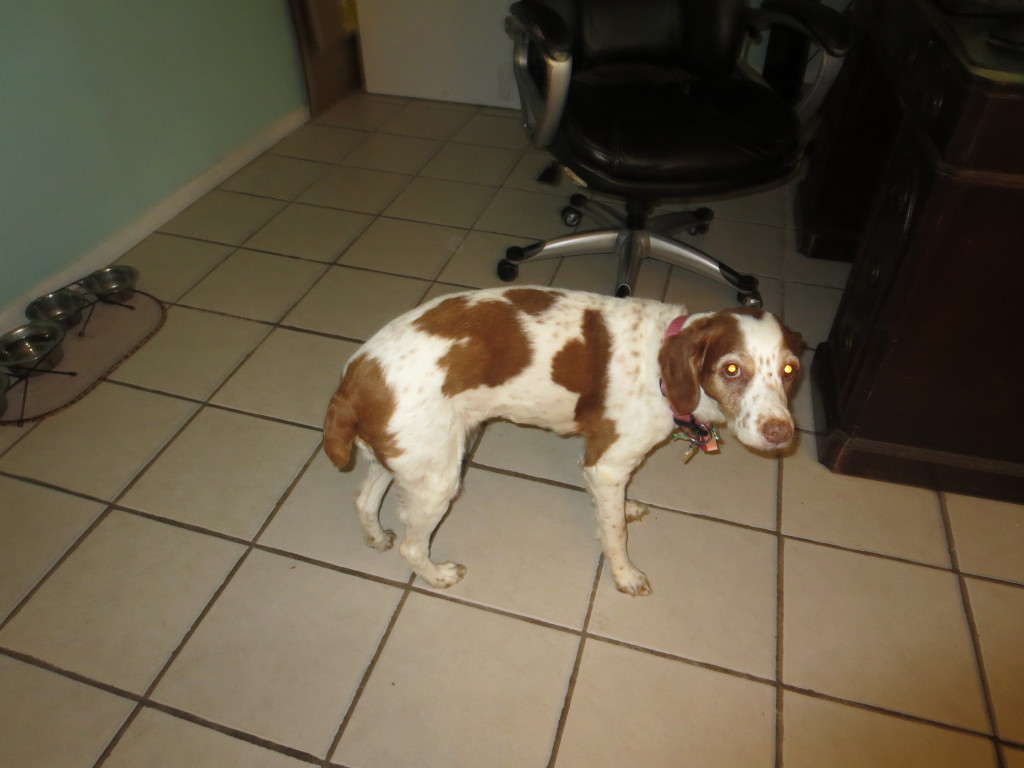 November 20 – Spencer is 2 months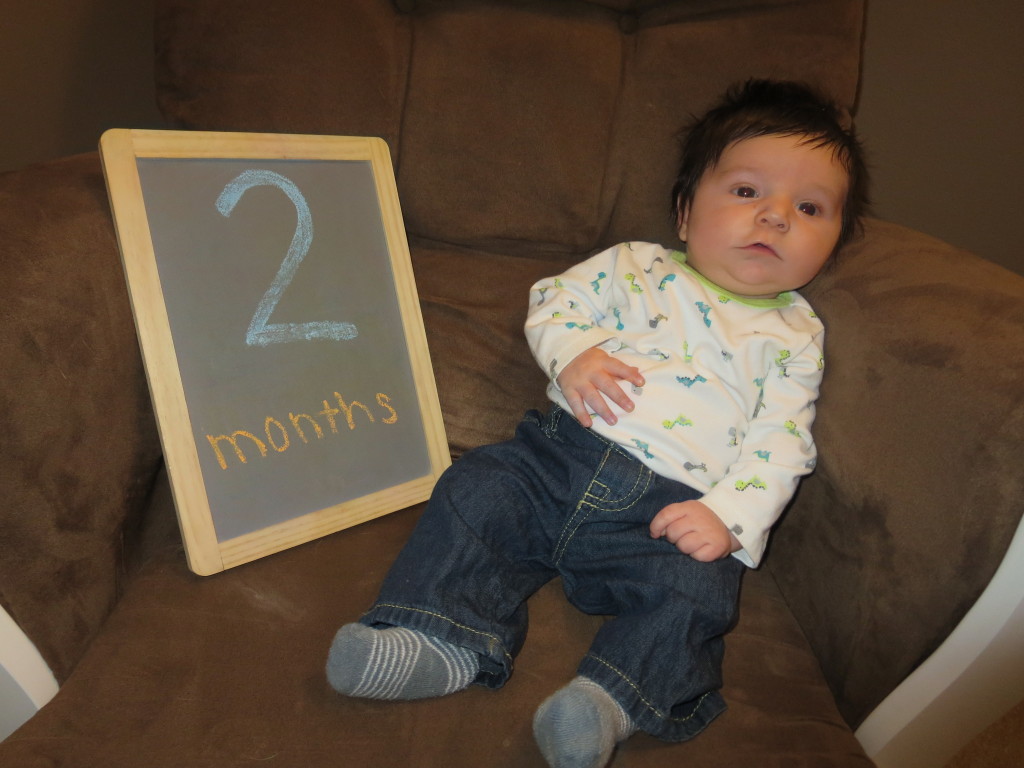 Spencer weighs about 12 pounds.  He is very strong and loves to push off his legs and can hold his head up pretty well. Just like his brother, he doesn't enjoy tummy time for long periods of time, but the back of his head is very flat! When talking to Spencer, he smiles so big, laughs, and talks back to you. When you change his clothes and get your hands around his arms and shoulders he laughs hysterically! He is such a happy, pleasant baby and only cries/fusses when he's hungry or tired. I'm one lucky mama!
Spencer's 2 month well baby was on December 1. He weighs in at 12 pounds, 14.2 ounces (48 %) and is 24 inches long (76%). His head circumference is 40 cm (62%). I am now pretty sure the nurse who measured Spencer in the hospital when he was born measured him wrong. When he went to the doctor 4 days after being born, they measured him as 19 1/2 inches. There is no way he shrunk 2 1/2 inches after 5 days. Anyways, the doctor said he has great head control and has nice muscle tone in his legs. I then showed her my legs to prove that this baby got at least 1 thing from me!! Spencer smiled and cooed at the doctor and was pleasant….until the nurse gave him his shots. She first gave him an oral vaccination and I knew it was going to be bad when she said he was the first baby who cried while she was giving the oral vaccination. After that came 3 shots and the poor thing cried so hard and so much. I then nursed him before we left, but that didn't even calm him down. He eventually calmed down to the point where I was able to put him in his car seat and check out. When we got home, he was fussy and running a fever. When he wasn't nursing or sleeping, he was constantly crying. Spencer only cries when he's hungry or tired and since he just ate and slept,  I gave him Tylenol before nap and then again at bedtime. The next day, he still had a fever and was still fussy. I gave him Tylenol again before nap and bed. By the 3rd day, he was back to his normal self. Let's home that when we return for his 4 month appointment this same thing doesn't happen.
November 21 – Tummy Time 
Unlike Nolan, Spencer actually doesn't mind tummy time. This is great because he has a flat head (just like Nolan) and it's important that I put him on his tummy often to strengthen his neck and back muscles.
November 25 – Nolan playing in Oscar's crate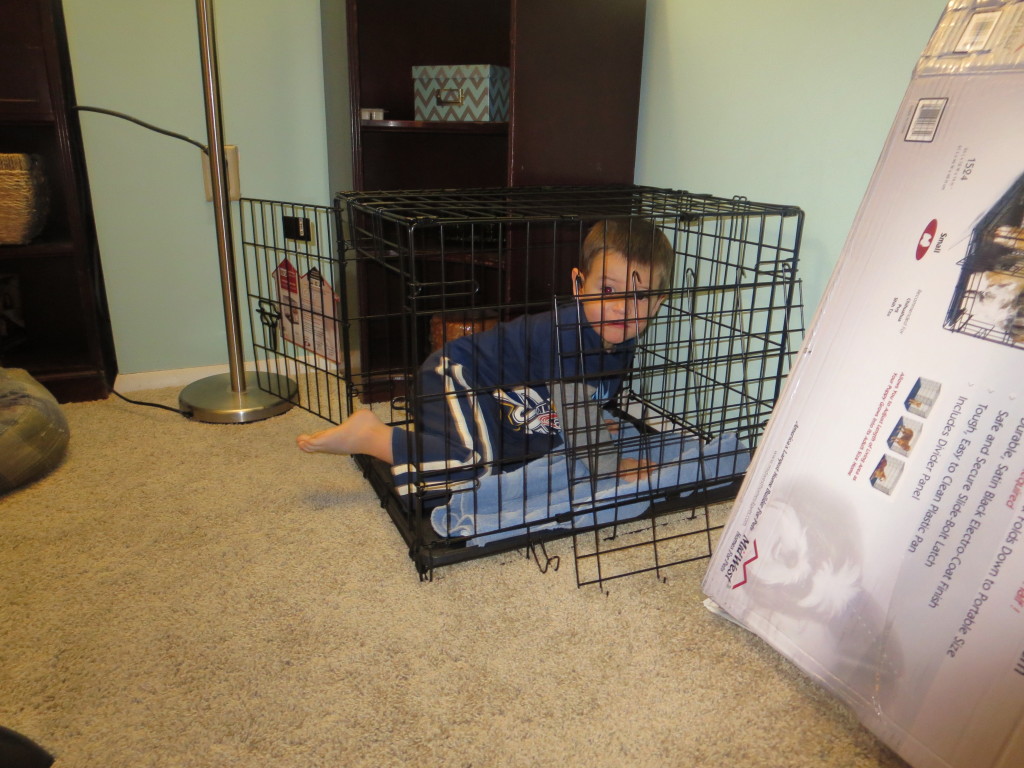 November 26 – First Snow of the Year
I am fortunate to have a great baby monitor so I can take Nolan outside to play while Spencer is inside napping. Here we are enjoying the first snow of the season. If you look carefully, you'll notice that Nolan has on sneakers in the snow. This is because his boots are in Babi's basement. When I was packing things away to put our house on the market, I wasn't thinking about the possibility of snow and packed his boots. Note to self: Get Nolan's boots from Babi's house ASAP!
The street and the trees look beautiful:
November 27 – Spencer's First Thanksgiving!
We decided to stay in State College for Thanksgiving this year and enjoy our first and last Thanksgiving in the Creekside house (as it's been referred to). I made my first turkey as well as sweet potato casserole, green bean casserole, and a pumpkin pie. I was very nervous to cook the turkey, but after about 7 hours in the oven, it was cooked perfectly. We had a great dinner and Andrea, Kyler, and Uncle Mark came over for pumpkin pie for dessert to meet Spencer. Taking a decent picture of both boys wasn't successful, but I'd say overall we had a successful first and last Thanksgiving in the Creekside house!
I think I need some more practice stuffing the bird:
Spencer enjoyed the view from his bouncer:
That's a lot of turkey leftover:
Delicious food:
Since Nolan wouldn't cooperate, I took a solo of Spencer:
November 28 – Spencer sucking his thumb for the first time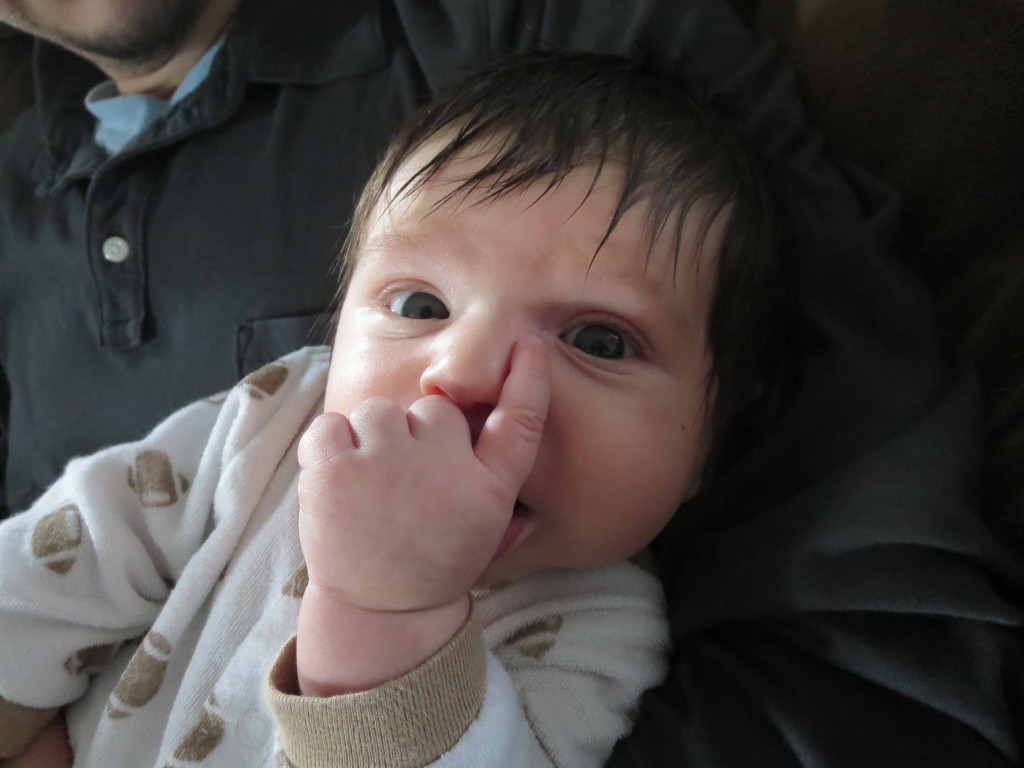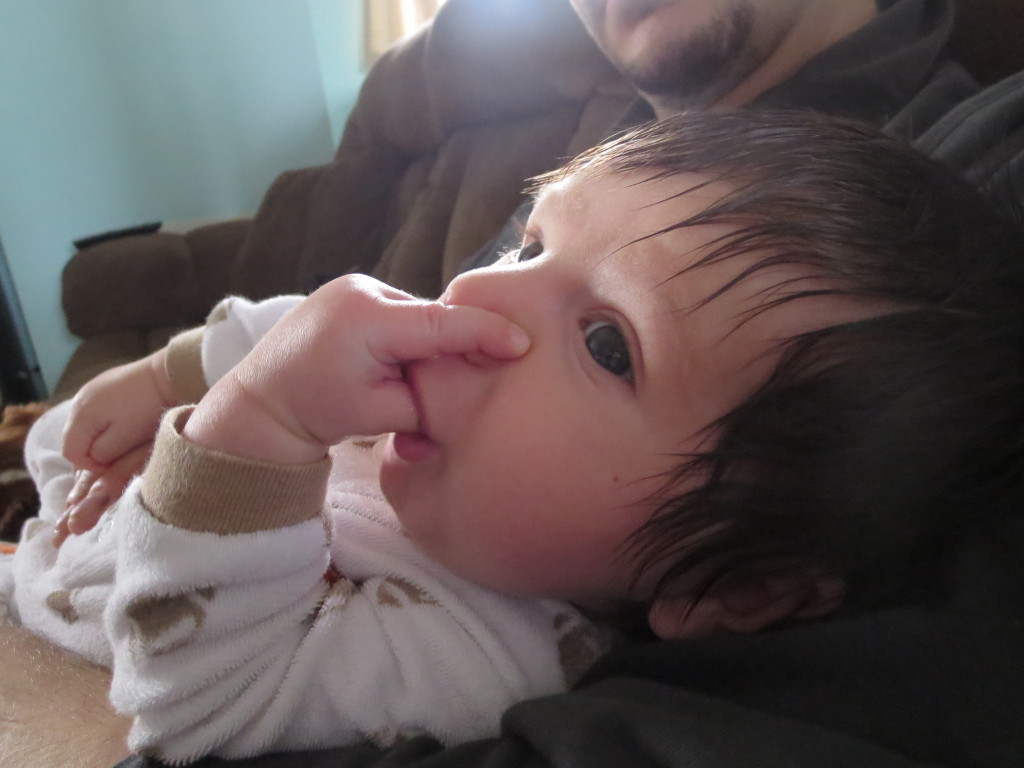 November 30 – Spencer's First Christmas Tree
We took advantage of the warm weather and got our Christmas tree earlier than we usually do which worked out since we'll have to take it down earlier than usual as well. We went to Tannenbaum Farm again this year since we had such an enjoyable experience there last year. While walking up toward the Fraser Firs, we saw 2 very nice trees right next to each other. We walked a bit farther to see if there was anything better, but we didn't find anything and went back to the first 2 we saw. We picked the nicer of the 2, Nevin cut it down, and we brought it down the hill to get it shaken and tied. Since it was warm and the snow from a few days before melted, we all were covered in mud. I ordered new snow boots for Nolan a few days before we got our tree, but they did not arrive in time. I had to take his shoes off before he could get in the car and I had to change his pants as well. I nursed Spencer while Nevin tied the tree to the roof and then we headed home to put up the tree.
On our way to find the perfect tree: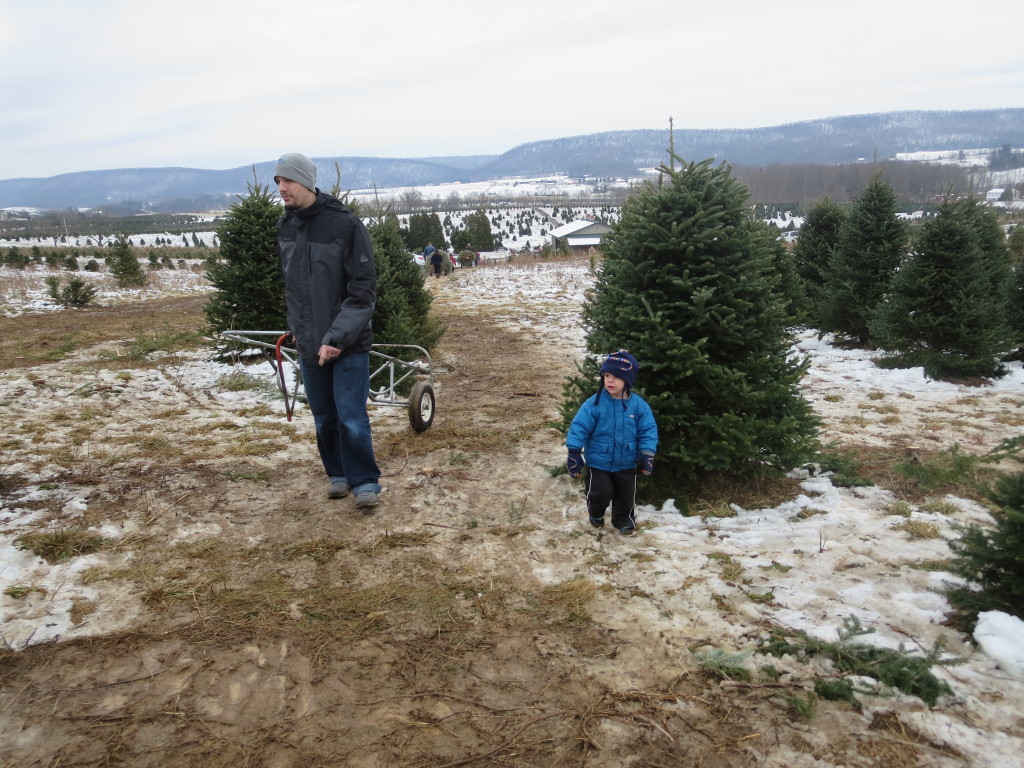 We found it:
Had to include the "cheeser" picture:
Nolan played with snow while Nevin cut down the tree:
Nolan liked the small tree and thought it should be our Christmas tree: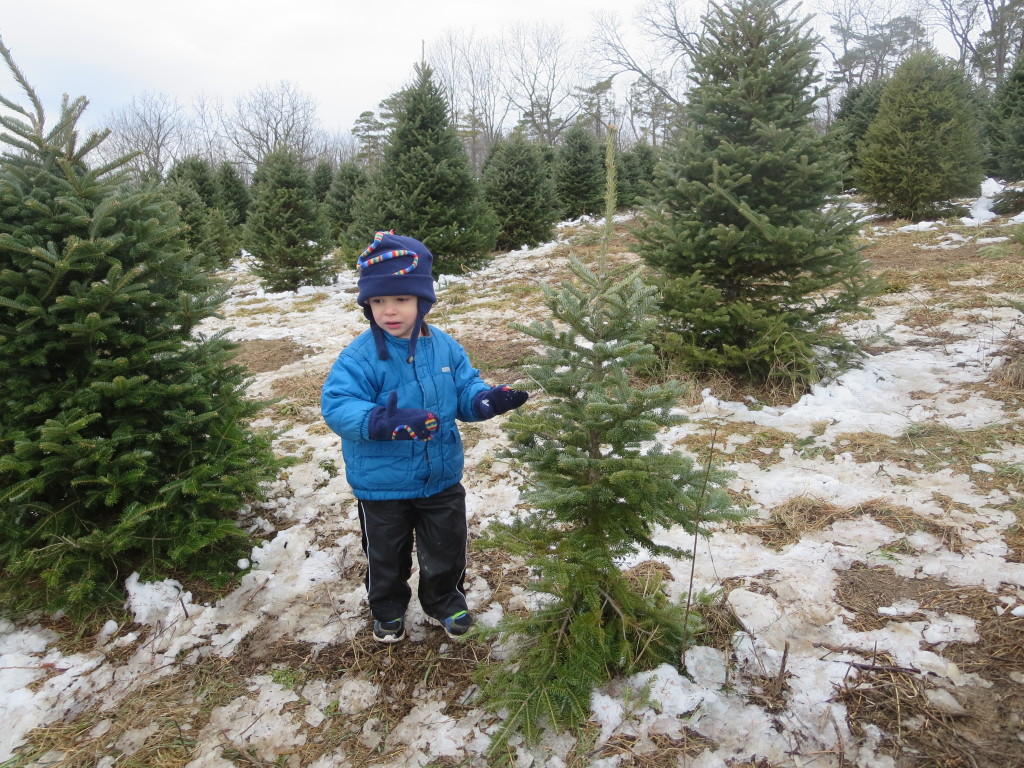 Nolan helping to push the cart:
The hill was very muddy/slippery so Nolan had to stop pushing and hold daddy's hand so he didn't end up in the mud: