December 1 – Decorating the Christmas Tree
Since we were in the process of packing up the house and I didn't want to get out tons of ornaments only to add them to the "items to pack list", we decorated the tree using only the plastic red balls. It actually turned out beautifully.  
Nolan really enjoyed decorating the tree this year. It was great that we used the plastic balls because it didn't matter if Nolan dropped one while decorating.
December 3 – Christmas Pictures
For the King relatives, I made ornaments with a picture of the boys and I will do this each year. I also make one for ourselves so when the boys are older and we decorate the tree, we can look back throughout the years and smile, laugh, and cry (okay, only I will cry, but still…) at the way the boys used to look. Here are some of my favorite shots from the ornament photo shoot.
This is the one we used for the ornaments this year: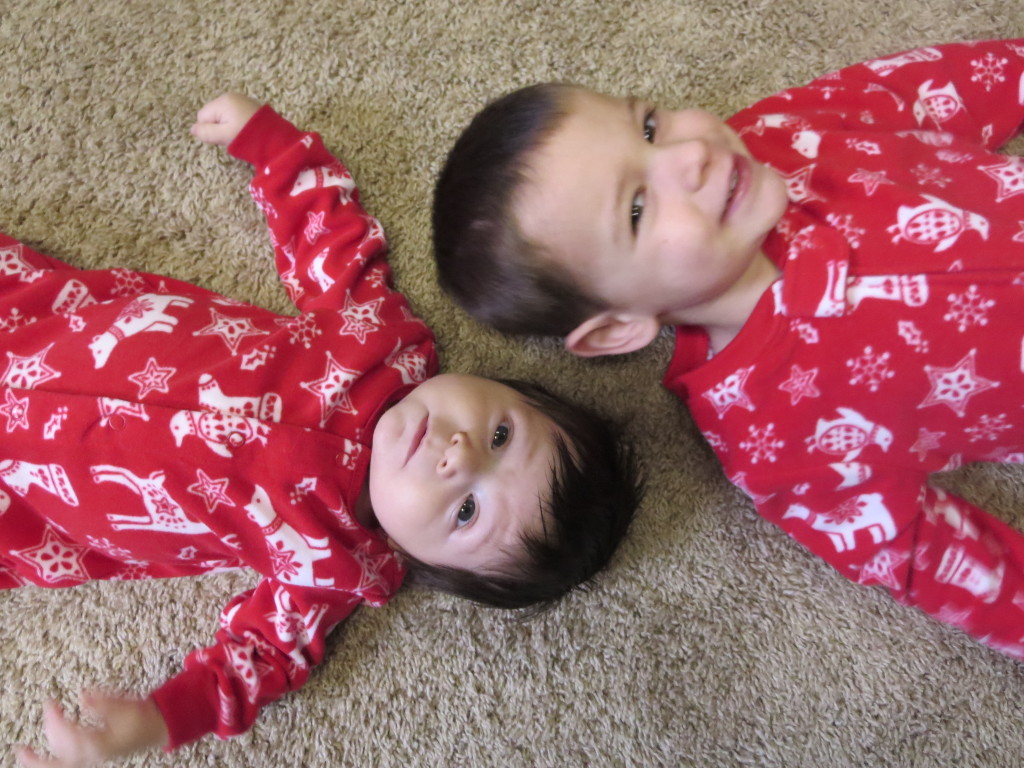 Just precious: 
December 4, 2014 – Big Boy Bed for Nolan!
After Nolan turned 1 and began sleeping through the night, we had no issues with him with sleep whatsoever. We'd put him down in his crib and he'd play quietly or read quietly until he was ready to fall asleep and then he'd sleep through the night. No crying, no complaining, nothing. We had no issues at all and it was glorious. However, about a month ago, Nolan began to cry after we left the room. He'd call for us and if we'd ignore him, he'd cry so hard that he'd throw up. If we'd go in to see what he wanted, he'd make something up such as, "I need ice" or "I need my covers on" or "Can I get a drink?". We thought it might have been due to over tiredness due to the crazy schedule changes (showing our house at 7 pm) while we had our house on the market and that he was getting his 3 year molars, but when those 2 things ended and he was back on his regular schedule, the crying didn't stop. To solve the problem, we started getting ready for bed earlier and slowing down the bedtime routine, we tried an earlier bedtime and then a later bedtime, we tried leaving his light on, leaving the door open and the hallway light on, playing music, and having only Nevin put him to bed, but he would still cry. After about a month of this, I decided I couldn't take it any longer and the only thing we hadn't tried was a toddler bed. I had read that some toddlers begin to feel claustrophobic and trapped in their cribs, so we decided to give it a try as a last resort. Nolan and I went to Wal-Mart that day where he picked out new sheets, a new pillow, and a new pillow case. We started our bedtime routine earlier than normal and made a big deal out of his big boy bed. Well, he still cried and called for us that night, but he fell asleep at 9:45 – better than 10:45 like the night before and I had hope! I was nervous for nap the next day, but there were no issues. He laid in his bed and went to sleep without getting out once. I also read that toddlers can be afraid to be alone in their rooms, so checking in them helps. About 3 minutes after I left the room, he fake cried, so Nevin went up, read a page in a book and left. After about 10 minutes he fake cried again and Nevin went up again. After that we didn't have to go up again and he was asleep within 45 minutes! As I'm writing this now, he gets out of bed shortly after we leave the room, but he eventually gets back in and falls asleep – unless he has to poop and that's a whole different story!
December 6 & 9 2014 – Spencer Update
Spencer "talks" back to you and smiles at you when you talk to him. On December 9, he realized that if he kicks his feet, the bugs that hang down from the top of the bouncer will move.
December 9 – Cinnamon Ornaments with Nolan & Spencer 
I decided to make cinnamon ornaments with Nolan. He loved playing with the dough so much that we never actually made ornaments! It was quite messy, but he had a blast. Yes, his trucks got in on the fun, too. 
 Had to get some pictures of Spencer, too: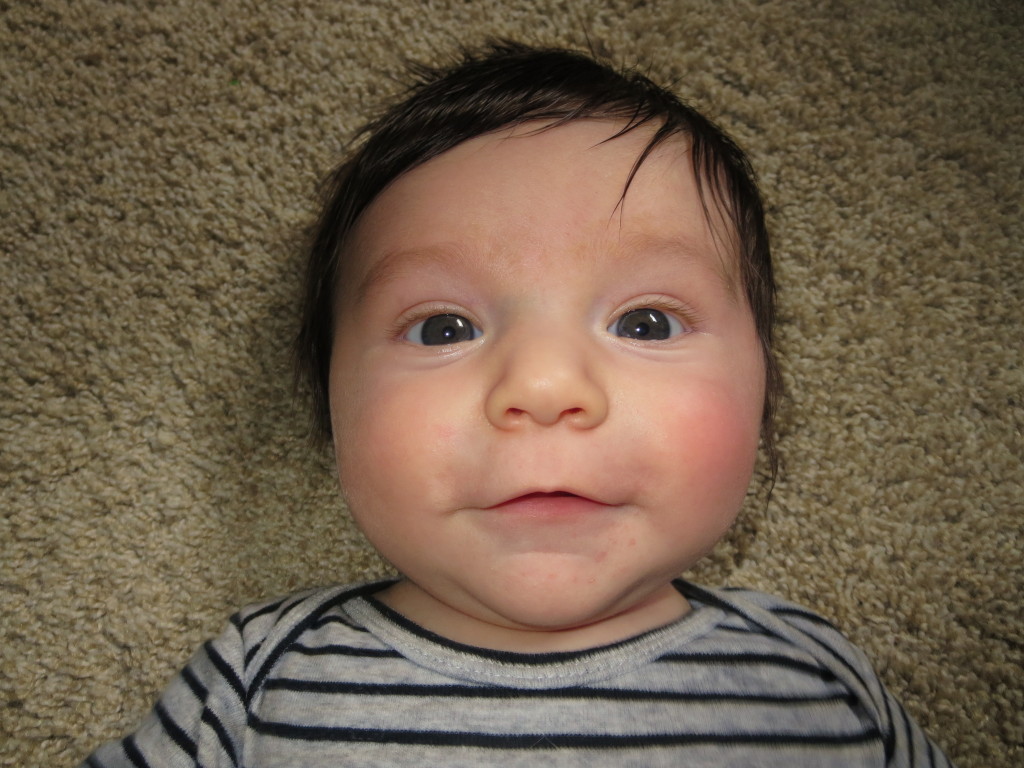 December 12, 2014 – Nolan's 2 1/2 year check up
This was Nolan's first appointment at Geisinger and he met with Dr. Coggins (Dr. Brink was on vacation). We only waited in the waiting room about 2 minutes and after the nurse left our exam room, I read 1 page of a dinosaur book and then the doctor came in (Nolan was pretty disappointed we didn't get to finish the book!). Nolan weighs 29 pounds 3 ounces (43%) and is 3 feet 1 inch tall (78%). His head circumference is 47cm (7%) so he still has a small head but the doctor was not concerned. Nolan has had a sore on his bottom left lip for a little over a week and we discussed if that was a cold sore or just some irritation from biting it (unknown – we'll have to see if it crusts over during the weekend). We also discussed the fact that he has not started to poop in the potty and the doctor was not concerned at all which made me feel so good. He was impressed that he was 2 1/2 and going pee in the potty, so we are doing well! He asked if Nolan could count, recognize colors, help get himself dressed, jump, climb stairs, stay with me in a store, and some other questions I can't remember. He also asked if he throws temper tantrums and I said, "Oh, like this morning when he refused to let me put clothes on him in order to come here?" and the doctor laughed. He said the way we respond to him hitting us (telling him no and leaving the room) is perfect and that we should keep doing that. He said Nolan's verbal and cognitive skills are great and he is in great physical shape as well. We'll be back in June for his 3 year (yup, 3 year check up is scheduled – my baby is growing too quickly) check up!
December 16 & 17 – Sibling Pictures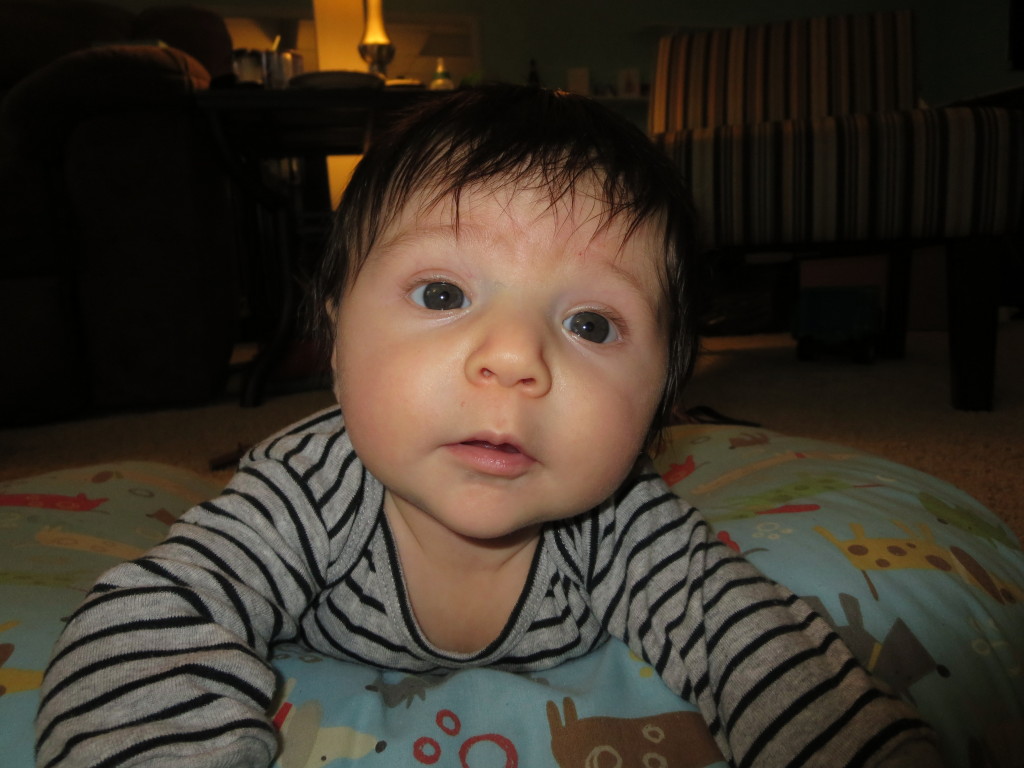 December 19 – Styrofoam Face & Pictures for Frame Gifts
Nolan got a hold of some Styrofoam packaging and started to tear it apart to make snow. It clung to his face so I had to snap a picture.  
Great smile: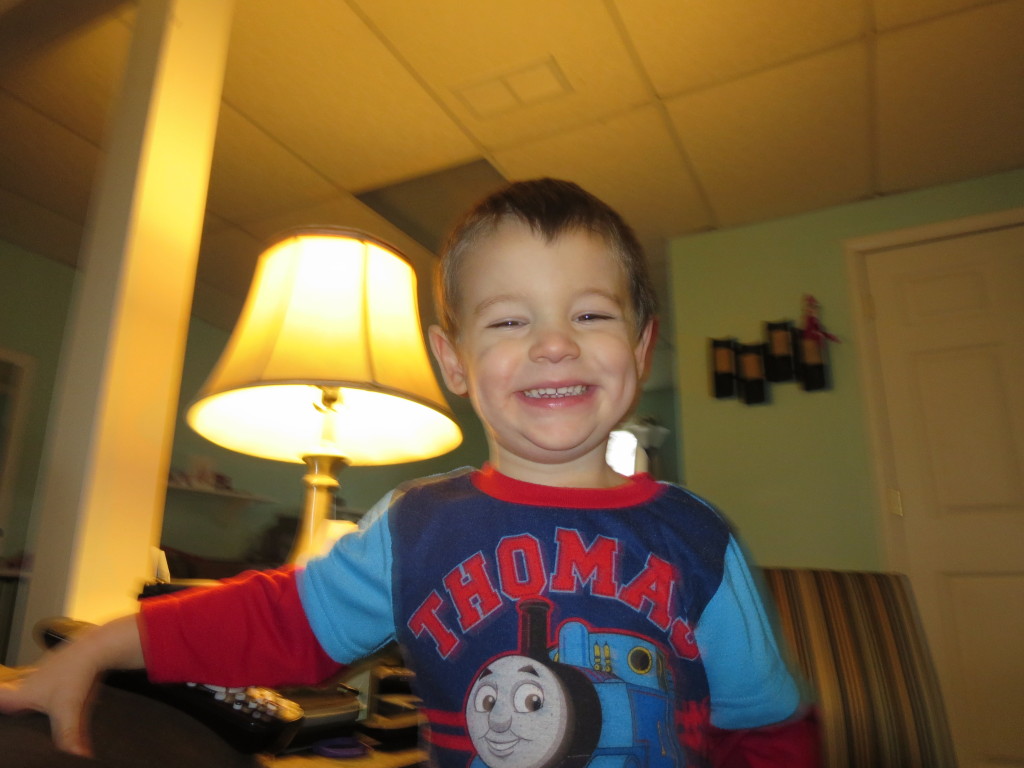 Mimi requested a "good" picture of both boys for Christmas so we decided to make one for Babi and ourselves as well. The reason there are so many sibling photo shoots this month is because I was trying to get a good picture of them for the gift. It wasn't until I did it with help from Nevin that we finally got a picture worth blowing up and framing. Even then it was a challenge. Here are my favorites from the "good picture" photo shoot: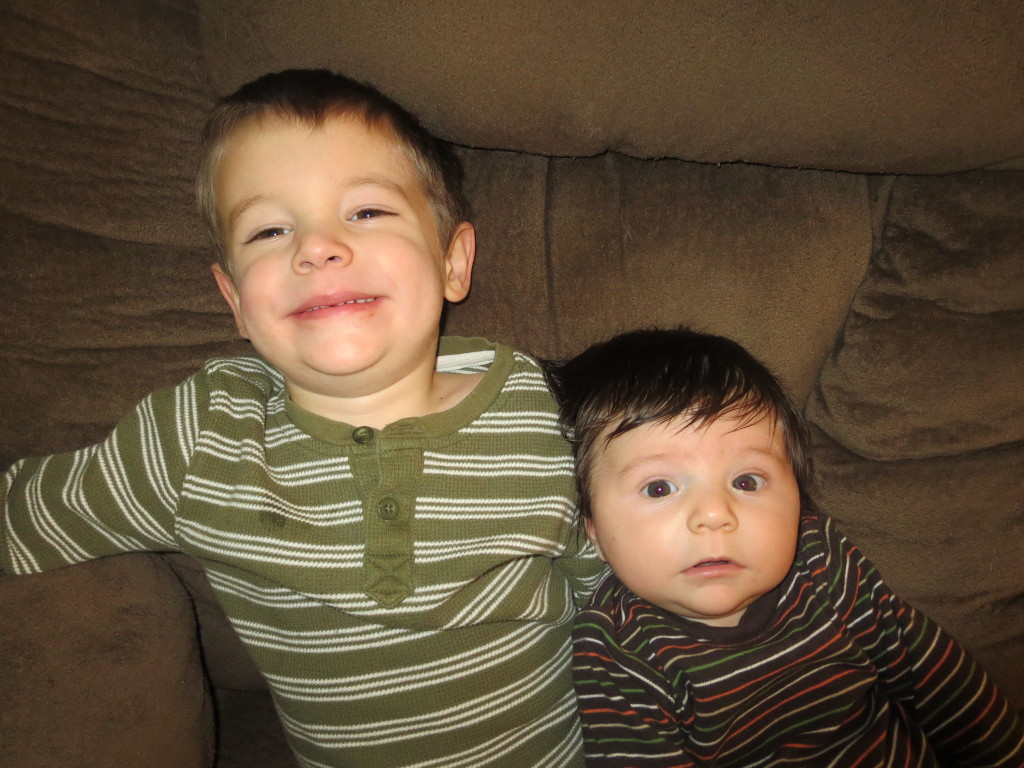 This is the one we framed for them and us: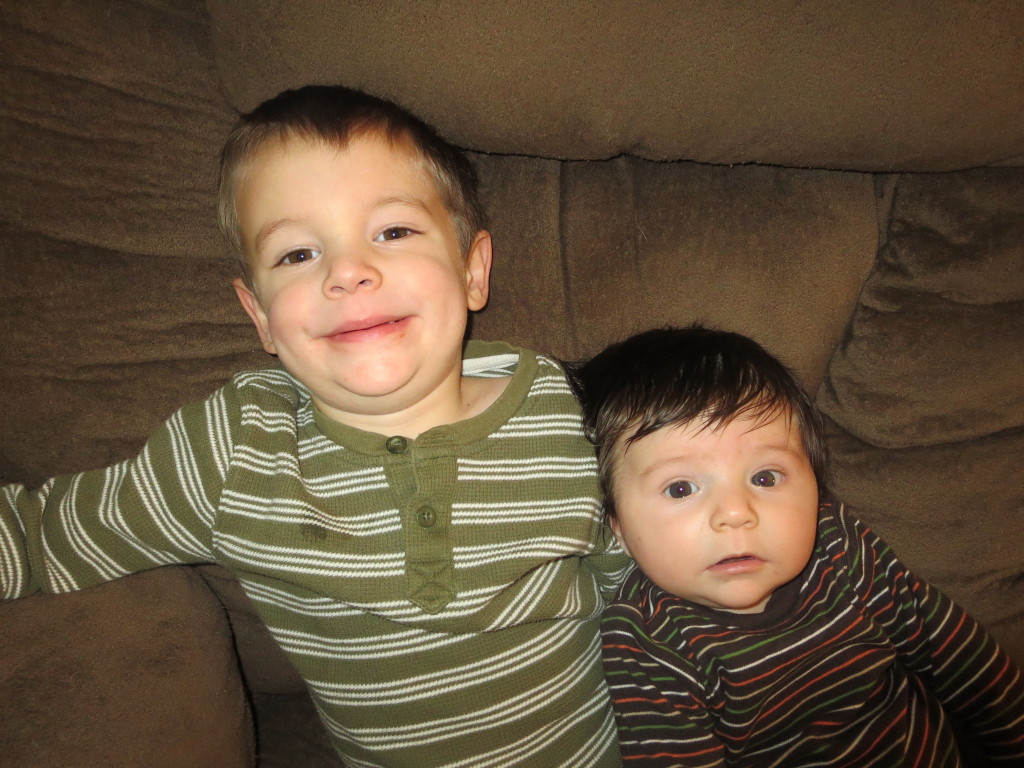 December 20, 2014 – Santa Express Train Ride – Bellefonte Railroad
We lucked out and got a parking spot close to the train station. We arrived early (in hopes of getting that front row spot) and while I waited in the car with Spencer, Daddy and Nolan played on the playground, chased the ducks, and checked out the train. Around boarding time, I put Spencer in the Ergo and we ran into Matt, Meredith and Addy so we sat with them. When we first got on the train, we all sat in one seating area, but it was way too crowded so Matt and Meredith moved across the isle. Spencer was due to eat at 10, so I nursed him before the train started to move. After that, we had him out of the Ergo and he sat on our laps the rest of the ride. Right before we got back to the station, I put him back in the Ergo and he fell asleep immediately. Nolan was not as excited as I thought he would be, but he still had a great time. He enjoyed looking out the window at all of the construction trucks. On the way there, they played Christmas music, read The Polar Express and the conductor punched our tickets (not as cool as they do in the movie, but still pretty cool!). On the way back, Santa, Frosty, Rudolph, Gingerbread Man, The Grinch, and an elf walked through the train car saying hello to the children. Ruldolph had bells on his costume and he rang them which made Spencer cry (it was really loud!), but other than that he was great. Nolan and Spencer had a great first time on the Santa Express and we're already looking forward to next year's ride!
December 20 – Spencer is 3 Months        
Spencer started hitting the toys on his car seat handle about 2 weeks ago. He loves laying under the mobile in his crib. He makes happy noises, kicks his legs and moves his arms when he's laying under it. He smiles at everyone, laughs a lot, and is overall a very happy baby. He can bear weight on his legs and has excellent head control. I can even hold him on my hip for a little bit.  
December 21 – Spencer Rolled Over
Spencer was dong some tummy time while Nolan was playing with Daddy's tool box. I looked over at Spencer just in time to see him roll from his belly to his back. He was quite shocked when it happened. I immediately hugged him and cried and put him on his back again this time while video taping. However, he didn't roll over again and became fussy because he was ready for nap. He fell asleep very quickly. He must have been exhausted from all of his hard work! I plan on putting him on his tummy more often to get rid of that flat spot on the back of his head and to strengthen his muscles.
December 22 – Christmas in Easton
Pop is putting batteries in the race track cars while Nolan plays with his new Matchbox car:
Spencer got to meet Auntie Julie:
Spencer fell asleep with his face buried in Nevin's arm:
We had a difficult time getting Nolan to take a nap. Who can blame him? He was excited to be in Easton, to see everyone, and to open gifts. However, we all know that Nolan is miserable when he skips a nap. So, I left him in my old bedroom and when I didn't see or hear anything on the baby monitor for a few minutes, I became concerned. I opened the door expecting to see a mess and instead found him asleep on the bed. His little legs were dangling off the bed, so I moved him onto the bed, but not before taking a picture:
Uncle Brad and Aunt Megan got him a bulldozer:
Spencer got to meet Great Grammy for the first time:  
December 24 – Spencer's First Christmas Eve
We went to Babi's and Grandpa's for dinner and to open gifts. When we got home, we had to leave cookies and milk for Santa. Nolan insisted on leaving him Hershey Kisses, too and he, of course, had to unwrap them himself. I think we left enough treats for Santa!
Spencer is enjoying his firs Christmas Eve:
Nolan really enjoyed the train from Babi and Grandpa:
Opening presents time: 
Getting cookies/chocolate ready for Santa:
Unwrapping Hershey Kisses is serious work: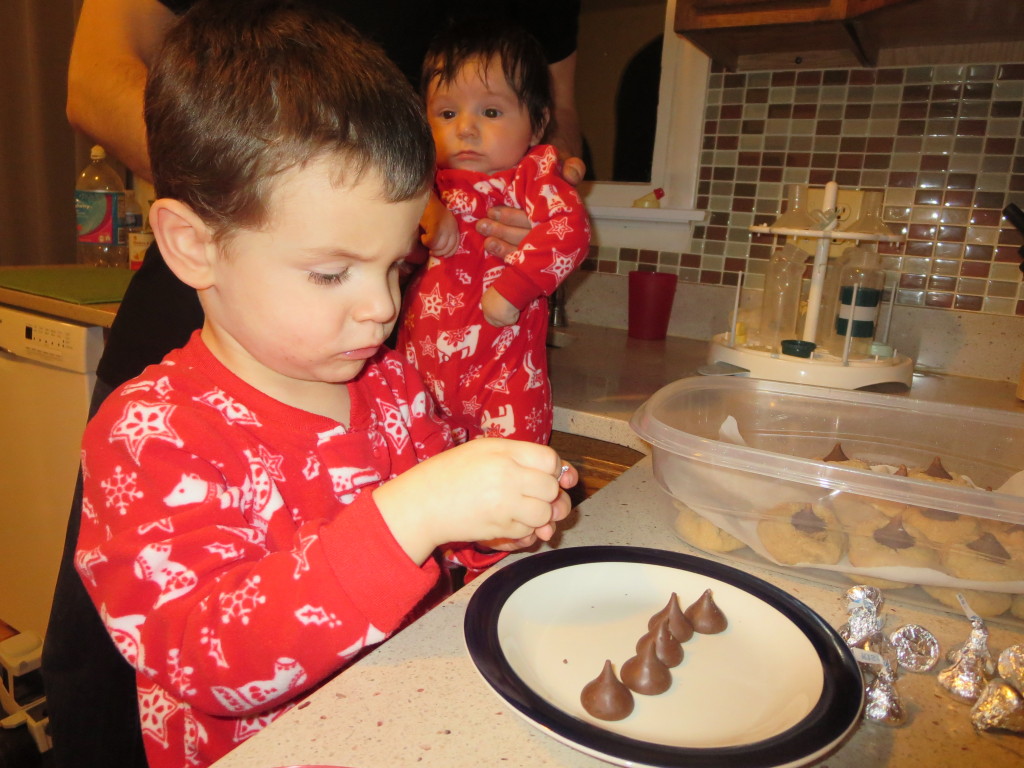 He was finally ready to put cookies on the plate: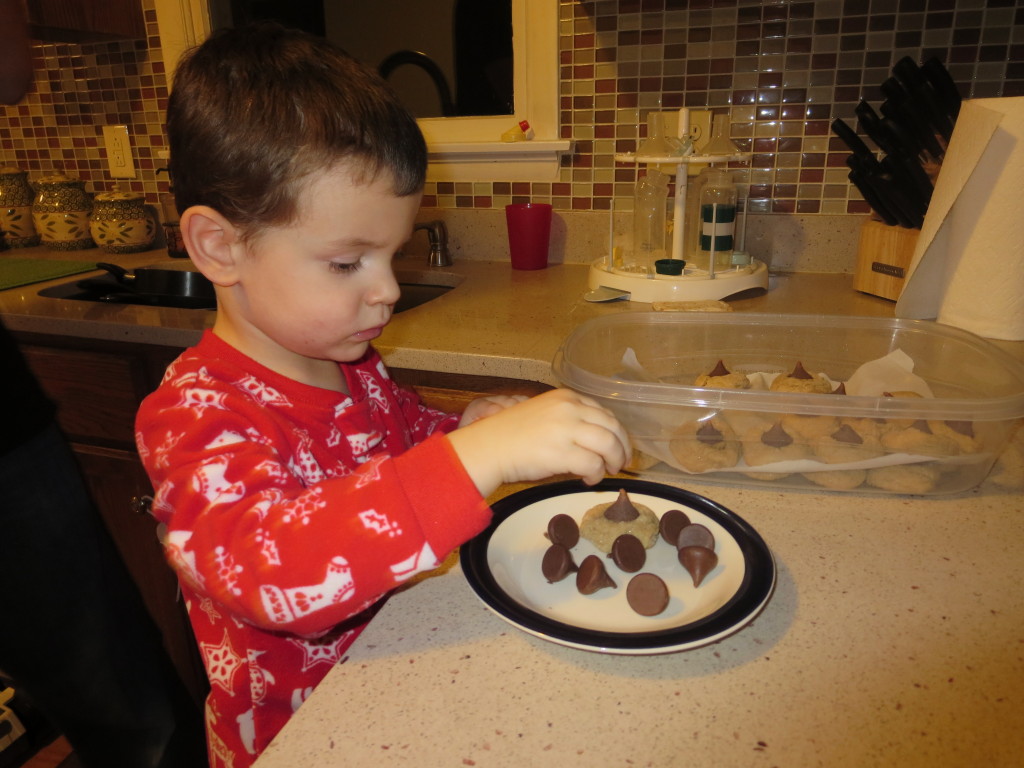 December 25 – Spencer's First Christmas
Checking out his Leap Pad: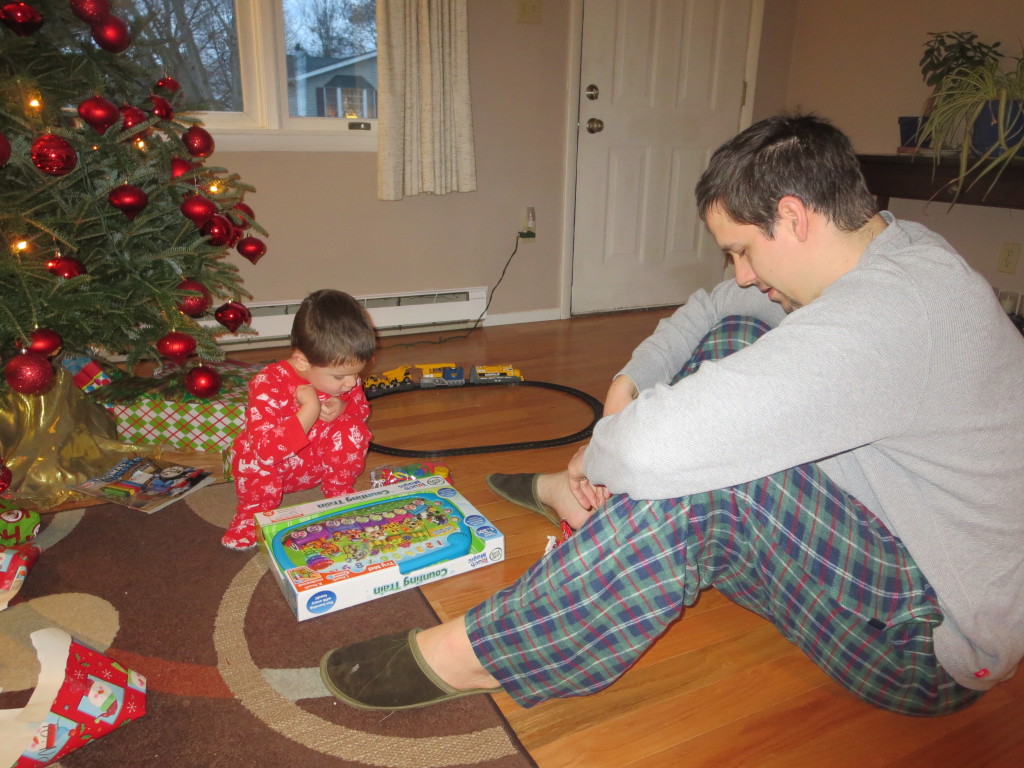 Wooden blocks: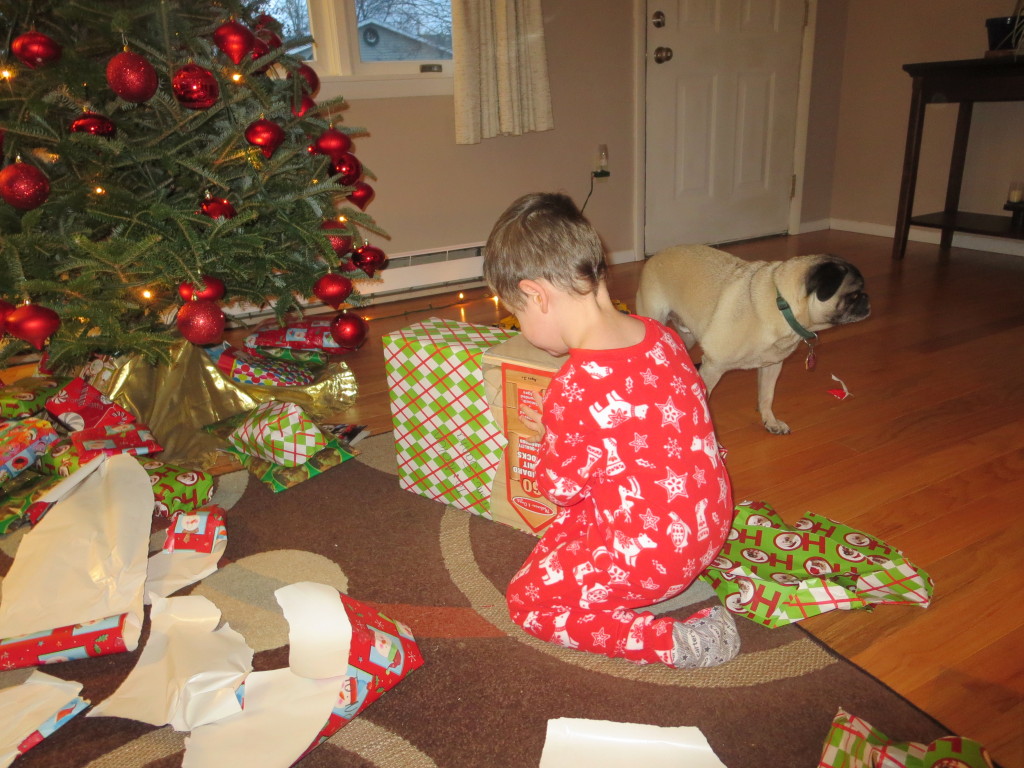 Testing out the new rug for cars:
Grabbing another gift: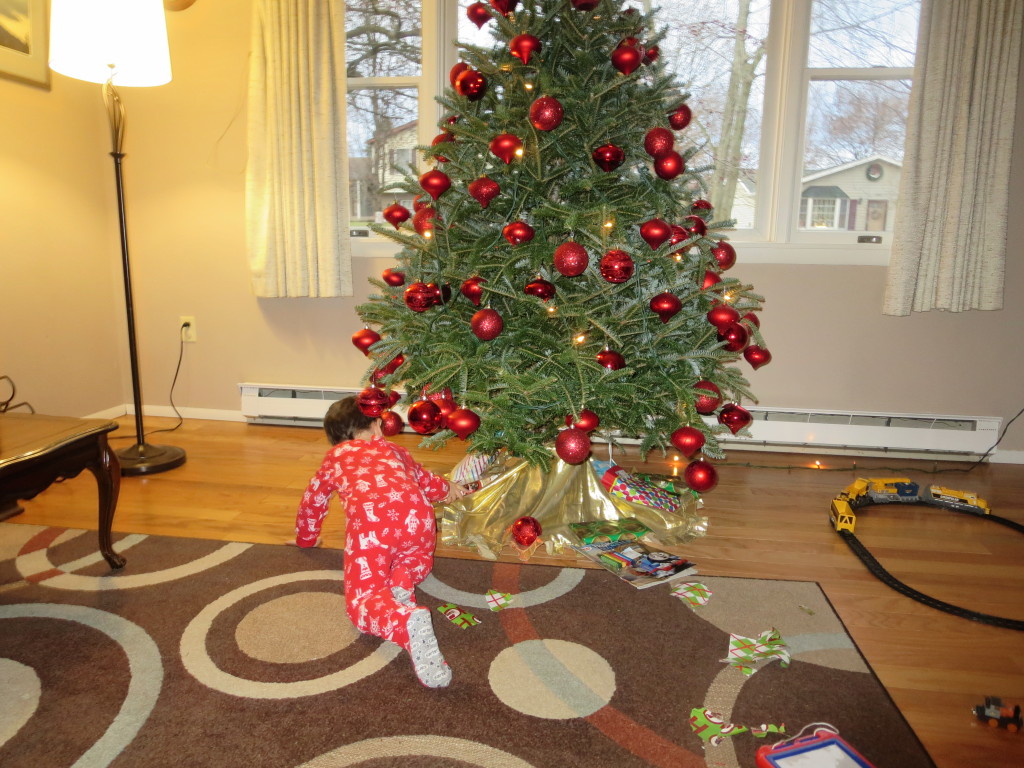 Stocking time: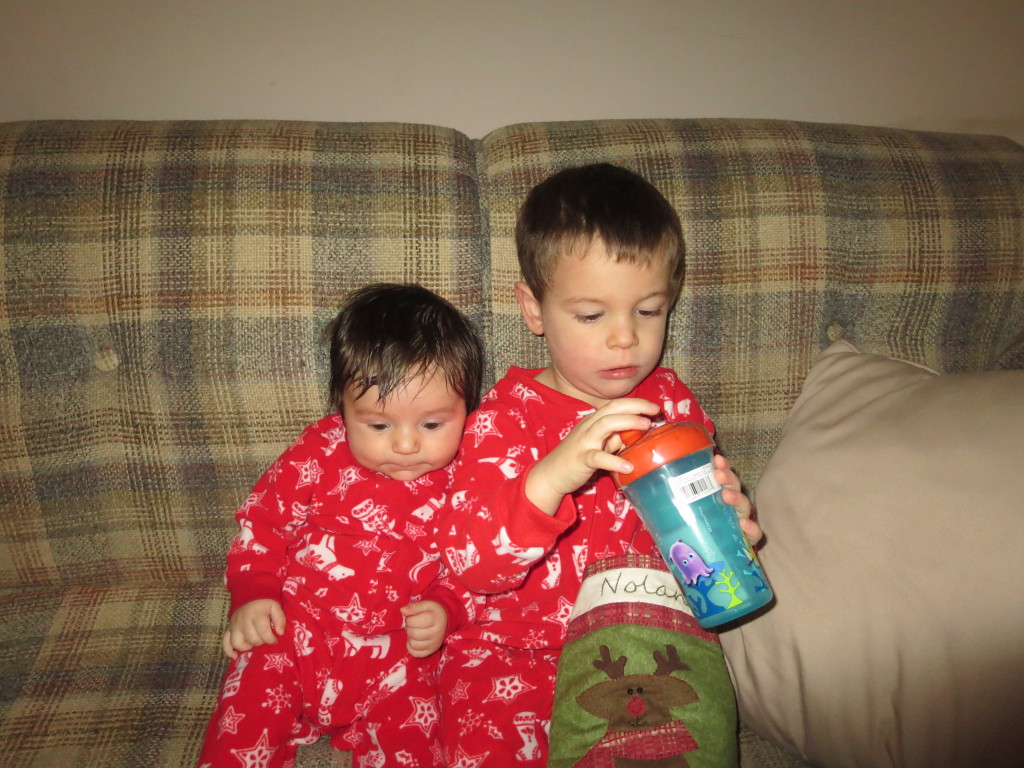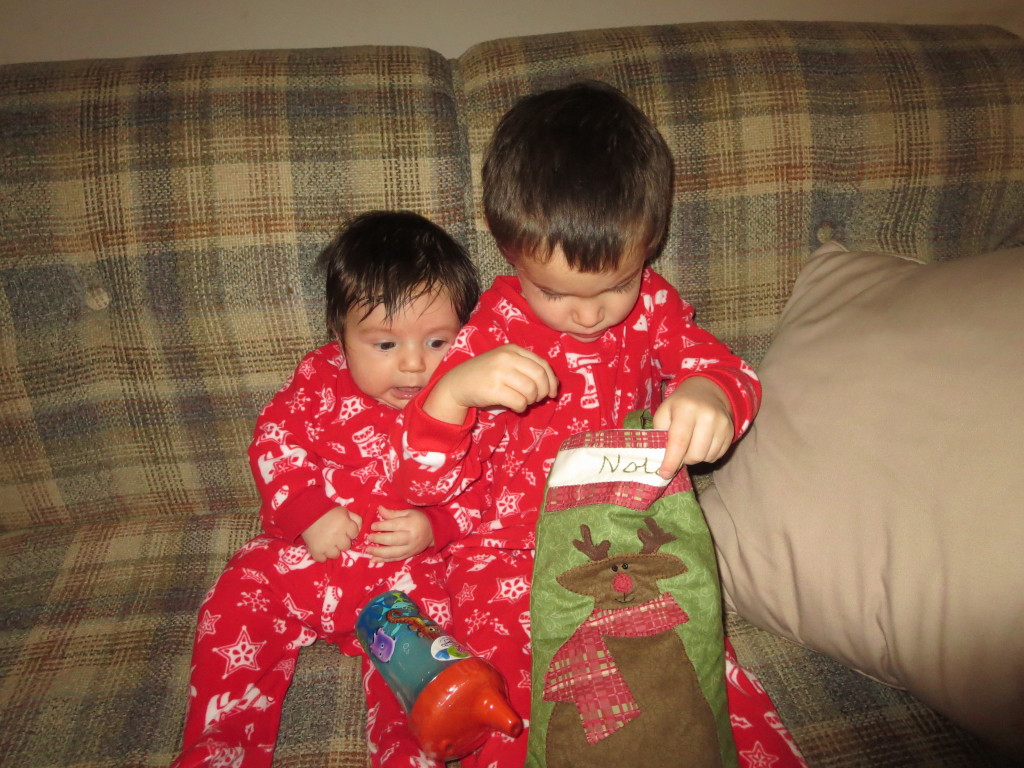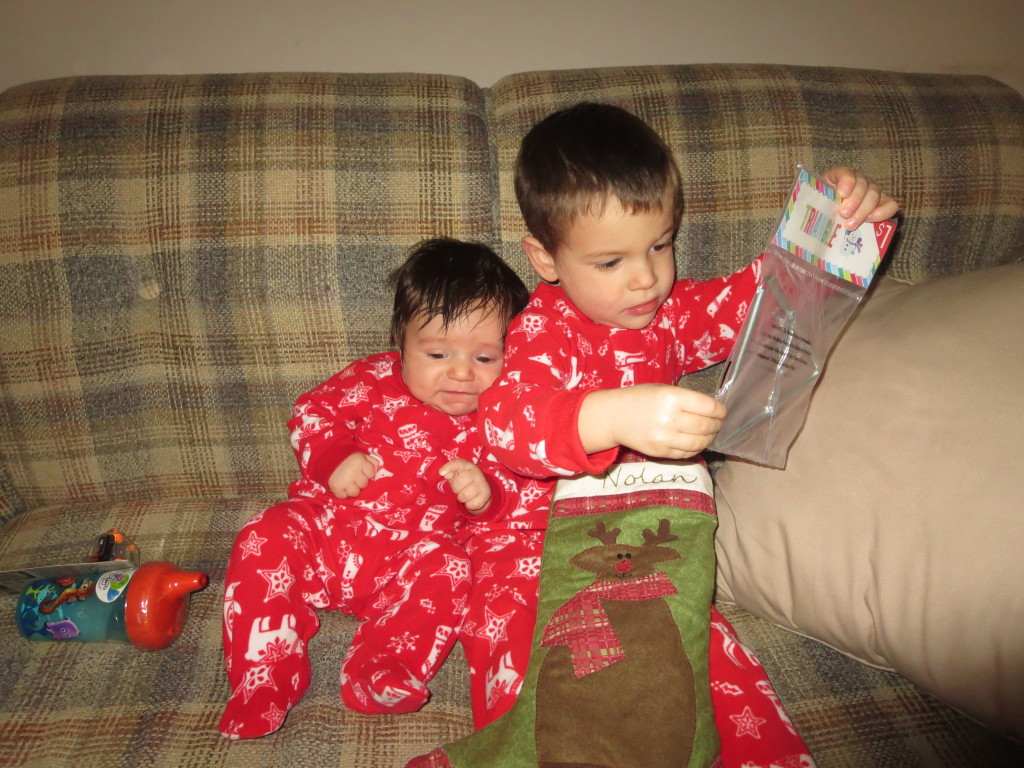 Christmas Day is tiring:  
December 28, 2014 – Spencer Update
Spencer slept from 8:30pm – 4:30am  for a total of 8 hours!! I don't think Nolan did this until he was 1 year old! It was a wonderful surprise, but unfortunately did not continue. I also noticed on this date that he has been chewing on his fingers a lot and is drooling a lot. Looks like I need to have him start wearing bibs all the time!