January 3, 2015 – Move in Property Day
Jamie, Brett, & Britton came to our Creekside house to help load the Budget truck and move our stuff into the new house. We were allowed to move our property in anytime after January 2, but we could not move ourselves in until after closing on January 5. That morning, it was freezing raining and we were sliding down the sidewalk to the truck. With everyone helping, we were able to load the truck quickly and then take a break to eat and get warm. We then headed to the new house to unload. After we unloaded, we took our friends to Otto's and bought them drinks and lunch as a thank you for helping us.
January 4, 2015 – Last Day in Creekside House
Nevin took his motorcycle over to the new house while the boys napped. When they woke up, I took them to Jana's so I could go back and finish up packing. Nevin met me at the house where we packed up all of our beds and started to pack the last minute things. We then headed over to Jana's and Tom's to eat dinner and put the boys to bed. When they were both asleep (around 8:45), we headed back to the Creekside house where we packed everything up, cleaned the entire house, did our final check, and said our final goodbyes. I cried as I pulled away from that house for the final time because of the countless memories (our first house, the first time we lived together, got engaged there, Nolan crawled for the first time and took his first steps there, etc.), but was so excited for the new house. While we were cleaning, Jana texted us to say that they lost power because it was very windy. We arrived back at Jana's around midnight. Nevin and Jana went to King printing to charge their phones, check the estimated time the power would come back on, and plug in our chest freezer so that my breast milk did not defrost. Jana went to bed around 1:30 and the power was still out, but I was up at 3:15 to feed Spencer and the power was on.
January 5, 2015 – Closing Day!
Mimi and Pop met us at Jana's and Tom's so they could watch the boys while we went to closing. We closed at 3:00pm and immediately went to the new house with a load of stuff. Side story: When we moved our property in, we couldn't get the garage door to close. That was because the wall of the garage had gotten wet and shifted so the sensors for the garage door were no longer lined up. The previous owners paid to fix it and the men were just finishing up when we arrived at the house for the first time after closing. We then went to Jana's and Tom's to pick up our family and another load.
Preschool Visits
We visited Park Forest Montessori and Grace Lutheran Preschool as potential preschools for Nolan in September. We really liked both places and they are very different. We'll make our final decision in February when we visit a second Montessori (Our Children's Center) preschool downtown.
January Sicknesses
Nolan was sick the week that we moved into the new house and the week after. He had a fever, cough, and runny nose. I think he got sick from helping to clean up the toys at indoor park. He touched lots of the toys and probably picked something up from the toys. I also got sick and I think it was because I was doing too much with trying to pack everything up and leave the old house clean and ready for the new owner. Plus, we had a couple of late nights and I was up with both Nolan and Spencer throughout the night so I wasn't getting much sleep. I actually felt pretty lousy the day we closed on the house, but signing the papers made me feel better! Nolan eventually got better, but around the week of the 19th, he got sick all over again! This time, I think it was because he licked the door of Grace Lutheran preschool and a dishwasher at Mike's Appliances when we were getting our new refrigerator. He had a fever, cough, and runny nose, but this time, all of the mucous in his throat was making him gag and vomit. His fever reached 103.3 at one point during the night and he was up many times throughout the night over those 2 weeks. One night he was up from 3:00am – 5:00am coughing and crying. I felt so bad for him because he couldn't even walk around the house without coughing and gagging and possibly throwing up. Luckily after the night of crying and coughing he slowly got better. We spent many, many days inside the house not able to go anywhere and not able to play in the 12 inches of snow we got.
January 18 – Spencer's First Time in the Bumbo
January 19 – Eating Green Sugar he Found in the Pantry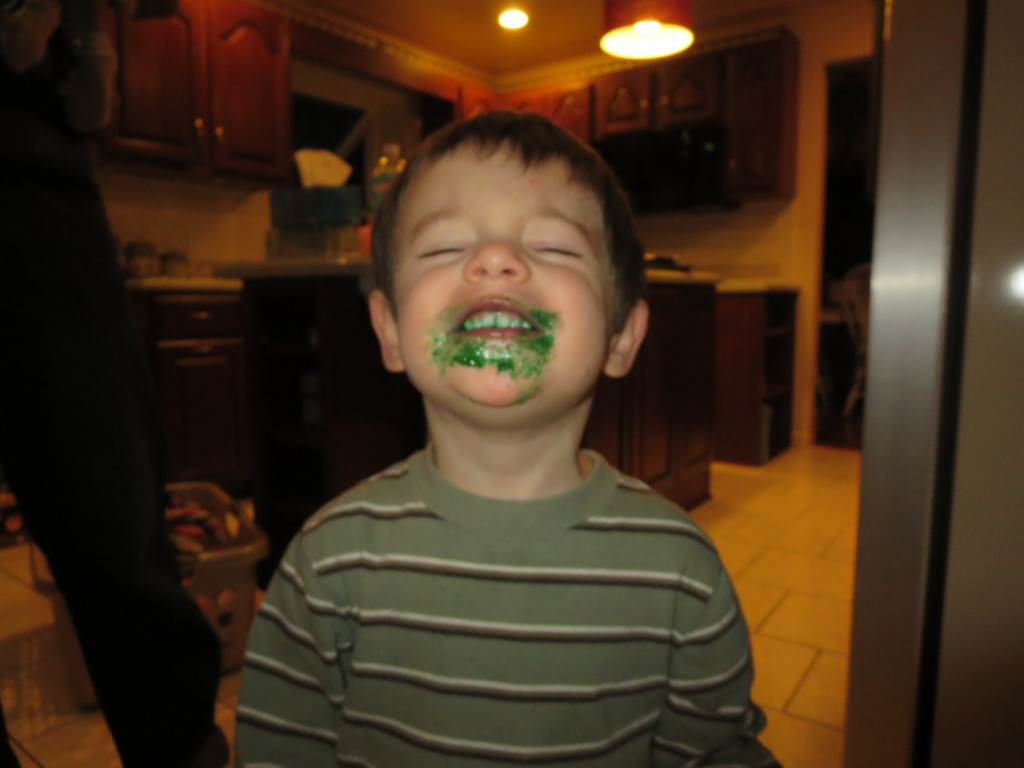 January 20 – Spencer is 4 Months Old
Spencer's 4 month well baby visit was supposed to be Monday, February 2, but I rescheduled to Tuesday, February 3 because of snow and ice. It was actually perfect because Spencer woke up at 5:00am on Tuesday with a fever of 101.7. I gave him Tylenol and he went back to sleep and it took the fever away. Because I rescheduled our appointment, we couldn't see Dr. Brink so we saw Deanna Martin, a PA, instead. The nurse called in the morning asking if we could come at 3:30 instead of 4:00 and we did. However, we (Nolan, Spencer, and I) sat in the waiting room until 3:45 and Deanna didn't come into the exam room until around 4:05. We finally got back to the car around 5:00pm. I was not happy that they called me to come in early and didn't take me early. Next time they ask if we can come earlier, I'm saying no! Nolan was phenomenal! For the whole hour and 1/2 we were there, he was so patient and listened so well. He did have a pee accident. He was asking me to go potty but I had him hold it because I was waiting for the nurse to come back with Spencer's vaccinations (who knew it would take her 10 minutes to return?) and didn't want to stick a naked baby in the car seat and bring him to the bathroom. After the nurse left, I got out the portable potty and Nolan did go in that.
Spencer weighs 15 pounds 3.4 ounces which is in the 34%. He is 25.8 inches, 64% and his head is 17.9 inches, 65%. When Nolan was 4 months, he was 15 pounds 8 ounces (50%) and 26.5 inches (94%). Looks like Nolan was longer and heavier!
I asked Deanna about Spencer's flat head. She made me feel much better when she told me that they are noticing that it's running in families (Nolan's head was flat, too). I told her over and over again that the only time he's on his head is when he naps or sleeps at night so she must have sensed my thoughts that I did this to him (can't help it!). She said since Nolan's head turned out nicely, she's not worried about Spencer's. I haven't been putting him on his back during play time because I don't want to make his head any flatter than it already is, but she told me to do that so that he can learn to roll onto his tummy and hopefully begin to sleep on his tummy . When Nolan was this age, he was already rolling from back to tummy and sleeping on his tummy at night.
I also asked if it was okay to start him on solids. He sits on my lap every night at dinner and when I bring the fork to my mouth, he shakes his arms and legs and opens his mouth. He also follows the fork and looks up to watch it go in my mouth. She said we could start solids and she recommends cereal then veggies and fruits last. Stay tuned for a post about Spencer's first go at solid foods!
Spencer is so ticklish on his arms and shoulders that you can't take off his shirt or put one on without him giggling adorably. He is a happy baby who smiles all the time. He is very "talkative" and only cries/fusses/complains when he's hungry or tired. He loves to watch his big brother play and he loves to watch the dogs. He is very close to being able to sit up on his own. He does tummy time after he eats and he does it for about 10 minutes without complaining. He grabs toys and brings them to his mouth. He loves to chew on his own fingers and the fingers of anyone that will let him. At nap, I swaddle him and give him his binky and he falls asleep on his own. He takes about five 1-hour naps a day and he's awake about 1 hour to 1 hour 15 minutes in between naps to eat and play. He usually wakes up 2, sometimes 3, times per night to nurse. He has not lost much hair on the back of his head. He is such a good baby and I am so blessed to have him in my life.
Nolan has 2 different gloves on because he stuck his hand in the pond and got his glove all wet:
Doggies enjoying the snow:
Looking up from the pond: 
January 25: Goodbye old, old refrigerator: 
We really enjoyed the door on the front of the refrigerator and will miss that, but we won't miss much else about this thing!
January 27 – Snow Ice Cream:
January 28 – Snow Inside
Nolan was sick (still!) so I brought the snow inside for him to play with. He had a blast and both he and the floor were soaked, but it was worth it!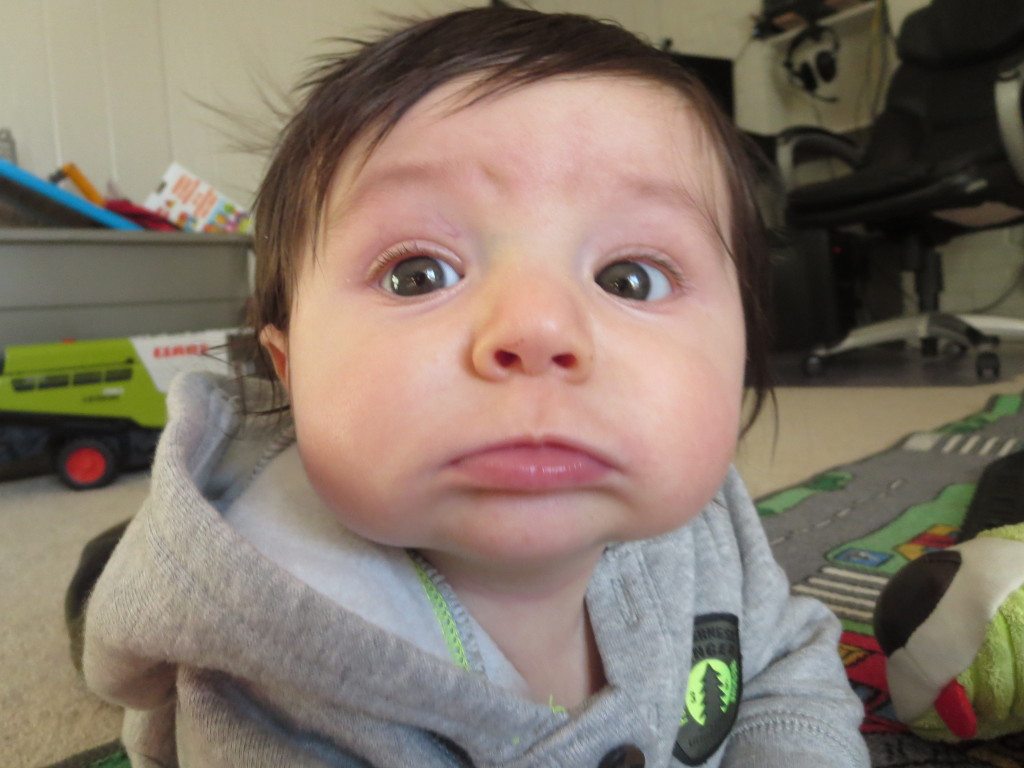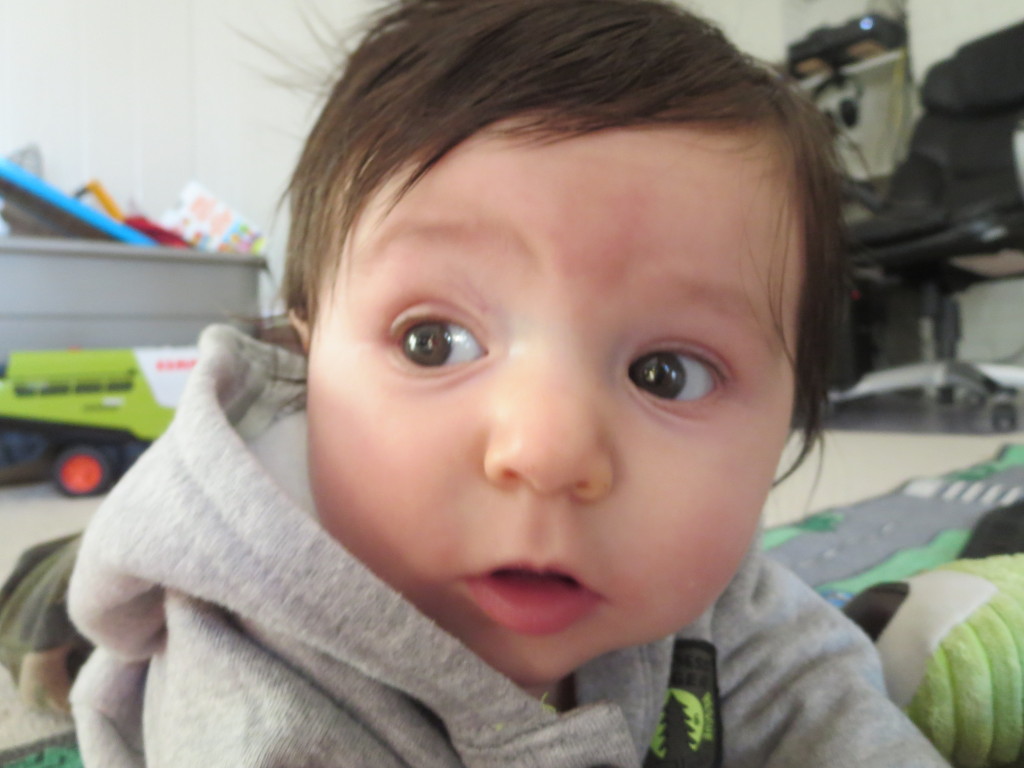 January 30 – Mimi Pop Visit
The face only a mother could love:
Spencer and Pop Pop: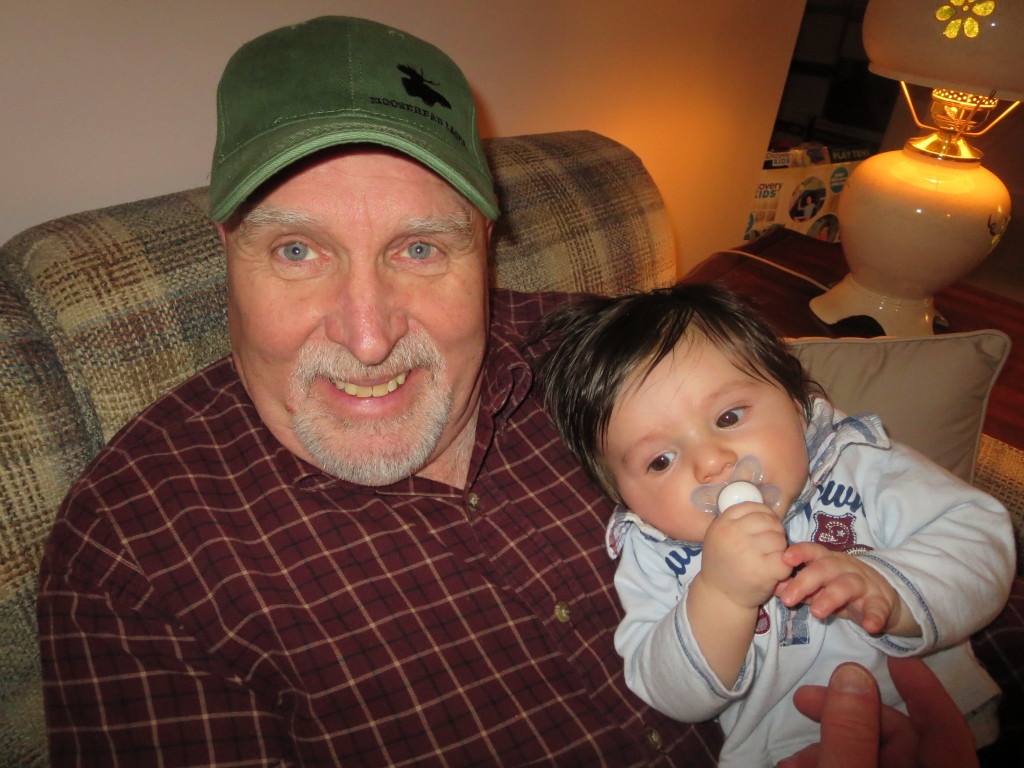 Who knew taking apart Styrofoam was so much fun?: