March 2 – Spencer Can Sit
Spencer has been able to sit up while on your lap for a month or 2 now. I have been trying to get him to sit up on his own, but he's been a bit wobbly. Today I sat him up and put a toy in front of him and when I backed away, he stayed up on his own. I still have to be careful because if he gets distracted he topples over easily, but he can do it! He still cannot roll from his back to his belly. He's so close to being able to do it, but just can't get his little body over. It will happen soon! At night, he sleeps on his back with his head to one side so his flat head is slowly getting better.
When Spencer is laying on his back, he picks his feet up in the air and grabs them and "talks" to them. He also started sleeping with his head turned to the side.
March 15 – And I thought they were playing… 
March 13 & 14 – Eating Purees
I gave Spencer purred banana on March 13 and he gagged and spit it out. I then mixed the banana with carrot the next day and he ate four bowls. Also on the 14th, he rolled from his back to his belly for the first time.
March 20 – Happy 1/2 year birthday, Spencer!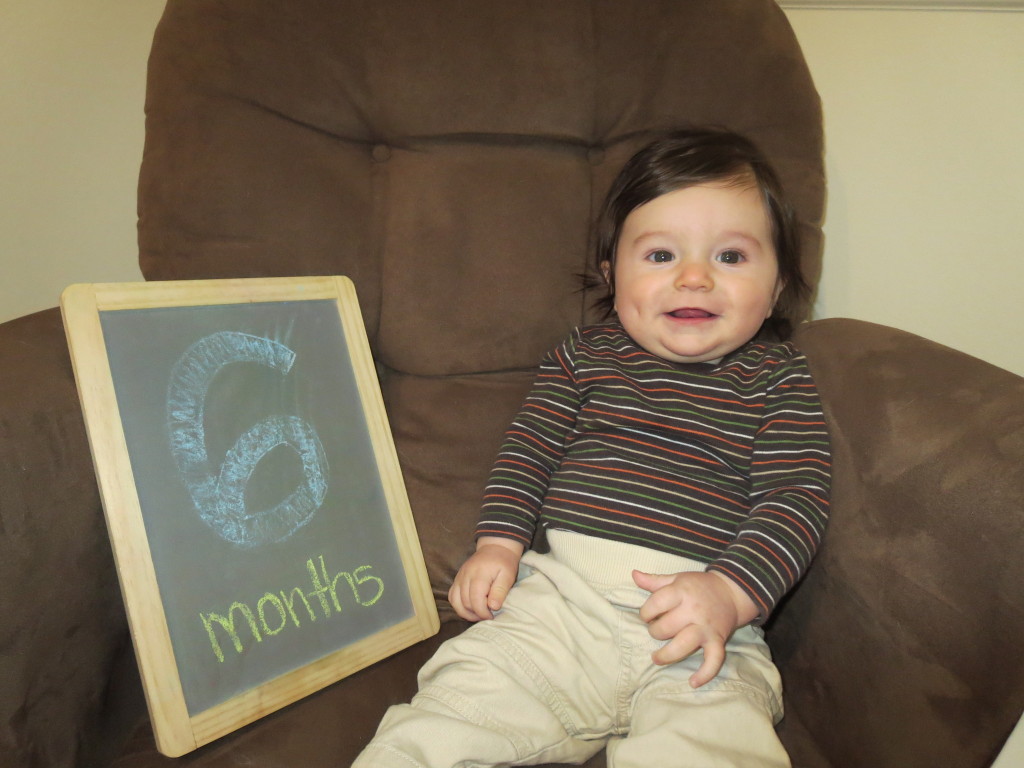 I cannot believe that Spencer is 6 months old already. Does time go even faster with baby #2? It sure feels like it! Spencer can sit on his own, but someone has to be near because he tends to fall back or to the side. He loves to grab things, put them in his mouth, and chew on them. He "talks" (screams) often and is very vocal. He can roll from his back to his belly and his belly to his back. He still sleeps on his back all night. Speaking of sleeping, that doesn't happen much with Spencer. He gets up every 1-2 hours. Sometimes there are periods where he's up every 30 minutes and sometimes there are periods where he sleeps 3 hours. He only naps for about 2-3 hours throughout the day. When napping in his crib, he'd only nap for 30-40 minutes so I tried putting him in the car seat in the swing. That helps him get an hour or sometimes an hour and 40 minutes. I'm hoping that if I can get him to sleep better during the day, he'll sleep better during the night. Hopefully when I write my 7 month post I can write that he's sleeping through the night (wishful thinking?)! He's eaten sweet potatoes, carrots, zucchini, banana, & apple. It takes him a few times to get used to a new food. He liked sweet potato and zucchini right away, but gagged when I gave him carrots and banana for the first time.  However, he now really likes both them. He squeezes his eyes shut and shivers when he eats apples and it's absolutely adorable. He enjoys when I mix foods, too. He laughs at his brother all the time and enjoys watching Nolan play. He's such a good boy when I cart him around to Nolan's activities and play dates. He truly is a wonderful baby who goes with the flow and doesn't cause much trouble.
Spencer's 6 month well baby visit was on April 7. He weighs 16 pounds, 12.4 ounces and is in the 26th percentile for weight. He is 27 inches long which is the 64th percentile (much smaller than Nolan!). His head is 17.7 inches in circumference which is the 36th percentile (much bigger than Nolan!). After waiting 1 hour for Dr. Brink (she had a situation with a "complicated patient"), she said he looks great! Both Nolan and Spencer did really, really well waiting in the exam room that long. Nolan ate all his snacks, drank all if water, read all the books, and found all of the shapes and colors in the stickers on the walls. Dr. Brink asked if Spencer was eating solids (yes, but not like Nolan used to!), how he was sleeping (said the only way she knows how to cure the waking every 2 hours at night is to let him cry it out), and if he can roll over (yes, both ways) and asked how he moves (spins on his belly). When she was examining him, she said, "he really is beautiful.". She also talked to Nolan a bit and said that Park Forest Montessori is a great school. She scheduled Nolan's 3 year appointment and Spencer's 9 month appointment on the same day. The nurse then came in with an oral vaccination (rotavirus) and 2 injections. Spencer cried and joked on the oral vaccination and cried even before the nurse gave him his 2 shots, one in each leg. He cried while I got him dressed and I tried to nurse him, but he didn't stop crying. He didn't stop until I put him in his car seat and he played with the toy bar. He fell asleep on the car ride home and then took a nap. Again, I am so thankful to have a great well child visit. When I was worrying about his shots today, Nevin reminded me that there are children with Measels right now as well as children who are sick and cannot get the vaccinations. I then reminded myself that there are some 6 month old children who get injections every day, sometimes multiple times per day, some who have had surgeries, some who don't know how long they'll be on this Earth. I truly am thankful for this wonderful visit.
March 24 – BLW
Around the end of the month, we started doing Baby Led Weaning (BLW) with Spencer. He wasn't a big fan of purees, so I thought this would be a good option. We give him sticks or slices of apples, sweet potatoes, carrots, pears, bananas, avocados. Although it's very messy and he barely gets any food in his mouth, he really enjoys feeding himself.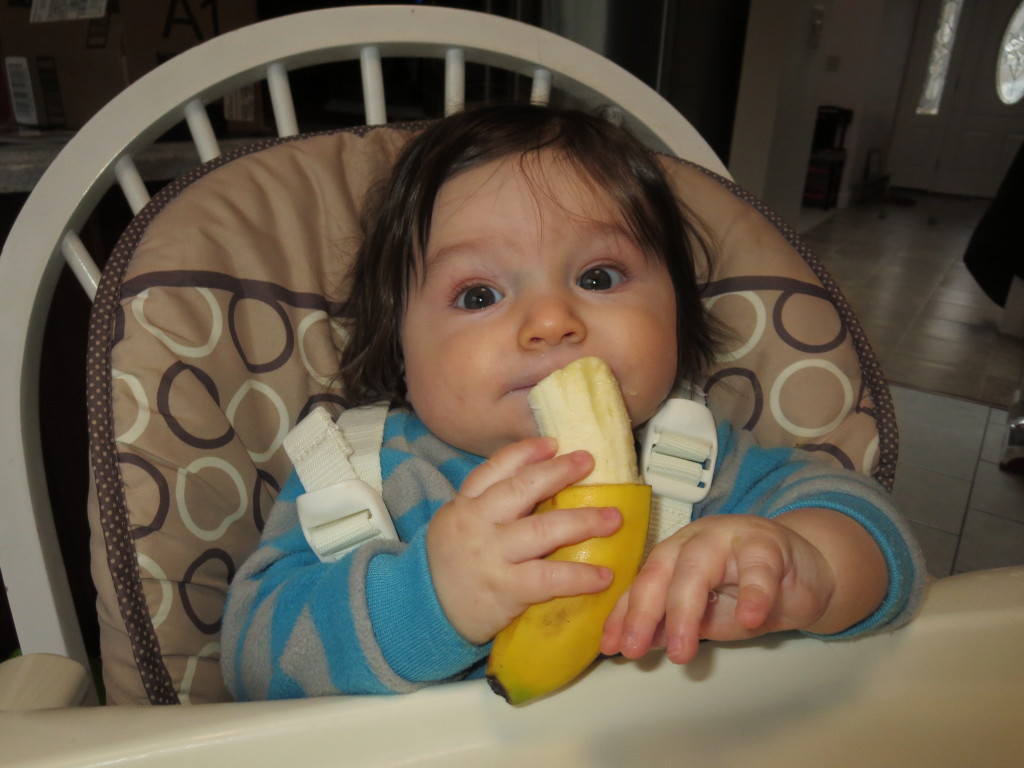 March 30 – Moving Around
Spencer moved around in a circle while on his belly for the first time.
March 31 – Easter Eggs
Another Pinterest inspired activity is dying Easter eggs with shaving cream. It was very messy and the eggs did not turn out very "dyed", but Nolan loved playing the the shaving cream. Silly me used shaving cream instead of cool whip so we couldn't eat any of the eggs, but they were used for decoration instead.
I think there's an egg in there somewhere!
Here is the finished product. After I let the shaving cream sit for a bit, I wiped it off with a paper towel and the result was lightly-dyed swirl eggs.