June 6 – Spencer's First Haircut
Spencer's bangs were so long that he was being mistaken for a girl several times per week. Not only that, but when he sleeps, he sleeps with his face down on his mattress (just like Nolan did at this age!) and when he wakes up, his hair is in hie eyes and face and it tickles him and bothers him. It's cute to watch him try to move it out of his face, but you can tell it annoys him. I was much more emotional with Spencer's first haircut than with Nolan's. I was so anxious for Nolan to hit all of the milestones and to grow up, but I am not nearly like that at all for Spencer to grow up.
I decided to let Daddy do the first snips. Look how long that hair is:
I then took over and cut it way too short, but it's darn cute:
I was happy with leaving the sides long, but Daddy said it looked ridiculous:
Finished product: 
June 10 – Nolan's 3rd Birthday
Nolan was fighting a cold on his birthday and woke up very early. He woke up to a bedroom filled with balloons and streamers hanging from his door way which he loved. He then went downstairs and opened his presents. He got a Bruder garbage truck & cash register from us. He also opened a wheel barrow from Aunt Barbara, Uncle Alex, Matisse, and Leo. He ate a birthday waffle complete with a candle and sprinkles and then he chose Whipple Dam for the morning of his birthday. The water was much warmer than when we were there a month ago and there was another family there. There were 2 girls who were a bit older than Nolan, but they were so nice to him and played with him. I made bacon and egg spaghetti for dinner, per Nolan's request and he had a (homemade) cupcake for dessert after.
Not sure who is more excited about the garbage truck:
Already filling up the garbage cans with garbage:
 Putting the candles on Nolan's birthday breakfast waffle: 
First taste of yogurt:
  Birthday cupcake after dinner:
 Spencer loved the bacon and egg spaghetti and peas: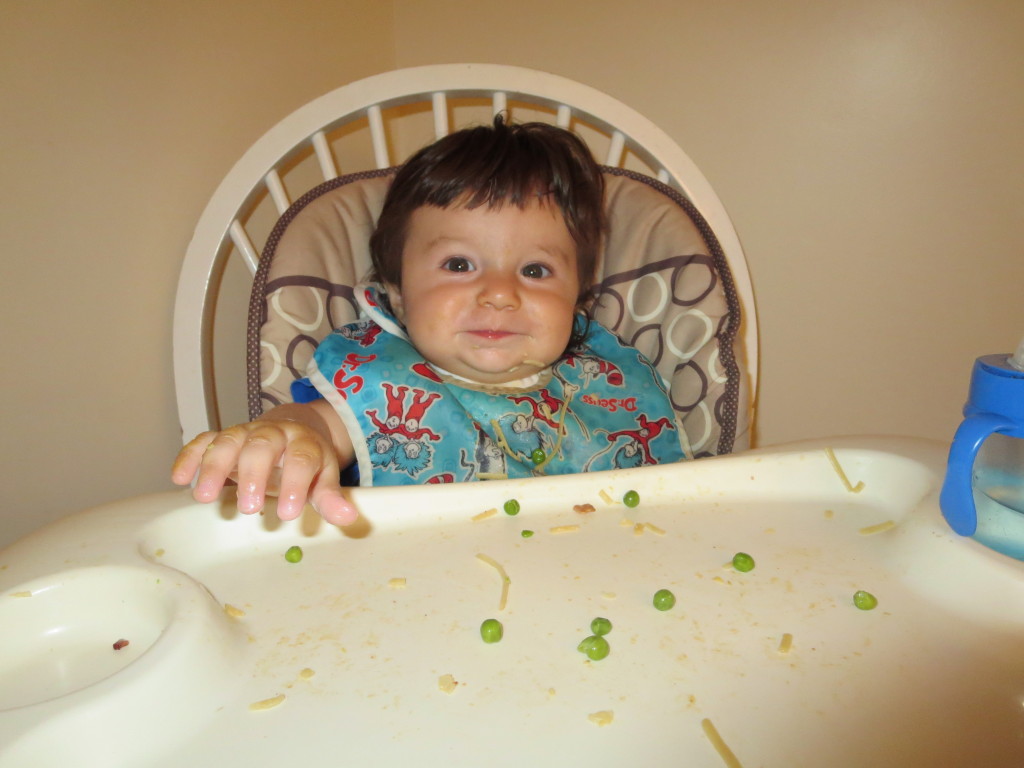 June 13 – Nolan's 3rd Birthday Party
We had Nolan's party from 11:00-1:00 on the Saturday after his birthday. Mimi, Pop, Uncle Brad, Aunt Megan, Babi, Grandpa, Jamie, & Cam were able to attend this year. Pop cooked hamburgers and hot dogs on the grill and Daddy made an awesome firetruck cake.
Playing the Sneaky, Snacky Squirrel game Cam gave Nolan as a gift: 
Nevin did a great job decorating the cake: 
Testing out the tricycle: 
 Spencer loved chasing the balloons: 
Testing out the roller blades:
June 20 – Spencer is 9 Months
Spencer is mobile, but isn't traditional crawling (Anyone remember Nolan "crawling"?). He army crawls with the best of them and usually picks up his right knee to push himself along. He can also pull himself up to standing occasionally. Since he can get around, he has put lots of things in his mouth; sand, mulch, leaves, flowers, toys, screws, dog food, etc. Spencer smiles a huge, wide toothless (sort of) grin all the time and it's the most adorable thing. When I get out the camera, he cheeses really big. He gets so excited when you give him food, he smiles and brings his hands to his mouth preventing himself from eating it! He also pumps his legs the entire time he's eating. He is in the process of getting his first 3 teeth. The bottom middle 2 are coming in at the same time and the bottom left right next to the middle is coming in right behind them. He usually wakes 2 times per night, around midnight and around 2:00am, but has been getting up only once for the past few days now. He "talks" to us by sucking in air. He loves Lady and smiles, talks, and breathes heavily when she comes near him. He also loves to watch Nolan play and take his toys from him.  
June 28 – Fun at Home
Nolan had been asking for pineapple so I bought him one at the store:
July 2 – Doctor for Both Boys
Nolan had his 3 year check up on July 2 and Spencer had his 9 month check up right after. Nolan weighs 30 pounds, 8 ounces (34%) and is 3 feet, 2.25 inches tall (67%). He didn't have to get any vaccinations at this appointment and was very happy about that. Dr. Brink filled out his forms for preschool. We discussed how it takes him long to fall asleep and Dr. Brink said, "You can lead a horse to water, but you can't make him drink. You can put a toddler in bed, but you can't make him sleep." Since hearing this, I've been much more relaxed about nap & bed time. She asked if he was using the potty, how he was eating, and how he was sleeping. She was very impressed with his verbal skills and we even discussed whether we should send him to kindergarten at 5 or 6. Dr. Brink expressed my concerns about both options, but we laughed and said we had time to decide. Spencer is 18 pounds, 9.9 ounces (15%) and is 2 feet, 6 inches (91%). Folks, that's half of me already! Spencer's infant car seat only goes up to 29 inches, so we had to switch him to a convertible car seat. Spencer got a finger prick for a blood test and he cried so hard he stopped breathing. Both boys were so well behaved.