August 4 – Chompers
Spencer has 4 teeth on the bottom (all 4 are right in a row, 2 in the middle and one on each side) and I just noticed this morning that the top left middle tooth broke through the gums. Looks like we'll be seeing some top teeth very soon! About 1 week later, I noticed the top right middle tooth broke through as well. He currently has 3 teeth coming in at the same time, poor guy!
August 7 – Spencer's "First" Haircut
We went to Easton from August 6-10 for Aunt Megan's baby shower and while we were there, we scheduled an appointment with Auntie Cait for Spencer's "first" haircut. If you are an avid reader of this blog, you'll recall that his actual first haircut was done by none other than moi (okay, with some help from Daddy), but this was his first professional cut. Nolan and Mimi came to Vintage House of Hair with us. Nolan played with his tractor (actually Uncle Brad's from when he was little) and trailer and put hair in the trailer. Spencer sat on my lap and did a great job. He got squirmy towards the end, but did so well.
Goodbye, long, beautiful curls.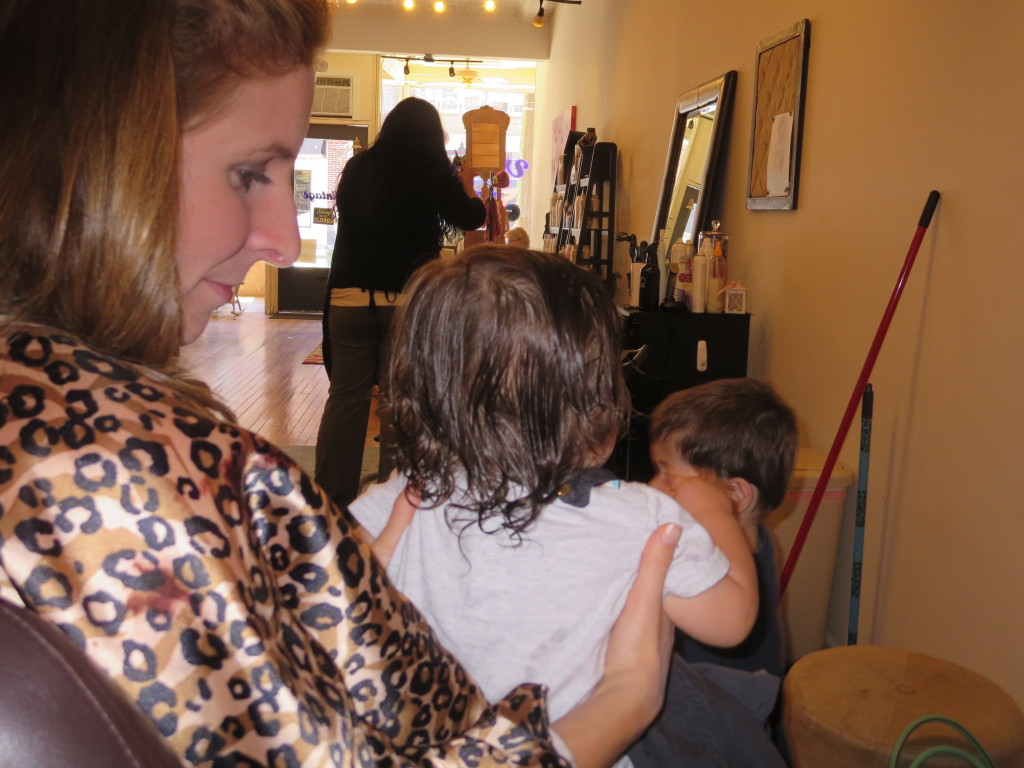 Waiting for hair to fall so he can load it in the trailer: 
Spencer loves cuddling with his Mommy:
And eating her, too:
The finished product: 
August 8 – Klein Farm
Mimi, Pop, and I took the boys to Klein Farms to see some animals and get some goodies from their store. I had not been to Klein Farms since high school (I'm guessing senior year) and I was pleasantly surprised to see how much they had done. There is now a playground, picnic tables, and a fenced in area that has goats, a pig, chickens, roosters, birds, and ponies. We also walked around and saw cows and calves. Nolan and Spencer both loved the animals and Nolan loved the playground. We bought cupcakes, cheese, a yogurt milkshake, and cream cheese from the store and everything (especially the cream cheese) was delicious. Next time we are in Easton (October to meet my niece or nephew!), I bet that we'll make another trip to Klein Farms.
He couldn't wait until we got home to enjoy a cupcake with sprinkles:
August 9 – Aunt Megan's Baby Shower
Spencer and I went to Aunt Megan's baby shower together while Pop stayed home with Nolan while he napped. I was in charge of the games so between the games and keeping Spencer happy (since he cries if anyone but me is holding him), I was busy and didn't get many pictures at all. Spencer ate 2 servings of baked ziti and enjoyed playing on the floor with his favorite light-up ball. Pop and Nolan came just in time for cake and cookies. Nolan enjoyed playing with (mostly chasing, screaming and roaring at) Rylin Broderick and a little girl named Ava. We played The Price is Right, Name That Children's Book, Don't Say Baby, and Late Night Diapers. It was a beautiful shower with lots of family and friends. I think it's safe to say that my niece or nephew is loved by many already!
August 12 – Hummingbird Rescue
Nolan and I were outside playing while Spencer took his morning nap. I left the screen door open for the dogs and when we came in to get Spencer up, Nolan said, "Mommy, there is something big up there. Look!" I did not expect to find a hummingbird fluttering frantically in the top skylight when I looked up!
I read that you should make it dark in the room and leave the biggest outside door in the room open. I did that plus I added some sugar water to lure it out. Neither of those worked because let's face it, with 2 skylights, the room wasn't dark at all. 
Look closely, it's resting in the corner:
I then read that if it gets stuck in the skylight, you'll have to get it down yourself. Here's Nevin on his way up the ladder to rescue the hummingbird. Did you know that Nevin HATES ladders?:
The goal was to get the hummingbird to perch on Nolan's butterfly net:
It worked!: 
Watch your head!:
Almost to safety:
After 2 seconds of being outside, it flew away: 
I then went to check on Nolan and came back to find this:
He's clapping because of his accomplishment: 
Cute, but trouble: 
August 15 – Caught Spencer in the Pantry 
August 19 – Ag Progress Days 
Just like last year, Nolan was overwhelmed and too excited to think and/or talk straight at Ag Progress Days. Nolan sat on a few tractors kept going back to the same ones. We were finally able to convince him to go see others. I asked him a couple of times if he wanted to go see animals and he, of course, did not. After spending an hour or so with the tractors we made our way over to the food area and got ice cream and french fries. Nolan picked chocolate ice cream and ate almost the whole thing (Nevin and I got a few bites). After we ate, we headed back to the car, but stopped at some other tractors on our way back. Nolan had a blast and we're already looking forward to next year when Spencer can join him on the tractors!
 I like Nevin and Nolan in the background:  
Chasing Nolan through the corn:
August 20 – Spencer is 11 Months
Spencer has 6 teeth (4 on the bottom in the middle and the top 2 middle). I just noticed that the tooth directly to the left of the middle left is breaking through. He loves to eat everything and we recently discovered that shrimp is one of his favorites. He crawls on all fours all the time now and he has (almost) mastered crawling up the stairs (down is a different story!). He stands while holding on to things and can transfer to other things. He even holds on with 1 hand and sometimes balances with his back up against something and no hands. Instead of letting go and falling in order to sit, he lowers himself slowly. Nolan and Spencer play a game where Nolan crawls and Spencer follows him. It's such a fun game to watch because both Nolan and Spencer giggle the whole time. Spencer laughs and smiles all the time and he truly brings me so much joy. He still kicks his legs when he gets excited and has a huge smile with 1 dimple on the right cheek. Spencer drives cars/trucks/trains and makes sound effects when he drives them. He wakes 3 times per night (sometimes 1, sometimes 5), but we found out that he doesn't necessarily want me; Nevin can go in and get him back to sleep too (wonderful for me!). He plays peek-a-boo by covering just his eyes with his hands and it's adorable. He LOVES Lady and harasses her as much as he can.
Where's Spencer?:
There he is:
August 22 – Baby Food Face
August 29 – Coin in Belly?
I was cleaning up the family room and when I turned around, Spencer had something in his mouth. I ran to go dig it out, but he swallowed (painfully) and crawled away from me. When he crawled away, I saw he got into my wallet and there were coins on the carpet where he was sitting. I decided that the chances of him swallowing a coin were pretty high, so I called the nurse. She recommended watching for it to come out within 3 days, but to call back if he develops a fever, difficulty breathing, pain in the abdomen or anything else out of the ordinary.