March 5 – Mimi and Pop Visit
I couldn't resist getting this shot of Spencer sitting (yep, he was actually sitting still!) on Pop's lap watching the "5 Little Ducks" video on YouTube.
March 9 – Redo of Classroom Chair
I had no where in the house to keep the rocking chair from my classroom so I asked Mimi and Pop if I could put it on my front porch. I sanded it and painted it and its is just the pop of color my front porch needs!
March 15 – 31 – Fun at Home
Nolan made a St. Patrick's Day hat at school:
Wearing daddy's work gloves:
Nolan bought these cars with a gift card that Aunt Nancy and Uncle Gary gave him for his birthday last year: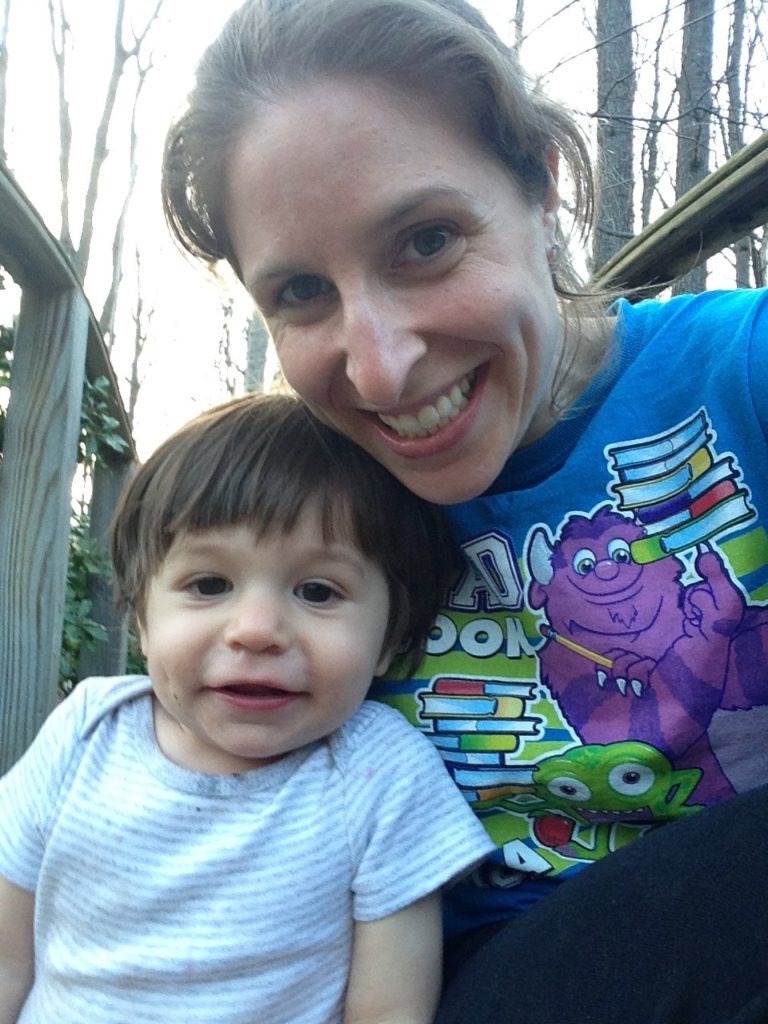 March 21 – Easter Eggs
I dyed the eggs and the boys painted them. Spencer enjoyed exploring with the paint (including painting his hands) while Nolan painted a few strokes on a few eggs and was done. The boys spent a short amount of time decorating them, but a week later Nolan asked if I remembered when we dyed the eggs and then told me that he had a lot of fun doing it, so it was worth it!
"Is there something on my face?"
March 26 – Nolan's 2nd Parent Teacher Conference
It was a relief to hear that Nolan's anxiety has decreased and his self-confidence has increased. He initiates conversations with teachers and peers and has a small group of favorite friends he enjoys playing with each day. He still needs to work on his fine motor skills (pencil grip) and using his big voice (not whispering) when he is talking to the teachers. He is doing well with numbers and letters. According to this teachers, he becomes a different person (is assertive) when the French teacher (who Nolan still thinks her name is madam) has him pretend to be the doctor and "fix" other children.
March 27 & 28 – Easter in Easton & State College
We arrived in Easton around noon on Saturday (but not before Spencer vomited all over himself about 1 minute away from Mimi's and Pop's house) and after the boys played a bit, they both took a nap while Pop and I went on a walk. After that, we got to play outside and Auntie Cait came to visit. Uncle Brad, Aunt Megan, Mia, Grammy, and Raymond came for dinner and dessert and we went to bed pretty early in preparation for church in the morning.
The boys did very well at church, keeping busy with snacks, drinks, and trucks. Nolan and Spencer walked next to Pop while he collected the offering. After church, we had an egg hunt and then ate Easter lunch with Uncle Brad, Aunt Megan, and Mia. We left for State College around 3:00 and Spencer fell asleep as soon as we got on the road. Nolan napped for about an hour before he woke up and had to go potty. We stopped near Danville and when we got home, the Easter bunny had left Easter baskets on top of the refrigerator for the boys.
When the boys woke up on Monday, the Easter bunny had left eggs in the house. Nolan had a great time collecting the eggs, but Spencer wasn't interested.
When we got home, we found that the Easter Bunny left baskets for the boys at our house, too:
Reading "The Watermelon Seed": 
Sour Patch Kids for our Sour Patch Kid (aka Spencer). He didn't like them, can you tell?:
But he did like the chocolate:
Watching their new movie, "Despicable Me":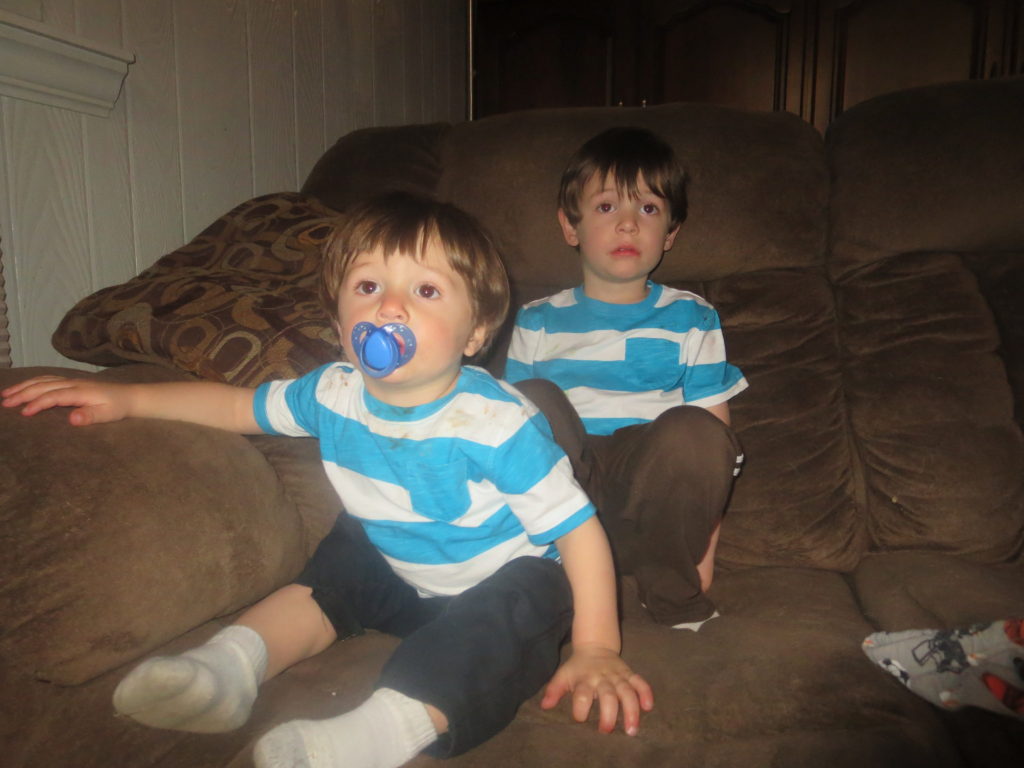 When the boys woke up the next morning, the Easter Bunny hid some eggs for them to find at our house: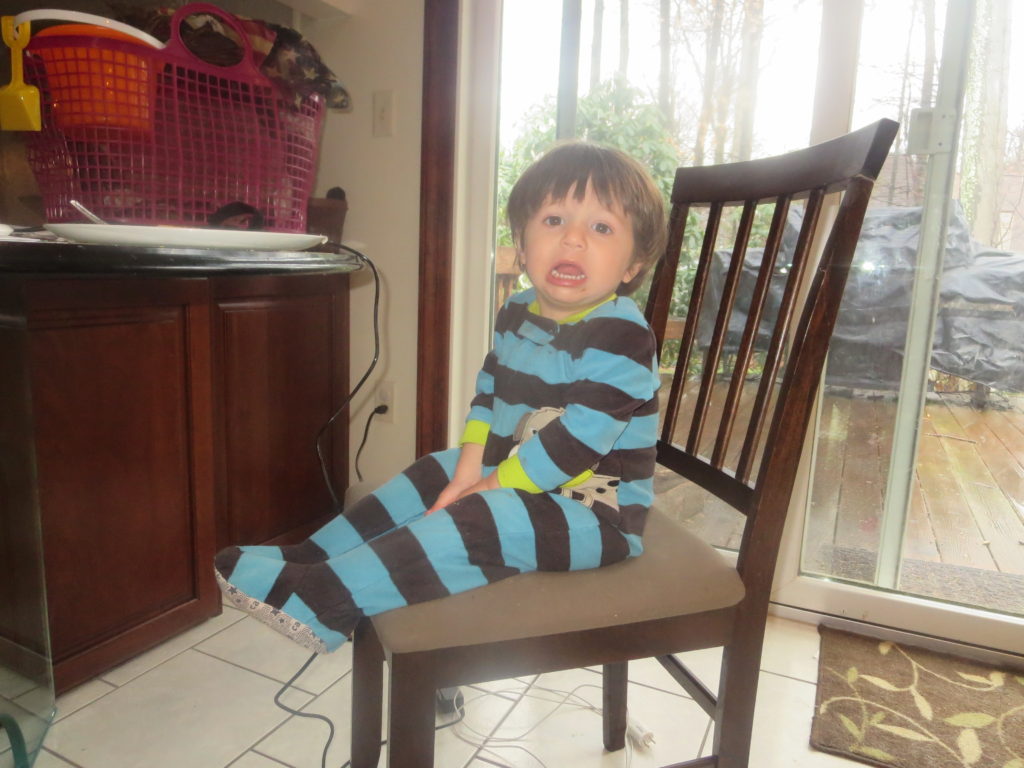 Spencer is looking out the window for "ucks" (trucks):
Nolan is wearing my slippers!:
Nolan is reading "The Watermelon Seed" to me all by himself before bed:
March 28 – Spencer's 18 Month Well Child Visit
Spencer weighs 23 pounds 5.9 ounces (37th percentile) and is 2 feet, 7.89 inches tall (29th percentile). He is definitely smaller than Nolan! I asked about his flat head and she said it will round out and he has a lot of nice hair to cover it so I shouldn't worry about it. I'm trying not to, but the older he gets and the flatter it stays, the more I worry! I completed a developmental screening that asked how he asks for objects he wants (cries?, points?, grabs?, pulls me to them?, etc.), can he jump on 2 feet, how he plays with toys (dolls, climbing, lining things up, watching circles spin, etc.), and can he run. I reported that he's eating well and sleeping well (minus waking up at 5:00AM since we changed the clocks ahead) and that I'm happy with his balance, coordination, and words he is saying. I mentioned that I think Nolan said more words at this age than Spencer does, but she said that's normal because Nolan didn't have a big brother talking for him. Because I opted for 4 vaccines last appointment, Spencer did not get any vaccines today (thankfully!). All is well and I'm so thankful we had a great check up. He doesn't have to go back until his 2nd birthday when he'll get his last vaccine until it's time for kindergarten. My baby isn't a baby anymore!
Spencer can say a lot of words and learns a new word almost every day. His most recent words are chocolate, cake, hey, duck, truck, and yeah when you ask him a question. He says mama and hi very clearly now. He gets into trouble climbing on things and he loves to get into the 1/2 bath and play in the sink and flush the toilet. He loves playing in the toy kitchen and bringing me food to eat. He loves trucks, buses, and airplanes and we frequently have to stop and watch them while we are outside. He loves taking Nolan's prized possessions and running away with them while looking back and smiling at Nolan.