April 2 – Nolan at the Store
April 4 – Spencer at the Store
April 5
April 7
April 8
April 10
April 14
April 19
April 20
April 21
April 22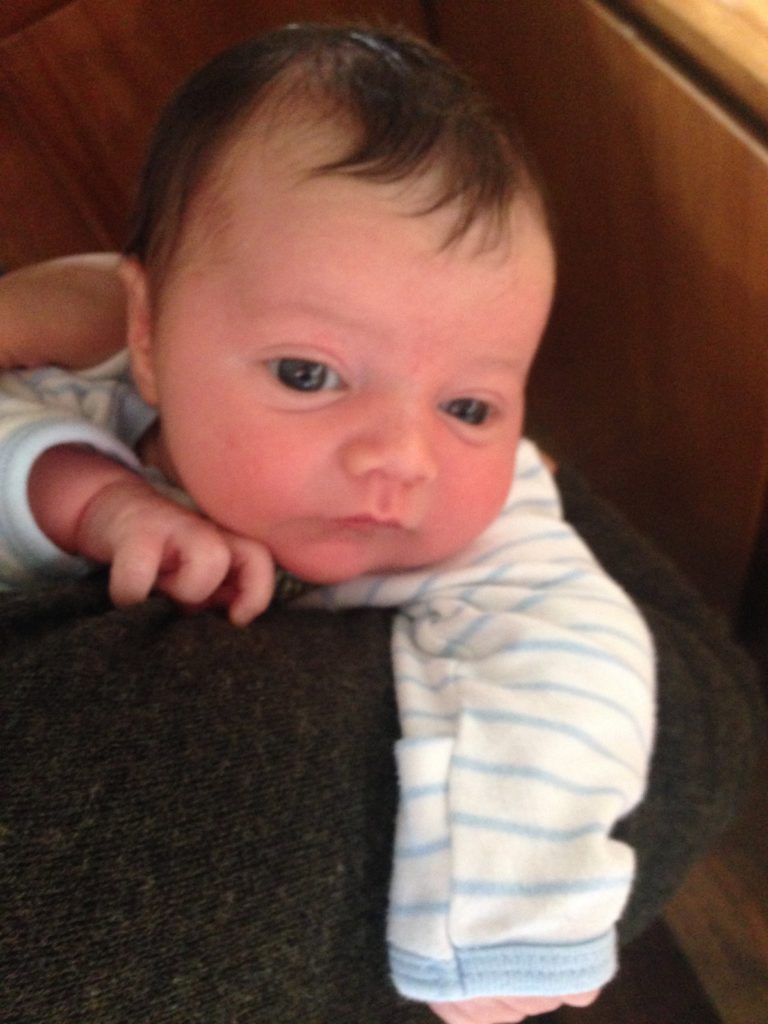 April 24
April 25
April 26
April 28
April 13 – Corbin's Due Date and 2 Week Check
Corbin weighs 7 pounds, 15.2 ounces & is 19.69 inches long. I brought up his cold (sucking lots of green snot out of both nostrils, sneezing a lot, thick yellow discharge coming out of his right eye, coughing) and she checked his lungs and ears and said both looked fine and gave me great suggestions for how to help him. We discussed eating and pooping, which he does both very well. She also asked if he tries to hold his head up (yes, and he throws his head around so people have to be careful when holding him!) and if he is having more awake periods. He is different than Nolan and Spencer in the fact that he eats, stays awake for up to 2 hours sometimes, and then sleeps. Nolan and Spencer both had a hard time staying awake while eating and were not awake very often (they made up for it at night though). Overall, Corbin is healthy, doing well, looking good, and will come back at 2 months for vaccines.
April 13 – Spencer's 2.5 Year Well Child Visit
Spencer is 3 feet, 1 inch tall & weighs 28 pounds, 3.2 ounces. He didn't need any vaccines at this appointment. I discussed that fact that he (still) doesn't drink milk and the doctor recommended orange juice with added Calcium and to make sure he is eating yogurt and cheese as well and taking a vitamin. I brought up the fact that he doesn't get enough sleep and is always tired, which I think is the main reason he is both bad and mean, but she said between night and nap, he's getting enough sleep so she's not going to recommend anything like Melatonin. I figured this is what she would say, but I was hoping she had some secret for how to get him to sleep longer. No such luck. He sleeps from 9:00 (even though we put him to bed around 7:30) and is up between 5:30 & 6:00 every morning. He then naps for 1 hour 15 minutes to 2 hours during the day. She asked if he was potty trained and I said only during the day, but he's having trouble going number 2 in the potty. She made a big deal about a "poop party", which is where all of the poop goes after you flush it down the toilet, and after she was done explaining she asked if he was going to send his poop to the party too. His response? He blew a raspberry in her face. That's Spencer! We also learned that he has a heart murmur. She said it was the common pediatric murmur and that he should grow out of it. I asked if it was genetic since I had one as well, but she said this type is not genetic.
Easter gift from Mimi and Pop:
April 15 – Our Car is Finished
First car ride with the whole family (finally!):
April 16 – Corbin's First Easter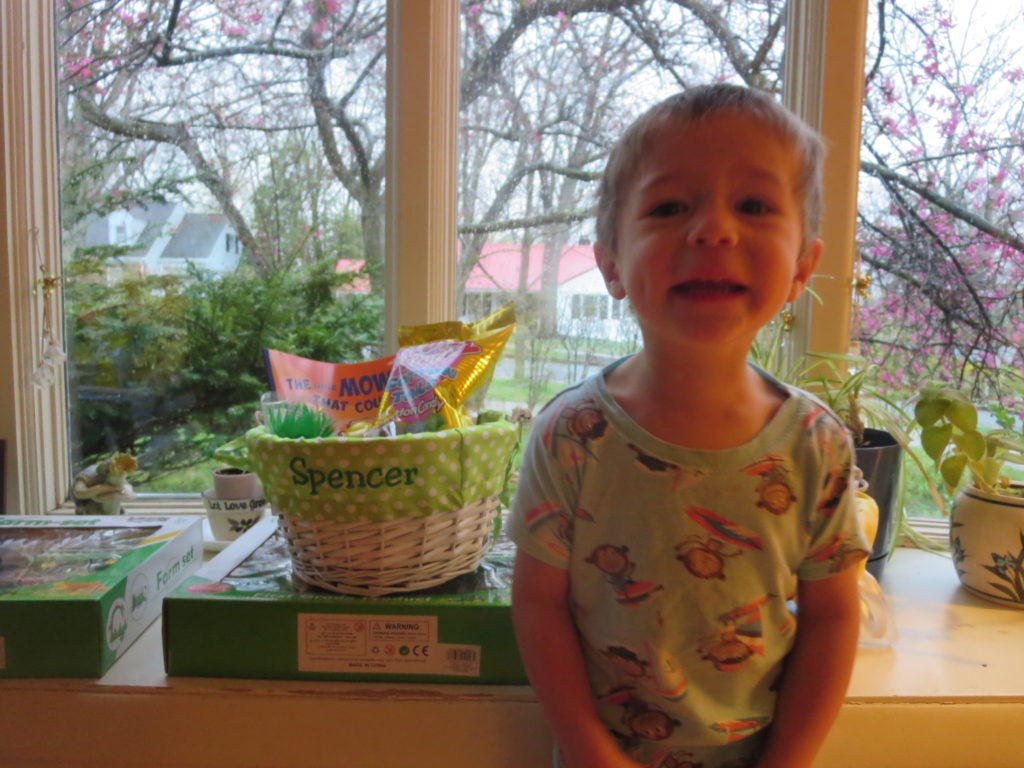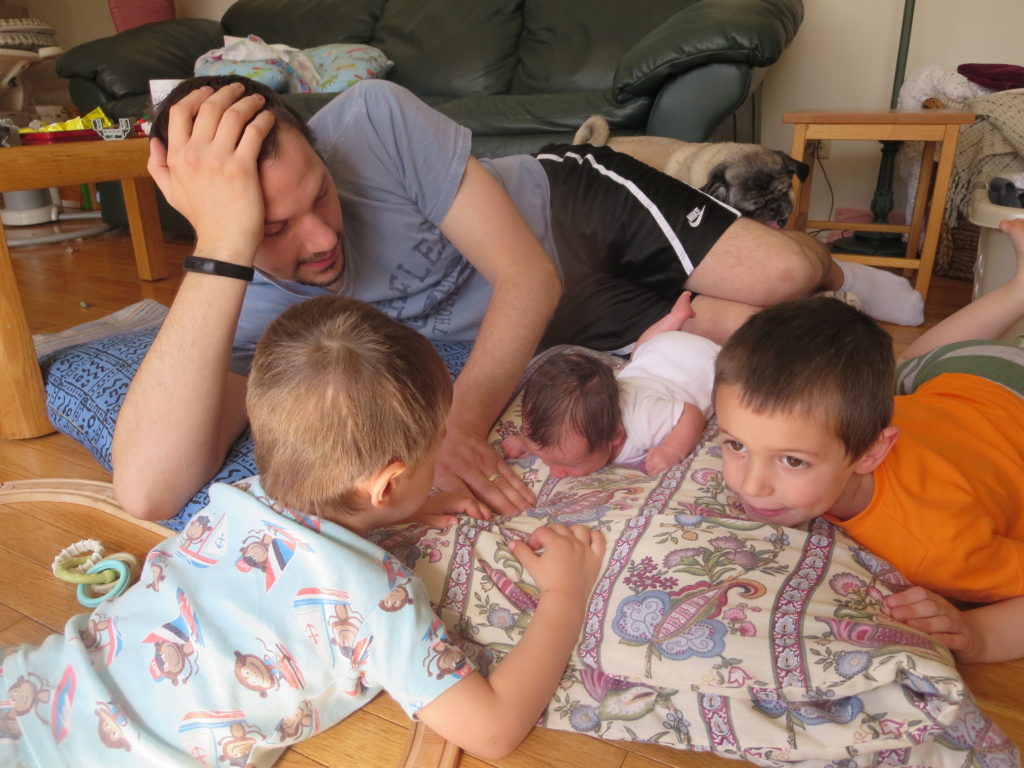 April 23 – Move to DE Townhouse
Being with all 3 boys by myself during the week for 4 weeks was difficult and exhausting, to say the least. The big boys missed Nevin so much (so did I) and were having trouble sleeping and listening. We decided it was time to trade in Nolan going to a fabulous school and my weekly play dates with Nada for being with Daddy every day. This was a difficult decision for me to make (why can't I have both?!?) and was very bittersweet. I think I would have been more excited had we had a house to move into, but the townhouse will do for now. The children were so excited to be with Daddy every day and to see all of their toys they had been missing the last 2 months. I drove Corbin in the Escape while Nevin drove Nolan and Spencer in the Mazda. We managed to fit all of our stuff we needed between the 2 cars (good work, Nevin!). We drove directly to an open house in Oxford and we didn't have to stop at all. We had a very successful trip to the townhouse!
April 26 – Corbin is 1 Month
Corbin wakes 2 (sometimes 3) times per night to eat. He is a happy baby and only cries when he's hungry and when we change his diaper. He is awake a lot (this is very different than Nolan and Spencer were at this age) and I think this contributes to the fact that he's sleeping well at night. Nolan and Spencer were both born in the evening and Corbin was born in the morning which I think plays a difference in regards to sleeping. He moves his head around to look at bright things and focuses his eyes on objects. He loves laying on his back on the changing table pad. Newborn diapers and newborn clothes are too small, but size 1 diapers and size 3 month clothes are too big. It won't be long before those are too small as well!
April 26 – Corbin Meets Uncle Brad, Aunt Megan, and Mia