August 1
Spencer fell asleep cuddling with Rosie.
August 3 – MOMS Club Pool Party at Jennersville YMCA
After the 30 minutes that it took for us to get in (there was a mix-up with the list of non-members and it took a while for someone at the Y to figure it out), we had a blast playing in the water and hanging out with new friends.
The boys got cheeseburgers for lunch.
August 4 – Fun at Home
August 5 – Babi and Grandpa Visit
When Nolan ran to the door to greet Babi and Grandpa, a piece of lunch he was chewing gagged him and he vomited on the kitchen floor. What a way to welcome them to our new home! Luckily, he was not feeling ill at all and we were able to enjoy a beautiful afternoon at Longwood Gardens where Babi and Grandpa bought us a membership for our housewarming gift.
August 6
August 9
August 10
August 12 – 18 – Fenwick Island, Delaware
August 12
We left right at 9AM. We wanted leave a bit earlier, but Corbin pooped and it got all over our bed and his boppy and Nevin went to put the cargo holder on the hitch of the Mazda after the kids were in bed, but Spencer put the pin somewhere and we couldn't find it. So, with those 2 unplanned events in the morning, we were a bit later than we had hoped. We hit a little bit of traffic once we got closer to the beach which added about 30 minutes (including the 13 minutes we waited for a train stopped on the tracks in Newark, DE) so we arrived right around noon.
Nevin got us McDonald's for lunch and while the kids were napping, I ran to the grocery store. It was raining, but after it stopped we went to the pool at the condo complex. We at Rippons Seafood for dinner after Uncle Brad, Aunt Mega, and Mia arrived.
August 13
I went for a run (first run since Corbin was born and boy, did it feel great!). We then went to the beach. We parked at 146th Street Beach. Spencer did not have a nap. Pop cooked hotdogs on the grill for dinner and then we went to "Sundaes in the Park". We saw rescued animals, made our own ice cream sundaes, played on the playground, and made sand art. Sundaes in the Park was great and I hope we can attend next year.
August 14
We drove to Assateague Island National Park to go to the beach. This was the first time I had ever been there and it is an amazing beach. The sand was flat so the kids had a great place to play. We did not see any wild horses on the beach, but there was 1 by the bathrooms when we were leaving and then we saw more near the bridge back home. All 3 boys napped in the car on the way home, so we went to Sunsations after we ate pizza from Ponzetti's for dinner. Nolan picked out a tank while Spencer picked out a snowmobile. Nevin and I got new Fenwick Island t-shirts.
August 15
We went down to OCMD to see El Galeon that was docked there until the end of August. It was $12 to go on, so Nevin took the big boys on while I stayed on the ground with Corbin. We then walked to the boardwalk and, just like last year, it got very, very hot quickly. The boys played on some sand sculptures, we got Thrashers french fries, and stopped in Candy Kitchen for some goodies. When we got home, we went to the pool at the condo complex while Daddy did some work. Pop cooked burgers on the grill for dinner.
August 16
We went to Fenwick Island State Park. After we got back, we went to the pool so daddy could get some work done. After the pool, we put the boys to bed and had dinner from Rusty Jimmy's. Uncle Brad and Aunt Megan grabbed the menu the night before so we decided to try it. Nevin and I got the crab cakes and fried shrimp and split them. The crab cake was one of the best we've both ever had. We will definitely be adding this restaurant to our "must eats" for next year.
Since the boys didn't nap and were in bed early, we decided to go out to celebrate our 6th wedding anniversary. We went to get a drink thanks to Aunt Megan and Uncle Brad who were willing to stay home while they slept. We went to Harpoon Hanna's because neither of us had ever been there and we wanted to sit at the Tiki Bar. We got frozen girly drinks and then went to OCMD beach for a walk. There were lots of people fishing in the dark (Nevin almost walked right into a line!) and on our way back to the car, a ghost crab scuttled right in front of us. I'm glad we got to celebrate 6 years and especially glad to celebrate it at the beach.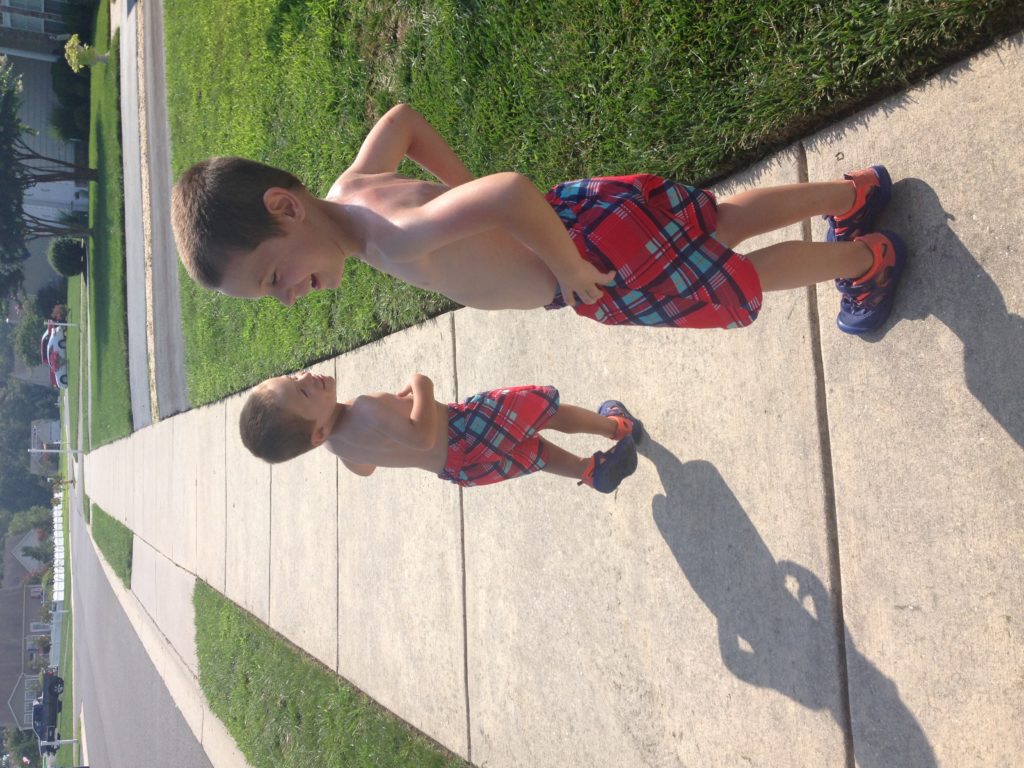 Before we left, Daddy and Aunt Megan played Battleship while I got ready (Daddy one!):
August 17
We went to the pool and then went to Bethany Beach. When we got back, we went to the pool again and then spent the early evening at the OCMD beach. Again, the boys did not nap so we put them to bed early and ate Grab and Go Taco for dinner which was delicious. We then played Clue with Uncle Brad and Aunt Megan (I won!).
Bethany was an adorable little beach town:
August 18 – Last Day
We went to Fenwick Island State Park. We (sadly) left around 2:00. Daddy took the big boys to the pool while I cleaned while Corbin napped. After the pool, we packed the car and headed home. There was a really bad storm on the way home so we ended up stopping for dinner/waiting out the downpours at Chick-Fil-A. All 3 boys fell asleep on the way home. It was another wonderful beach vacation that wasn't long enough. We are already looking forward to next summer's trip.
August 19 & 20 – Home
Nolan got a letter from his Pre-K teacher while we were gone with important dates and information.
August 21 – Solar Eclipse
I had planned on getting eclipse glasses when we got home from the beach (too much going on and too much to do/think about before we left), but they were all sold out and going for 100s of dollars on eBay by that time. Luckily Mimi sent us a video of how to make a viewer out of a cereal box so we did that. We were able to see the eclipse around 2:45PM and the viewers weren't that great. Our neighbor Terri had a friend over who made a viewer and she let Nolan and me look through it which was cool. Spencer was napping and missed it (whoops). I did get some really great pictures while the eclipse was behind the clouds though!
August 22 – Kilby Cream
Mom's Club (aka Monica and me) went to Kilby Cream and I'm glad because I've been wanting to go here for a while now. We played on the playground & maze, ate lunch & ice cream, saw the animals, and found the largest caterpillar I've ever seen on our way to get ice cream to bring home to daddy. Nolan got Tractor Treat, Spencer got Chocolate Chocolate Chip, and I got Mint (of course). The ice cream was okay and was nowhere near the deliciousness of Meyer or The Creamery.
August 24 – Black Rat Snake is Back
I was walking by the sliding glass door when I noticed a black rat snake slithering over the pug door stop we have on our porch. I ran to get my camera and this time, we didn't lose it. It went in Spencer's grill, slithered down the steps toward the hot tub, went behind the hot tub and through the landscaping on the side of the house where we lost it. About an hour later, I was mowing and saw it slithering in the grass near a pine tree on the edge of our yard. I followed it and it slithered under the shed. I'm proud of myself for being brave enough to get pictures and video this time!
August 26 – Corbin is 5 Months/Longwood Gardens with Andrea, Kyler, and Sienna
Corbin is such a go-with-the-flow baby. He is always happy and pleasant. He loves to lay on his back, chew on his fingers, and play with toys. He gets bored when he doesn't have anything to play with. He has been eating 3 times per night, but has been up crying 3 extra times per night because his binky falls out and he can't get back to sleep without it. I'm exhausted and I'm really hoping he learns how to put it back in himself very soon. He is in size 2 diapers (but they are really big) and is finally starting to grow out of some 3 months clothes and starting to fit into some 6 month clothes. He sits on my lap during dinner and opens his mouth every time I bring the fork to my mouth. He can roll from his back to his belly now (I haven't seen him do it yet, but he's been on his belly after he has woken up from nap twice now).
August 29 – Delaware Museum of Natural History
We met MOMS Club at the museum and it was a perfect rainy day for it. We went into an exhibit that was not there the last time we were at the museum. It was all about nocturnal animals and it was pretty cool. They got to go in a pitch black closet and try to put wooden blocks in the appropriate hole while I watched them on a camera. It was a nice way to spend a rainy morning.
August 30 – Bye Townhouse
I ran to the townhouse one last time with the boys to check the mail one last time, make sure we didn't forget anything, and to do some final cleaning. The boys were great and it didn't take us long at all. It felt so wonderful to hand in those keys! Now, let's just hope we get our full security deposit back!
August 31 – CHOP for Nolan
Last night I noticed that Nolan had about 6 little white bumps on the corner of his mouth. I decided to see what they looked like in the morning. When he got up, there were more bumps and the skin behind them was red. We went to open house at school and then to the doctor. The nurse practitioner we saw said she thinks it is impetigo and prescribed him an antibiotic cream to use for the next 7 days. I hope it clears up before the first day of school!