November 3 – First Art Class
I signed the big boys up for a Mini Monet art class at the Oxford Arts Alliance. It was an hour long, so I went across the street to Wholly Grounds for coffee with a mom friend who also had a child in the class. There were only a total of 4 kids in the class and the boys really enjoyed it. We are thinking about doing it again in the winter.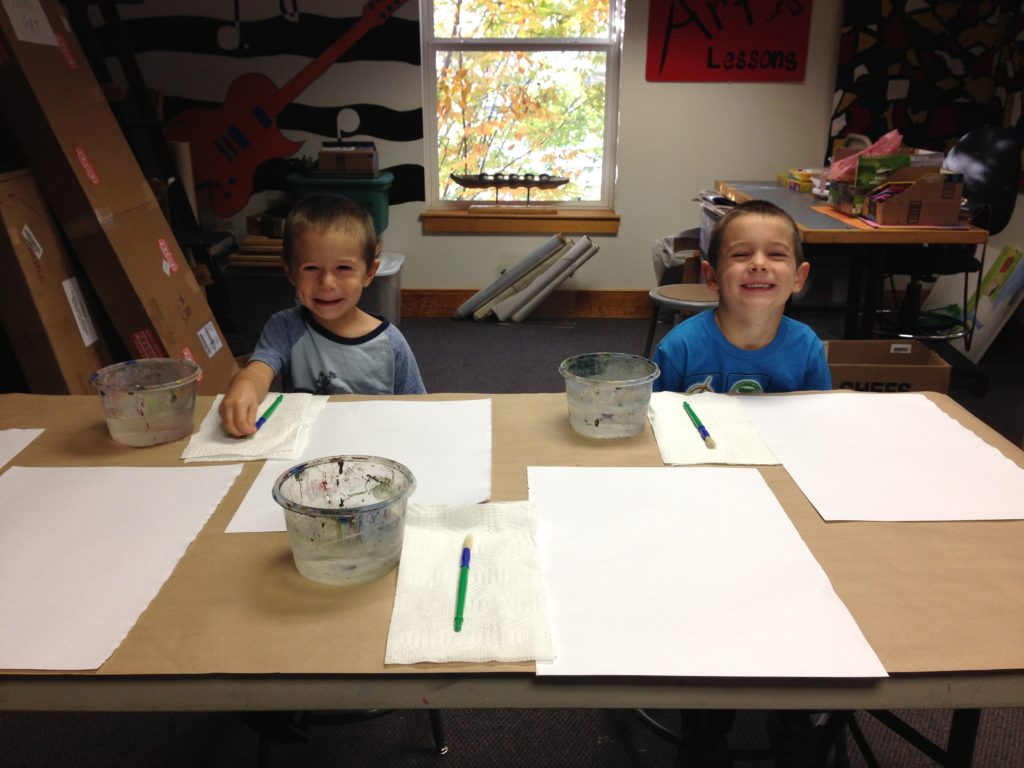 November 5 – Sleepy Baby
Corbin fell asleep while Nevin was holding him and it was too cute to not take a picture.
I also changed out the knobs on our kitchen cabinets.
November 8 – Makeup
When Spencer watches me do my makeup, he always asks if he can do some too. I usually give him my cheap makeup that I don't mind if he messes it up. This time, I let him play with lipstick. Then, he took pictures of me holding Corbin which is great because I am the one who usually takes the pictures so I am not in many.
November 9 – Nolan's First Karate Class
Nolan and I were reading "The Night of the Ninjas" Magic Treehouse book and he expressed an interest in karate. So, I did some research, chose Oxford Karate Institute, and Nevin took him to his first karate class tonight. It was an orientation class with Master Fisher where he explained how the school works, what Nolan would learn, and gave Nolan his uniform. Nolan does not have a belt yet because he has to earn it at his first class (hopefully!).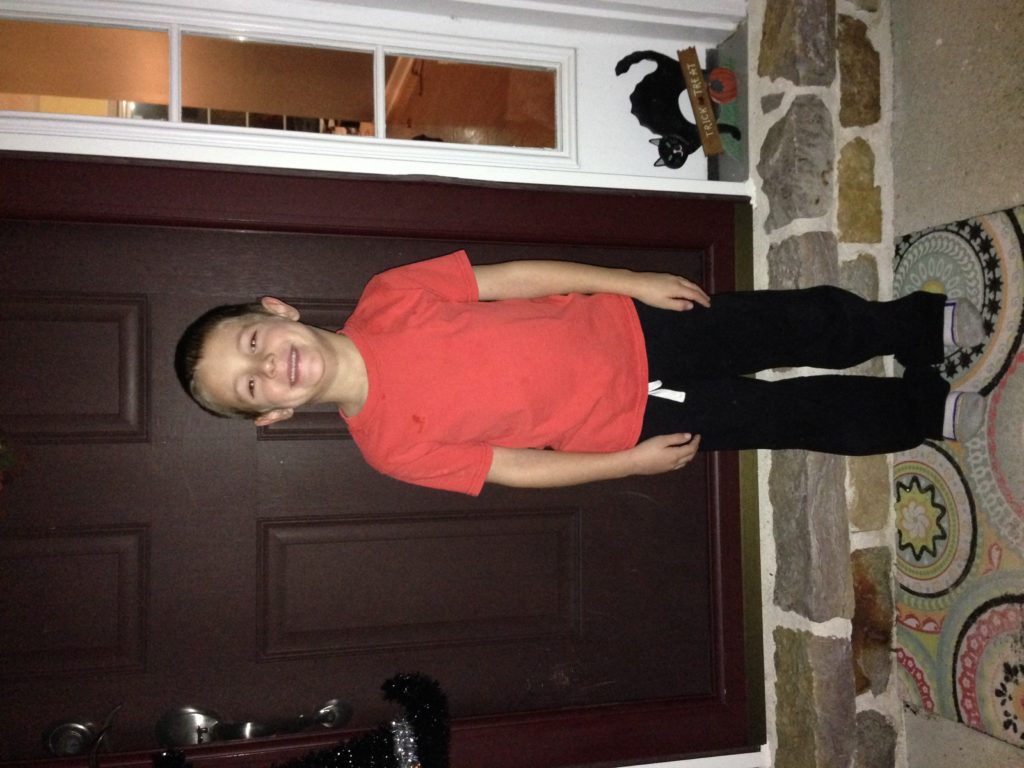 November 10 – Art Class
Painting canvases today!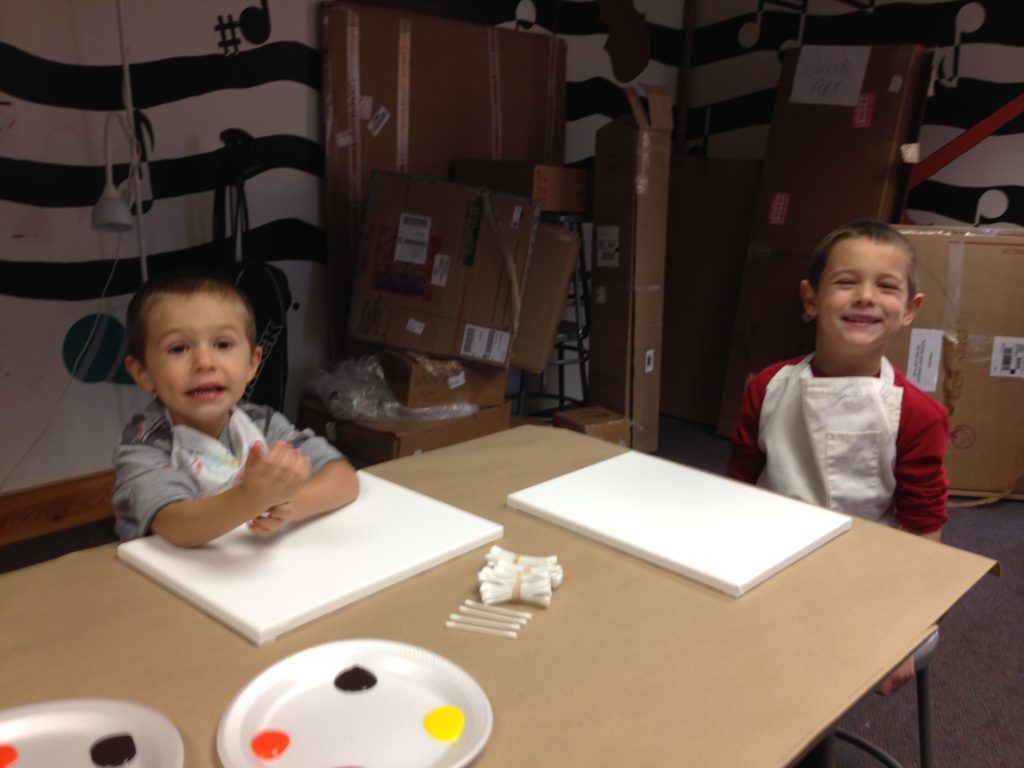 While Spencer was pooping in his diaper and looking out the dining room window, he noticed that we got new horses in our backyard. We went out to investigate and we got 2 new horses for a total of 4. One is light brown (my new favorite) and the other is dark brown.
November 13 – Nolan Got His White Belt
Corbin's first time in the top of the grocery cart.
Before leaving for class:
After class with his white belt:
November 17 – Christmas Card Pictures
It was a semi-warm day and both Spencer and Corbin were up from nap at a decent time so I decided to try Christmas card pictures on my own. I dread doing this every year because the boys just don't cooperate. However, this time was surprisingly easy and he boys did a great job.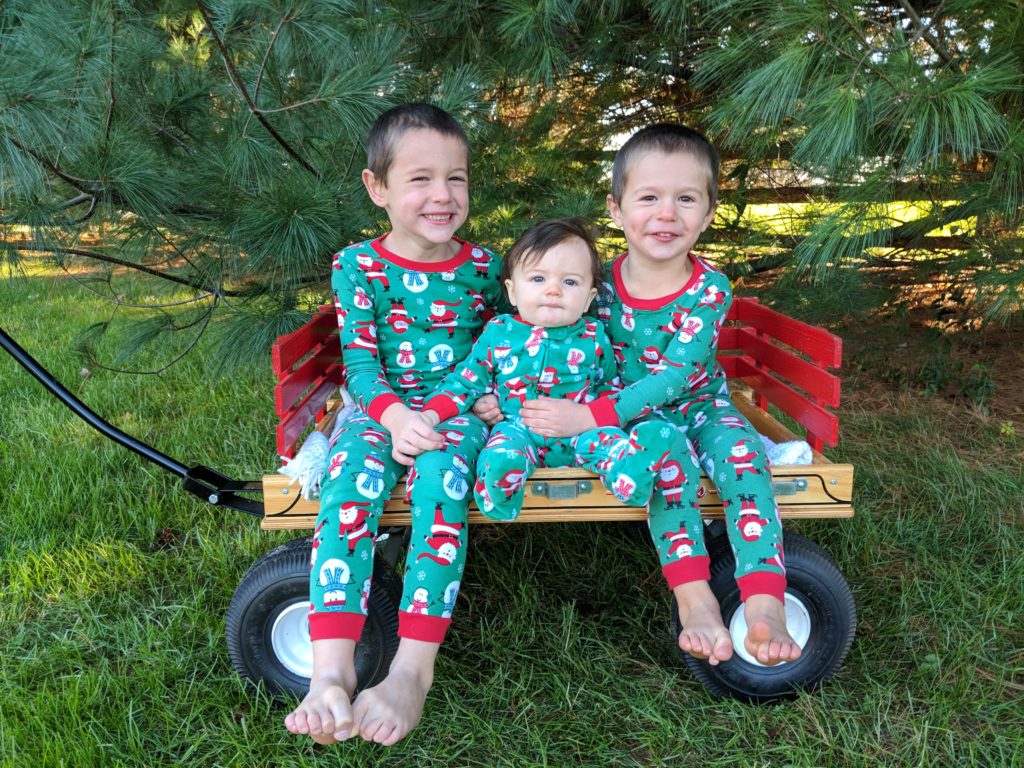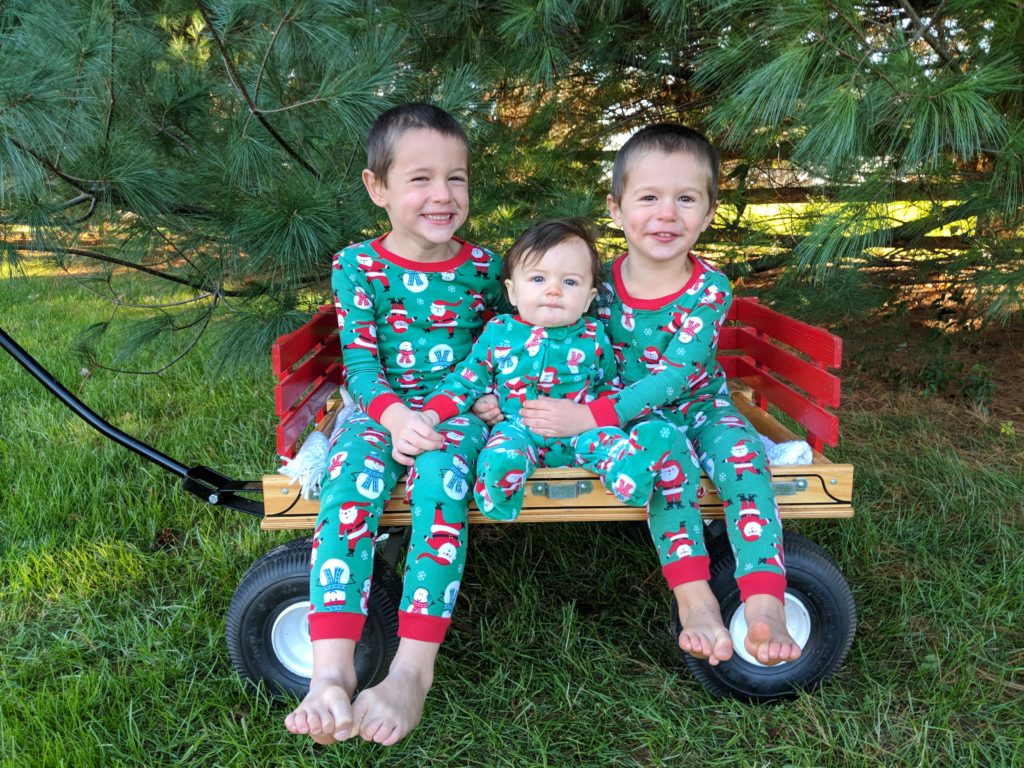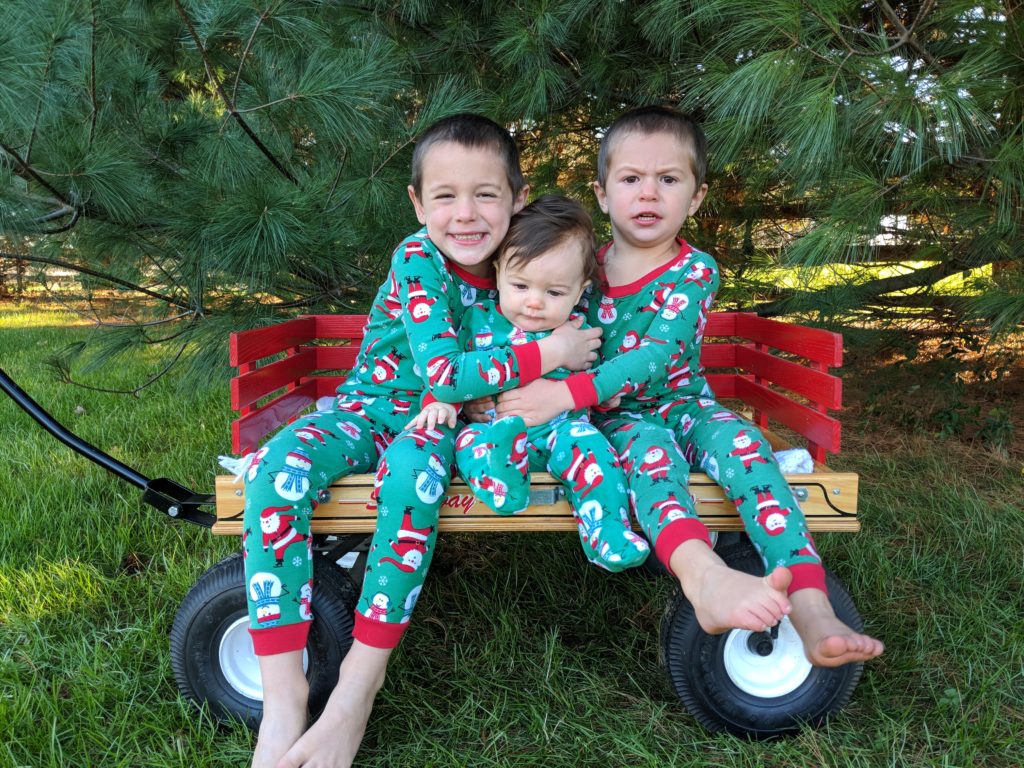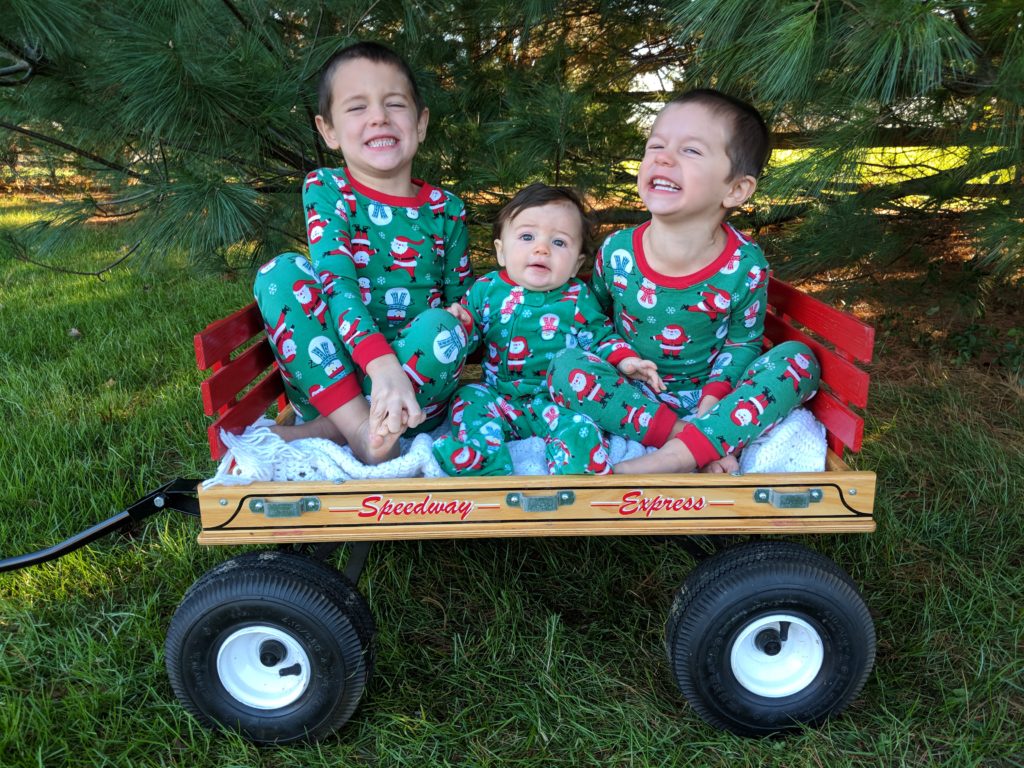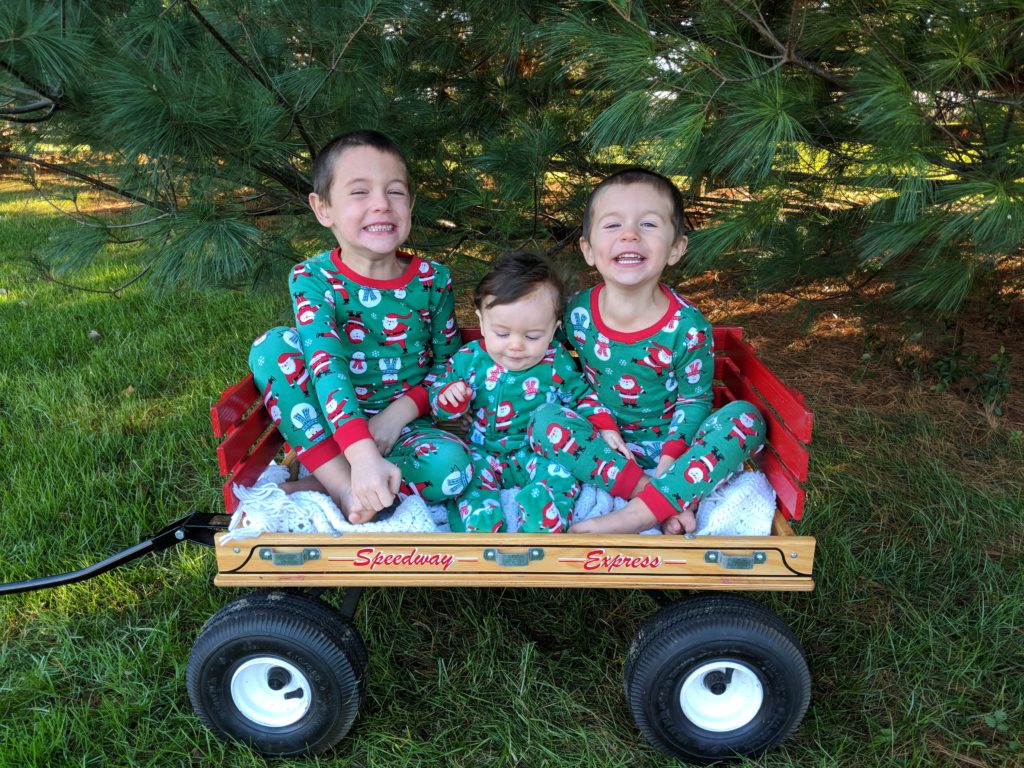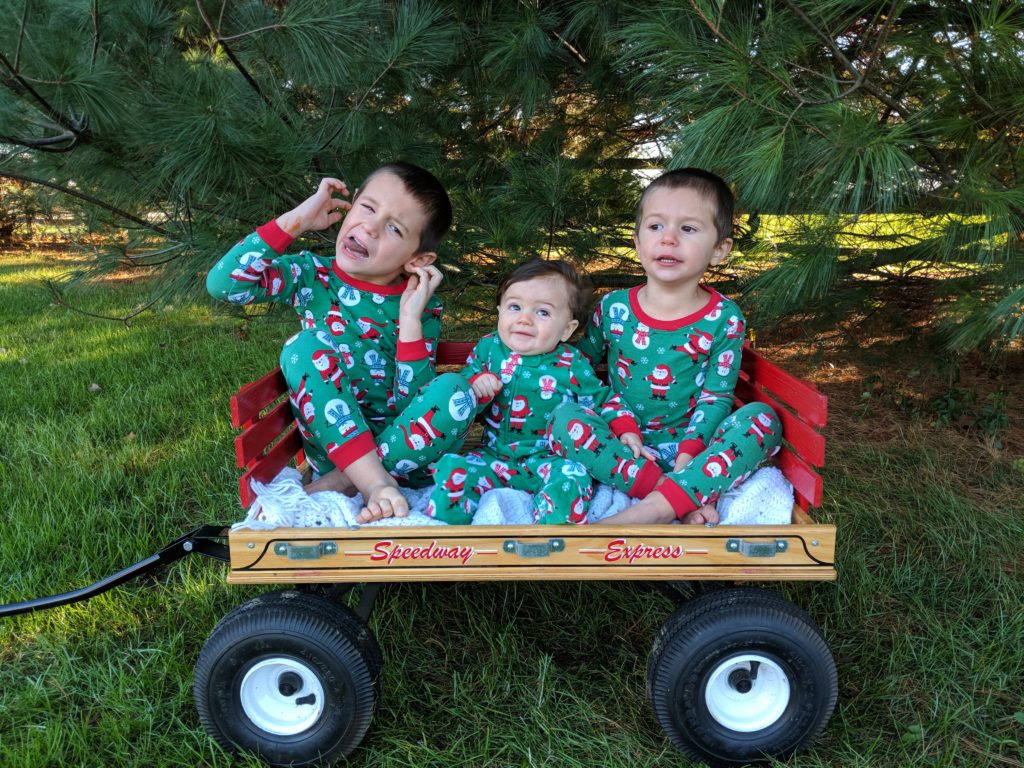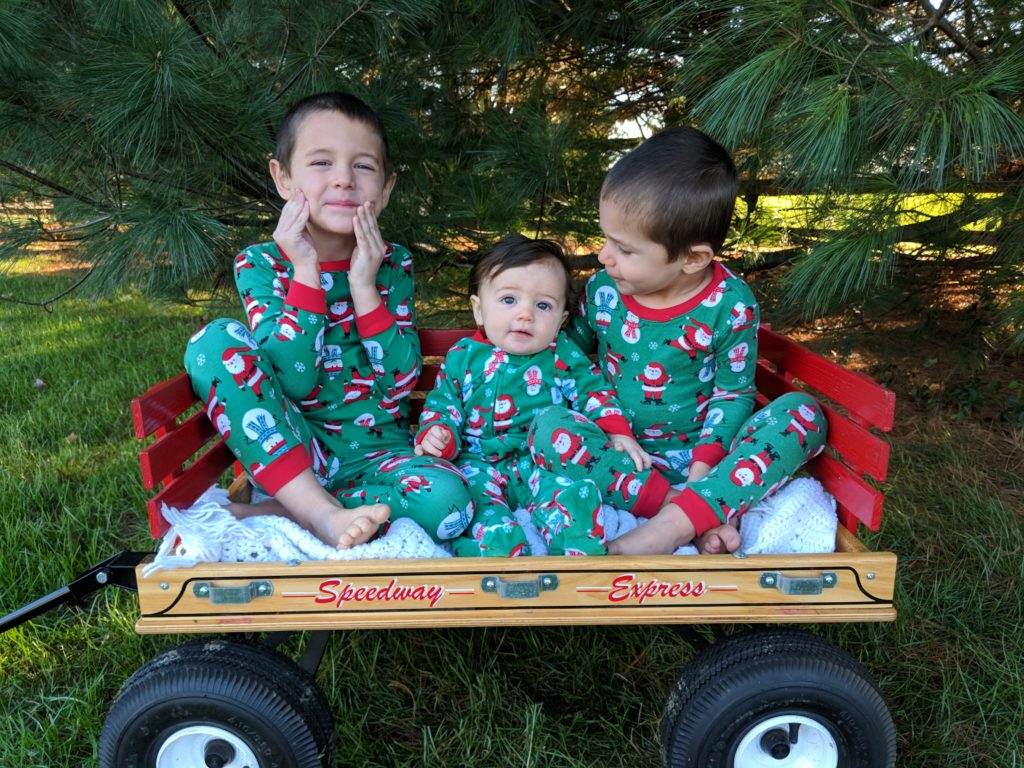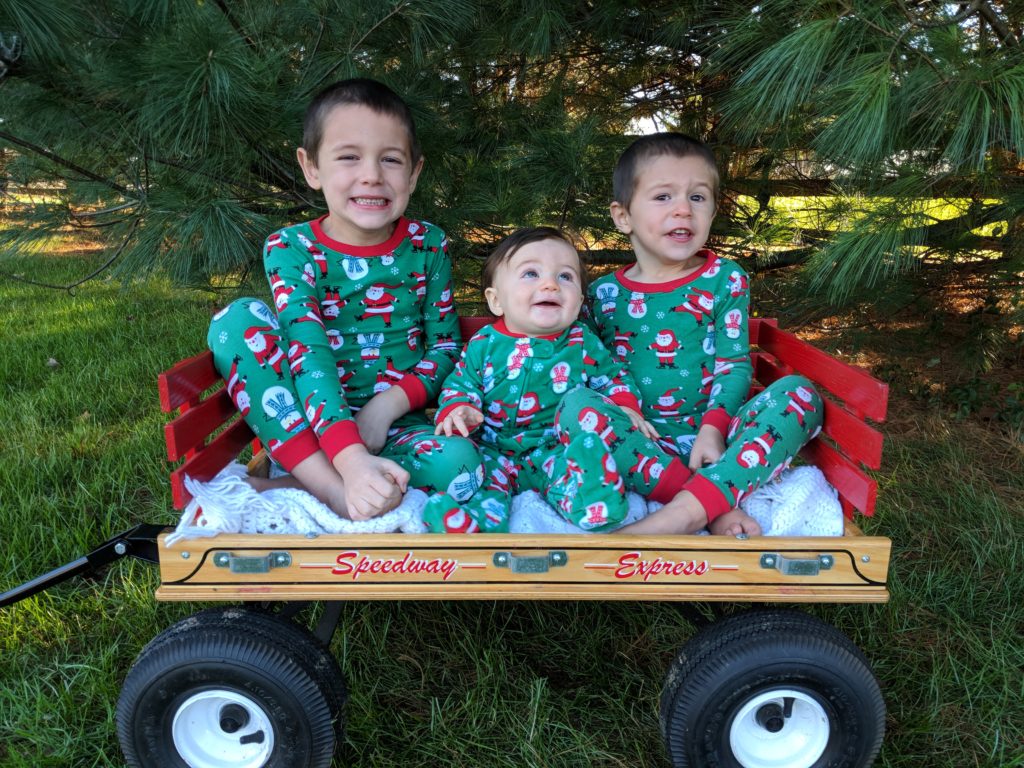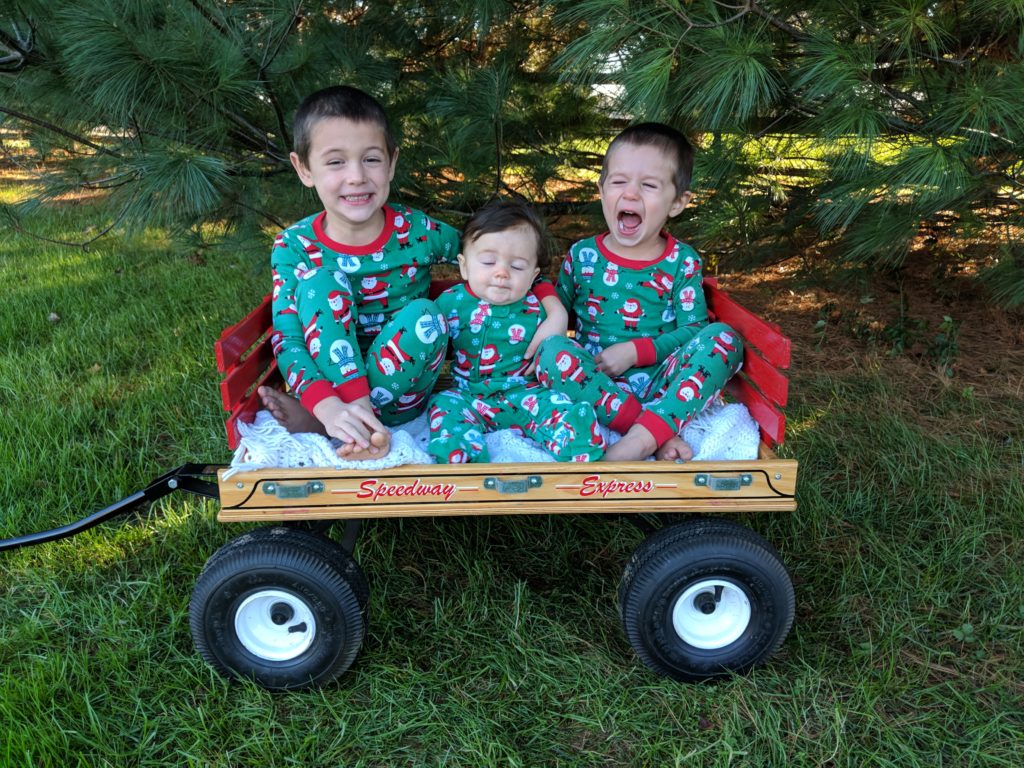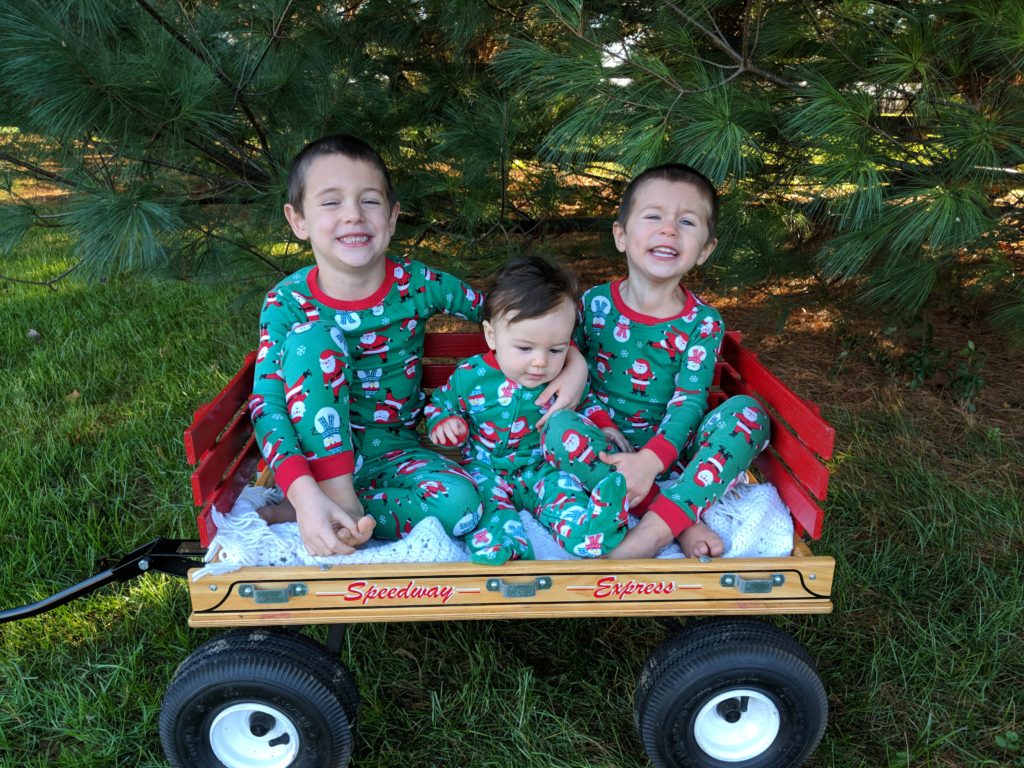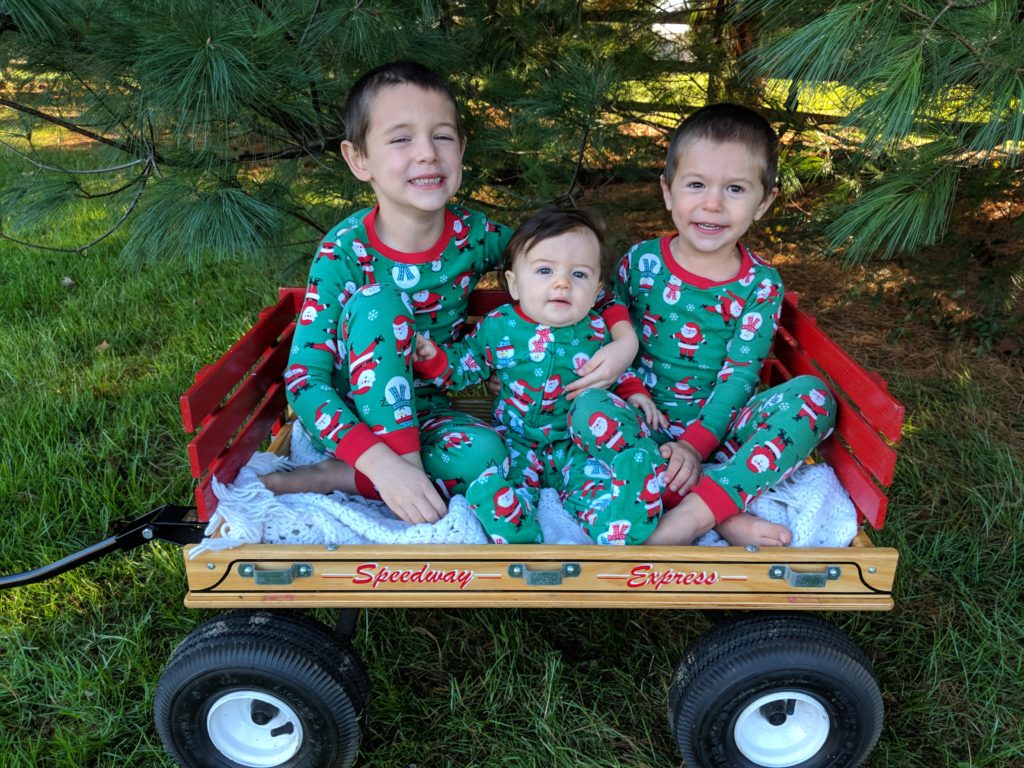 November 20 – Nolan's Thanksgiving Presentation
The Pre-K students at Nolan's school put together a Thanksgiving presentation followed by a feast. Daddy worked from home so he could attend also. The children wore Native American clothing they made and sang songs and it was very cute. We then went downstairs to eat snacks.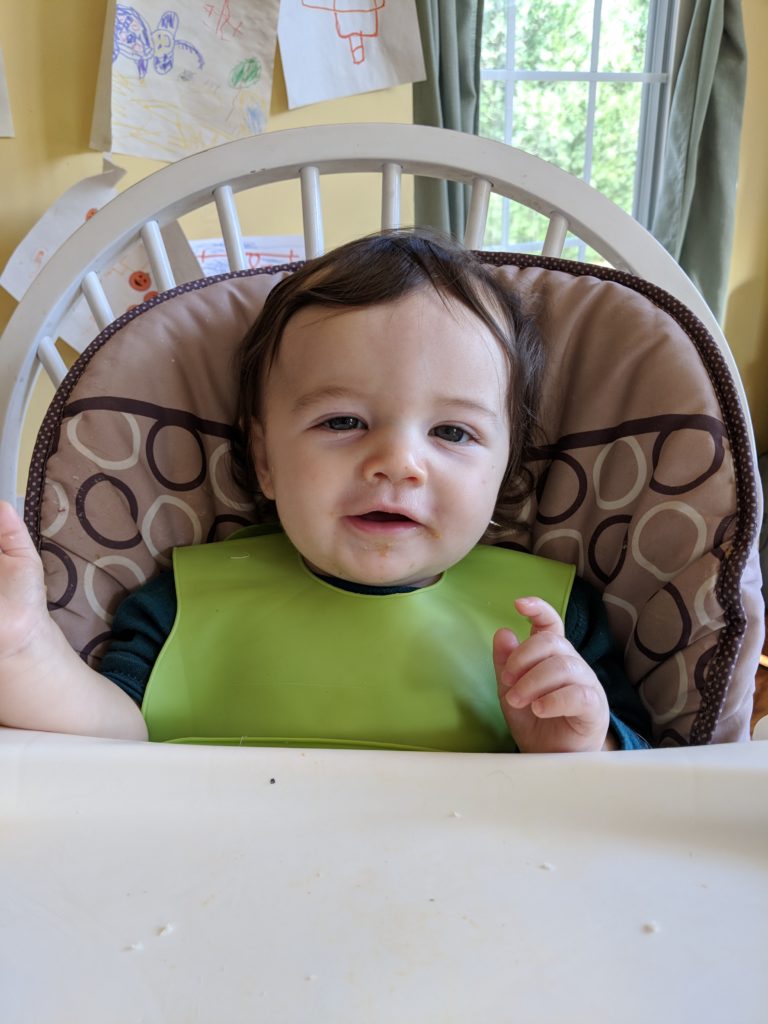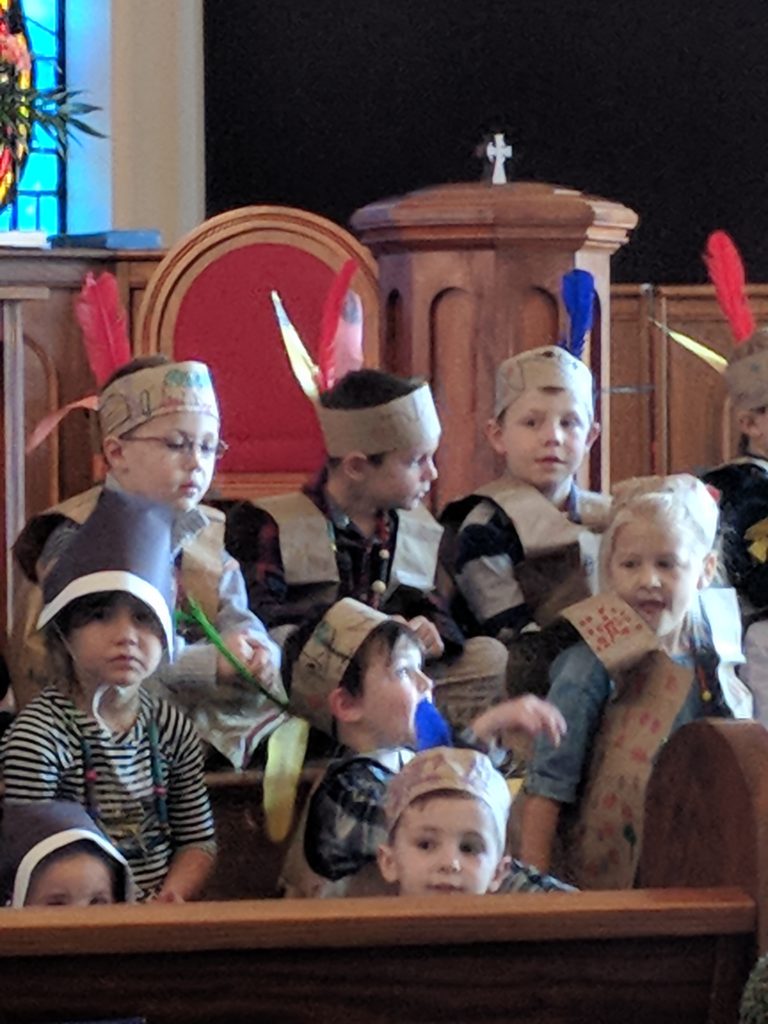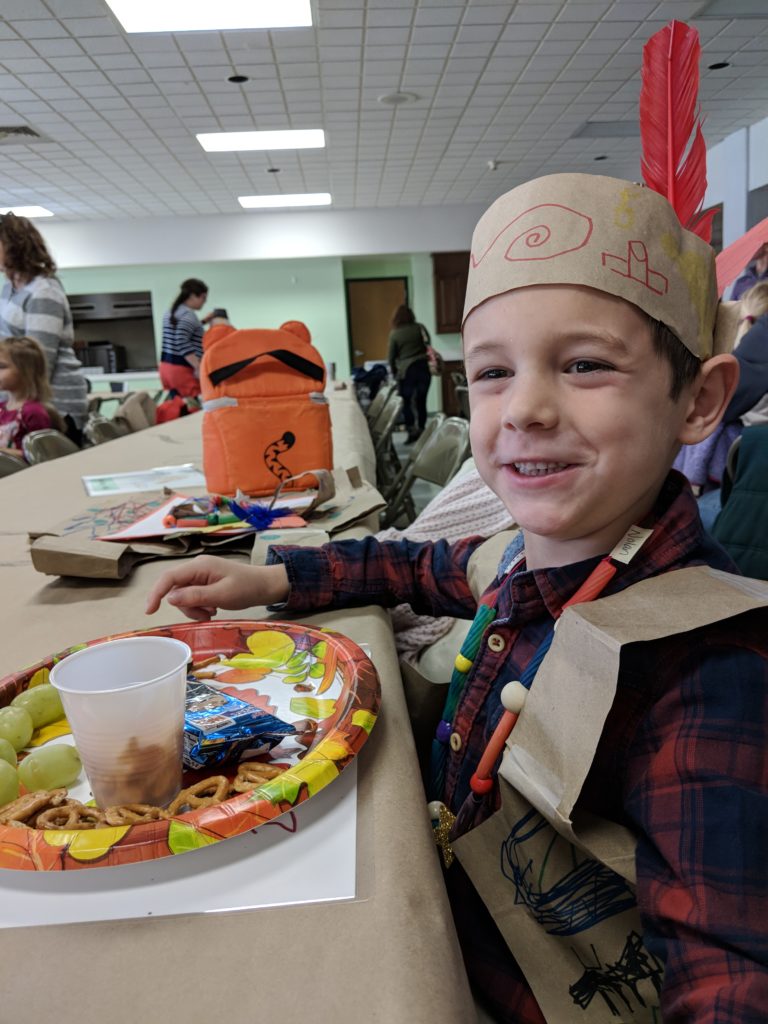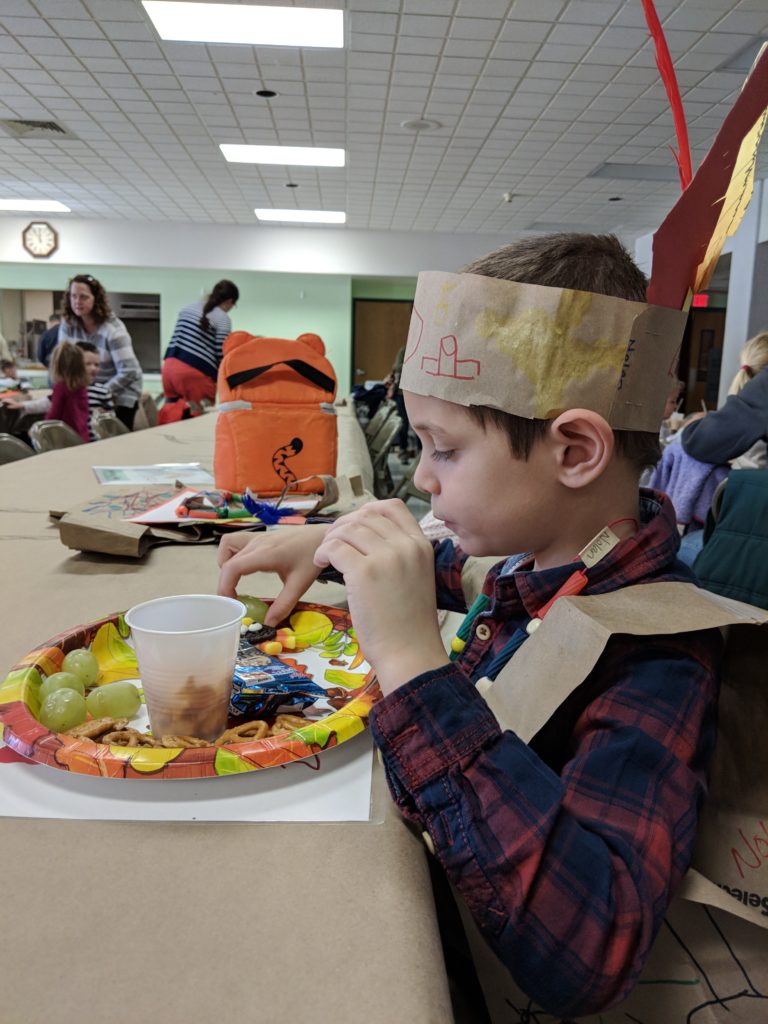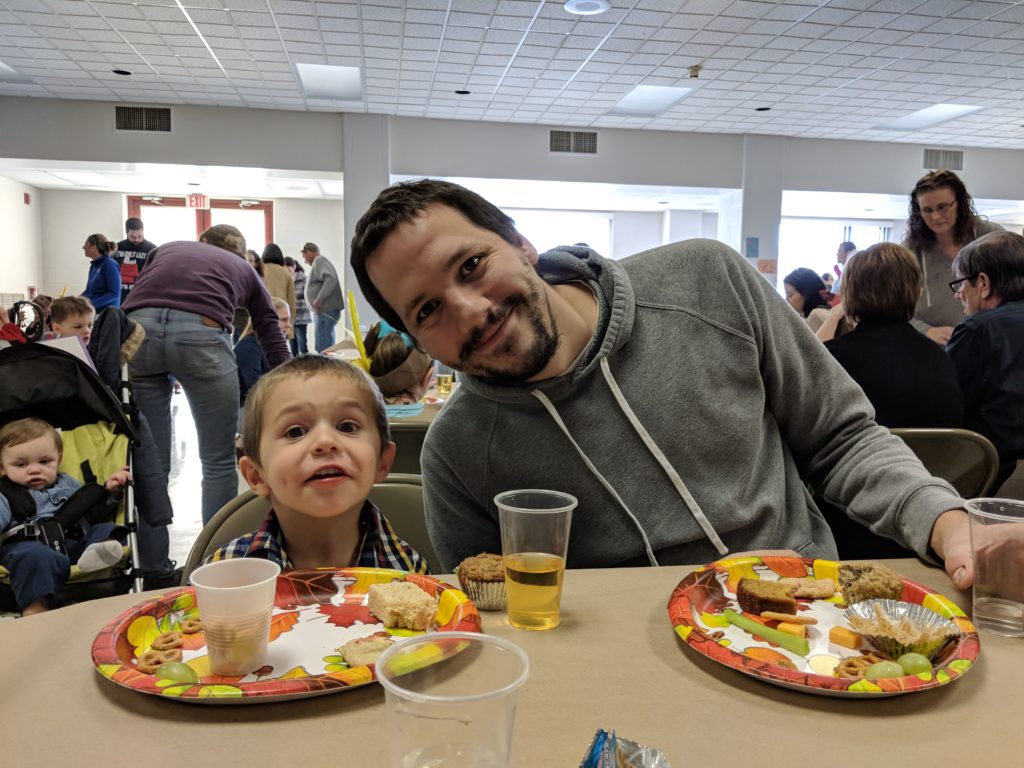 Nolan received this in the mail after his first week at karate. How cool is this postcard?!?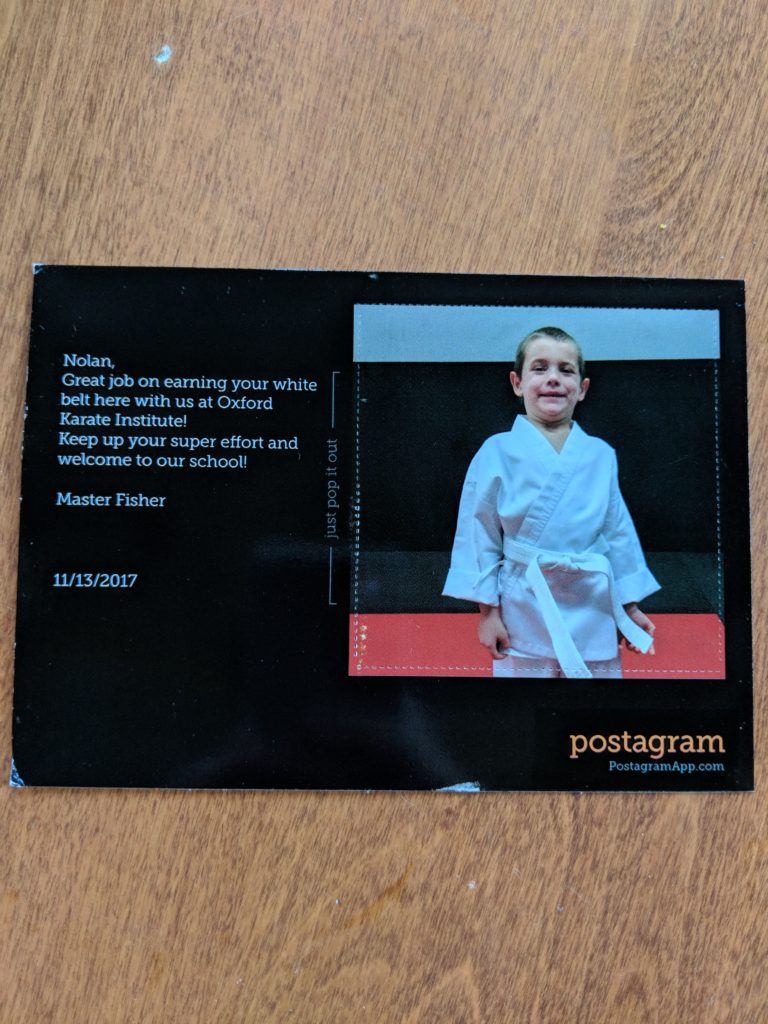 Playing outside with chalk in late November….I'll take it!
November 21 – Fun at Home
Nolan made an Eagle nose and wings all by himself and pretended to be an Eagle. Corbin enjoyed it, too.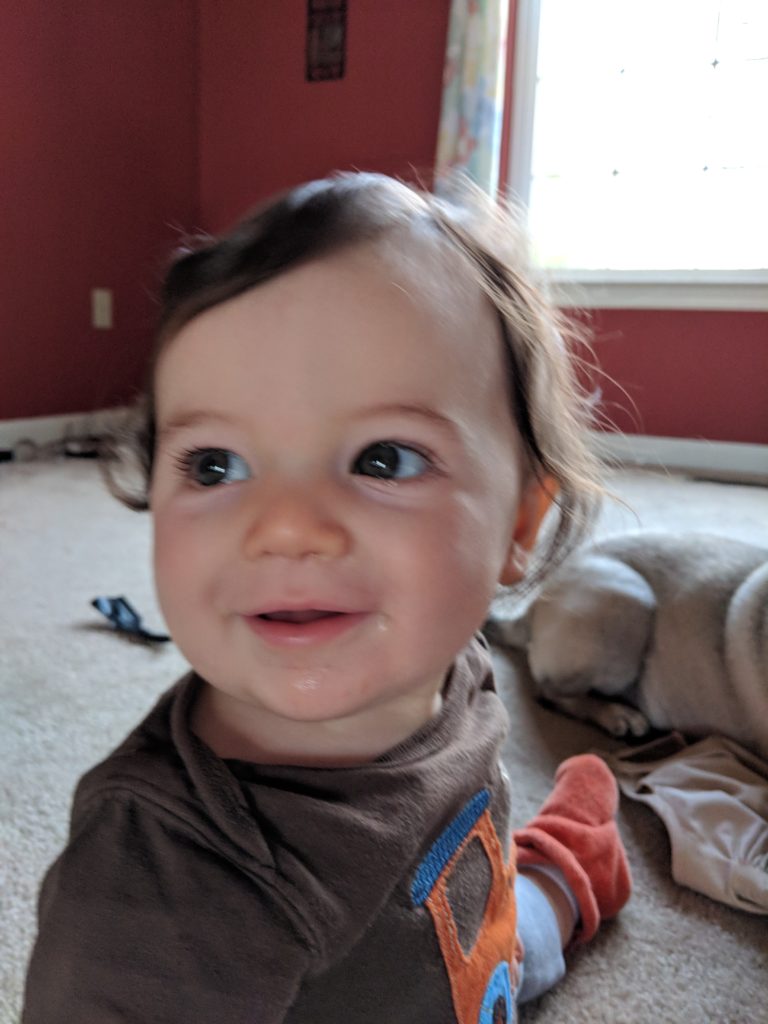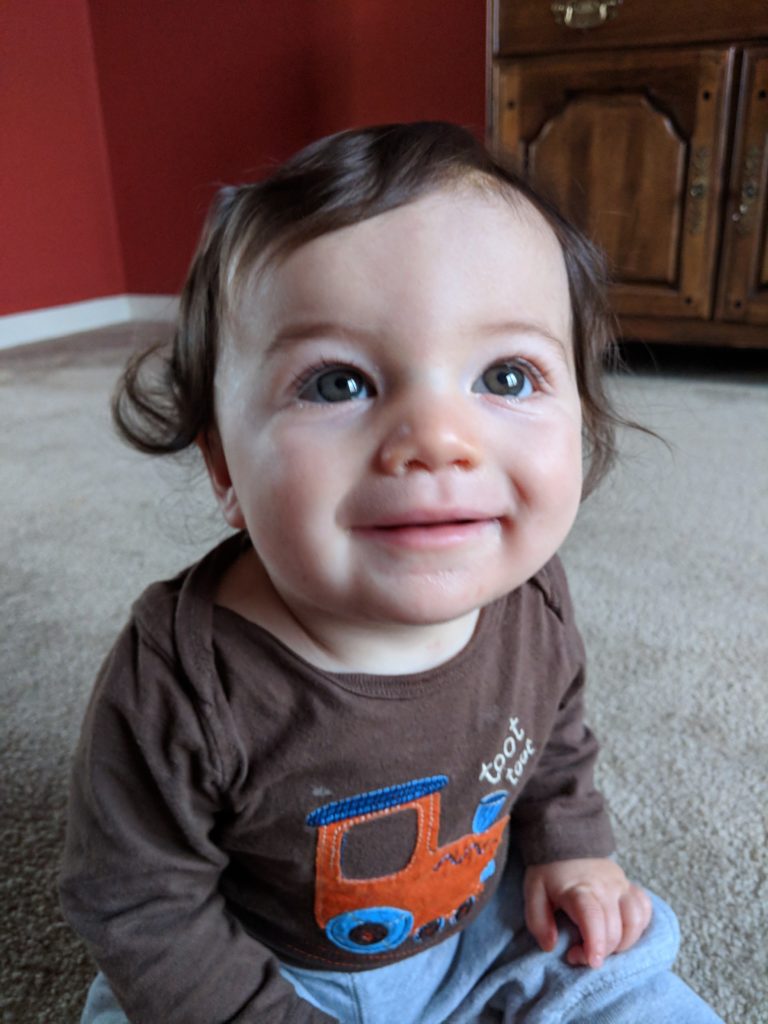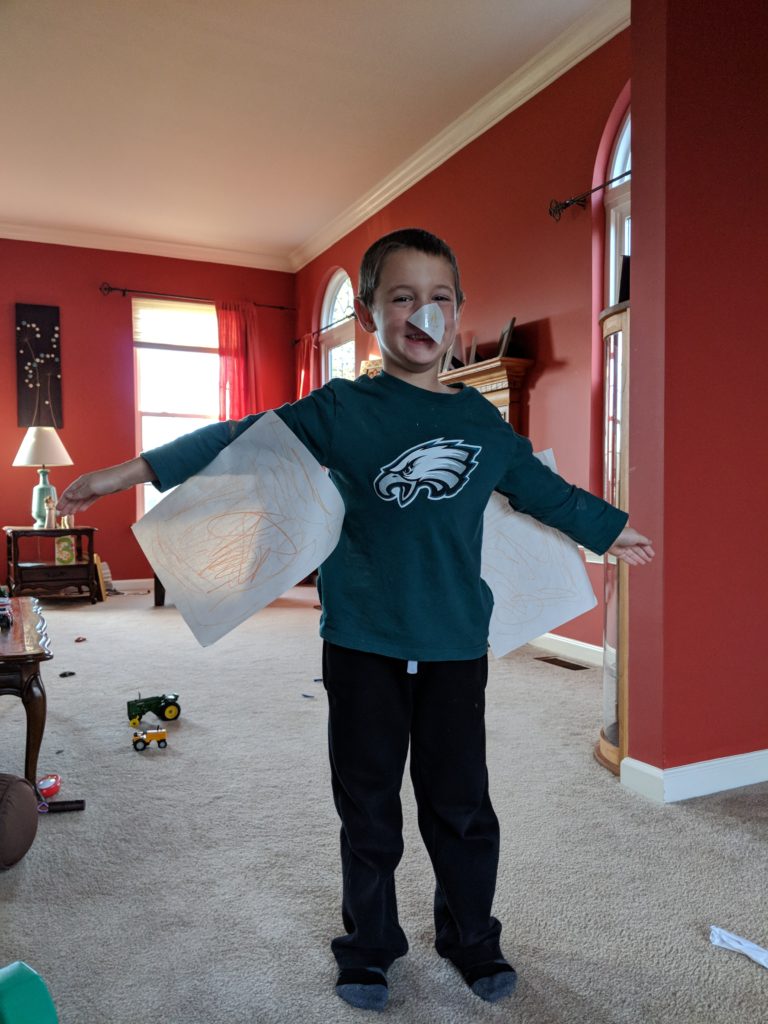 November 22 – Getting Ready for Thanksgiving
I wanted to be fancy with my Thanksgiving centerpiece, so I had the boys help me carve out a pumpkin and then put flowers inside so it looked like a vase. I spent way too much time on this, but it looked good and now I know some tricks for next year's centerpiece.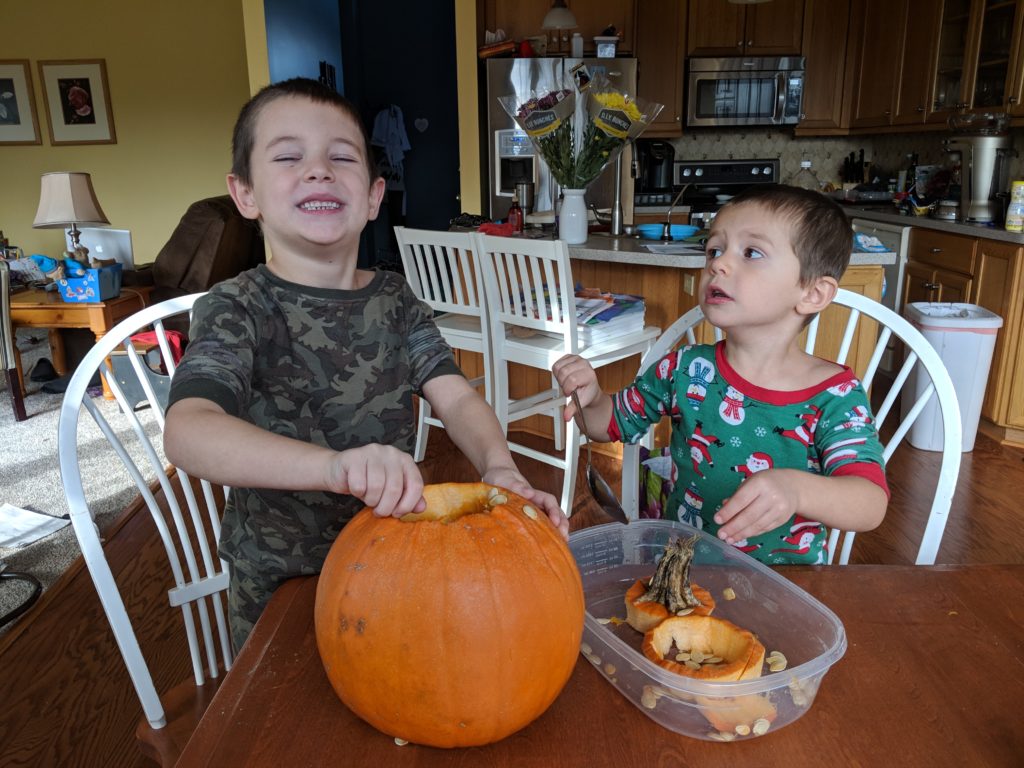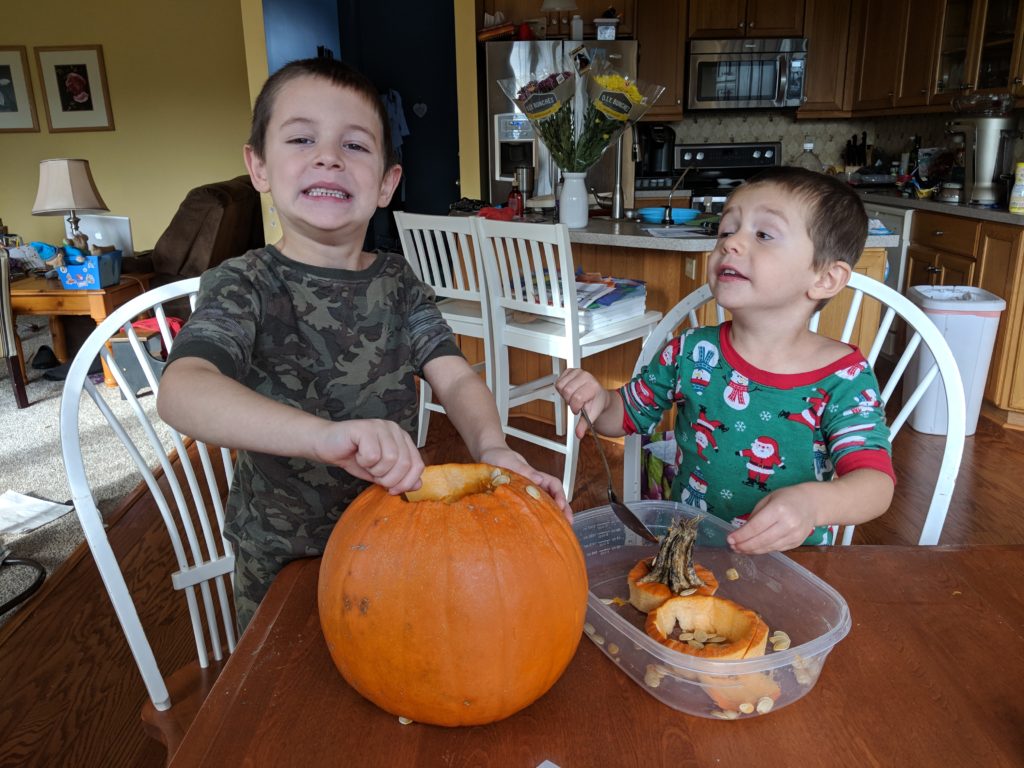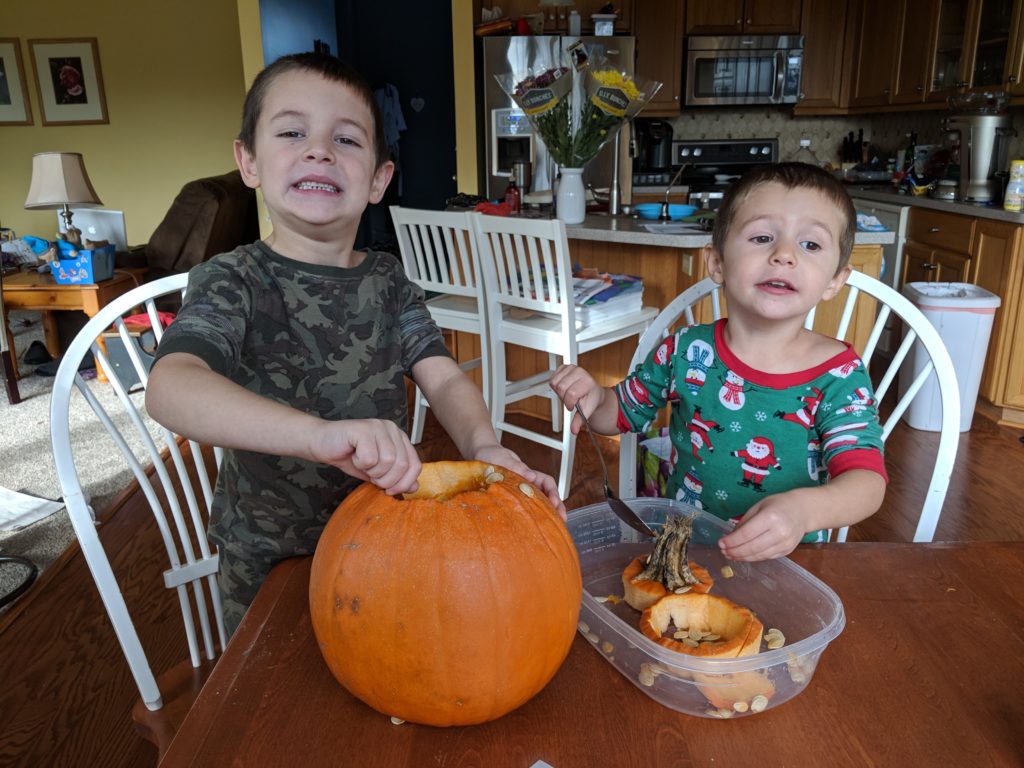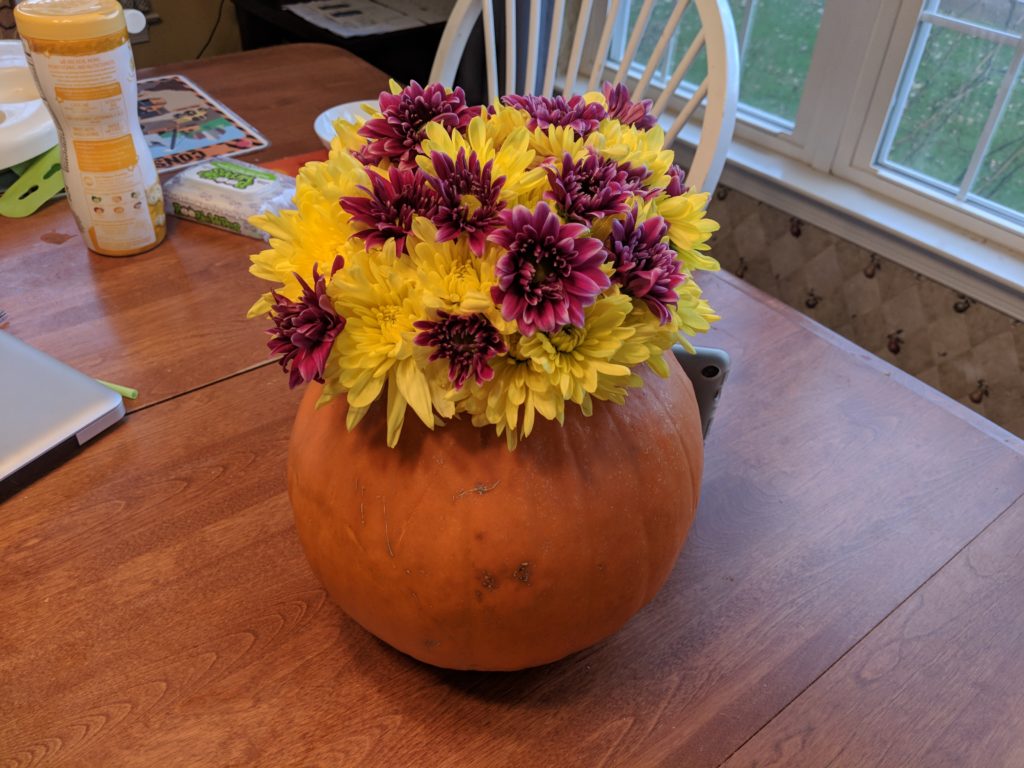 November 23 – Corbin's First Thanksgiving
We decided to host Thanksgiving this year for several reasons. Honestly, I was the most nervous about preparing the turkey (thanks for all the help, Daddy!), but once that was cooking, I had no more worries. It was actually fun to prepare the meal and I enjoyed doing it all. The food turned out great (although the turkey was a little dry for my liking….grill next year!) and Aunt Megan's desserts were delicious. Mimi and Pop and Babi and Grandpa stayed the night and Corbin's first Thanksgiving and our first time hosting Thanksgiving was a success!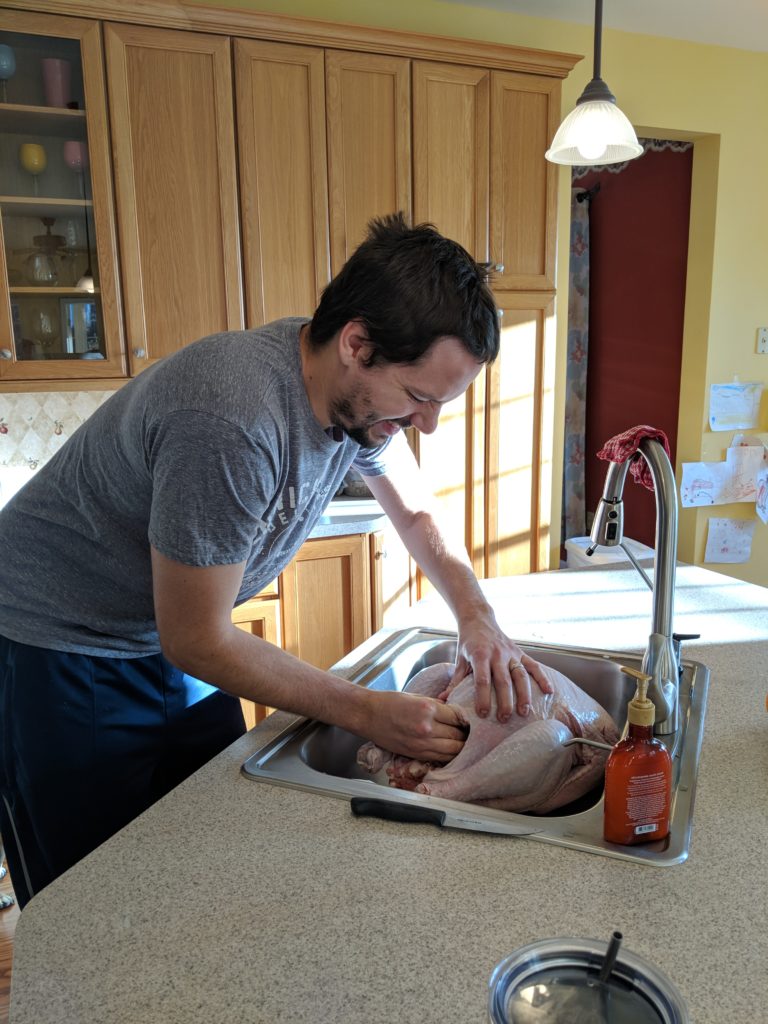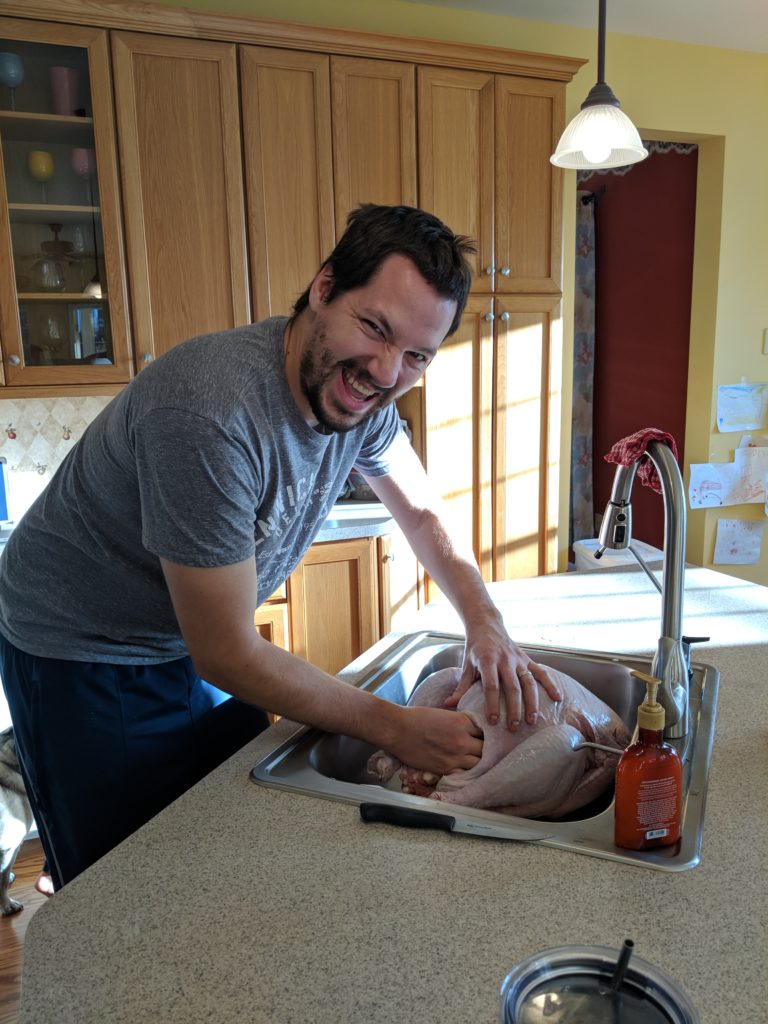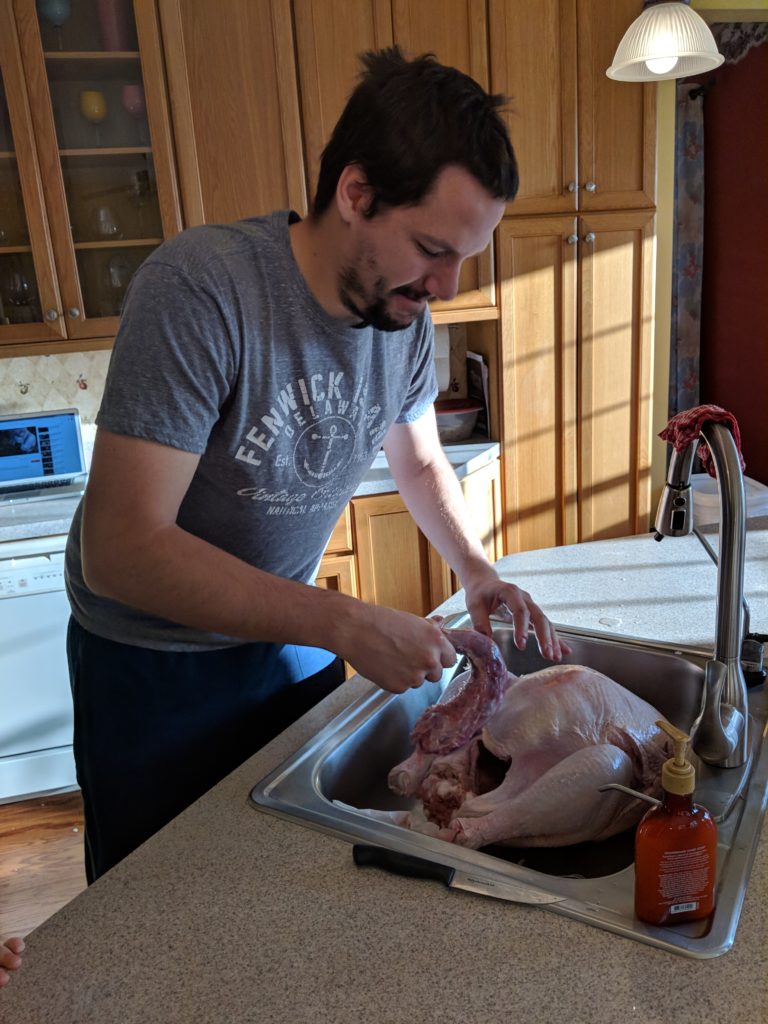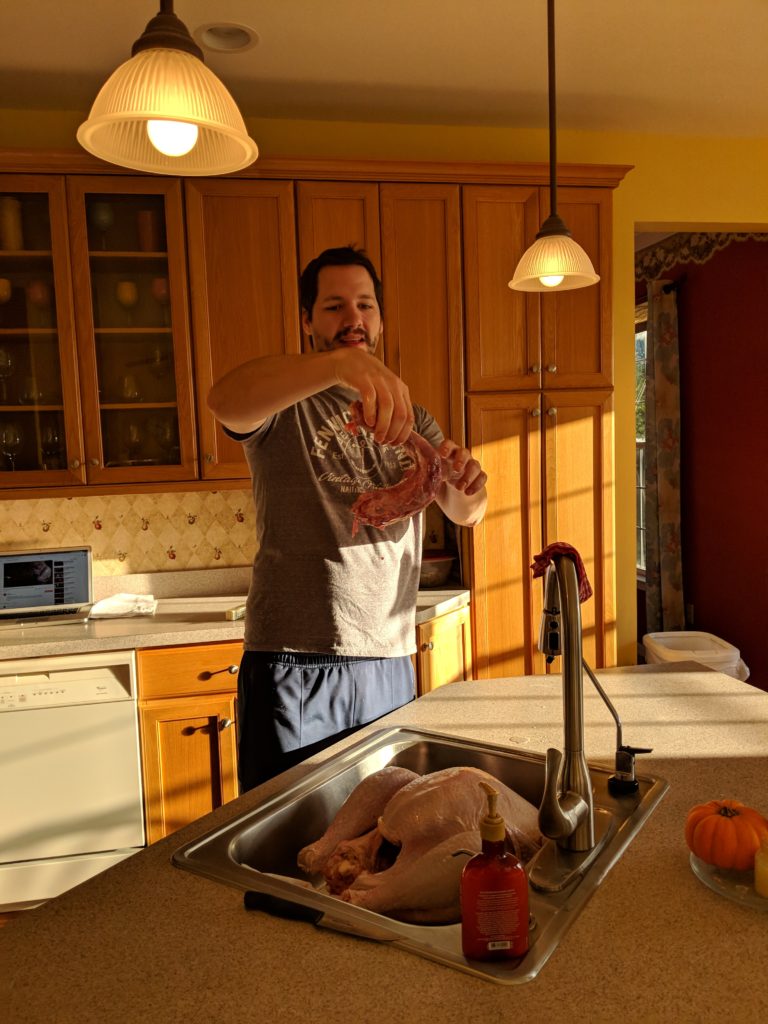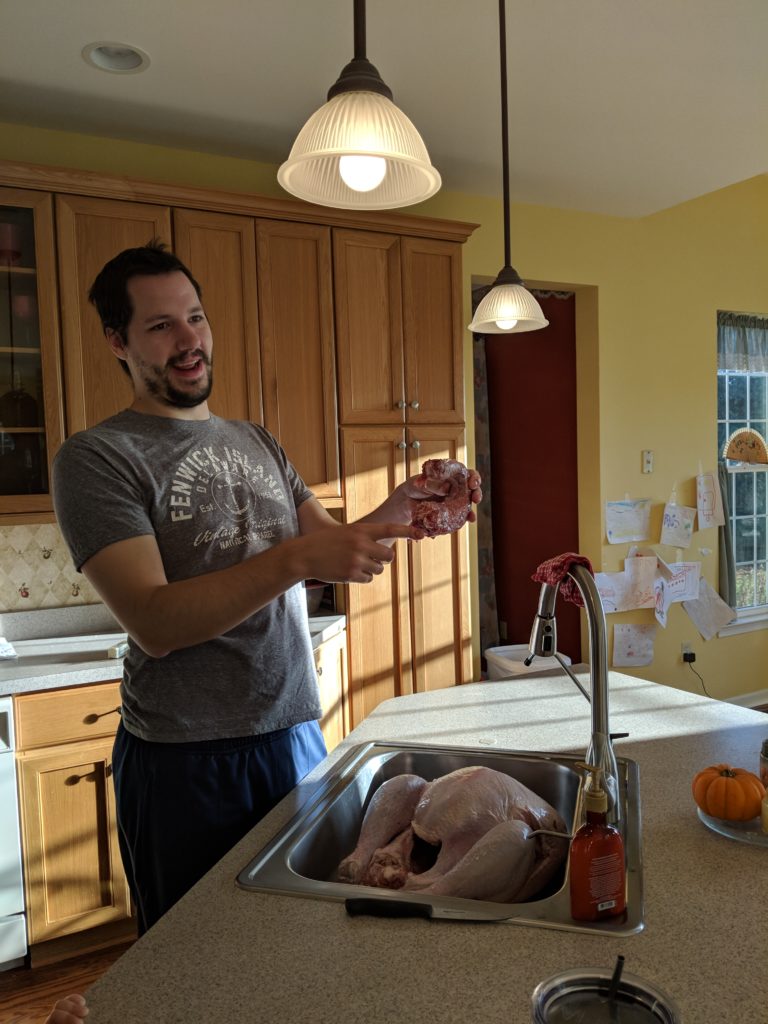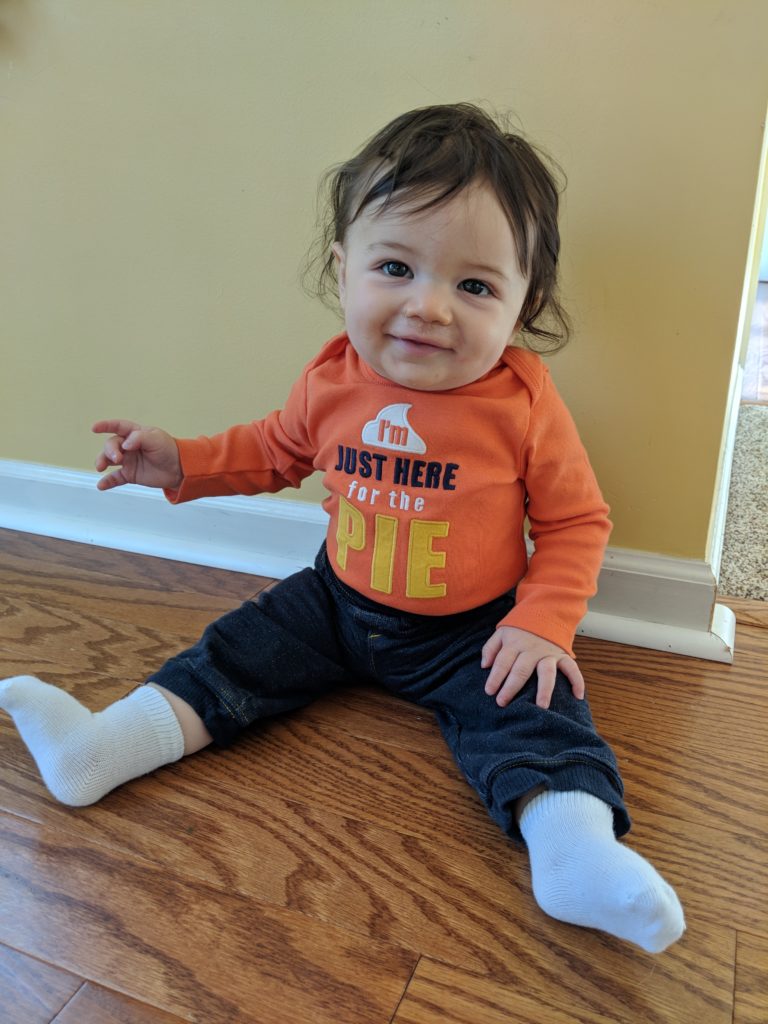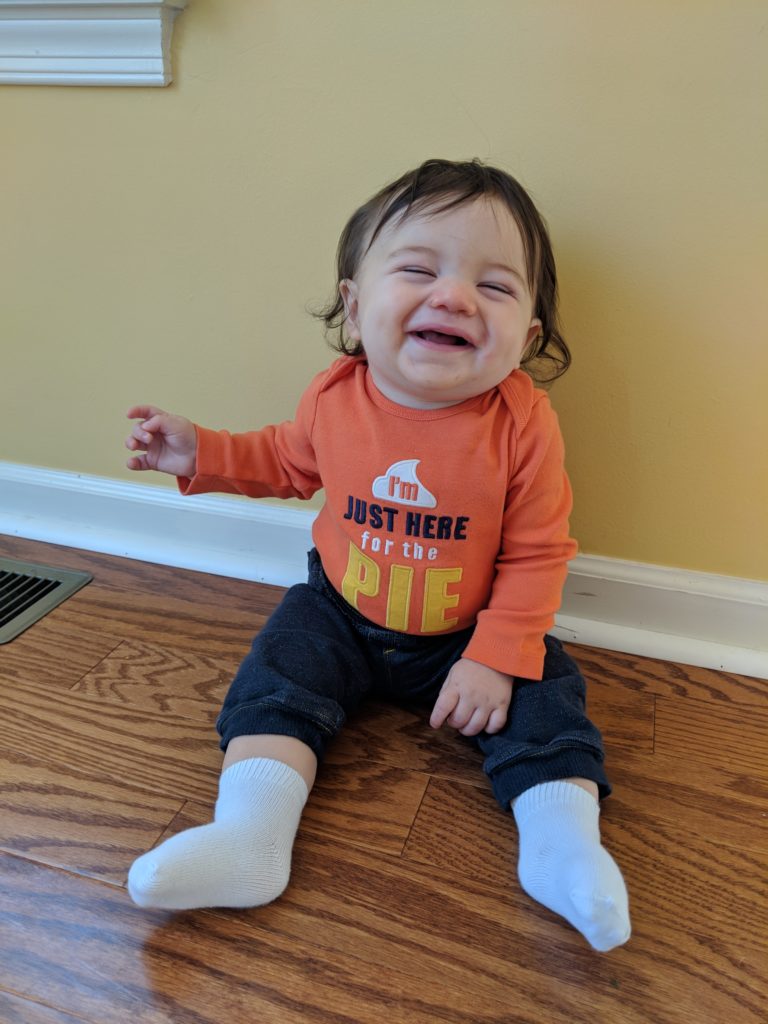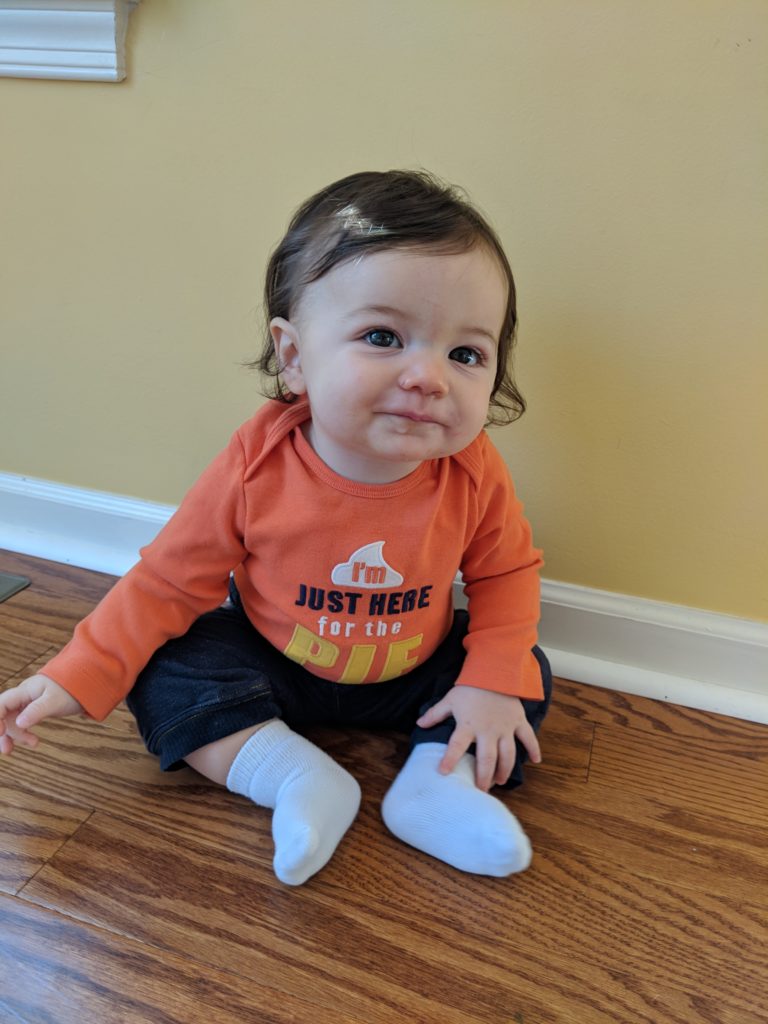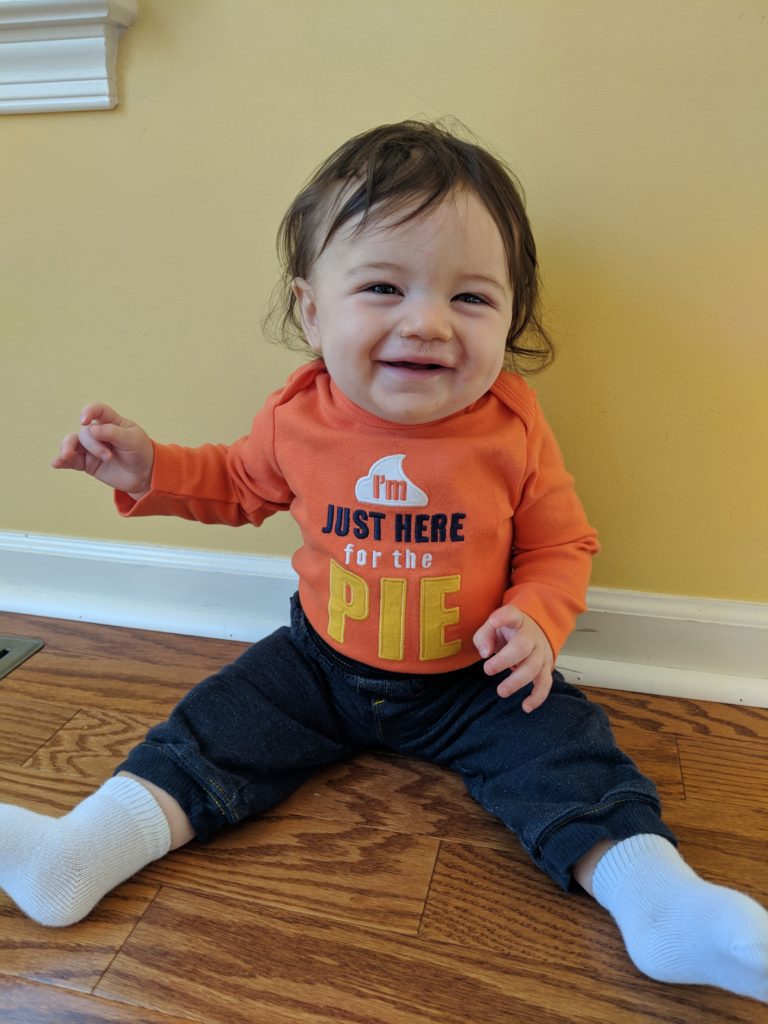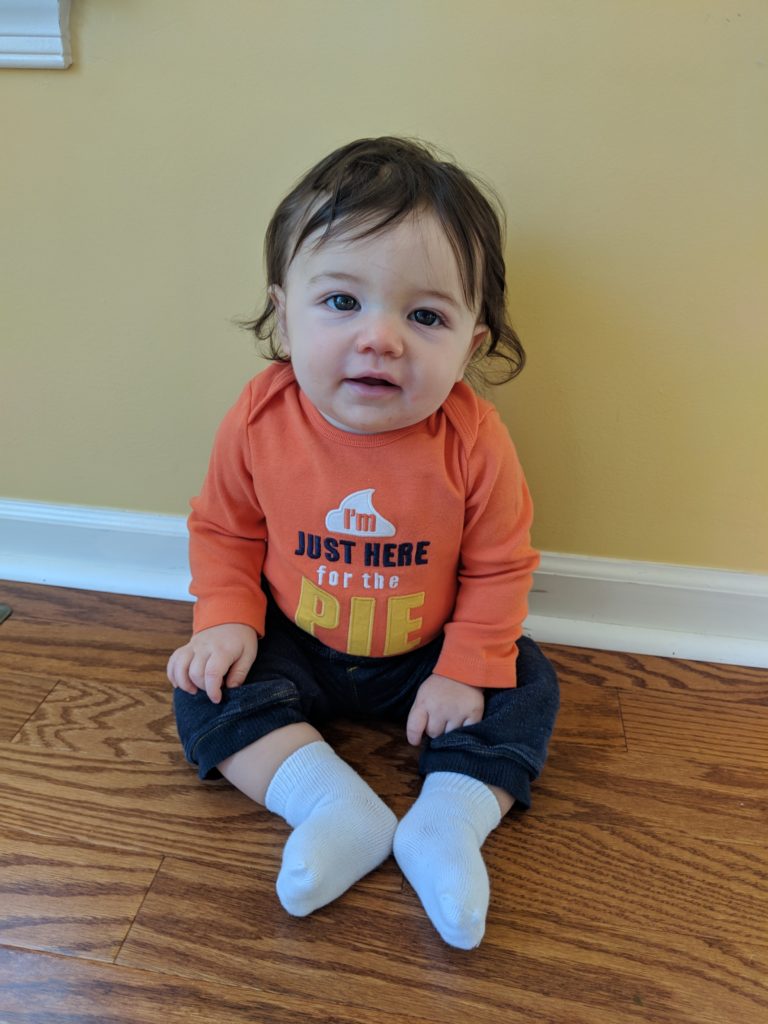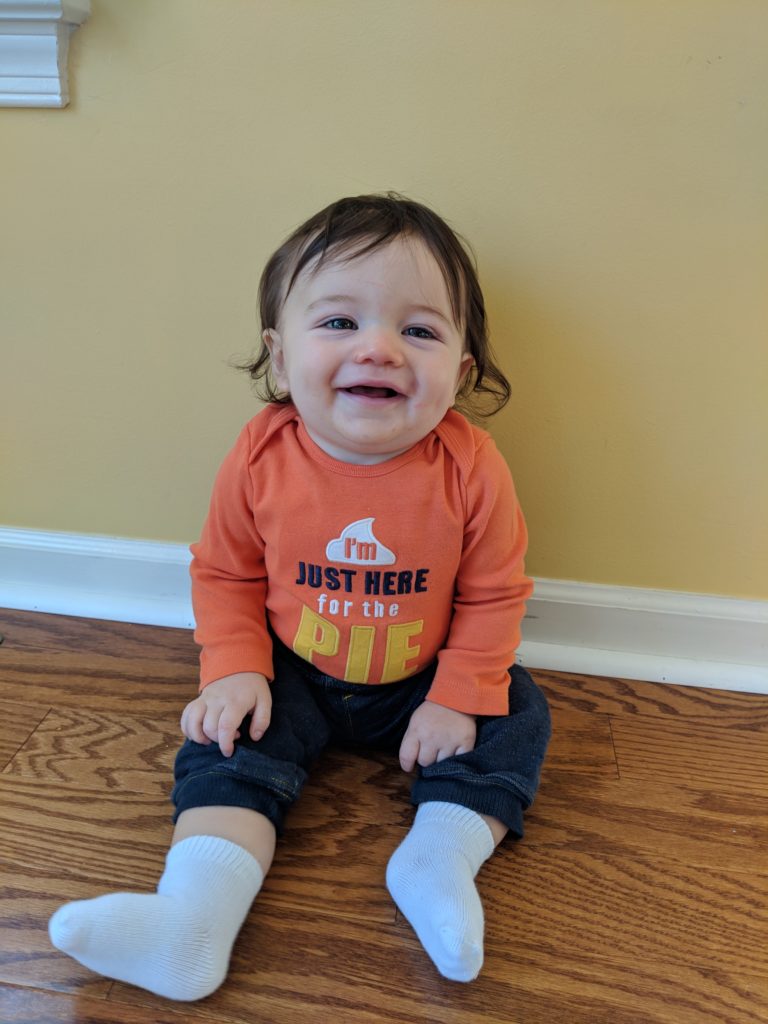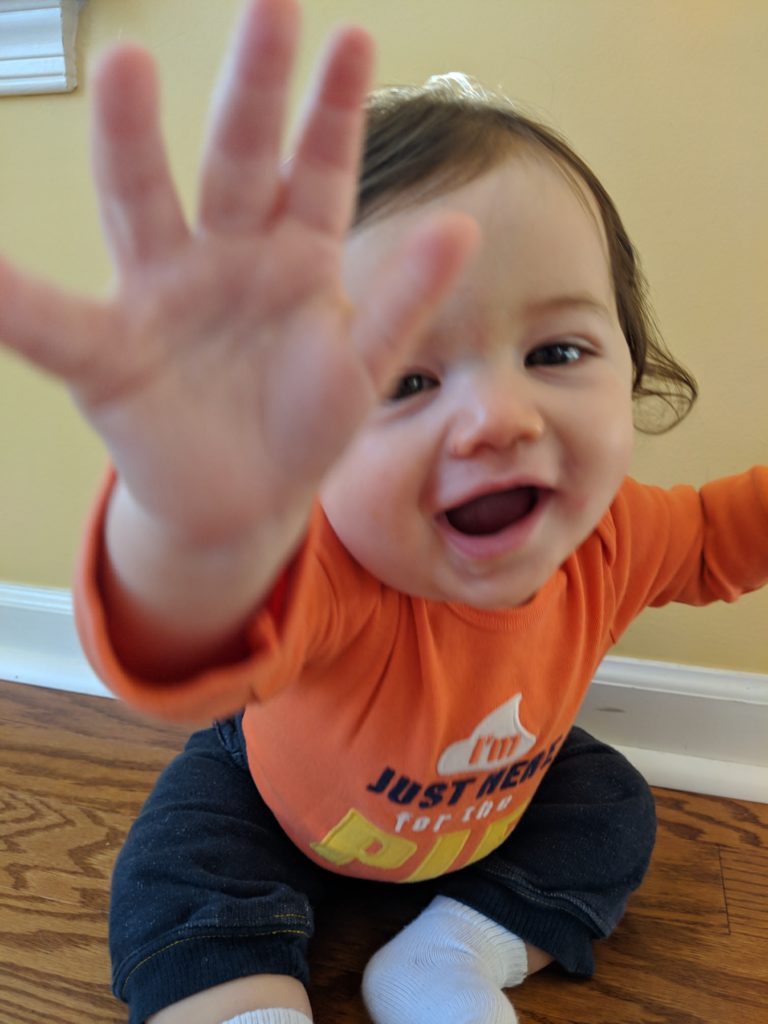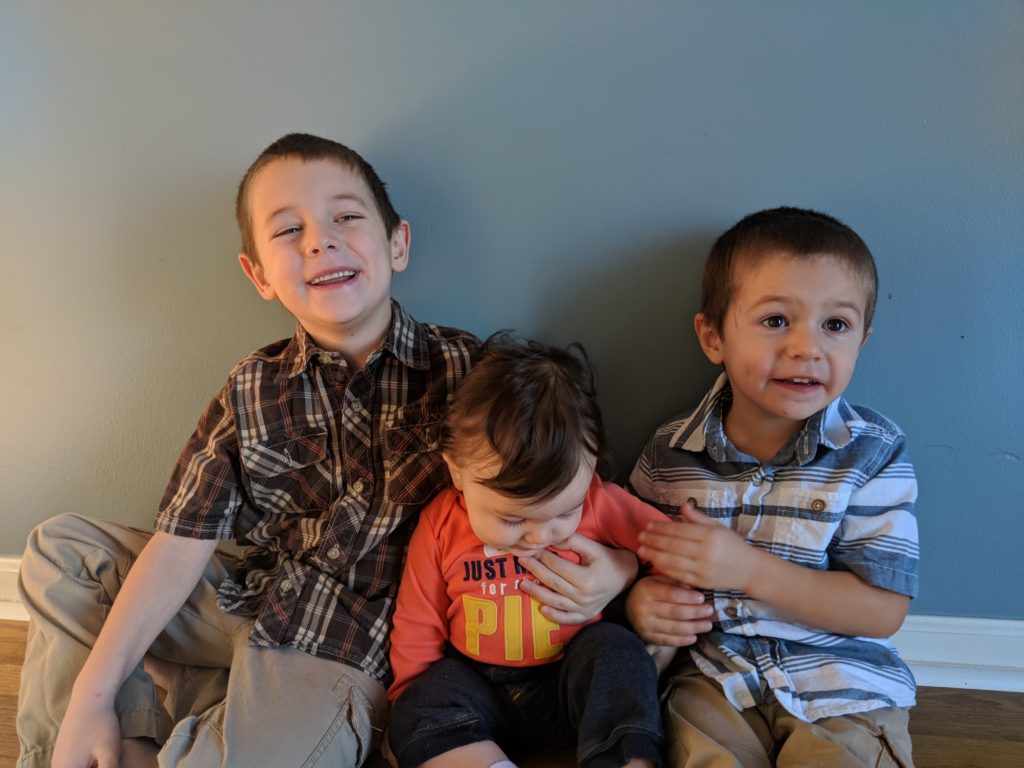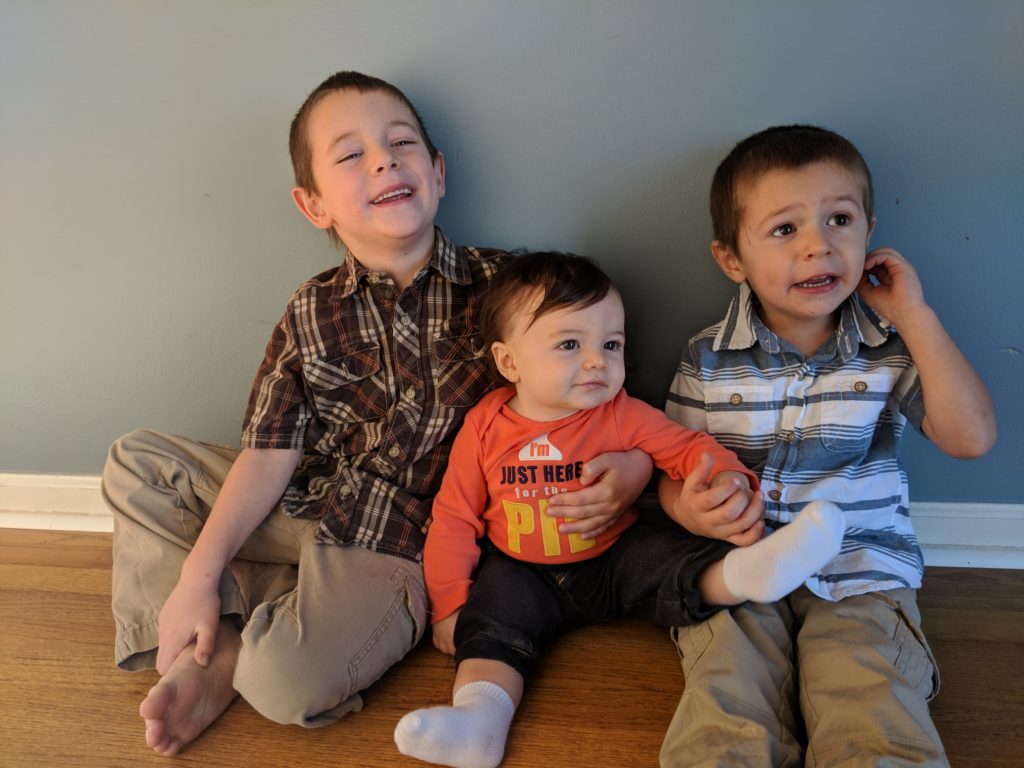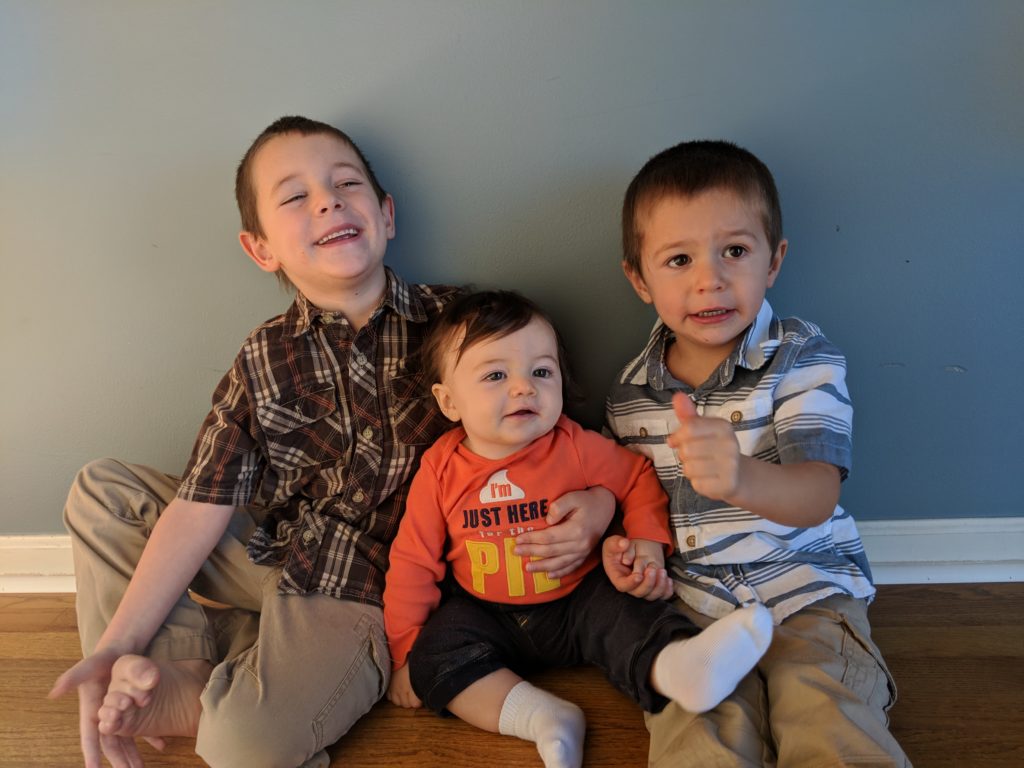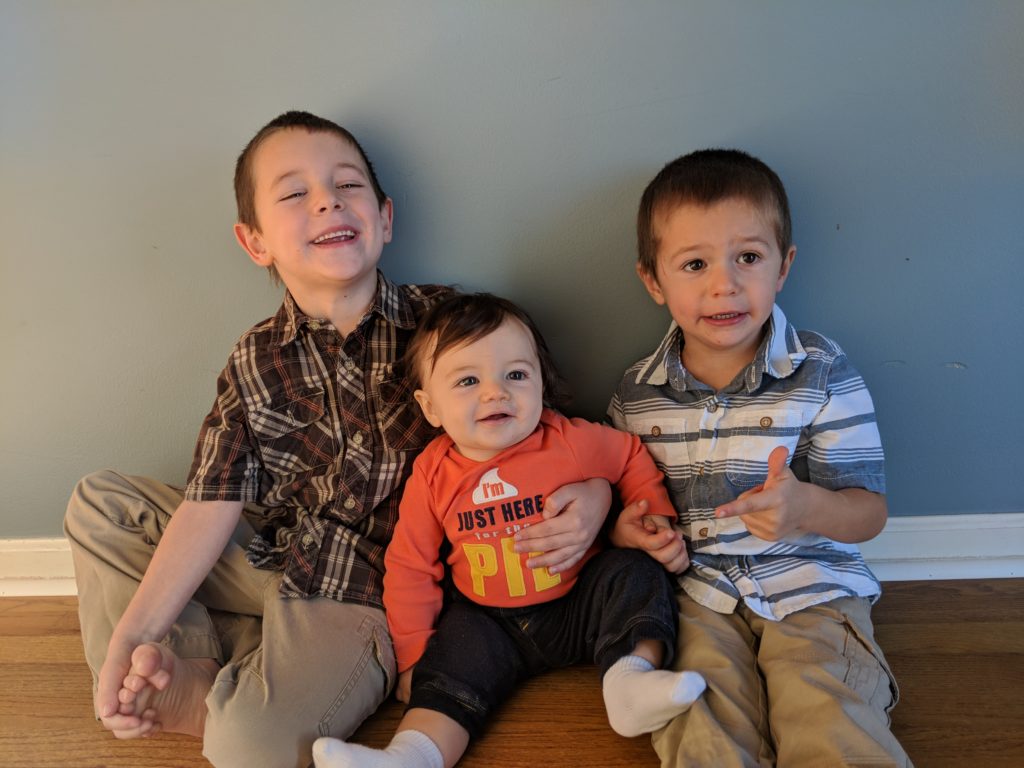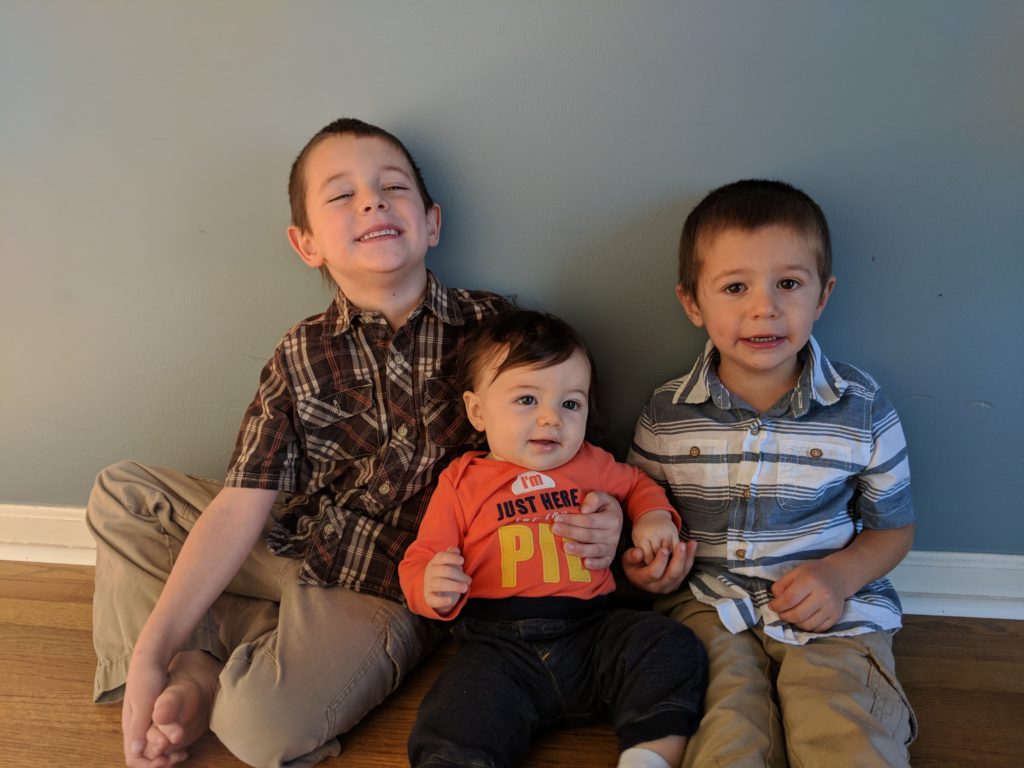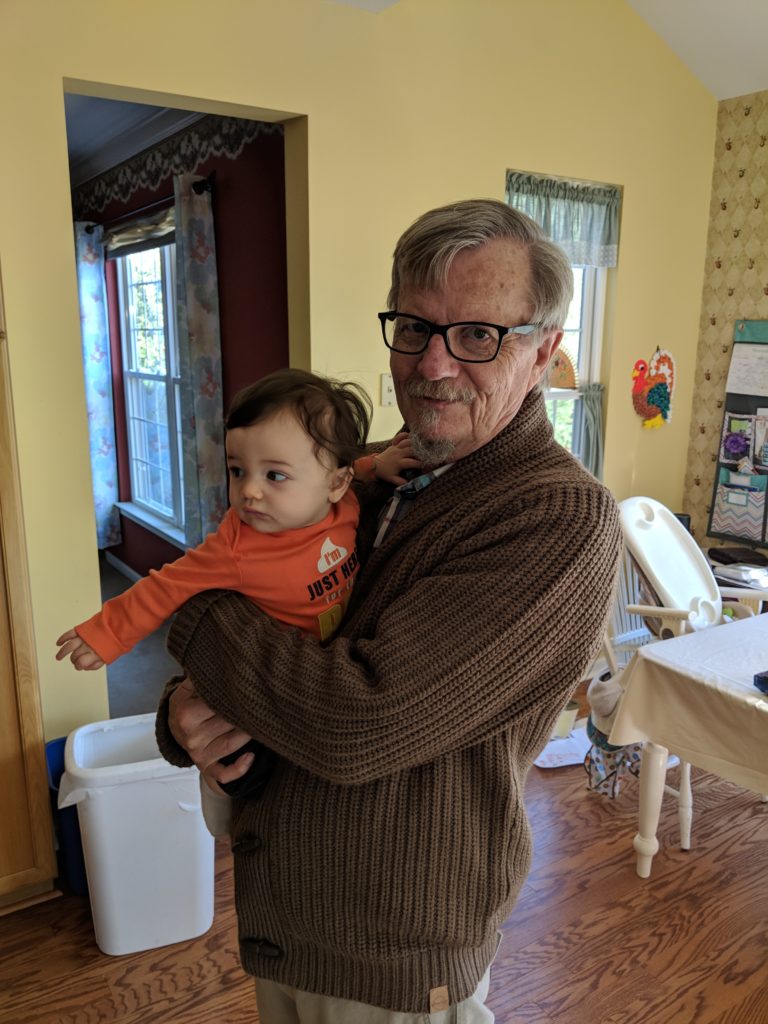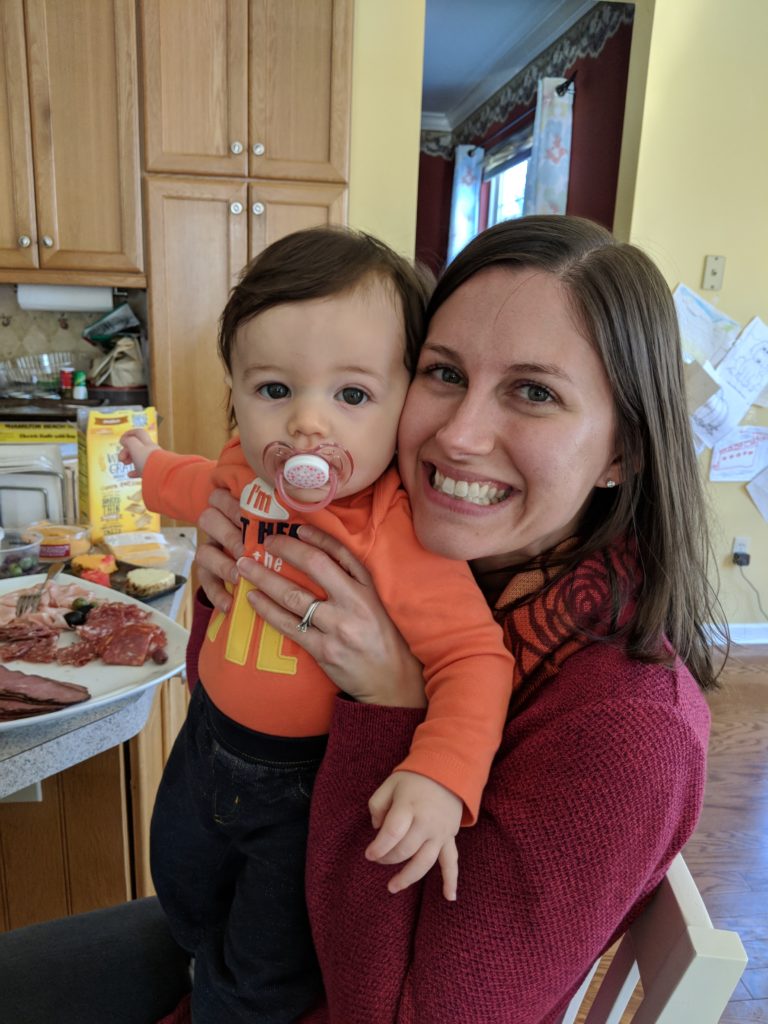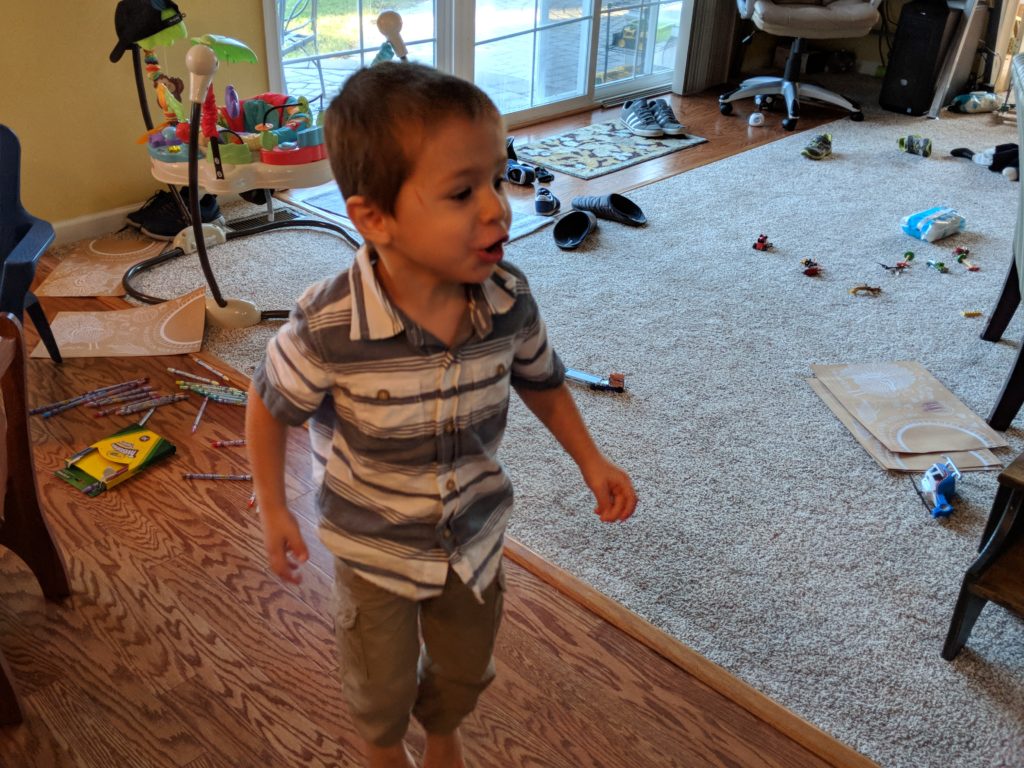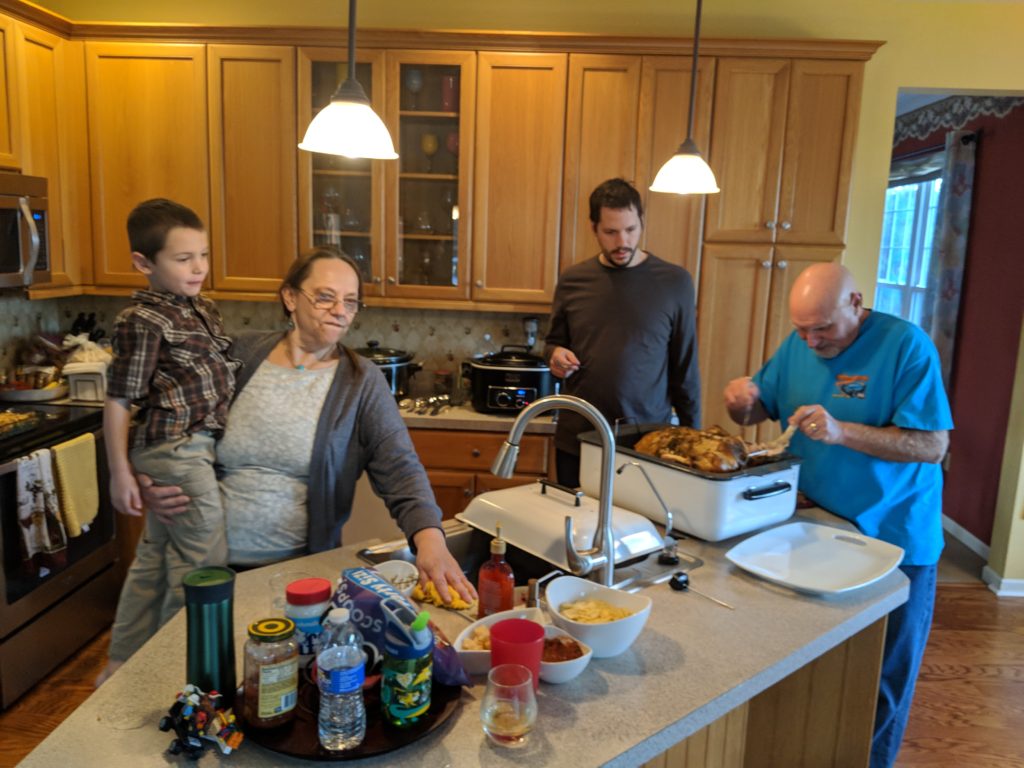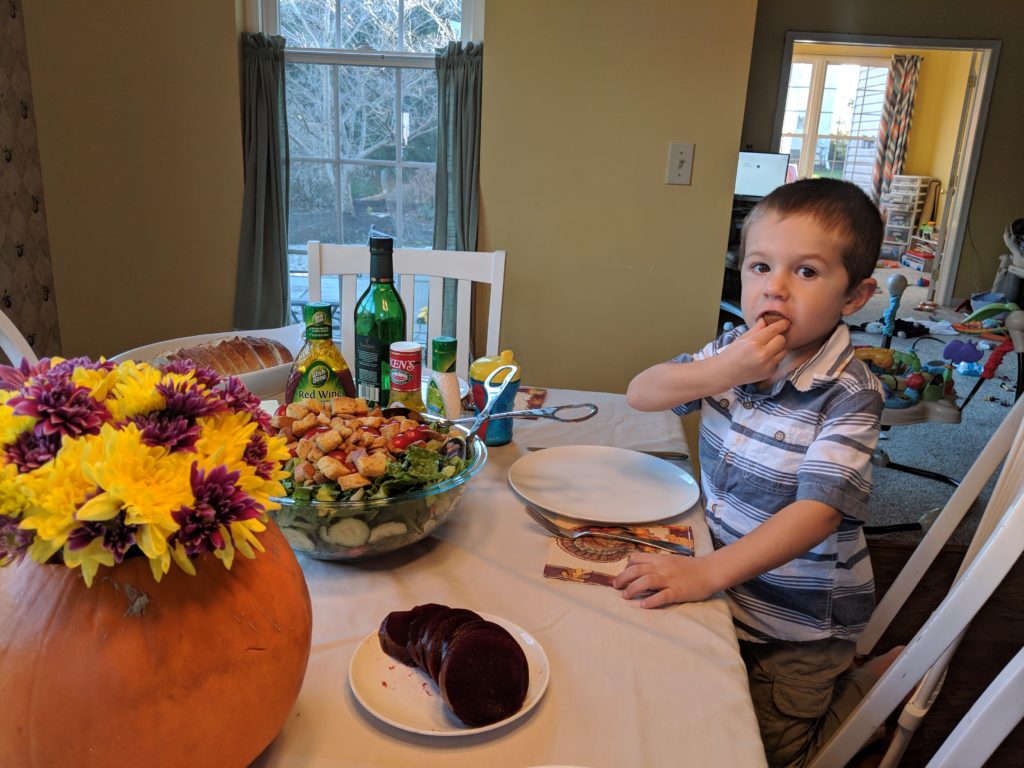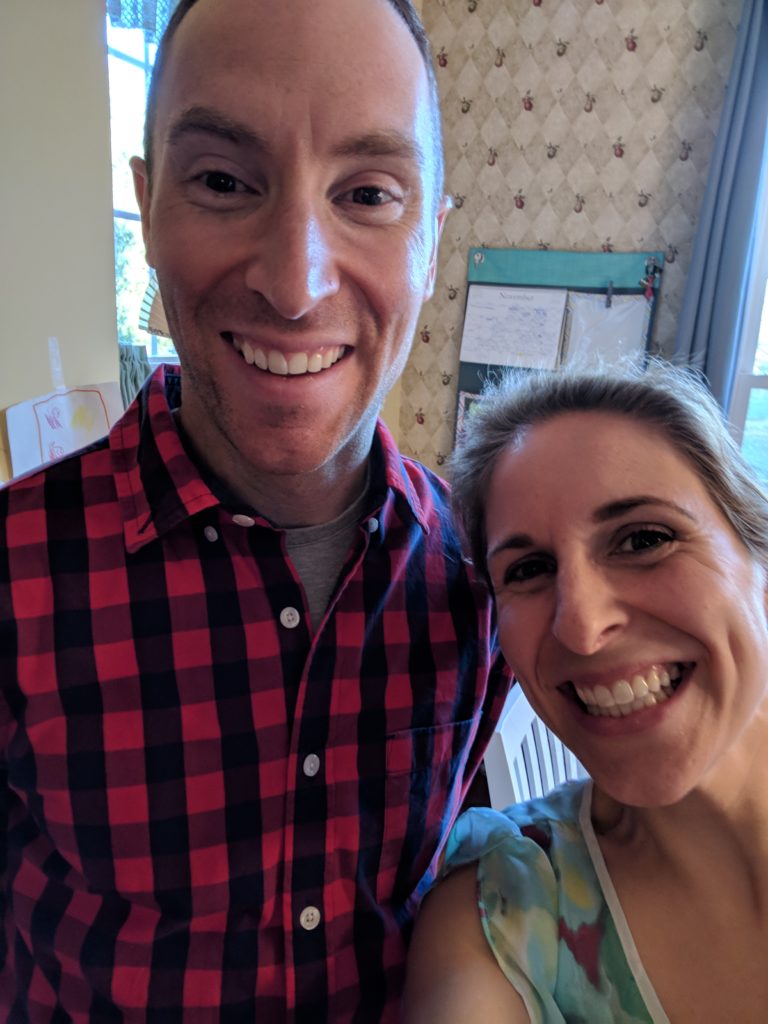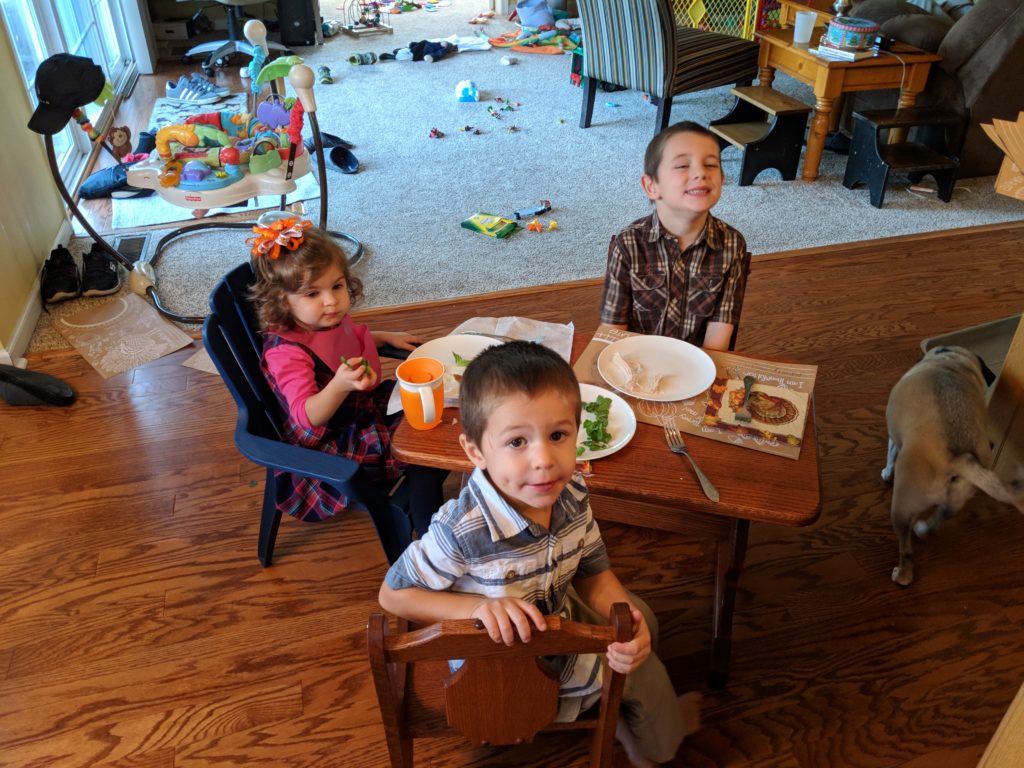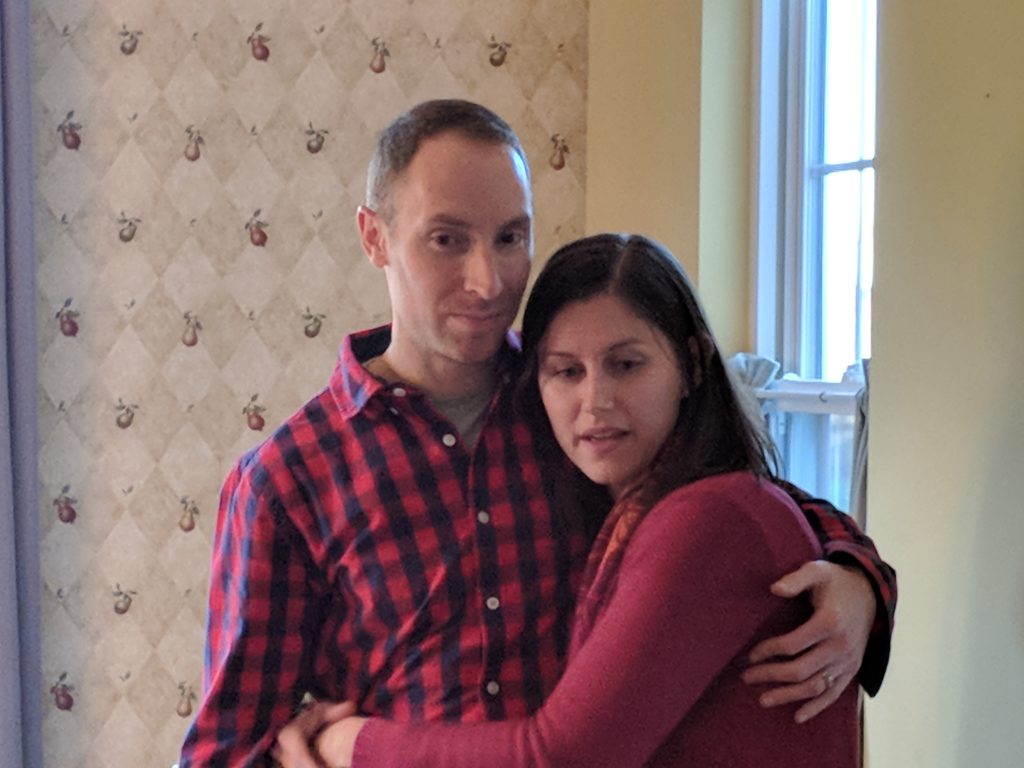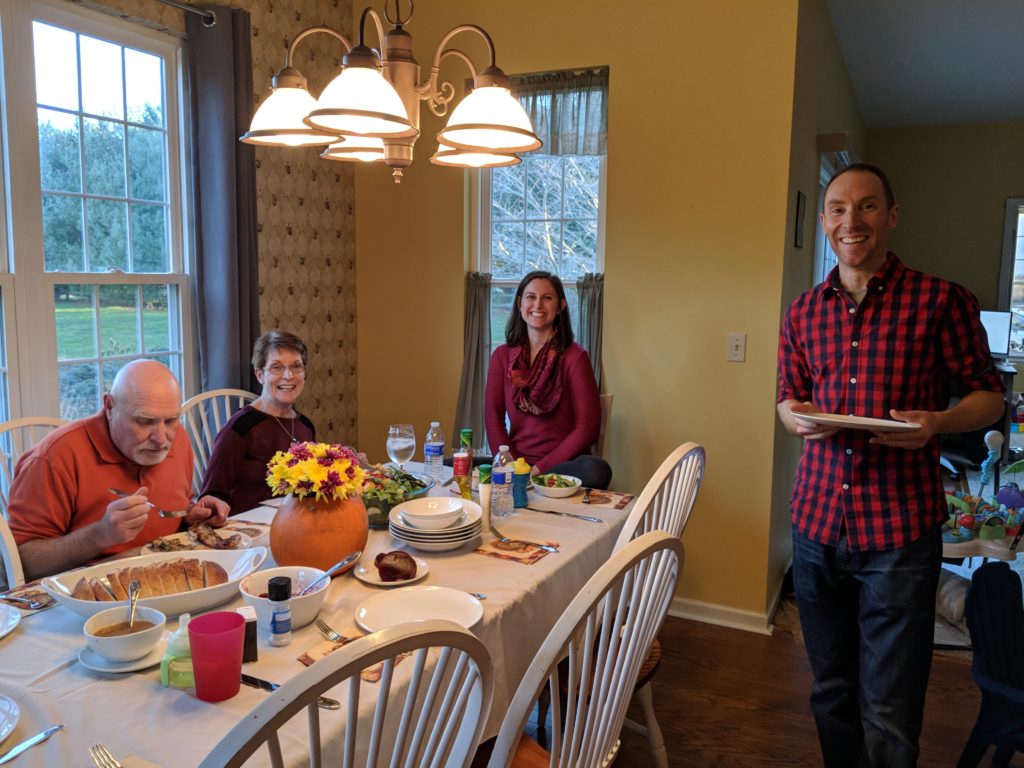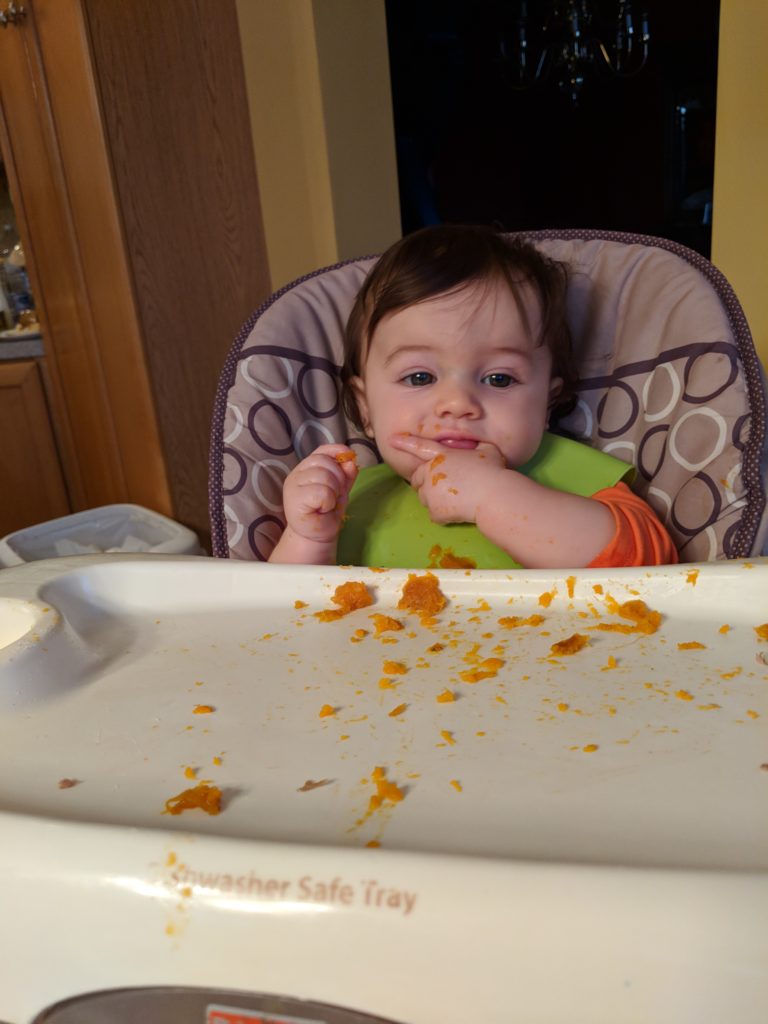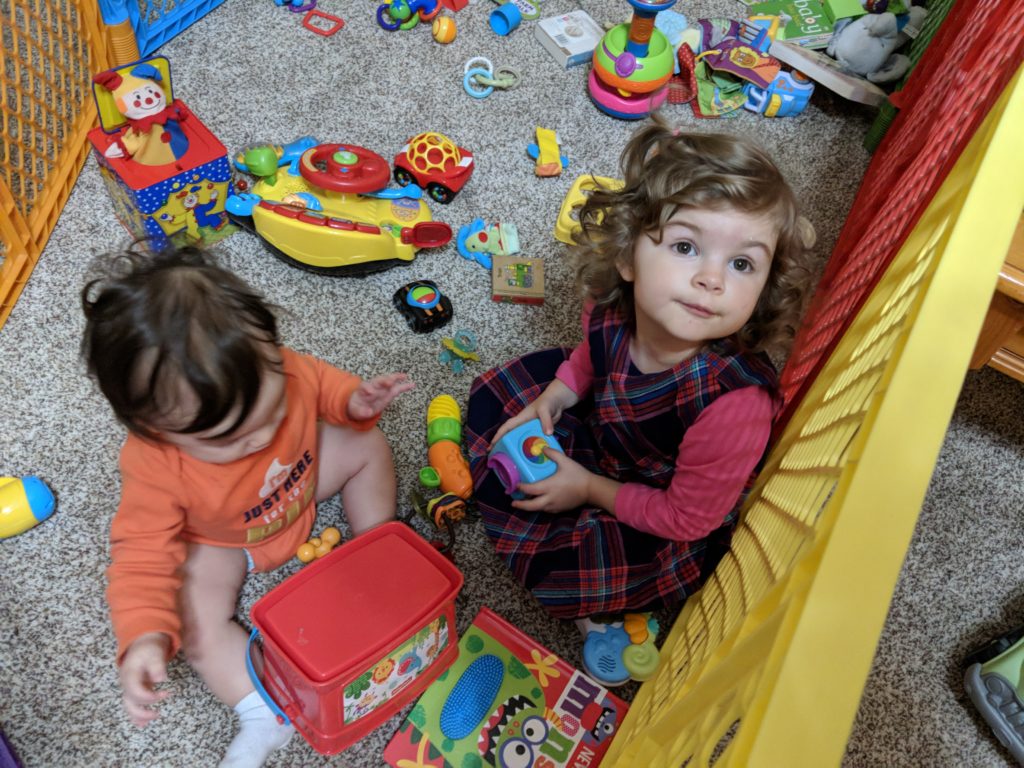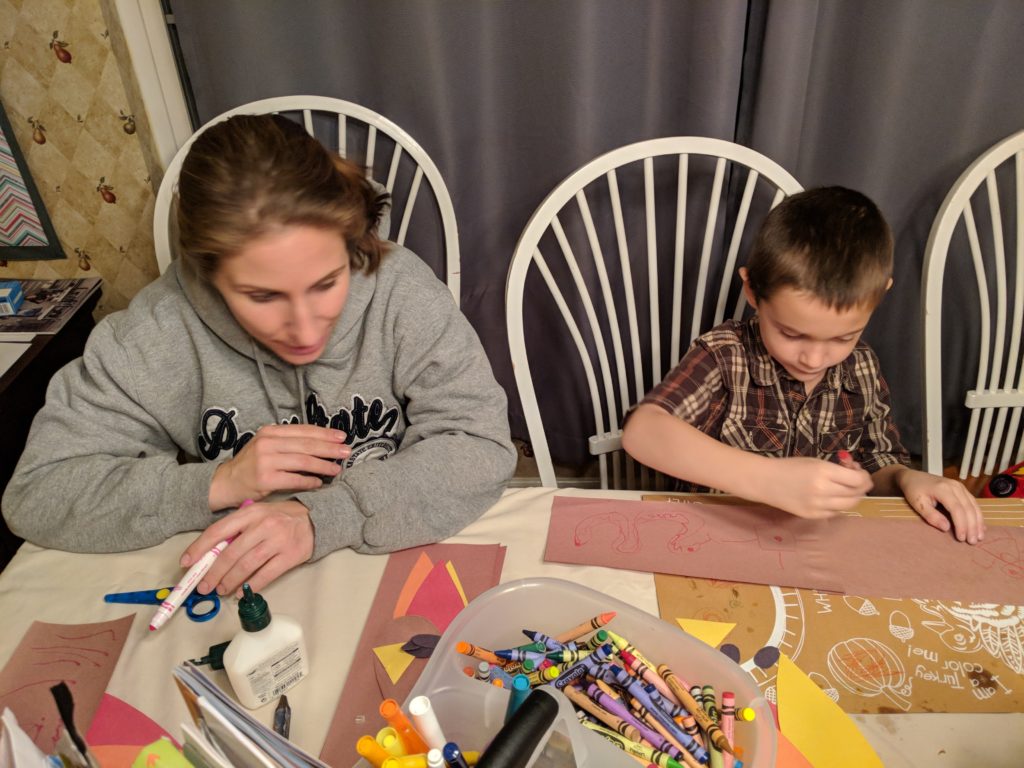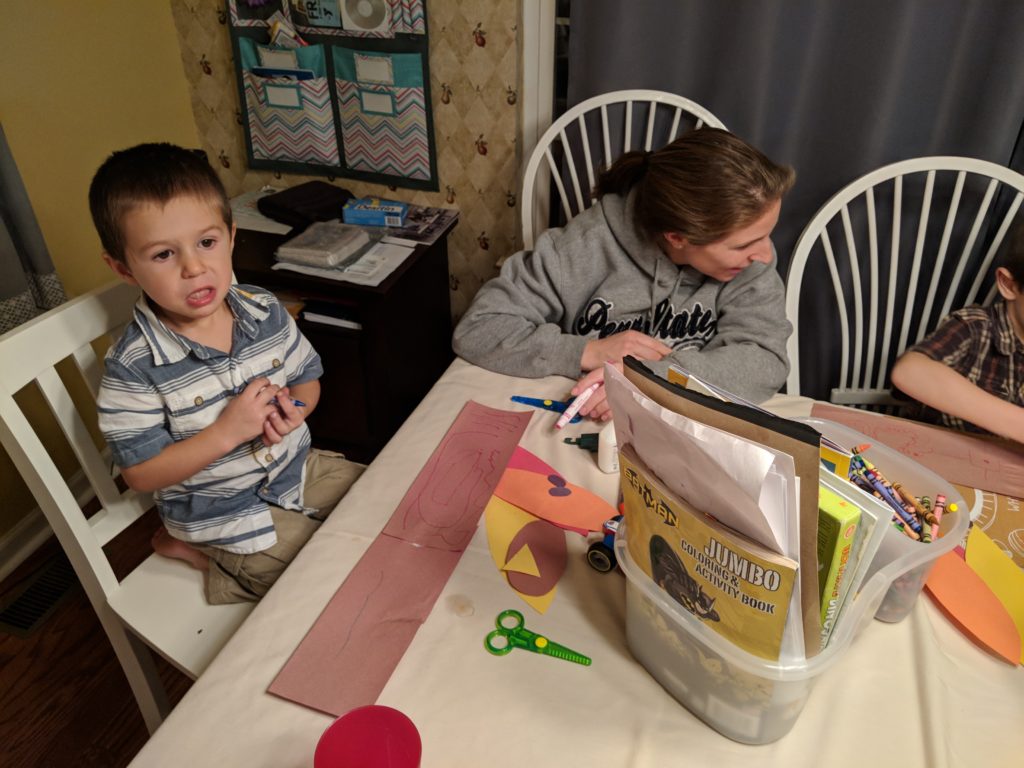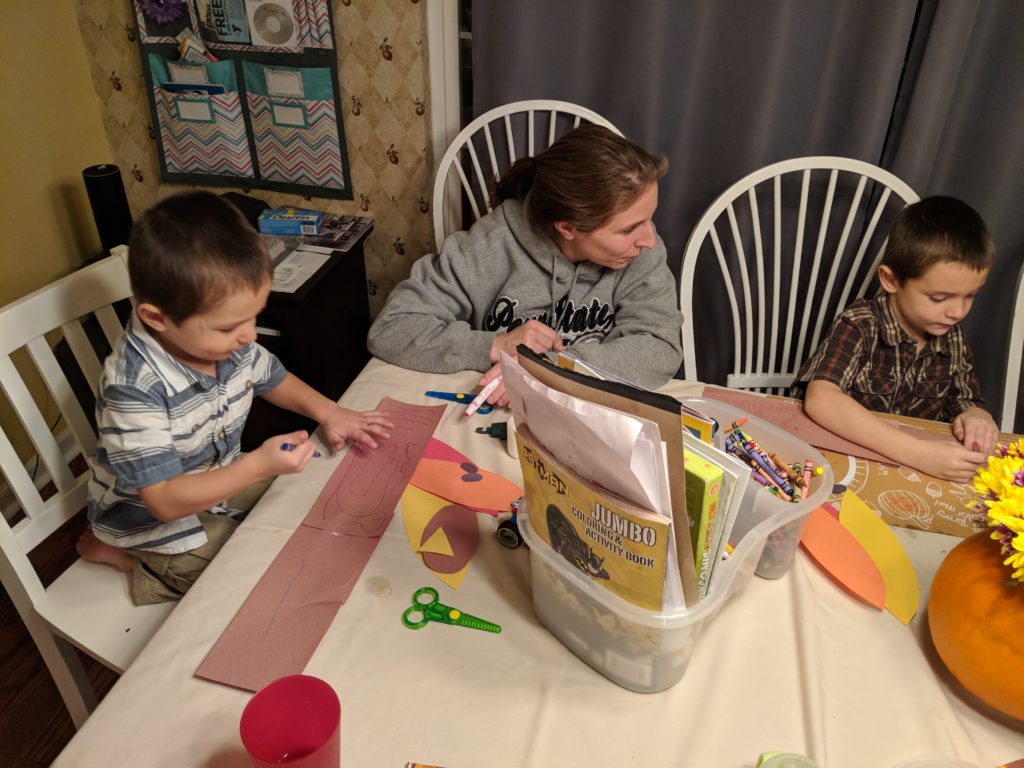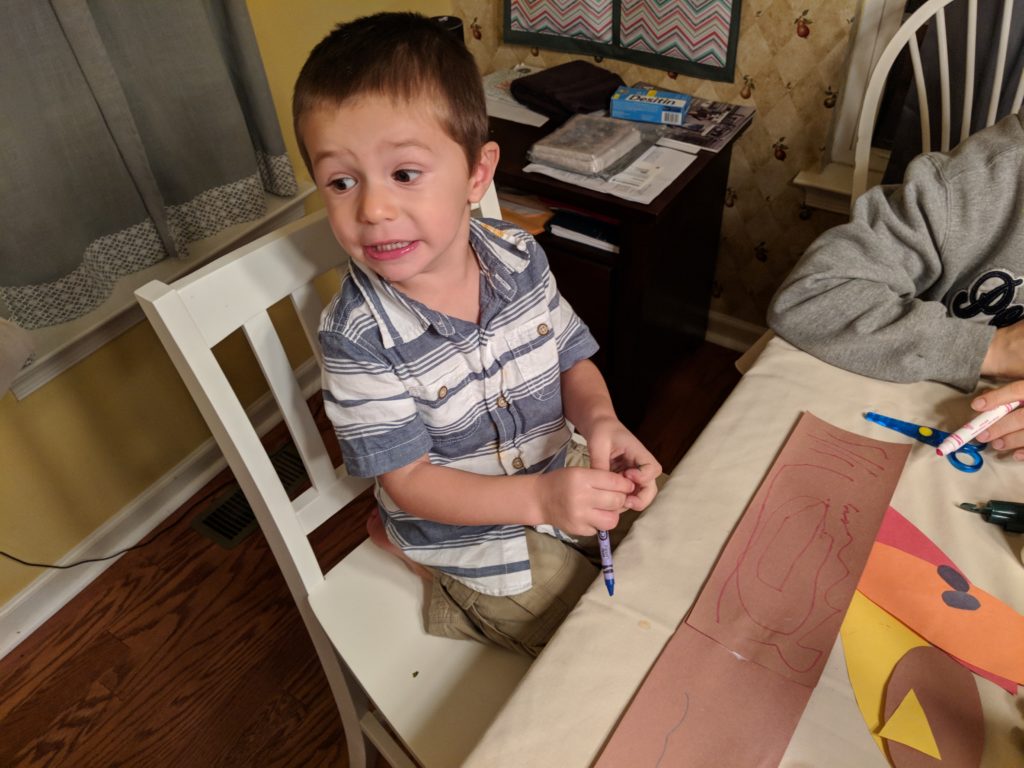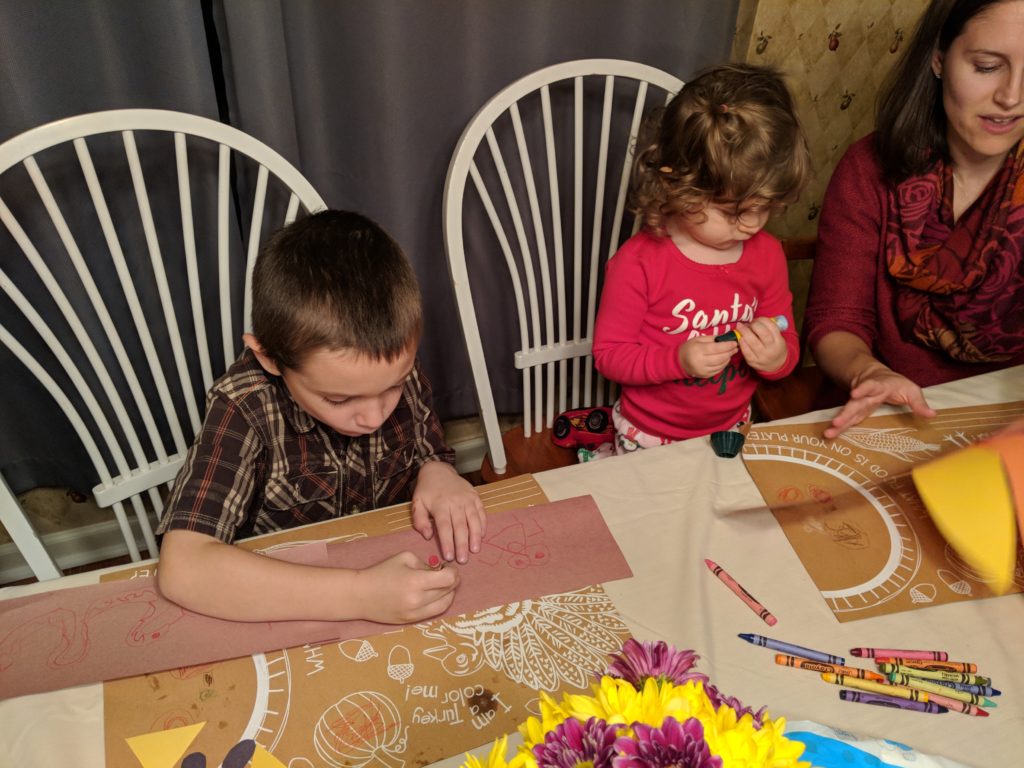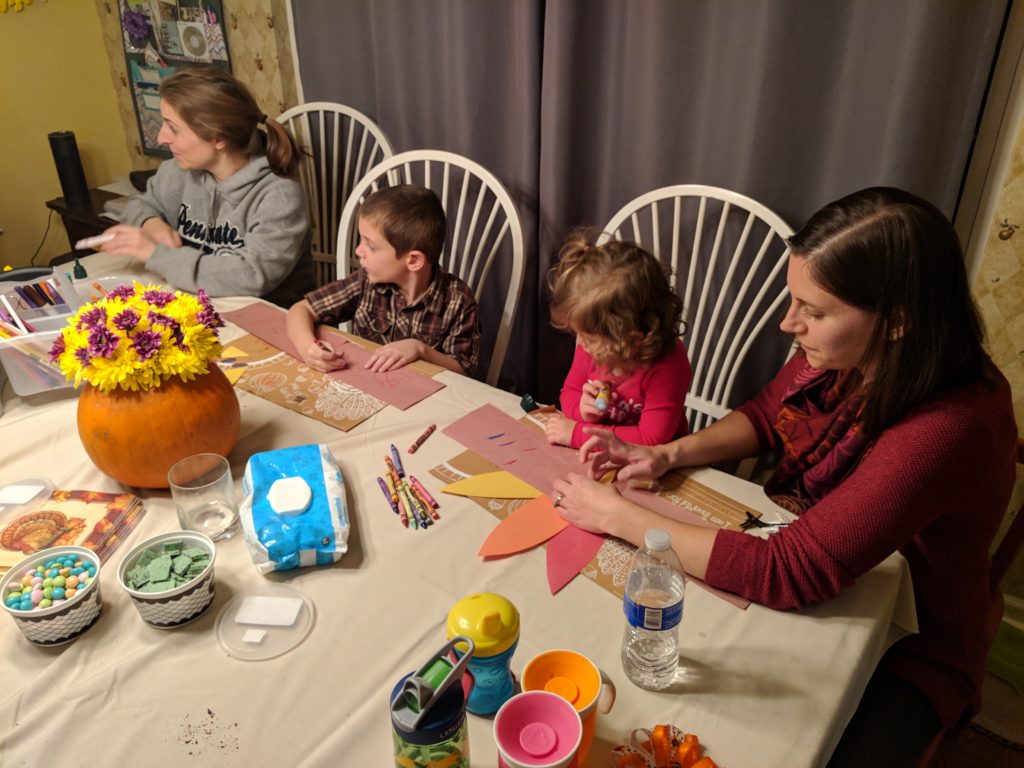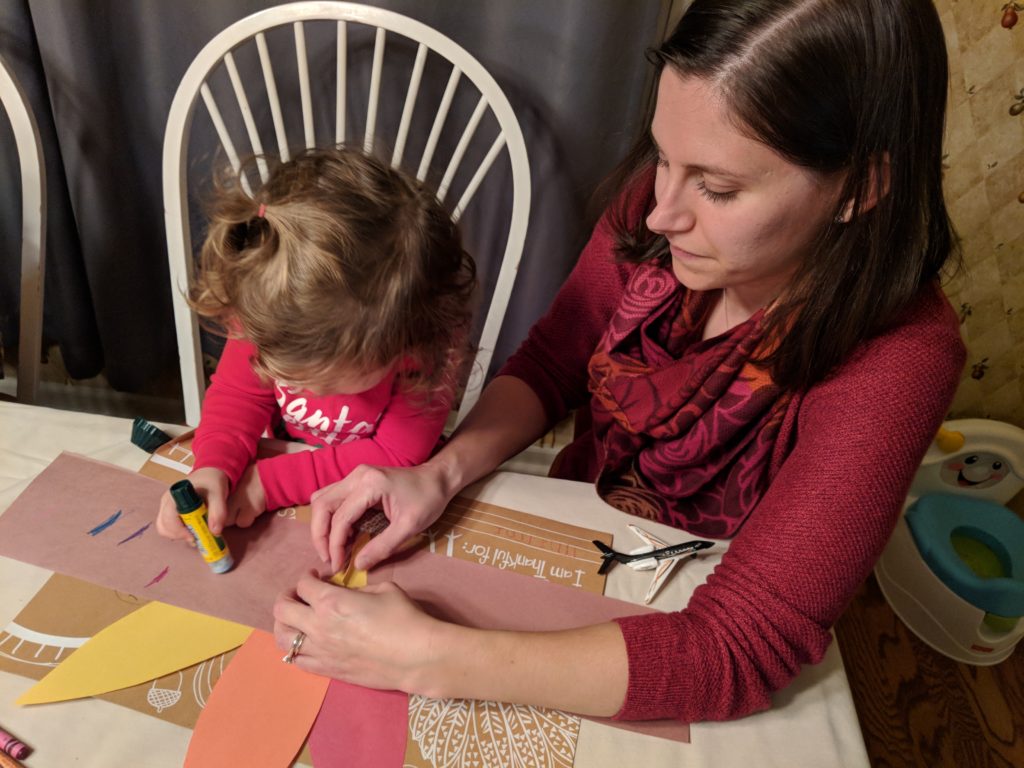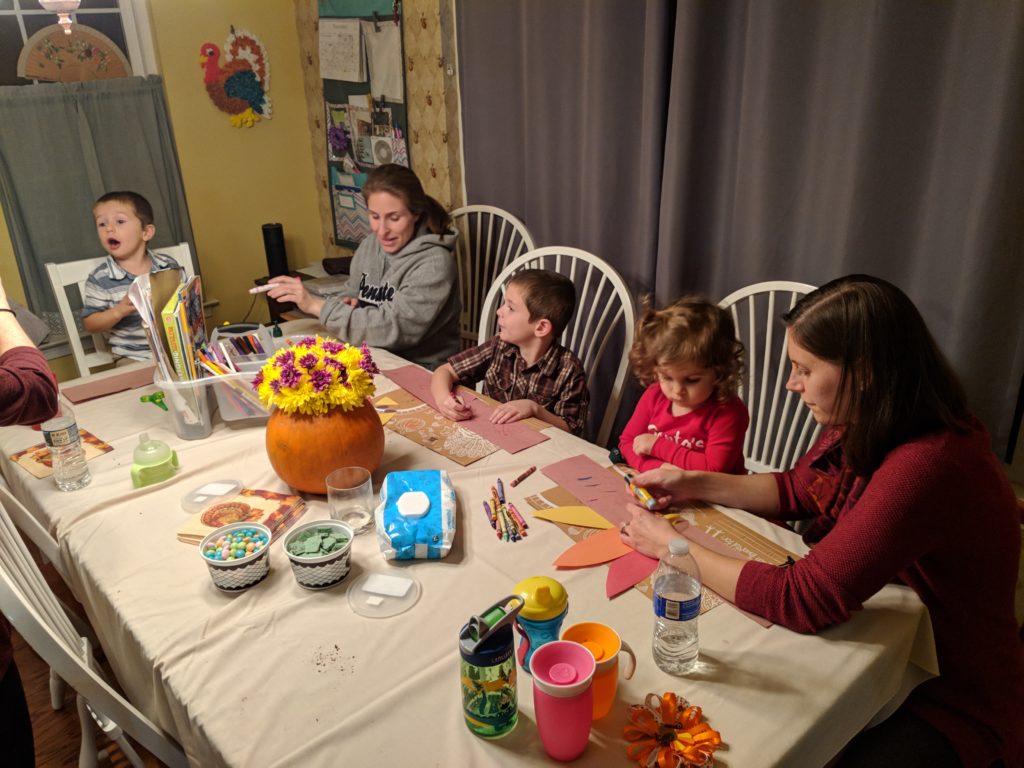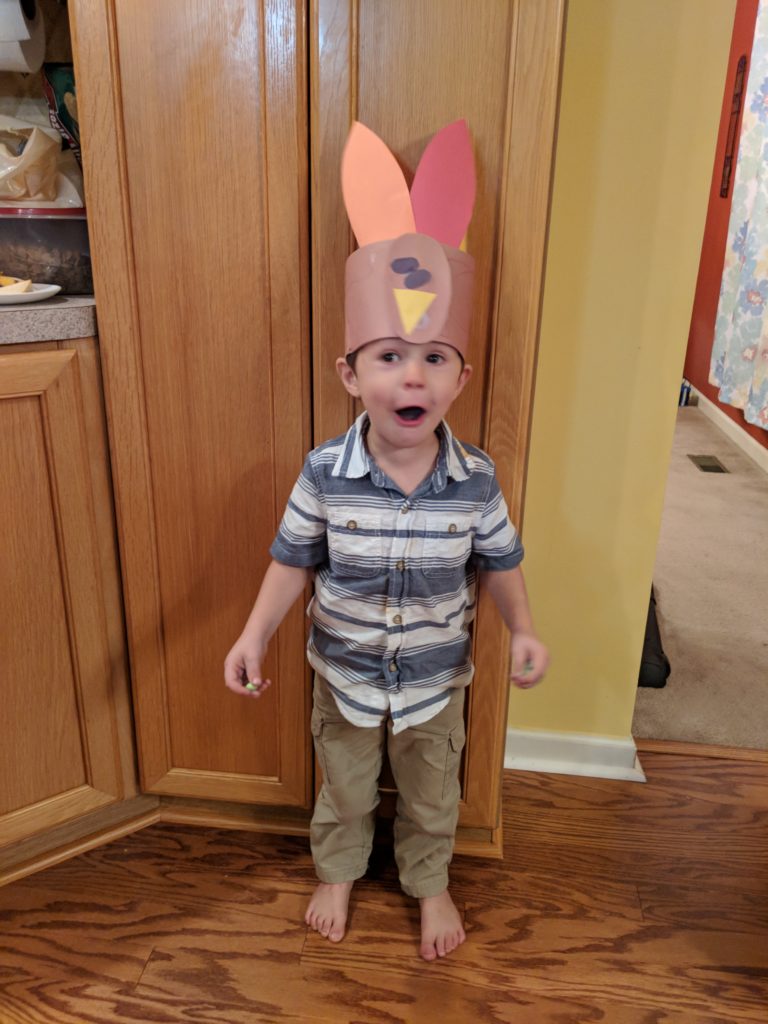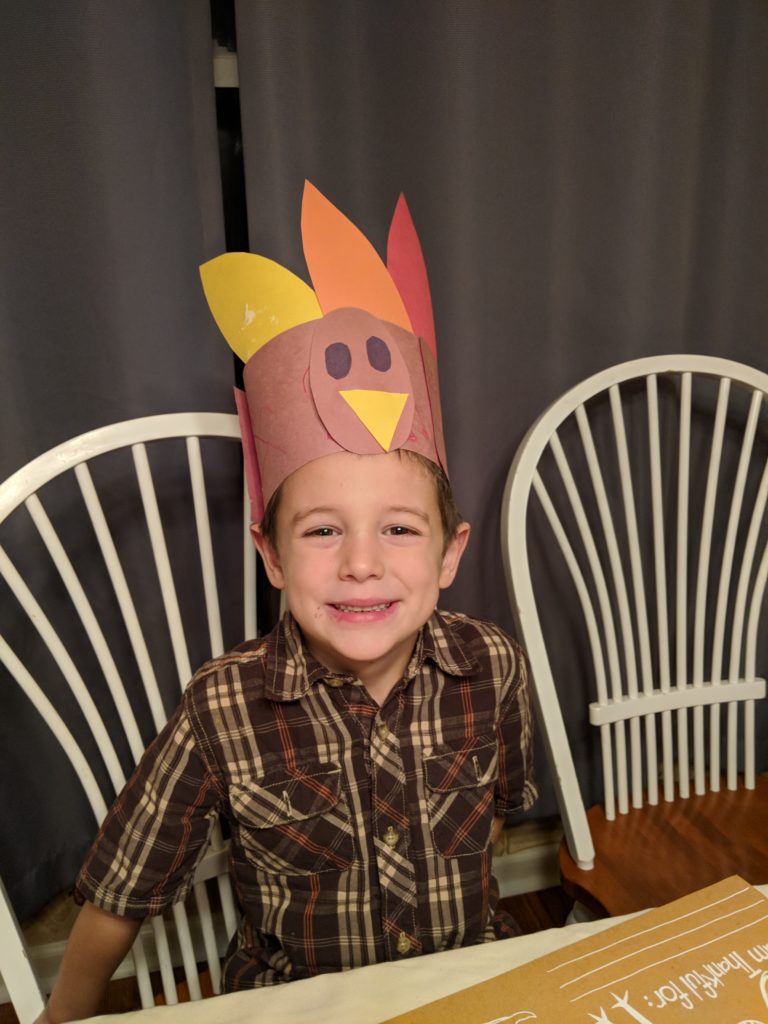 November 24 – Oscar's 10th Birthday
November 24 – Fun at Home
We decided to take advantage of the warmer weather and go for a walk.
Enjoying Aunt Megan's leftover cookies:
Snapchat filters are CREEPY: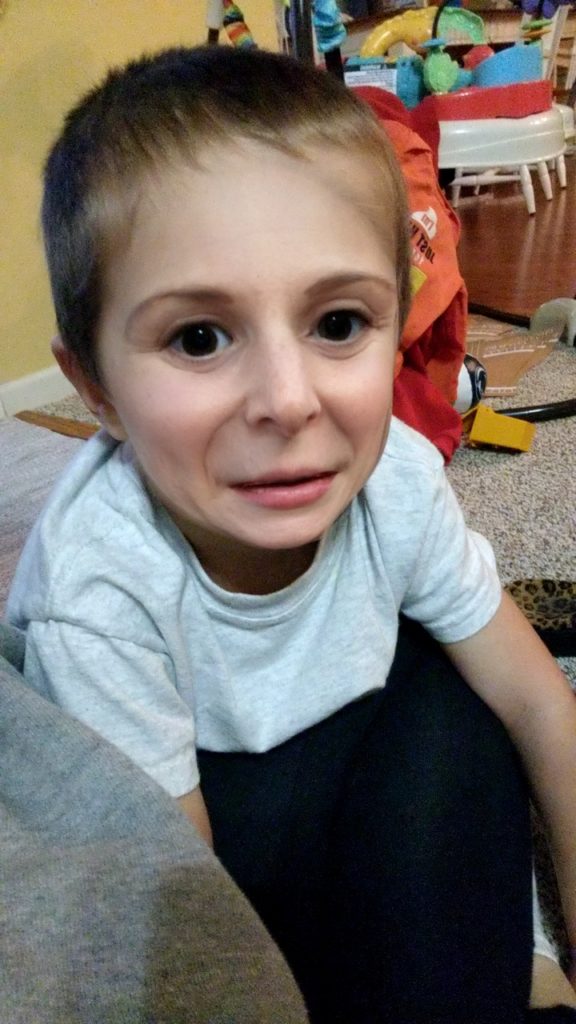 November 25 – Christmas Tree Hunting Attempt #1
We decided to check out Spruce Grove Tree Farm in Oxford because I had seen on Facebook that it was a great place. We arrived and no one helped us, we asked a teenager what to do and she made no sense, they didn't have any Fraiser Firs left to cut your own, and trees were $12 per foot!!! So, we enjoyed the bounce house, hot chocolate, and roasting marshmallows and called it a day.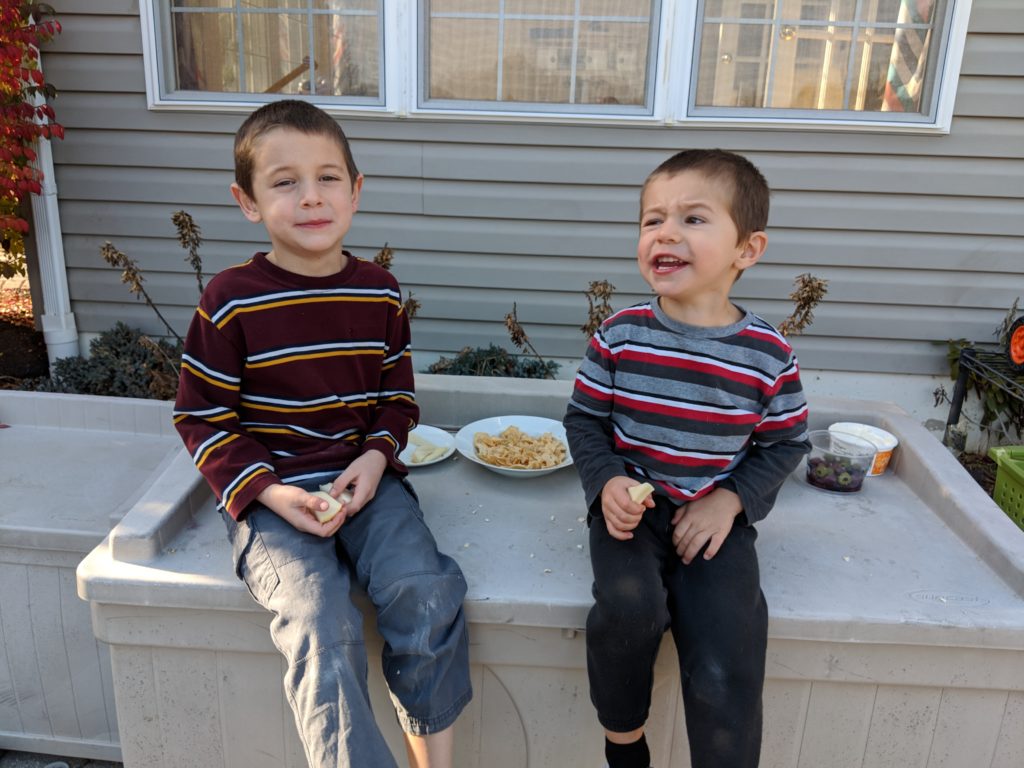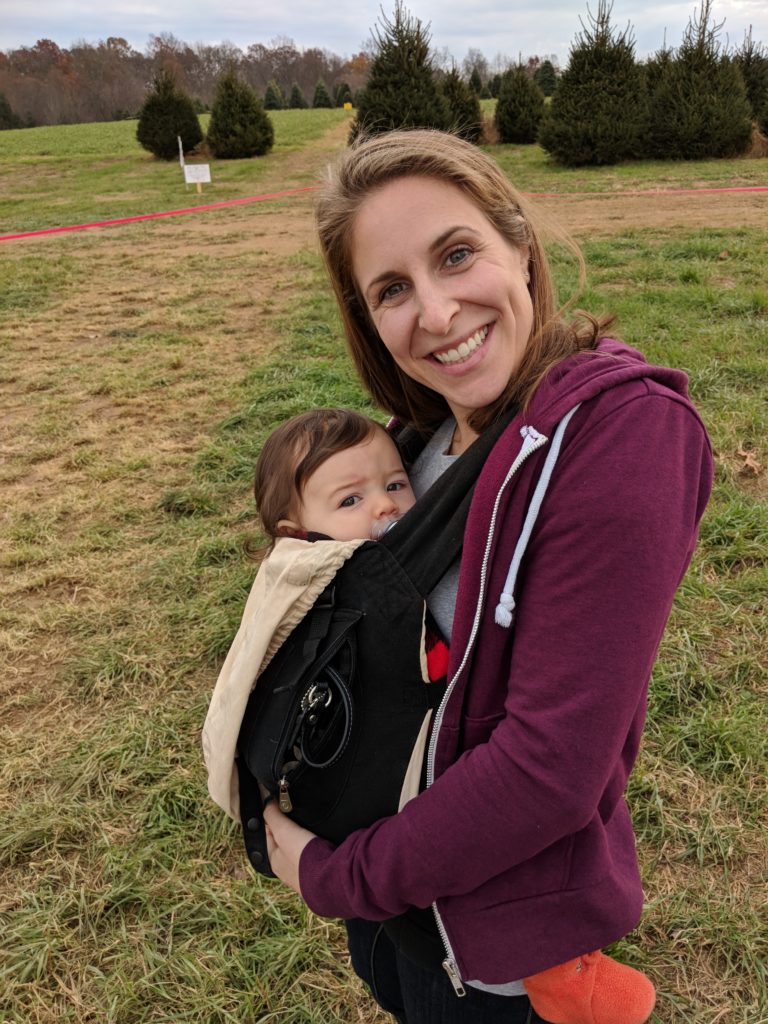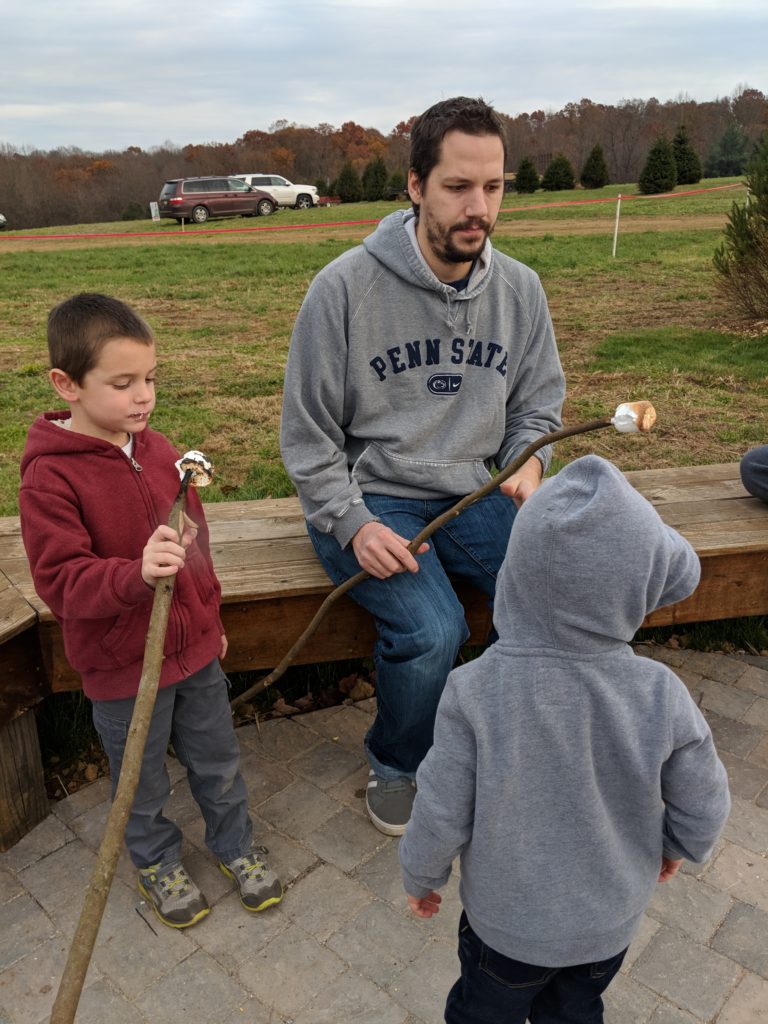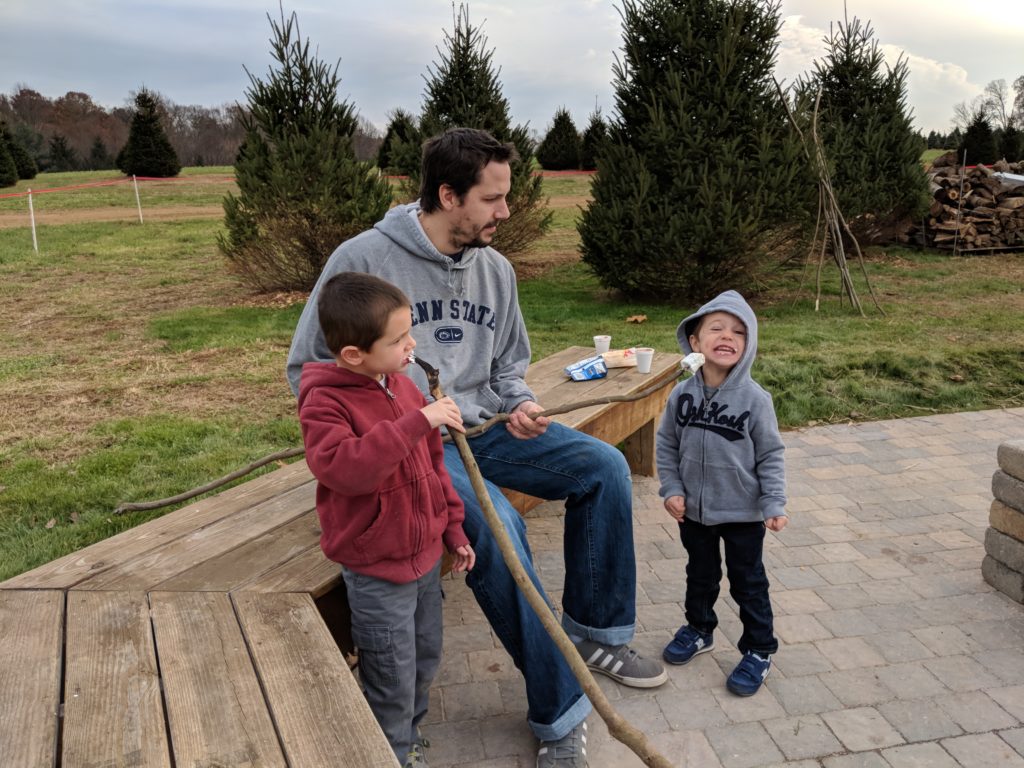 November 26 – Corbin is 8 Months
Corbin can sit on his own and loves to put everything in his mouth. He does not crawl yet, but he "inchworms" on his belly to whatever toy/object he wants. His favorite toy is a set of plastic rattles that Babi got Spencer when he was a baby. He loves to watch his big brothers play and tries to put all of their toys in his mouth. He loves to nurse, but loves to eat purees and solids more. Even though he's been battling a snotty nose, congestion, and cough for the past month, he is always happy, smiling, and pleasant. He has become more vocal and makes squealing noises often now. He loves to splash in his bathtub. Six month clothes are finally too small and 9 month clothes are too big. He is in size 3 diapers. He takes 2-3 naps per day (around 9:30, 1:30, and sometimes 4:00) and wakes up twice at night (around 11 and 3).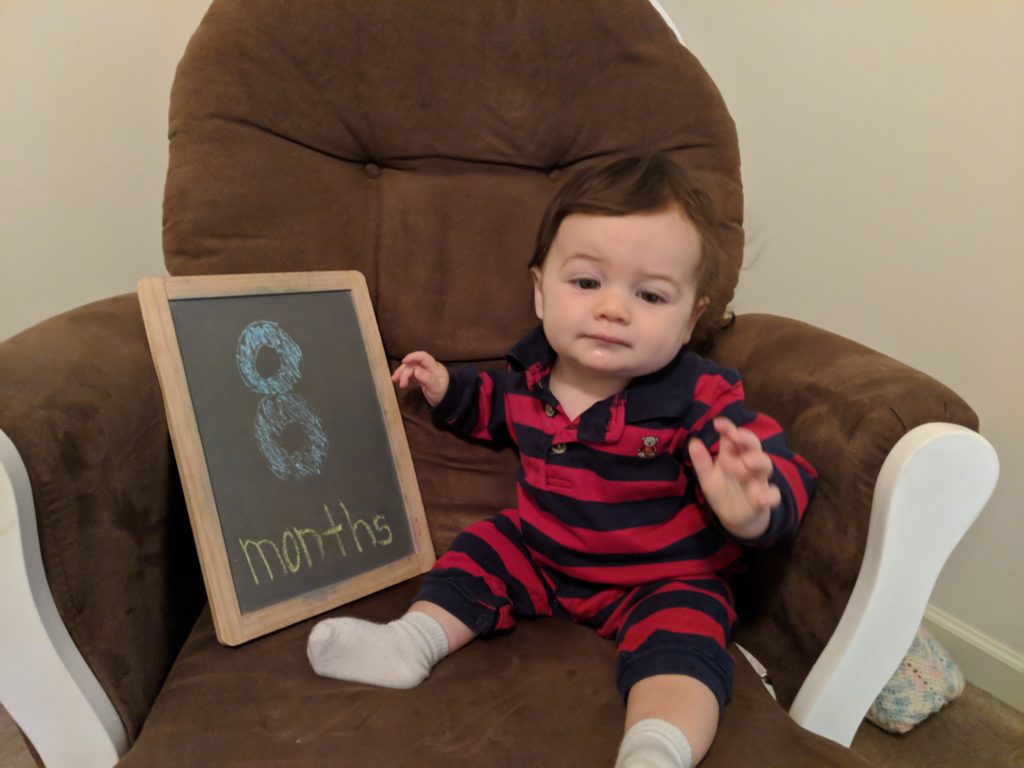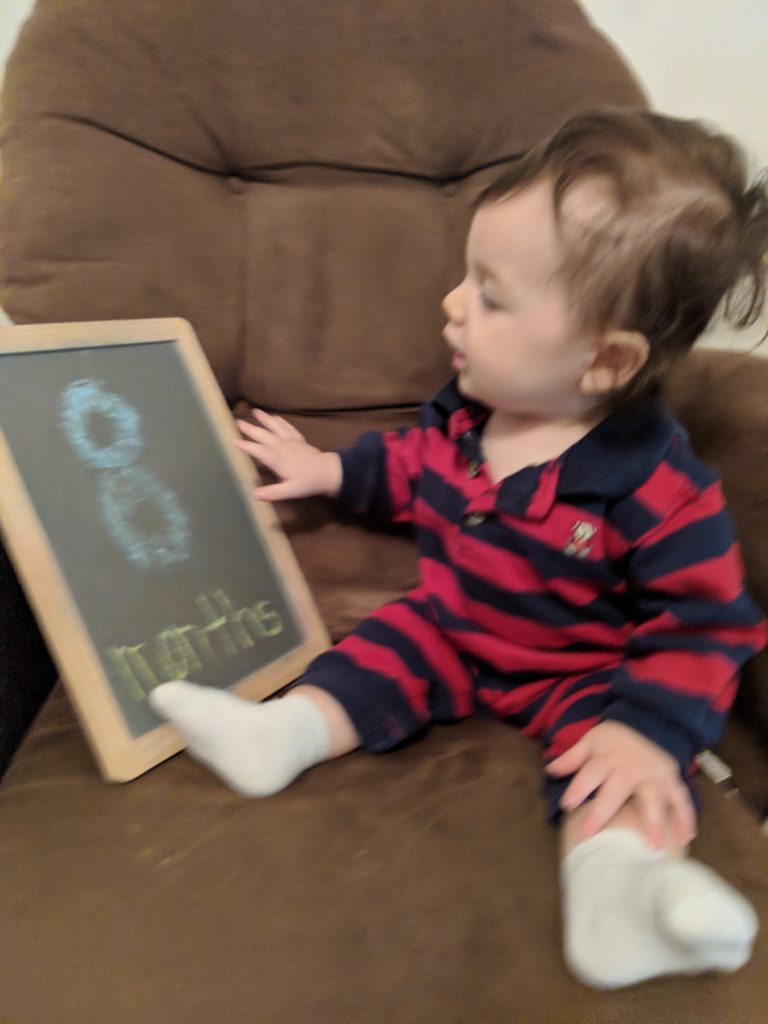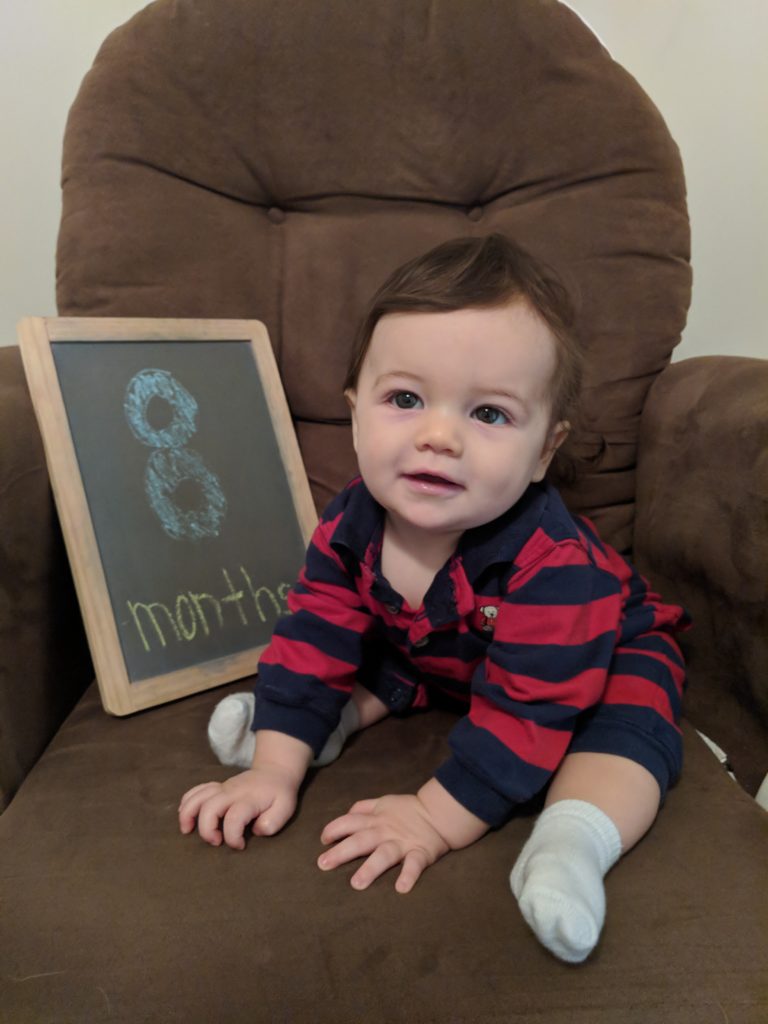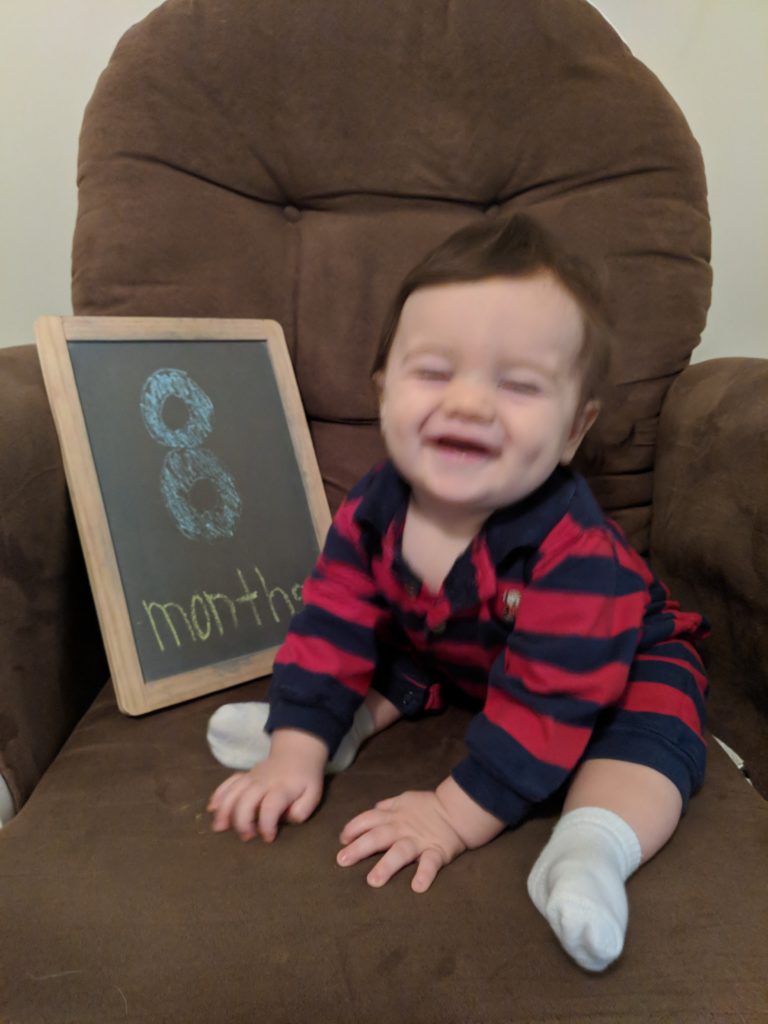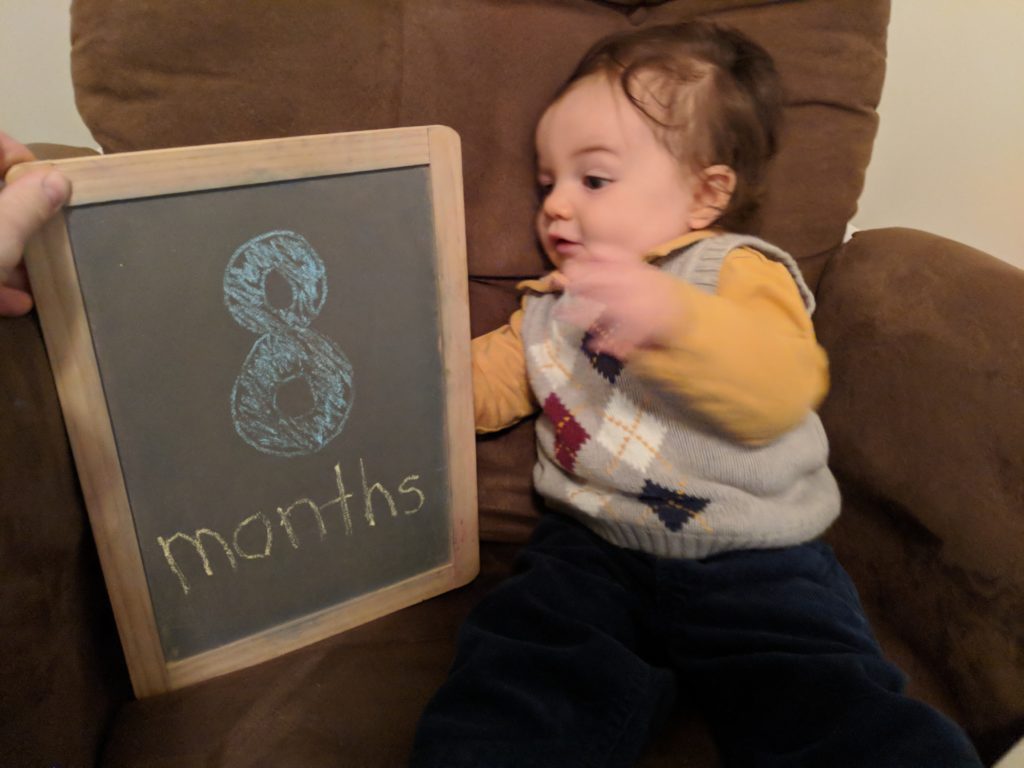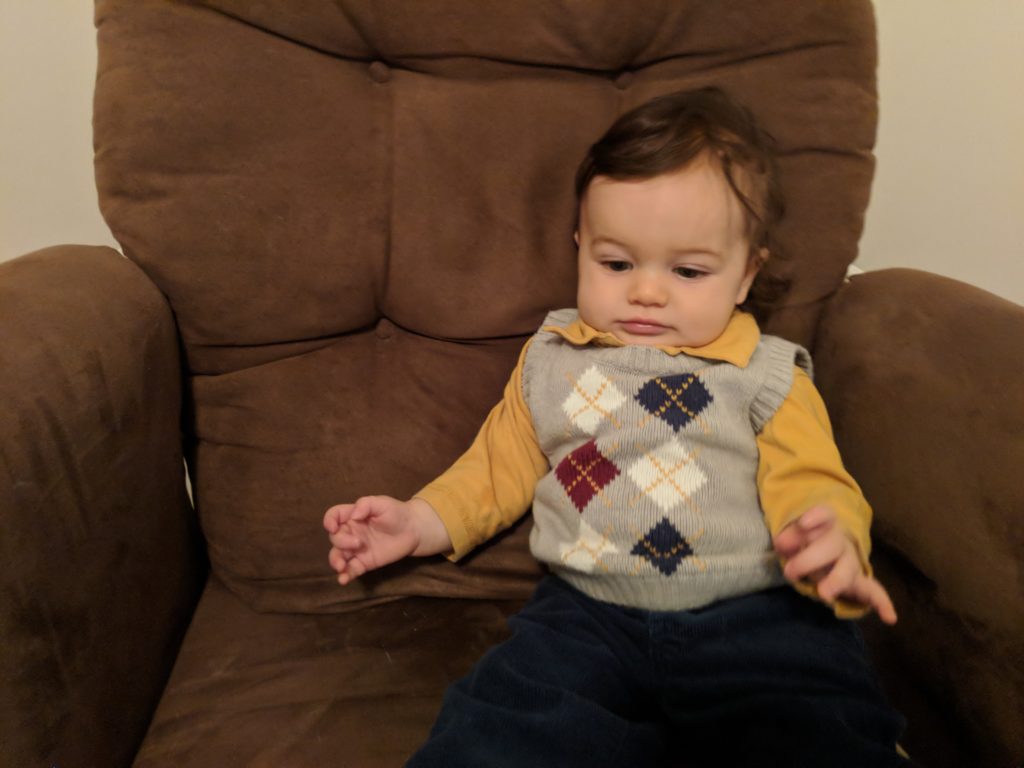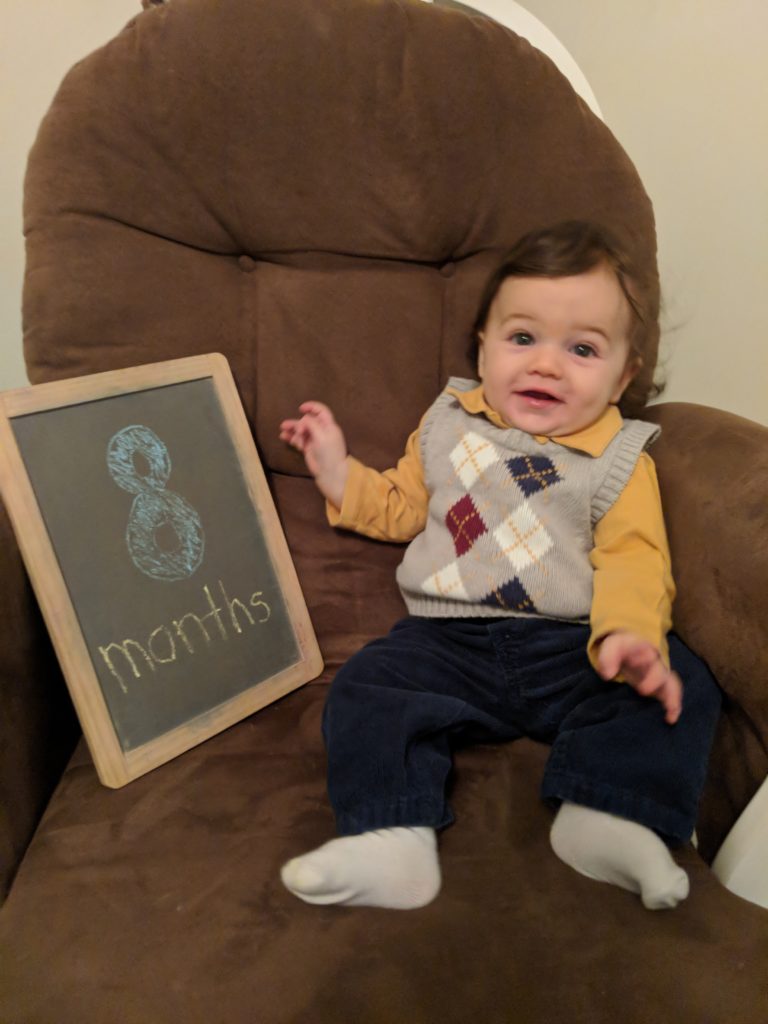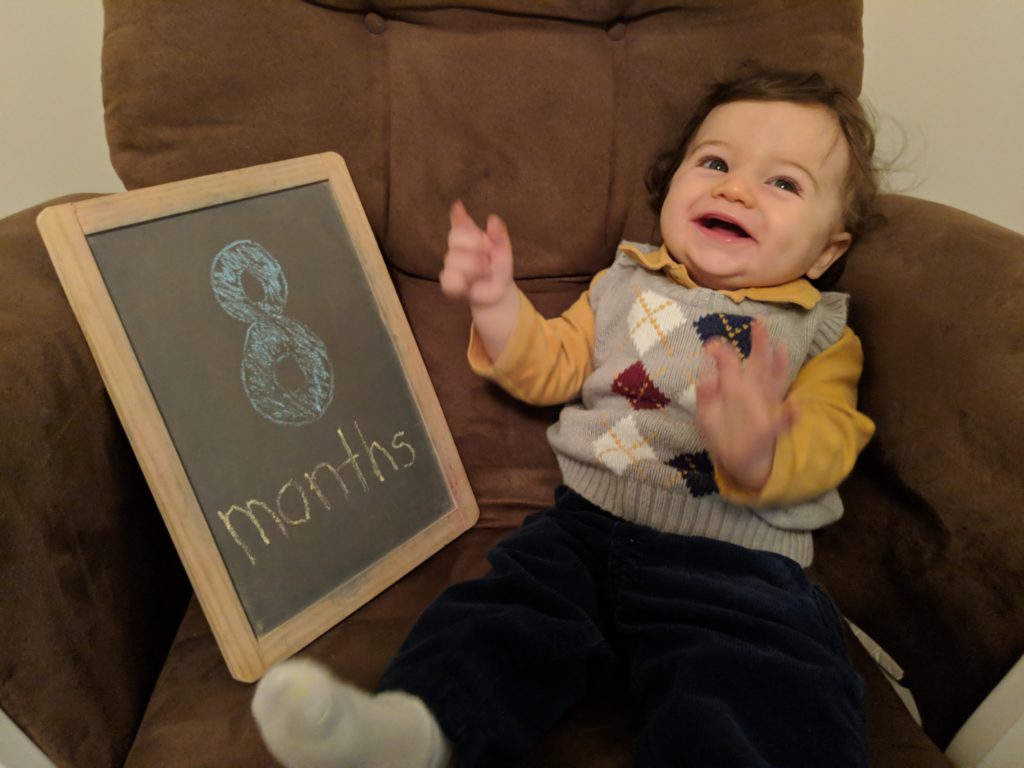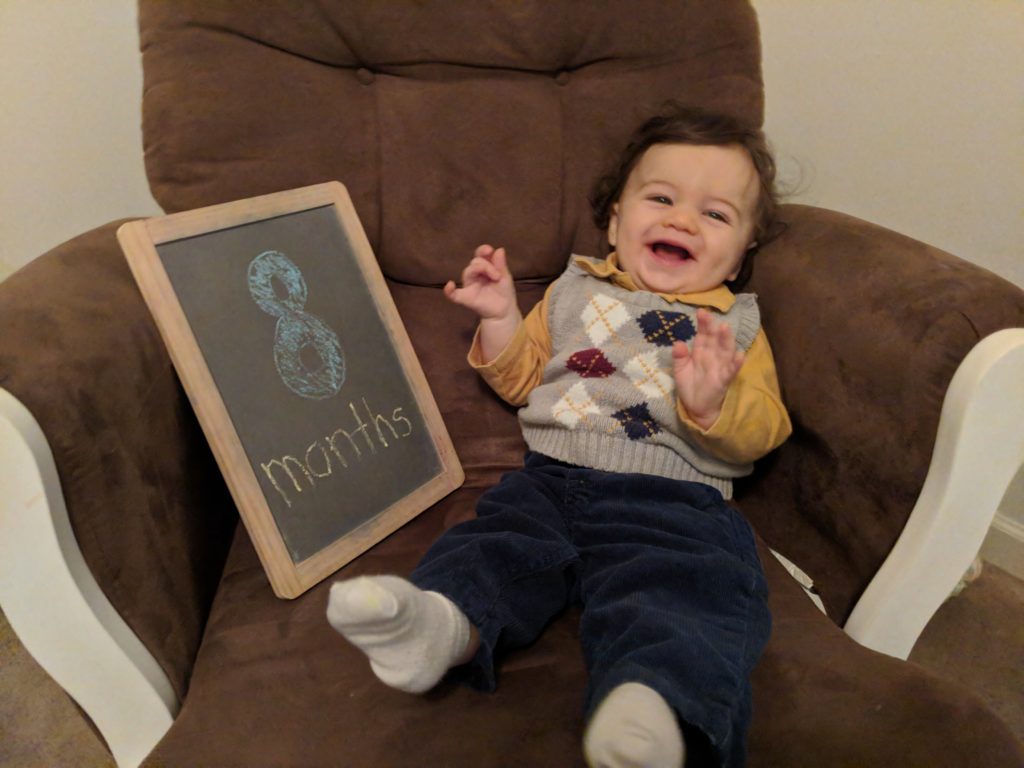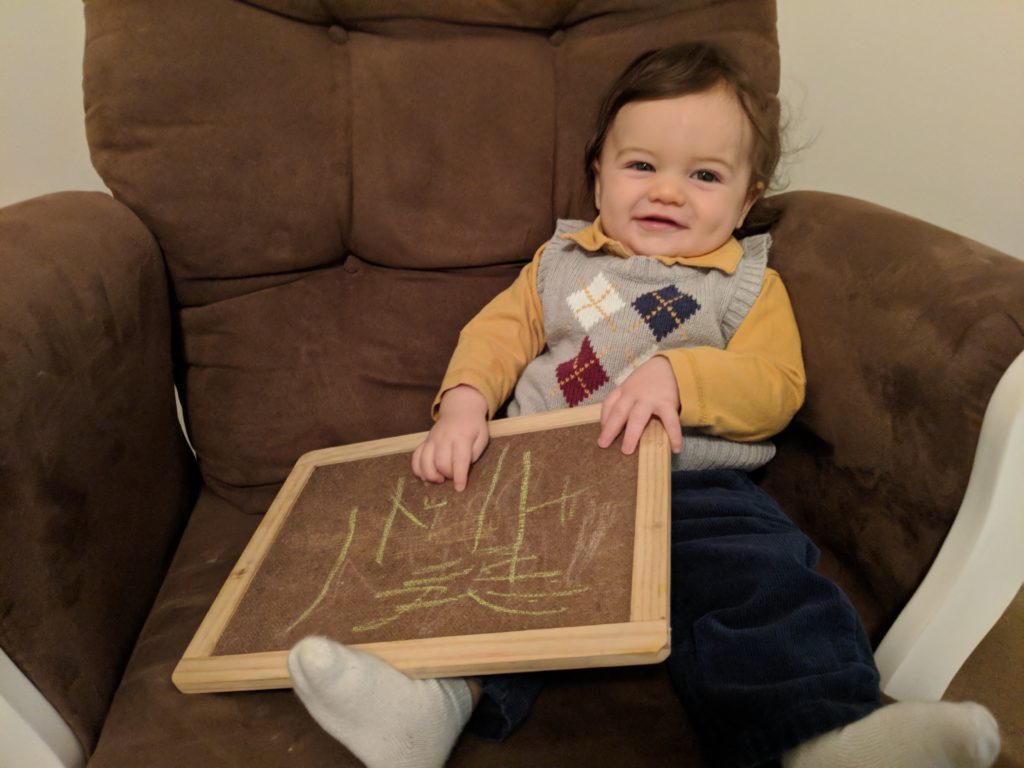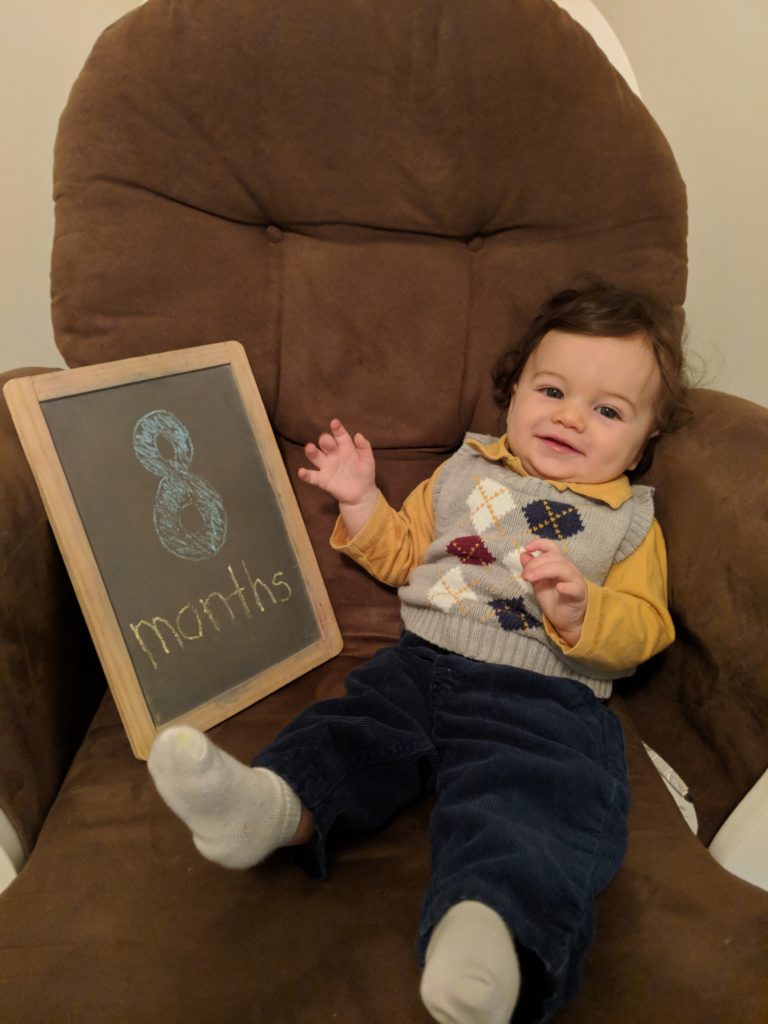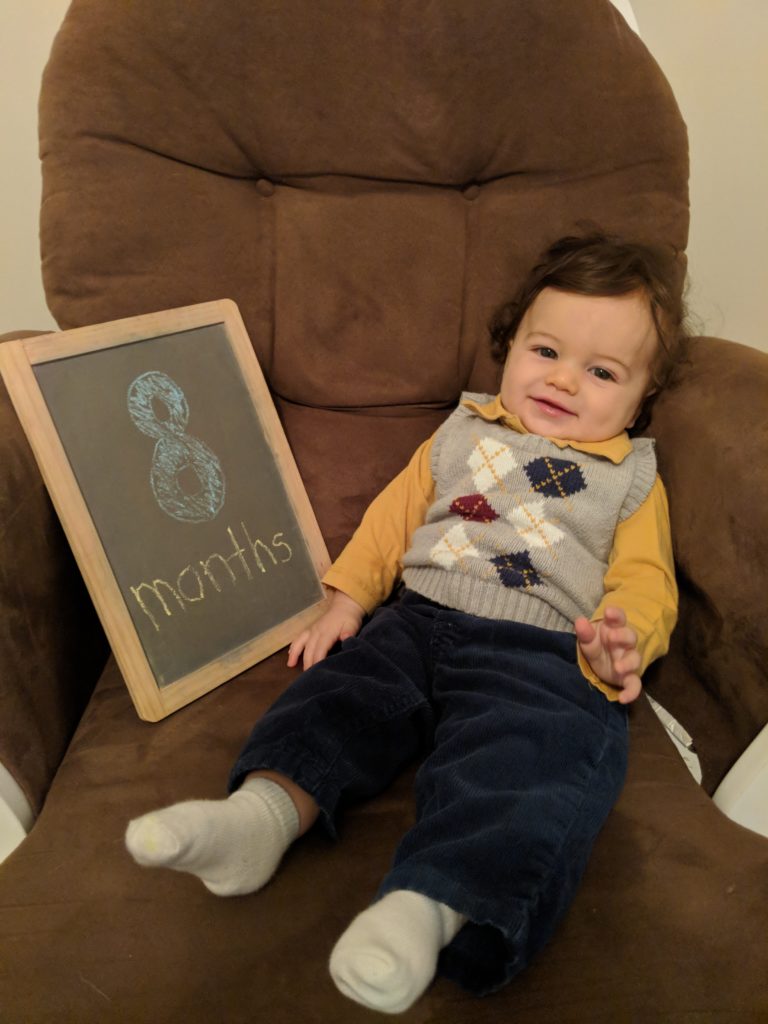 November 26 – Christmas Tree Hunting Attempt #2
We tried to go to a different tree farm in Maryland, but the directions took us to someone's driveway with no signage, so we headed to our 3rd tree farm in hopes that it was our final tree farm. We ended up getting a tree at Pusey Mill Tree Farm and although there was not a large selection and the trees were not the nicest, the men were very nice and the trees were only $24 so we were happy.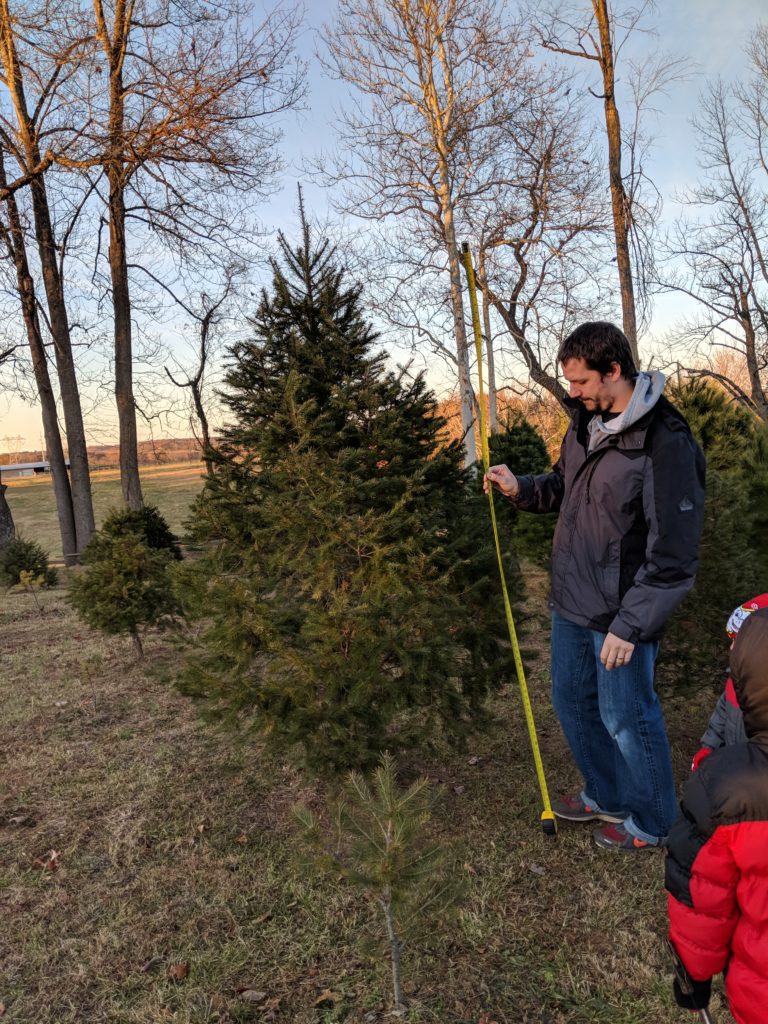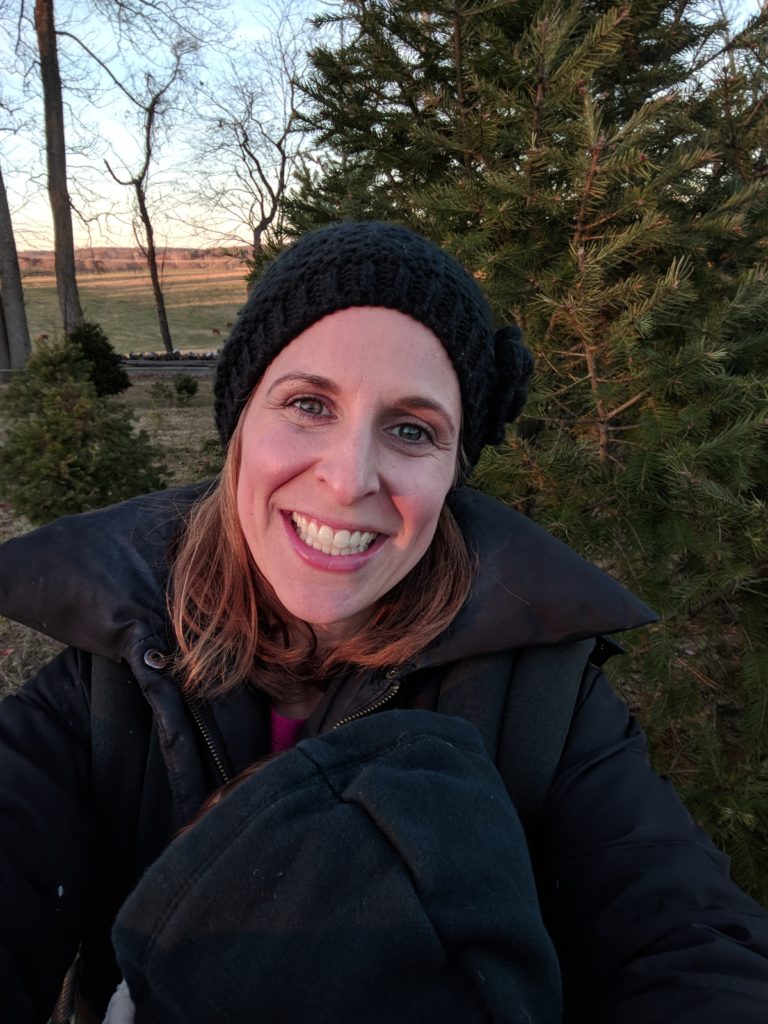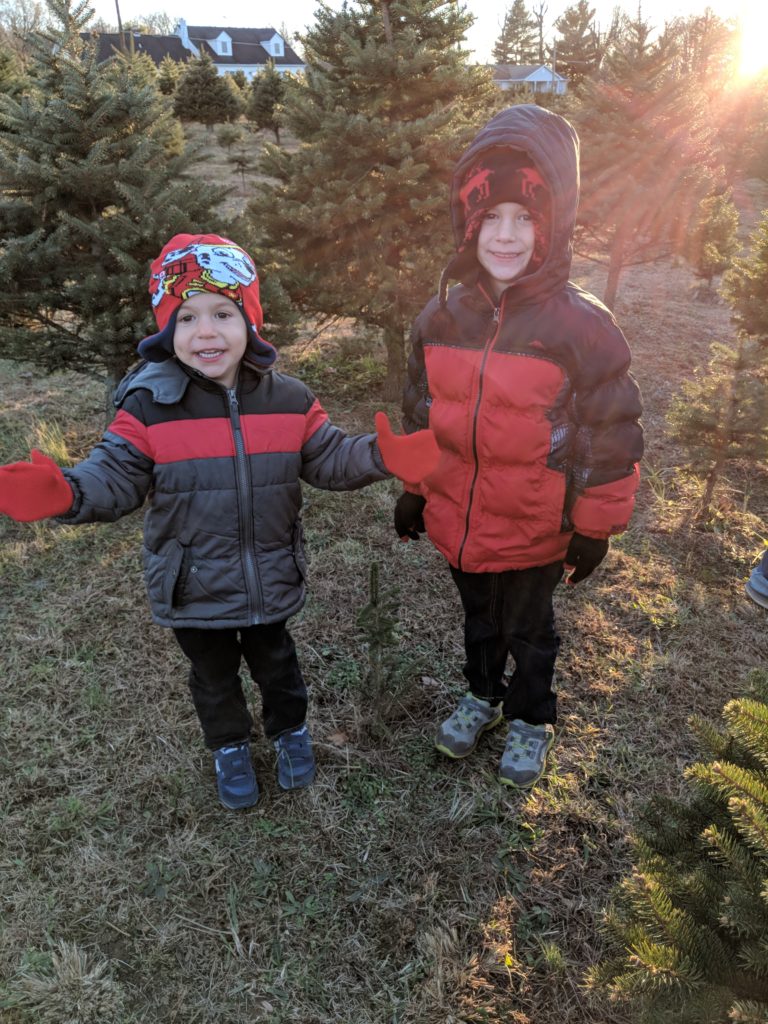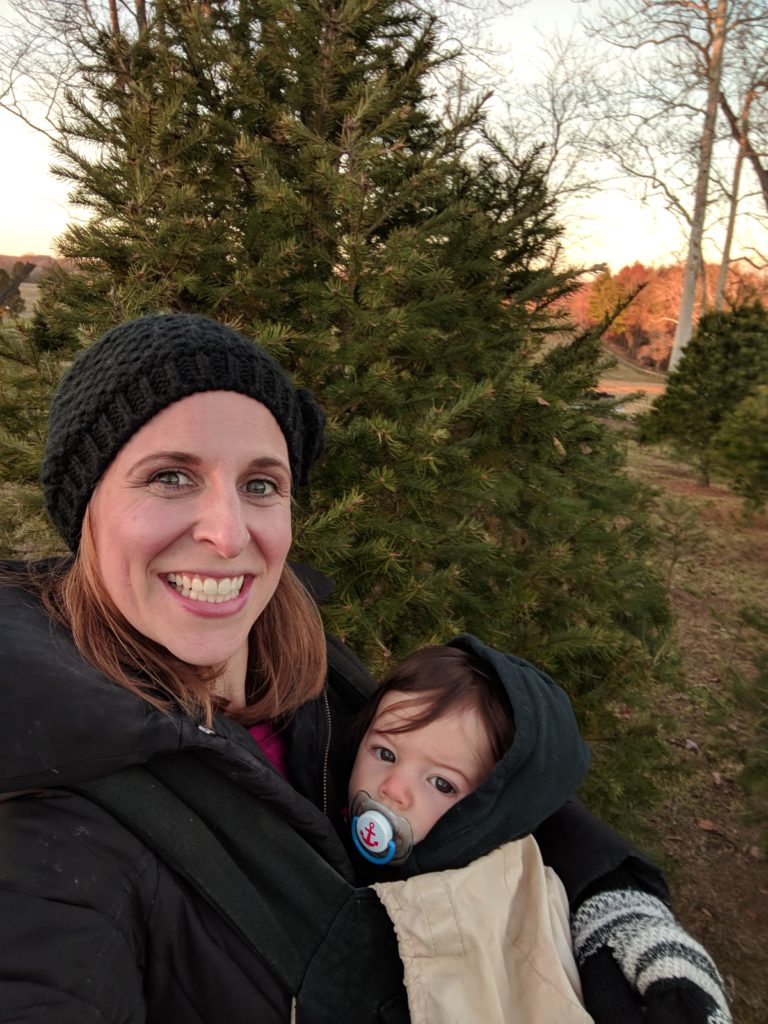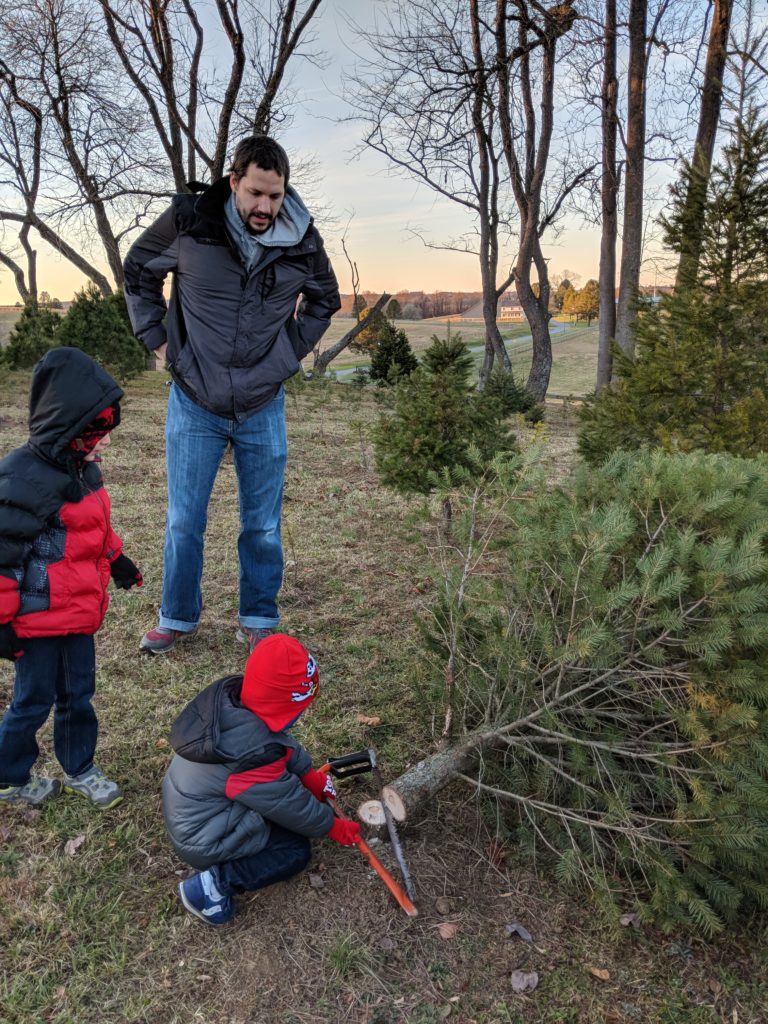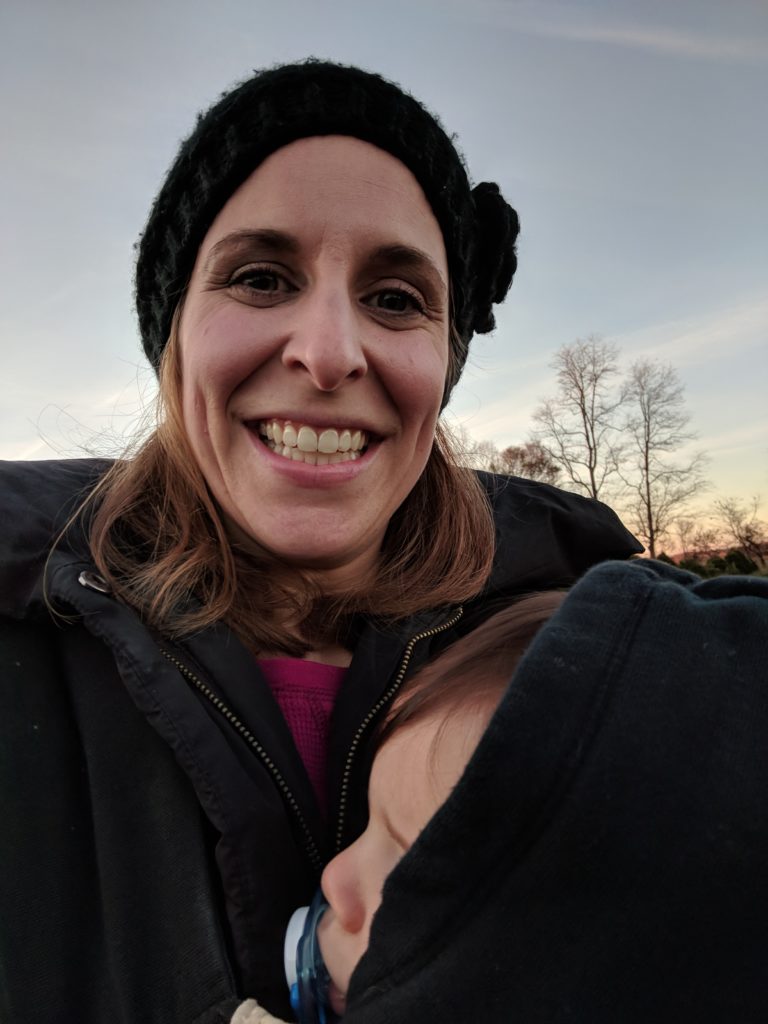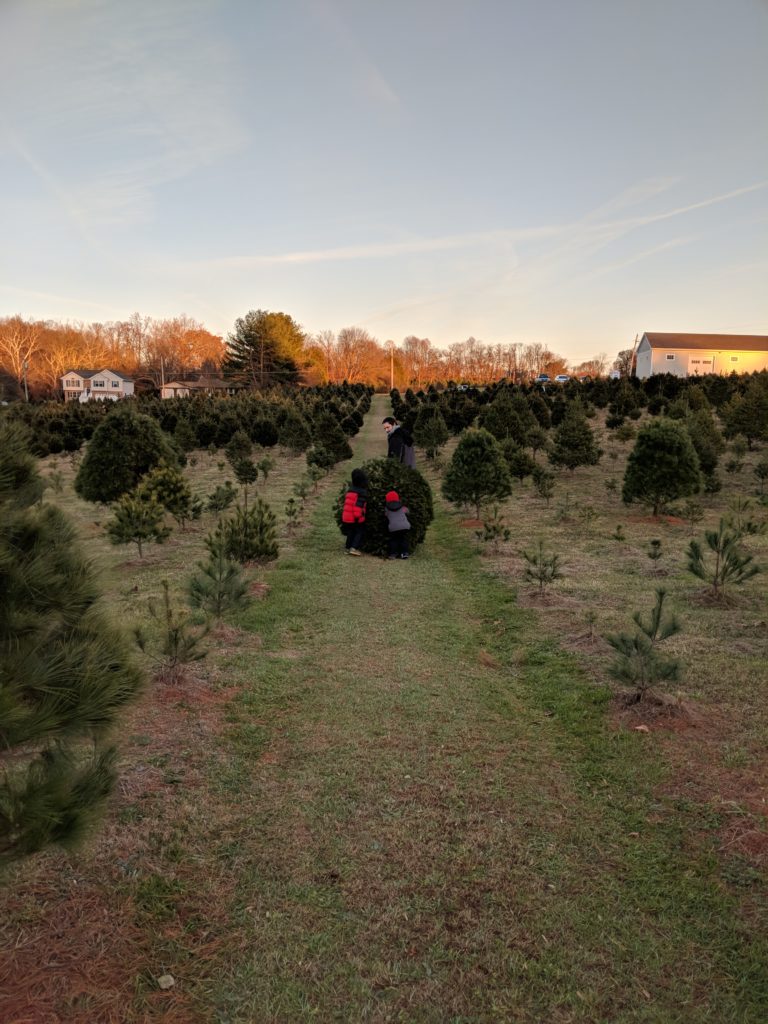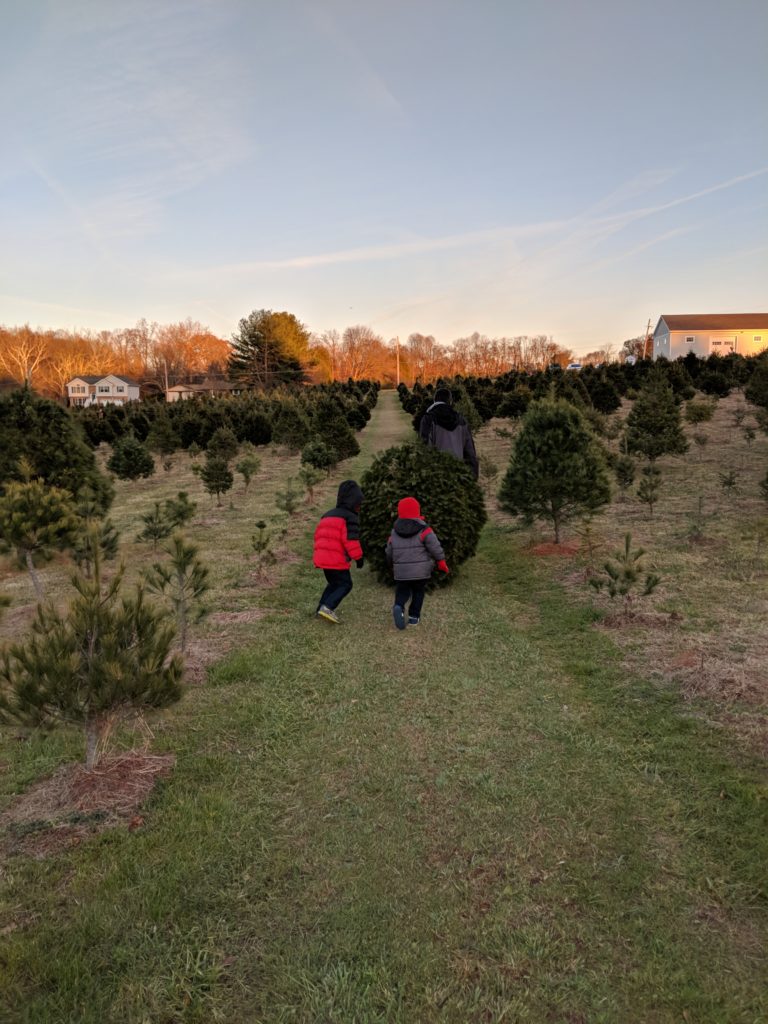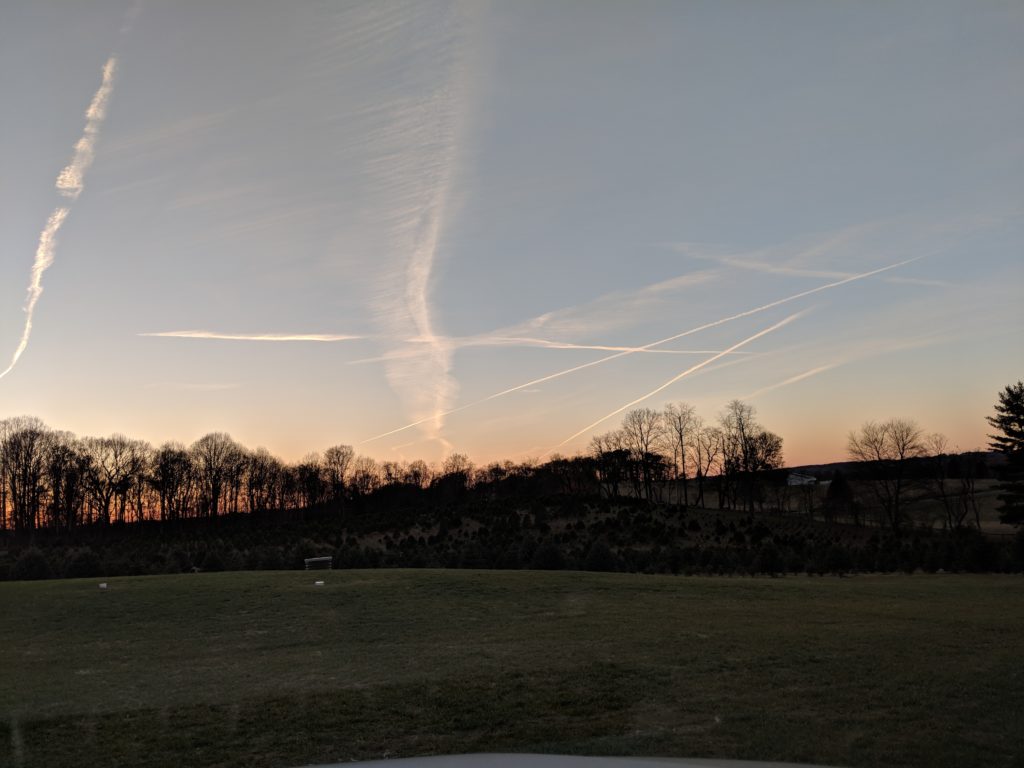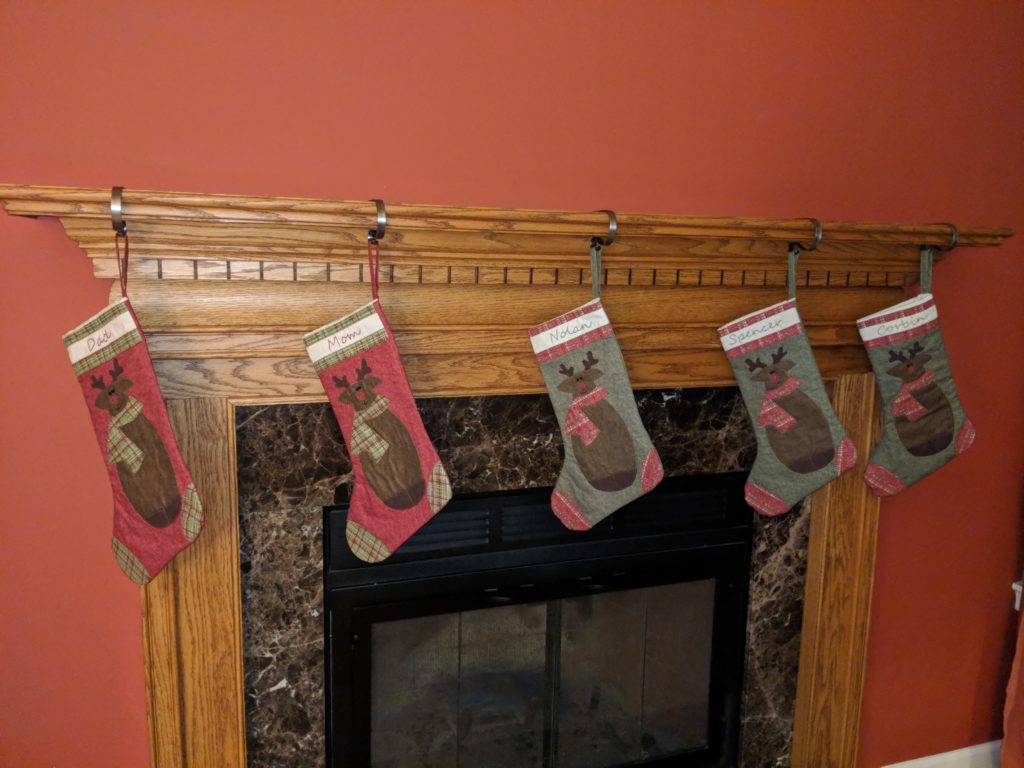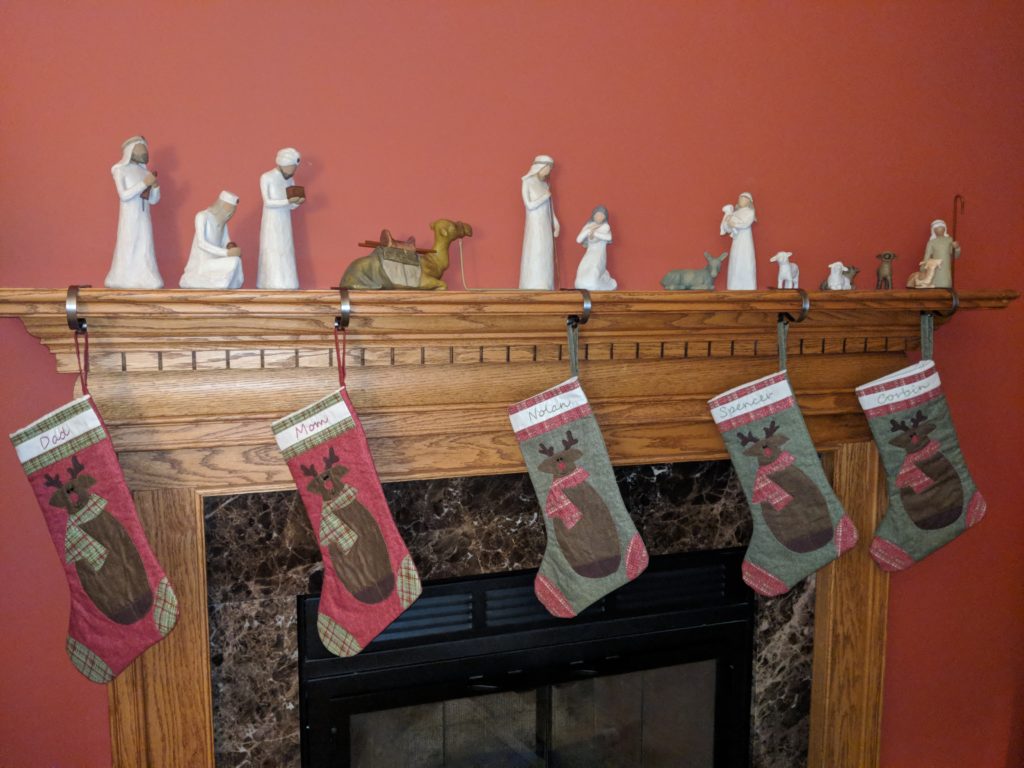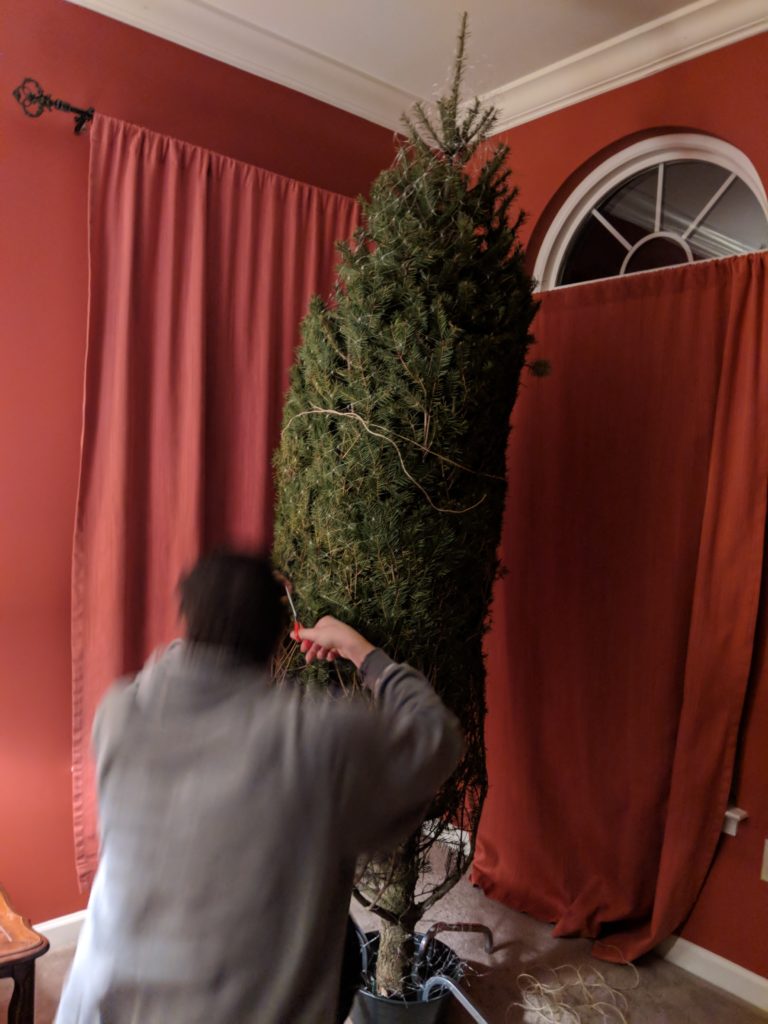 November 27 – 30 – Fun at Home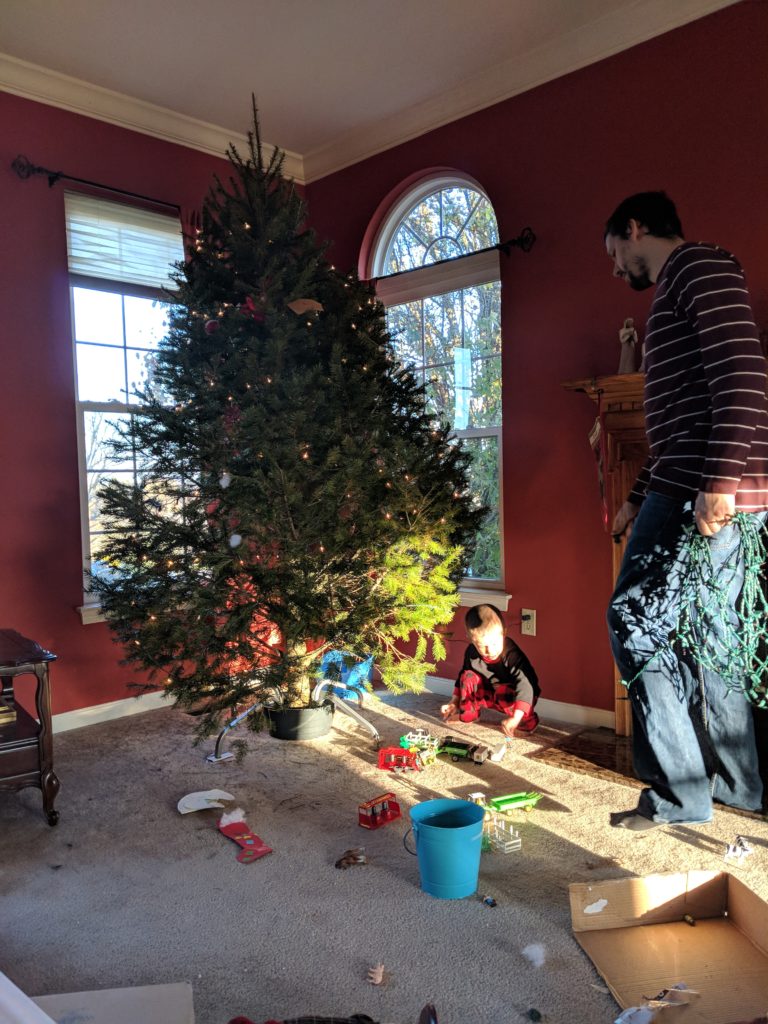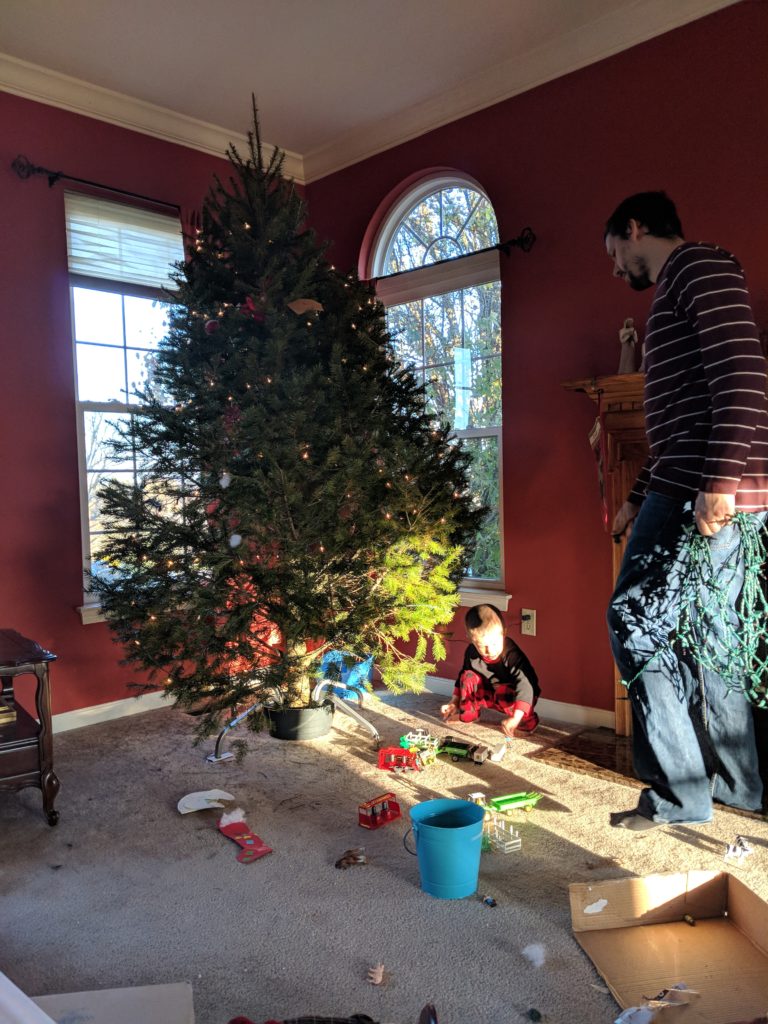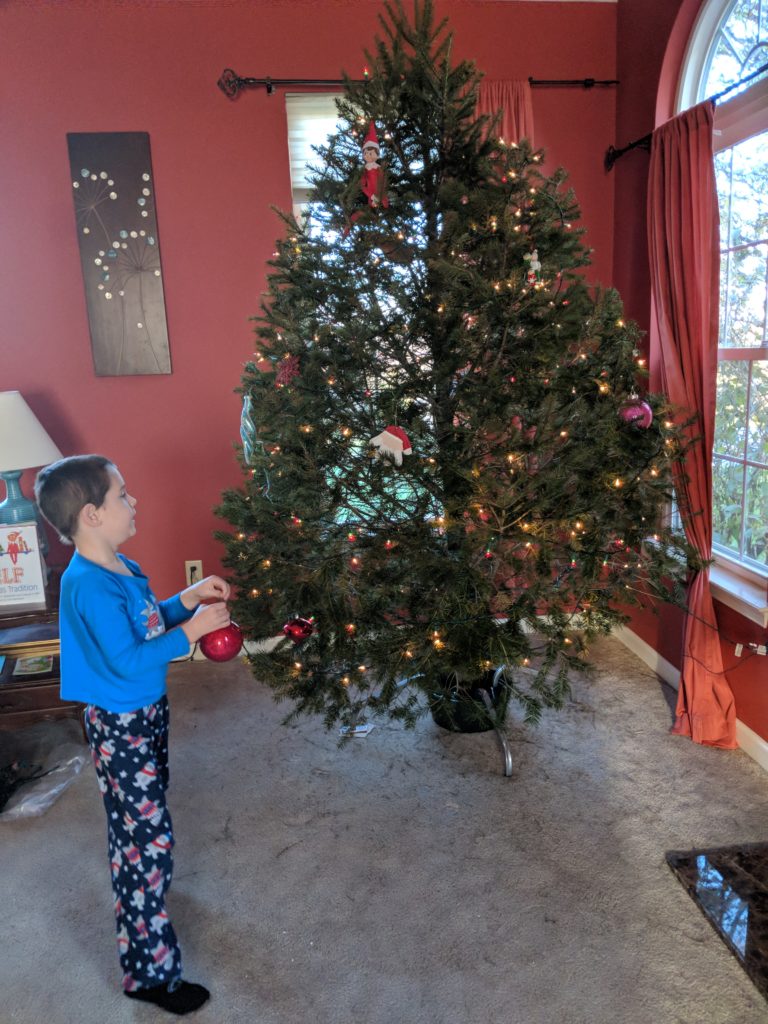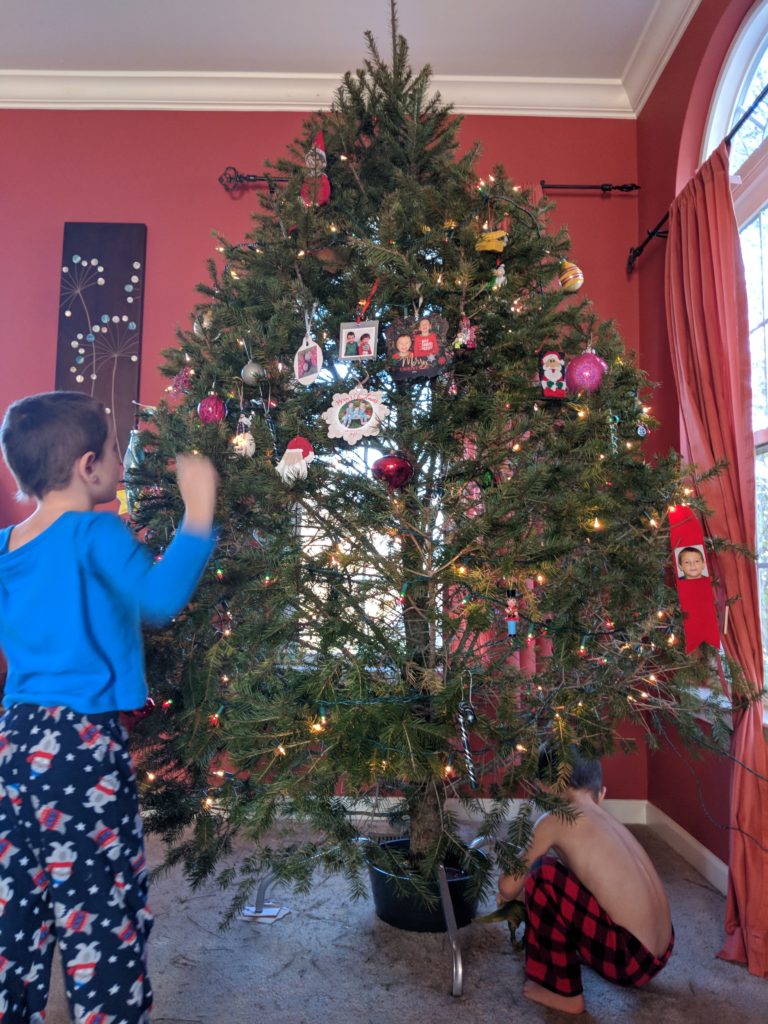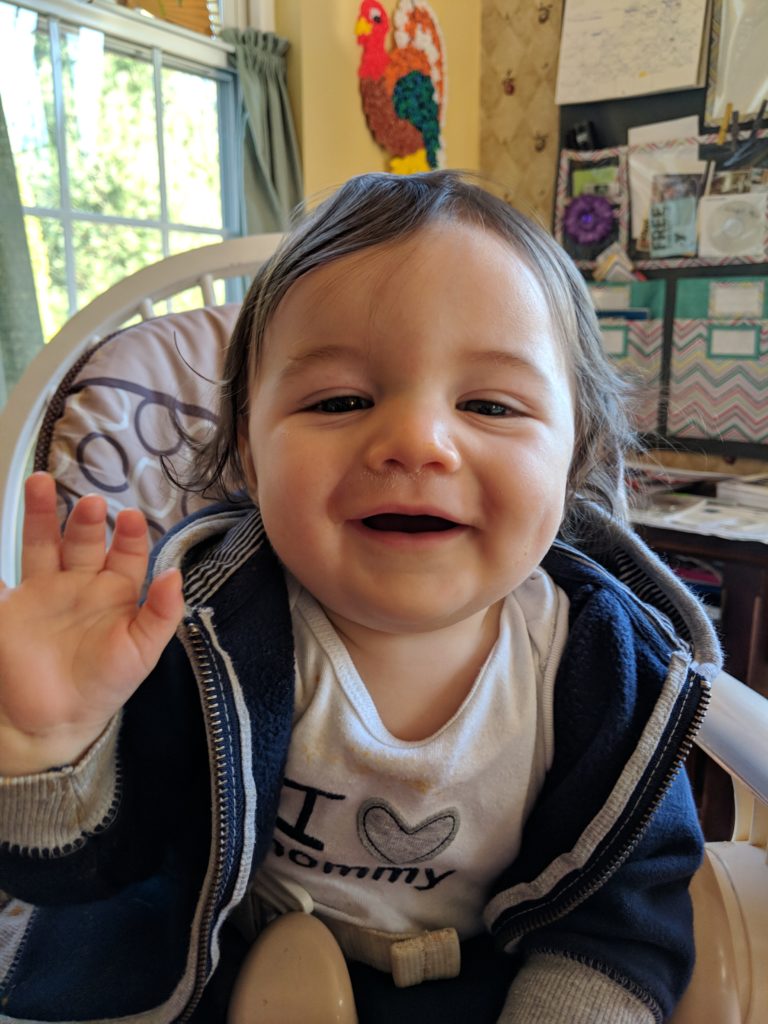 Chippy was in his pooping place, so he found a new pooping place for the day: