March 1 – Nolan's Second Karate Stripe Test
I wasn't planning on going to this, but Nevin wasn't able to get home early to take him, so I took him and Nevin was able to meet us there. The kids had a lot of fun and Nolan was silly and outgoing which was great to see. Congrats to our 2 stripe white belt Little Dragon, Nolan!
March 2 – Hair Product
The boys won't let me cut their hair so I bought some product so they don't look too homeless. They finally let me put it in their hair today.
March 3 – Power Outage from Nor'Easter Riley
We lost power around 11:00AM on March 2 and power was restored around 7PM on March 3. What did we do for those 32 hours? Well, we sat in the car with the heat on watching DVDs, we drove around, we went out to dinner, went to Wal-Mart, went to Dairy Queen to get milkshakes/slushies, etc. Fran and Terri had generators and invited us over and Jenny D and Jenny L from MOMS Club invited us over (and invited us to spend the night, too). How did we get power restored, you ask? After contacting PECO all day long both on their website and by phone (and even speaking to a customer service rep and getting no answers), we ran into a PECO truck on the side of the road on our way to get DQ. We pulled over and Neivn asked them when we'd get power back at our place. They were just finishing up and told us they'd head our way next unless something of higher importance came up. Twenty minutes later, we pulled down our street to see lights on. If we would have known it was that simple, we would have gone looking for a truck hours ago!
Nolan said it was like tailgating!
March 4 – Please Touch Museum with Nicholsons
We were supposed to go to the Please Touch Museum with the Nicholsons on February 18, but Spencer had a fever of 103.7 so we rescheduled to today. We had a great time exploring the museum. The boys loved the carousel, the Shop Rite area, and the ER area the most. I think it was different than the Pittsburgh Children's Museum in many ways. The Pittsburgh museum was more of learn so then you can play (build a track so you can race your car or connect these tubes to make the water flow out of them, etc.) whereas the Philly museum was more grown up things made kid-sized for kids to play with.
First time on a carousel:
Launching rockets:
Toys from my childhood on display like they're old or something……
And, this is why Spencer will be sick next week….
Alice in Wonderland exhibit:
Ringing the bell on the train:
Driving the ambulance:
March 7 – Snow Day from Nor'Easter Quinn
We got about 5 inches total, a snow day, and a 2 hour delay the next morning.
March 9 – Sleeping Baby/Last Time in Infant Car Seat
I had to wake Corbin up to pick up Nolan from school. He looked so cozy and cuddly that I had to snap some pictures.
Also, the infant car seat that we got at Nolan's State College baby shower from Babi and Grandpa expired, so we had to move Corbin to Nolan's convertible car seat and Nolan got a new 5 point harness booster. It was the end of an era for that car seat. We brought all 3 boys home from the hospital in that car seat.
The vanity for our half bath arrived, but it was broken. The box was upside down on our driveway and the corner was damaged. I knew before I opened it that something was going to be wrong. The sink was inside the cabinet and when it was dropped or banged on the corner, the weight of the sink on the back wood bars cracked the wood. I called customer service at Hayneedle and the kind woman I spoke to refunded me my full amount and told me to keep the damaged one. I had no intentions of getting it for free, but she went ahead and did it without  me asking. It was the easiest conversation I've ever had with a customer service representative! Lucky for us, the damage is in the back so we just put some new screws in and we are good to go!
Bath fun:
I bought a pizza during our power outage, but I forgot the cheese. So, we had it a few days later and Spencer helped me make it:
March 11 – Painting the Half Bath
Our mirror arrived and I love it more than I did in the pictures:
No more wallpaper:
When you get lost of packages delivered, you get lots of bubble wrap to play with:
Zombie Spencer:
March 13 – Corbin Update/Fun with Games
Corbin has been crawling on all fours the past couple of days and has not been army crawling anymore. He also has 3 more teeth coming in, all at the same time (one on either side of the bottom middle and the top middle right). He was starting to cry every time I left his room at night which is what he does when he's teething so that was my first clue he was getting new teeth even though I couldn't see anything yet. He also has been rubbing his top lip/gum which tells me his top tooth is bothering him. However, he's still only getting up once or twice per night to nurse and he remains in good spirits throughout the day.
Mimi and Pop came to visit and they brought my board games from when I was a child. The boys and I had a great time playing Candy Land and Busy, Busy Bumblebees.
Testing out how it will look:
Cuddling with my boys:
Crazy sock day at school for Dr. Seuss Month. Nolan chose 2 of my socks to wear:
Busy, Busy Bumble Bees:
Candy Land:
March 14 – First Time Bowling
MOMS Club had an event for bowling because from noon-5, it was $1.50 per game. I only had to pay $6 for both of the boys which included the shoe rental. We went with the Dowlings and both boys enjoyed themselves. We used bumpers and the ramp. The boys started off by taking their turns by themselves, but buy the last 5 frames or so, all 4 kids were helping each other push it down the ramp. Nolan got 61 and Spencer got 66.
March 15 – Scavenger Hunt with Dad
Nolan's school had a scavenger hunt for a special man in your life from 8:15-9. Neivn and Nolan did a scavenger hunt, ate a special snack, and Nevin got this gift from Nolan. It was  great morning.
Spencer was blocking the steps so we couldn't go up to bed:
March 16 – Fun at Home
I caught Corbin standing up on the case of water:
Celebrating St. Patrick's Day early:
Cooking Corbin in the Crock-Pot:
March 17 – Corbin's First Haircut
Corbin's first haircut was LONG overdue. I just couldn't bring myself to do it, but when I found out one of the moms in MOMS Club thought we were Hicidic Jews (no joke!) because of the boys' long sideburns (and others agreed), I knew it was time. He did a phenomenal job. At first, I made it like an Amish boy haircut, but then Nevin convinced me to keep cutting so it will look more like a little boy and I'm glad I did. Nolan and Spencer also got haircuts. Nolan chose a comb over style he saw in a picture and Spencer did the same. For my first time doing a non-buzz cut, I think I did okay.
Finished Amish-style cut:
Nolan's comb over:
Light, vanity, sink, and toilet are in:
He loves the vacuum just like Nolan and Spencer used to:
March 18 – Bath Fun
Here is Corbin's more boyish haircut:
I discovered that the farmer made a new fence in the pasture and cut off the horses and cows from coming up to our fence. We are devastated and are hoping that this is just a temporary fence and one day soon, they'll be able to come back over to us.
March 19 – Outside Fun and Filling Eggs
We got to enjoy an early spring day. We spent about 2 hours outside playing. When we came in, we stuffed plastic eggs with chocolate for the Easter egg hunt at Nolan's school (which was later postponed due to 2 snow days in a row).
Corbin had a great first time in the Cozy Coup:
Trying chocolate for the first time:
March 20 – First Day of Spring/4th Nor'Easter/Stomach Bug
I had been meaning to get the tunnel out for Corbin and finally did. He loved it and the big boys love going through it, too!
Before nap, Spencer said his belly hurt. He woke up after 1.5 hours of nap and vomited in his bed. The rest of the afternoon was spent sitting next to him on the couch so I could catch his vomit. I began to not feel well around dinnertime and I ended up vomiting throughout the night. The next day (Wednesday), I was so achy I couldn't even get out of bed. Nevin was up all of Thursday night with stomach issues and spent the day in bed on Friday. We are SO ready for spring and warm weather to get rid of these germs. Between high fevers (upper 103 for Corbin and Spencer in January and February), coughs & runny noses (all 3 throughout January and February), vomiting (Nolan in February and Spencer and me in March), pink eye (Corbin in February), sinus infection (Spencer in March and his first time ever on Amoxicillin) we are SO over it.
The beginning. We got about 7 inches total.
March 23 – Big Boxes are Fun
I got a large package from Target and decided to let the boys play with the box. They decorated it and pretended it was a witch house. They had a great time going in and out. Corbin enjoyed it, too.
I bought popsicles to keep the boys hydrated in case of vomiting again and Nolan's tongue and teeth were red from his popsicle.
March 24 – Daddy
Oscar was sitting on Nevin's lap and Corbin pulled himself up. Then, Nolan came over so I snapped some pictures of Daddy with some of his boys.
March 25 – Corbin's Last Day as an 11 Month Old
We blew up balloons early (because they are so much fun!) and Corbin enjoyed holding his blue balloon, crawling with it, and shaking it up and down.
Here's our boy in his last pictures as a "baby":
March 26 – Corbin is 1!!!!!!!!
Corbin was up at 6AM on his birthday. Spencer, Corbin, and I went downstairs to eat breakfast and when Nolan got up, we got Daddy up and opened presents. Corbin got a walker (we've never had one before and for the first time, we have a house that is safe for a walker and I'm hoping he can cruise around in it outside while the big boys play), a lawn mower toy, and bathing suits for the beach. Spencer enjoyed opening his gifts for him, but Corbin didn't mind. He liked the lawn mower, but wasn't a big fan of the walker. Hopefully he gets the hang of it so he can chase after his brothers.
While Nolan was at school and Corbin was taking his morning nap, Spencer helped me make his cake. We made a smash cake for Corbin and a 2 tier circular cake for us.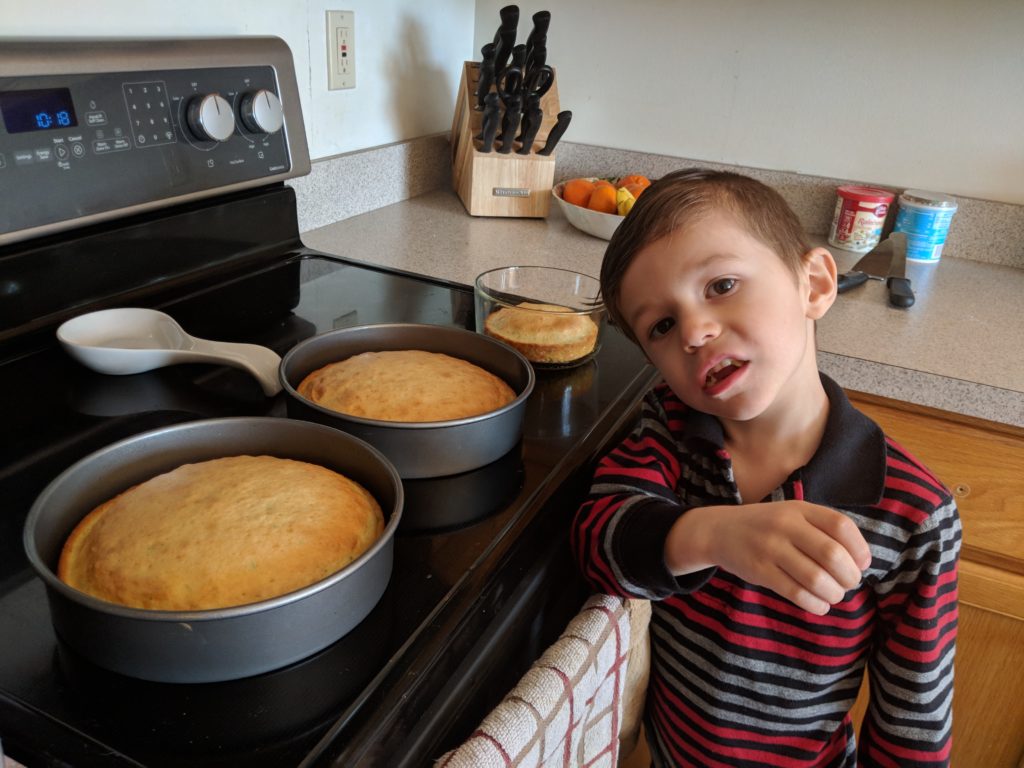 Here is Corbin at 11:10AM, the time he was born! I had to wake him up after his morning nap so we could go get Nolan from school.
Nolan helped me ice the cake. He did a really good job (minus all the times he licked the knife and put it back in the jar of icing). I iced Corbin's cake and the sides of Nolan's, but he did the top by himself.
Corbin's smash cake:
Our cake:
Here is Corbin eating his birthday lunch. He had chicken nuggets and loved them.
After nap, we got to play outside a bit. Nolan and Spencer rode their bikes while I pushed Corbin in the Cozy Coupe.
I made bacon and egg spaghetti for dinner, but Corbin wasn't feeling it and barely ate any.
When Nevin put the cake in front of Corbin, he got his fingers in the icing and licked them. So, while we were singing, he couldn't stop staring at the cake so he could dig in. He was so ready for more. And, dig in he did! He was a mess and I think it's safe to say he really enjoyed his birthday cake.
Nolan showing him that he's supposed to eat it:
Corbin can clap, play peek-a-boo with his hands or clothes he finds laying around, puts toys or other objects in bins and buckets (aks likes to help clean up), crawls on all 4s (but this week he began crawling with his right foot flat on the ground and drags his left knee to keep up), climb up the stairs independently, pull himself to standing (and can shift from one area to another…I wouldn't call it cruising just yet, but he's getting ready to cruise), climb over boxes, say "mama", imitate our sounds, turn his head when he hears his name, roll a ball back and forth to us, cries when I leave the room, but recovers quickly, throws food off his tray for Oscar to eat, picks up toys and throws them behind his head, wiggles and squirms so much that it is darn near impossible to change his diaper, and half raises his arms when I go to pick him up. He has his 2 bottom middle teeth and there are 3 more coming in. Teeth take a painfully long time to come in for him. I see a tooth poking through the gum and it's about a month (or longer) until the tooth is all the way through. He is working on getting the top right middle tooth and one tooth on either side of the bottom middle 2 teeth he already has for a total of 5 teeth. He has been waking up around 11:30PM and 3:30AM to nurse. He takes a 2 hour morning nap and a 1.5 hour afternoon nap. When he isn't eating, he is crawling around the house, putting toys in his mouth, and playing in Oscar's water bowl. He is still very laid back and goes with the flow. I can't wait to see how much he changes this year!
Corbin's 12 month well visit was on April 10. Both he and Spencer did a wonderful job especially since we waited forever for the doctor to come in and then forever again for the nurse to come in with his vaccines. He weighs 17 pounds, 15.8 ounces (7th percentile) and is 2 feet, 4.15 inches tall (1st percentile). Nolan weighed 21 pounds, 11 ounces and was 2 feet, 6.5 inches tall. Spencer weighed 20 pounds, 7 ounces and was 2 feet, 6.5 inches tall. Corbin gained a pound and grew, so although he is small, he is growing according to his own growth chart.
She asked if he could walk and I said no, but he cruises along furniture and transfers to different objects while holding on to them. She asked if he says "mama" or "dada" and I said yes. She examined him and said he is right on track with his development. Funny, because ast his 9 month well visit, they told me he was delayed because he wasn't walking or saying "mama" or "dada" yet. Makes no sense. He was so good while she was examining him, he didn't even move except when she peeked in his mouth for teeth. He started to push the tongue depressor away after a couple of seconds, but she said his top gums are swollen so more are coming. I told her I had no concerns and that he eats well and he's been getting up throughout the night to nurse. She said she wasn't concerned because it's for comfort by this age.
A different nurse came in and gave him 3 vaccines (very slowly I may add), 1 in the left arm and 2 in the right arm. She said he can get a fever and rash from them so just monitor him. He cried a lot for all 3 shots, but did calm down fairly quickly. Thankful for a great well visit!
Here is his last monthly photo shoot, which was a challenge as you can tell from the photos:
This isn't starting too well:
Looks like I got 1:
Watching his brothers play outside while I put away laundry:
March 28 – Daddy and Nolan are Twins
The boys were matching, so I had to snap some pictures.
Spencer wanted me to take a picture of him with his gun:
March 29 – Easter Egg Hunt at Kristen's
Nolan did not have school today for Easter break. We painted birthday pictures for Aunt Megan while Corbin was napping and when he woke up, we went to Kristen's for an egg hunt with Shaena and her kids. The weather warmed up perfectly for the hunt outside and the kids had a great time.
Heels and a sword, what else do you need?:
Pink cowboy hat and a sword, what else do you need?:
Kristen "hiding" the eggs:
Ready to hunt:
March 30 – Dying Easter Eggs
Nolan and I dyed his eggs while Spencer was napping. This worked out well because I was able to help him and then Spencer was able to use the same dye for his when he woke up. Nolan took his time and dyed the eggs multiple colors and enjoyed dying them. Spencer put one in each cup for a few seconds then put the last 3 in for a few seconds and was done.
March 31 – Preparing for Easter
I used a new recipe for "easy peel" hard boiled eggs. However, I refrigerated them after I boiled them which messed it up so when I went to peel them today to make deviled eggs, I had a very difficult time. Google helped me and I ended up soaking them in water which made them a bit easier to peel. We lost 3 eggs during the process and I will never follow that recipe again!
Corbin's (second) 1st birthday cake:
Here are my scalloped potatoes for tomorrow at Mimi's and Pop's: