April 1 – Happy Easter!
The Easter bunny came:
I forgot to have them wear nice pajamas the night before, whoops:
April 2 – Testing out the Bubble Machine
Even though it was a little chilly, we had to test our our Easter gifts. The bubble machine is awesome and makes so many bubbles. We can't wait for warmer weather to enjoy the water guns!
April 3 – Easter Egg Hunt at School/Pig
April 4 – Fun at Home
April 5 – Cow's Milk for Corbin
Nolan made a book of colors at school and to represent blue, he chose blue dart frog. I guess those trips to the zoo and aquarium have paid off!
Corbin tried cow's milk for the first time. He drank it, but I don't think he was crazy about it. We'll see if he continues to drink it.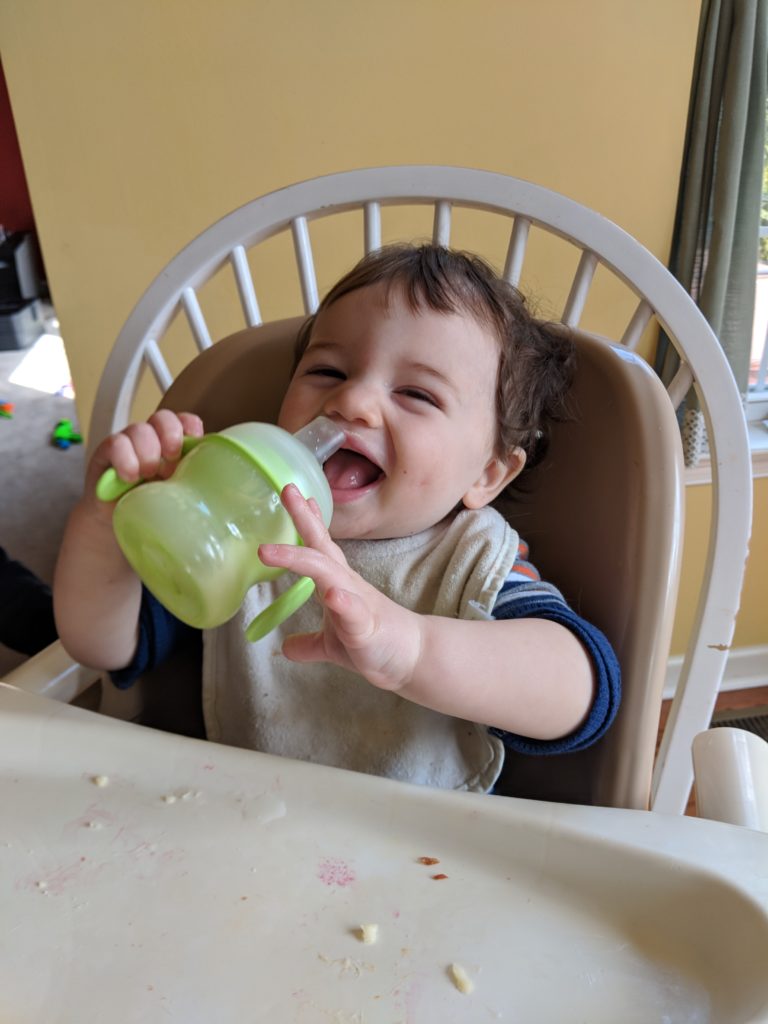 Nolan is helping out:
Corbin climbed in the Lego bin and loved moving his legs to make a noise:
Nolan is joining in on the fun:
Pickle mouth:
Spencer saw deer out our bedroom window and he immediately said we need to call Pop to shoot the deer:
Spencer wanted to sit next to Nolan during bedtime snack:
April 7 – Goodbye Ruby Sue, Hello Whitey Sue
We have been looking for a minivan for a while. When Corbin didn't take his afternoon nap and Spencer had a very short nap, we knew it was the perfect time to go get a minivan. We had a good estimate for how much money we were going to get back from our tax return and we went for it. Scott Honda in West Chester had about 4 Honda Odysseys that we were interested in so that's where we went. George showed us Whitey Sue and we test drove her. Then we looked around the lot for a different (and more expensive) Odyssey I had seen, but it was on hold. We then decided to buy Whitey Sue. While the paperwork was being done, the boys ate lollipops and colored at the little kids' area they had set up. I had signed over the title to Ruby Sue (a red 2005 Ford Escape Limited with 122k miles) and decided to head home with the boys for dinner and Nevin would meet us when he finished up. We said bye to Ruby Sue and Nolan cried half way home because he missed Ruby Sue. So, to make him feel better, we named our minivan Whitey Sue in her memory. We had a pretty good and easy experience at Scott Honda and I LOVE everything about our minivan. It is huge and truly made for families.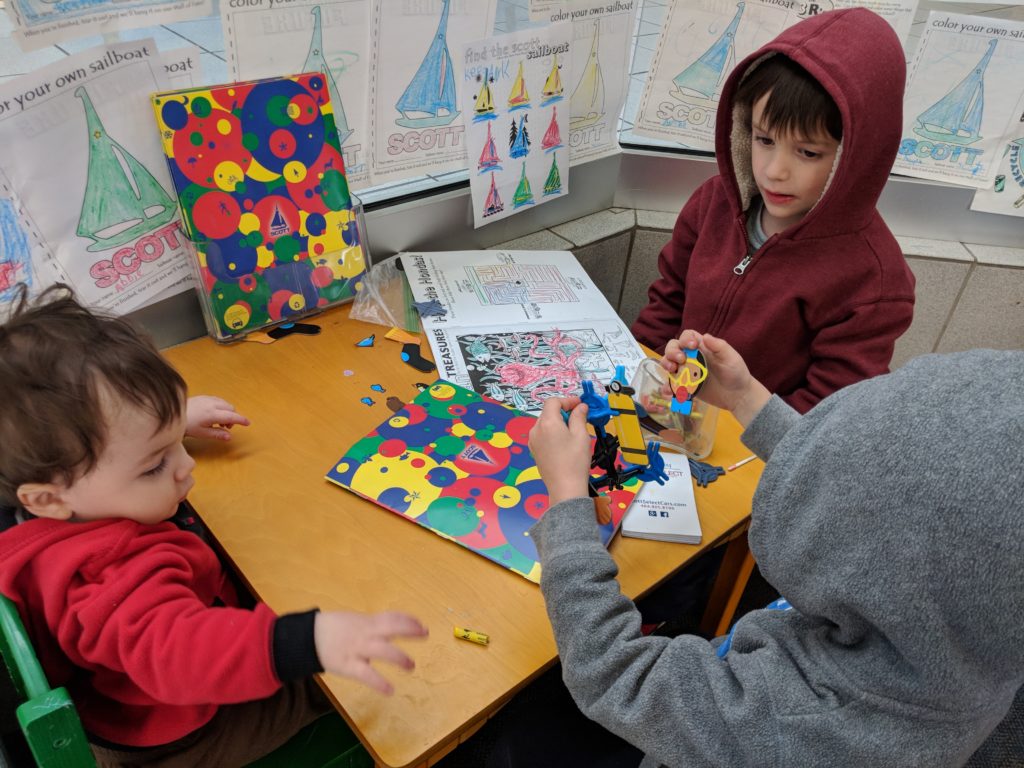 Avocado toast to match his hipster haircut:
Car seats are all set up:
April 8 – Trouble
This is why I end up doing double the work when Corbin is awake!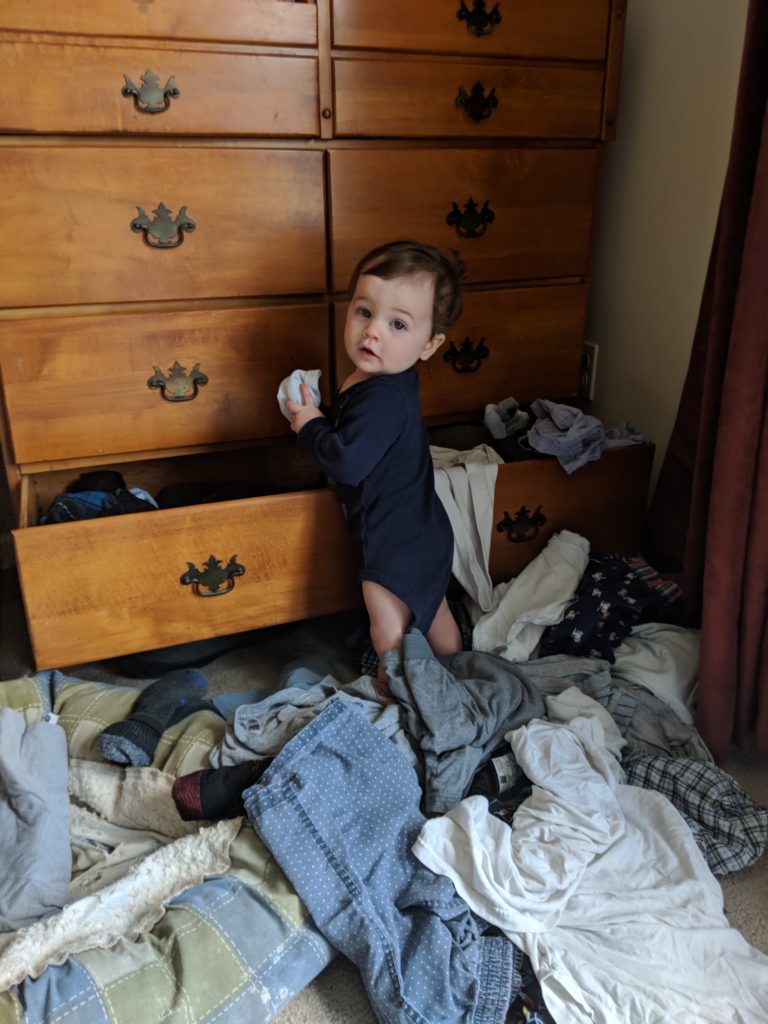 April 10-12 – Fun at Home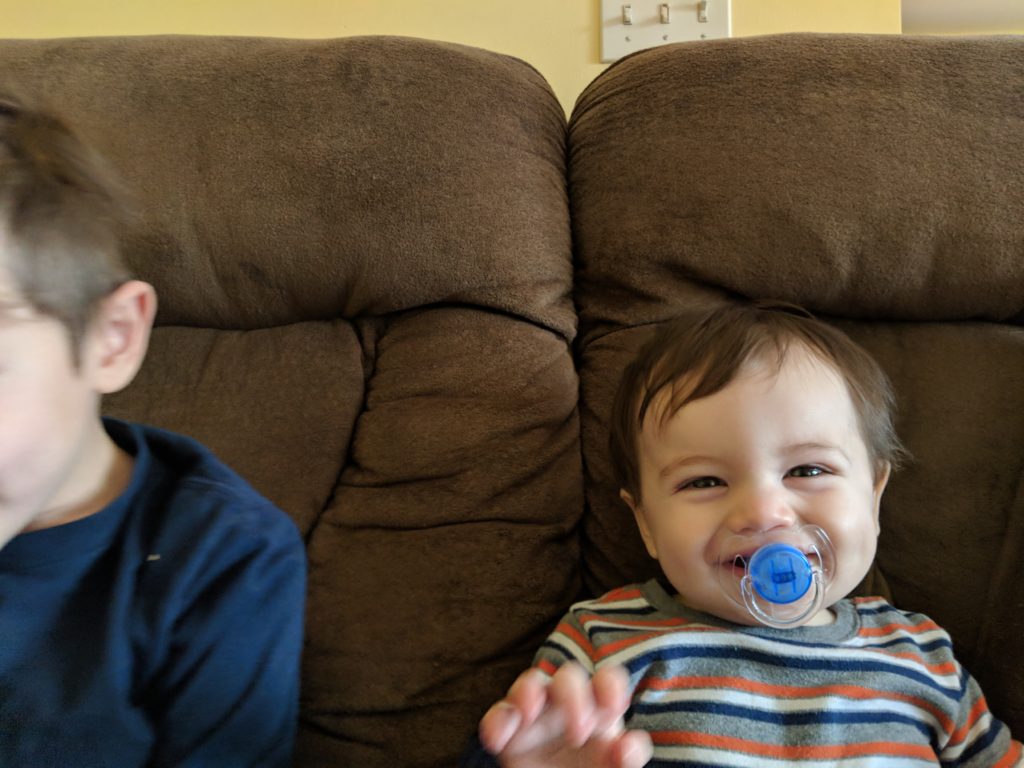 April 13-15 – State College Visit
We rescheduled our State College visit to this weekend (refresher: We were supposed to go the weekend before Corbin's birthday, but Nevin, Spencer, and I came down with the stomach bug so we rescheduled). It was a great choice because the weather on Saturday was amazing. We left our house around 7PM on Friday night and arrived around 10PM. Corbin and Spencer slept the whole trip, both woke when we arrived, and both were awake until 11:30. Nolan fell asleep 15 minutes before we arrived and transferred easily to his bed.
When we woke up, Babi made breakfast. Then Daddy went to the fencing alumni meet and the boys and I met Nada and her kids at Holmes Foster Park. The boys played so well together and it was great to see Nada and catch up. We came home for lunch and I went to Lauren's baby shower. When I got home, Shelly, Axel and Sirkkie were at Babi's and Grandpa's for a cookout. Then we celebrated Corbin's birthday with a cake that Babi made. After I put Corbin to bed, Nevin and I went on a date. We originally went to Gigi's, but the wait for a table was 45-60 minutes. Since we were meeting Jamie and Brett in Bellefonte after, we decided to head that way toward Ale House. We got a table straight away and enjoyed the music of the "piano man" while we had our drinks. I had a delicious salad and Nevin had a sandwich. Then we left to meet Jamie and Brett at Good Intent Cider. Even though we only got to spend about 30 minutes with them there before they had to go pick up their kids, we are glad we went.
Corbin was awake from 1:30-4:30 (teething? unfamiliar place? schedule thrown off? who knows!) on Sunday morning, so I barely got any sleep Saturday night. Shelley and Axel came over for Waffle Shop for breakfast. Then we just hung out at home the rest of the day. The weather was chilly so the kids played inside mostly. We ordered HiWay PIzza for dinner and it was delicious. Then we headed home. The kids slept the majority of the way home and we were able to easily transfer them to their beds. It was a great trip to State College and we are looking forward to the next trip!
April 16-17 – Cows are Back
April 18 – Kindergarten Registration
I took Nolan to register for kindergarten at Jordan Bank School. We got there around 5:35 and were done around 6:20. There are no appointments, you just come during the designated hours. We walked to the wrong door, but that was okay because I got to take some pictures by the school sign. When we walked in (the right door), the principal greeted us and told us what to do. Nolan sat at a table and colored a page while I waited in line to hand in my documents. While waiting, a teacher (I think) called Nolan to go to the music room to do an assessment with her. While he was doing that, the ladies checked my paperwork and proof of residency and then I waited on a chair for someone to call me to approve the work. Nolan came back from doing the assessment while I was waiting and the teacher said he was a nice boy and that he did a great job. She gave me a piece of paper with his scores and he did so well. I overheard the lady telling the mom next to me that her daughter scored low (7th percentile) and that they are recommending summer school for her. I wish we would have been able to do that when I was teaching kindergarten, but even though we asked every year, we were told no every year. Then, one of the registration ladies called me to look over what she put in the computer and approve it. After that, I met with the nurse and she told me I need to get her his dental record and a physical sometime in August. After that, we were finished and I took more pictures of Nolan and we went home for dinner. As I was taking his picture, I said, "I hope I'm not embarrassing you" and Nolan responded with, "You will never embarrass me, Mom." which I hope holds true forever!
Here is what Nolan colored while he waited:
Went to the wrong door, but we got some great pictures because of it:
Here's the correct door:
Posing for more pictures:
If this doesn't look like a kid who is ready for kindergarten, I don't know what does:
Showing off his "Class of 2031" bag now:
April 19-20 – Fun at Home
April 21-24 – Fun at Home
April 26 – Nolan's Orange Belt Test
Nolan was eligible to test for his first belt, orange, at 5:00. There were only 3 boys in the testing class. Master Fisher took them through different exercised they've been practicing and Nolan had to break a board with his foot. He broke it on the first attempt and was awarded his orange belt. He kept saying, "I can't believe I broke it on the first try. I didn't think I was going to be able to do it on the first try." We celebrated his accomplishment with Rita's (before dinner!) after.
Last pictures as a white belt: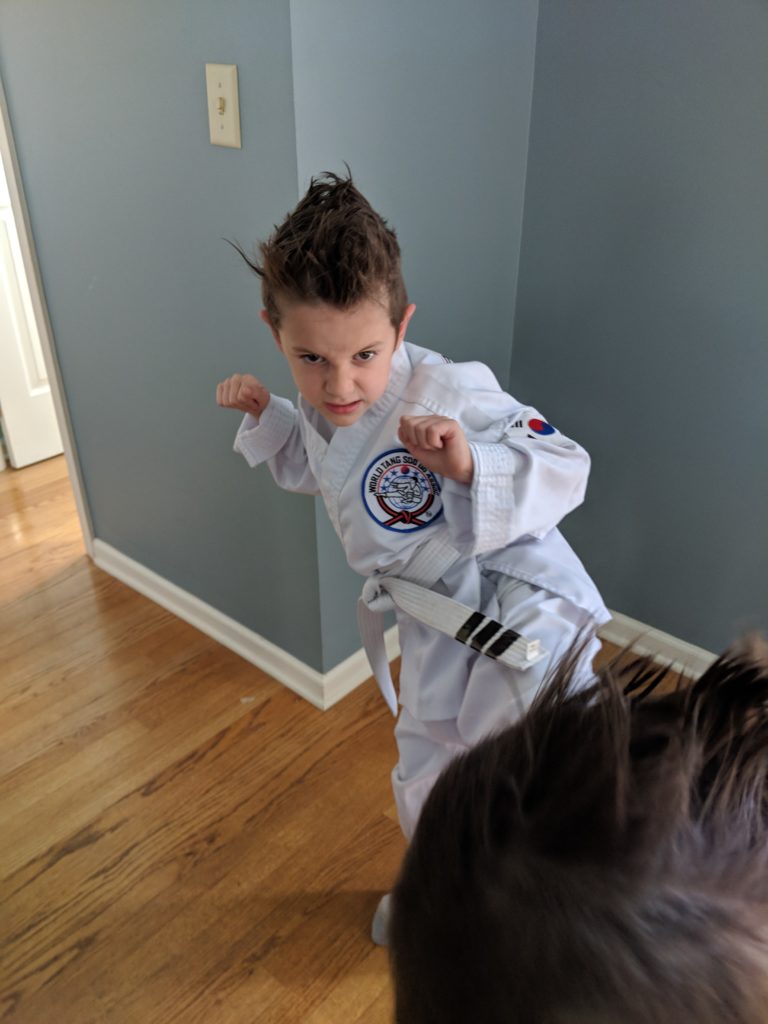 Warming up:
This little boy rubbed his eyes for about 5 minutes before Master Fisher could take the picture:
He did it!:
I had tied Nolan's belt loosely so that he could untie it easily. Well, it was too loose and it fell off during their exercises so Master Fisher tied it back on, tightly. When it came time for Nolan to take off his white belt to get his orange belt, it took him about 5 painful minutes to unknot his belt. Looks like we will practice unting the belt for next time!
Tonight was the first night of the NFL draft and we allowed the boys to stay up and watch who drafted Saquon Barkley. He went #2 in the first round to the New York Giants.
April 27 – Lunchbox Baby
I was cleaning out the lunchbox and put in on the floor to get out of my way on the counter and Corbin crawled right in!
April 28 – Roto-tipper
Pop and Mimi came with the roto-tipper (as Spencer calls it). This was a highly anticipated visit and was talked about for days. Before they arrived, Daddy installed the baby swing under the tree. Daddy and Pop took down the fence around the garden because it was falling apart and the rototiller couldn't get in the garden with the fence. Then, Pop showed Daddy how to use the rototiller and they went to work. Pop then mowed our grass with Spencer sitting on his lap. We got Oxford Farmers' Market for a late lunch/early dinner and then Mimi and Pop left for Easton. We had a great visit and we are ready to plant our garden!
April 29 – Sienna's First Birthday Party
Sienna's first birthday party was at FDR Park in Philadelphia from 2-4. Yesterday the weather was beautiful and picture perfect but unfortunately today, the weather was freezing and dark and dreary. We wore layers and hoodies on top, but we probably should have worn our winter jackets. We would have loved nicer weather to have been able to explore FDR Park because it is huge, but after the party, we were so cold so we got in the warm car and stayed there. Kyler read a book to the kids, Sienna opened her gifts (we gave her a bubble machine), we had cupcakes, and hung out. We are glad we were able to come!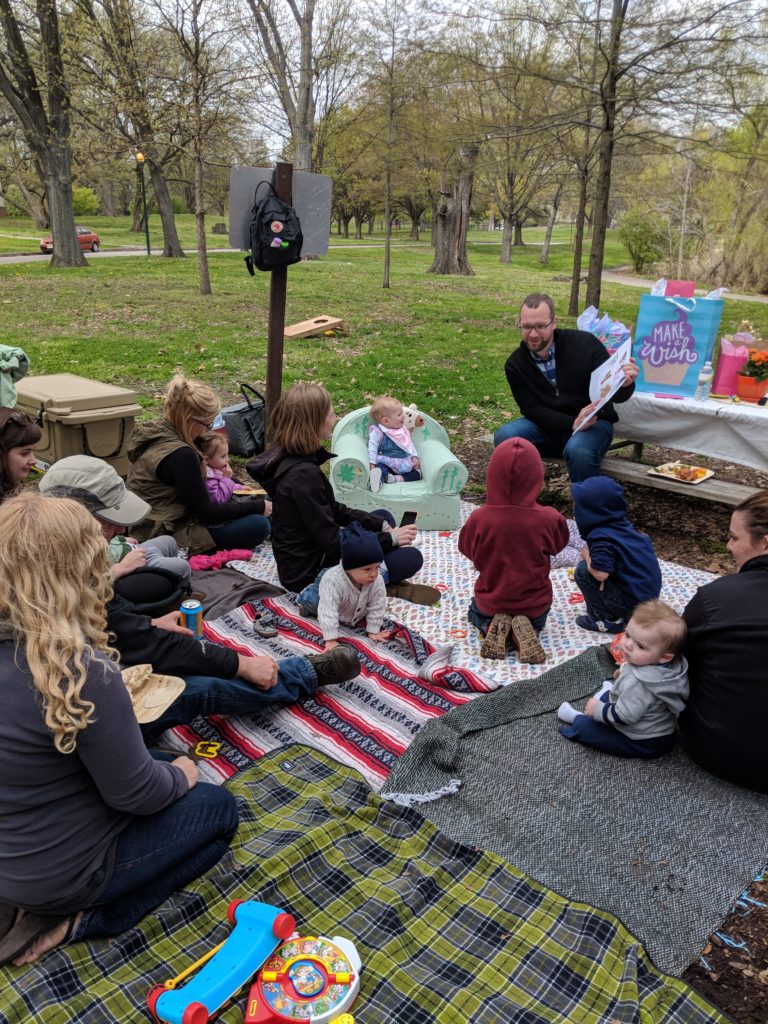 Spencer fell asleep while eating a chocolate from the goody bags we brought home from the party. He was so cute with chocolate all over his face and hands.
Knee high socks: